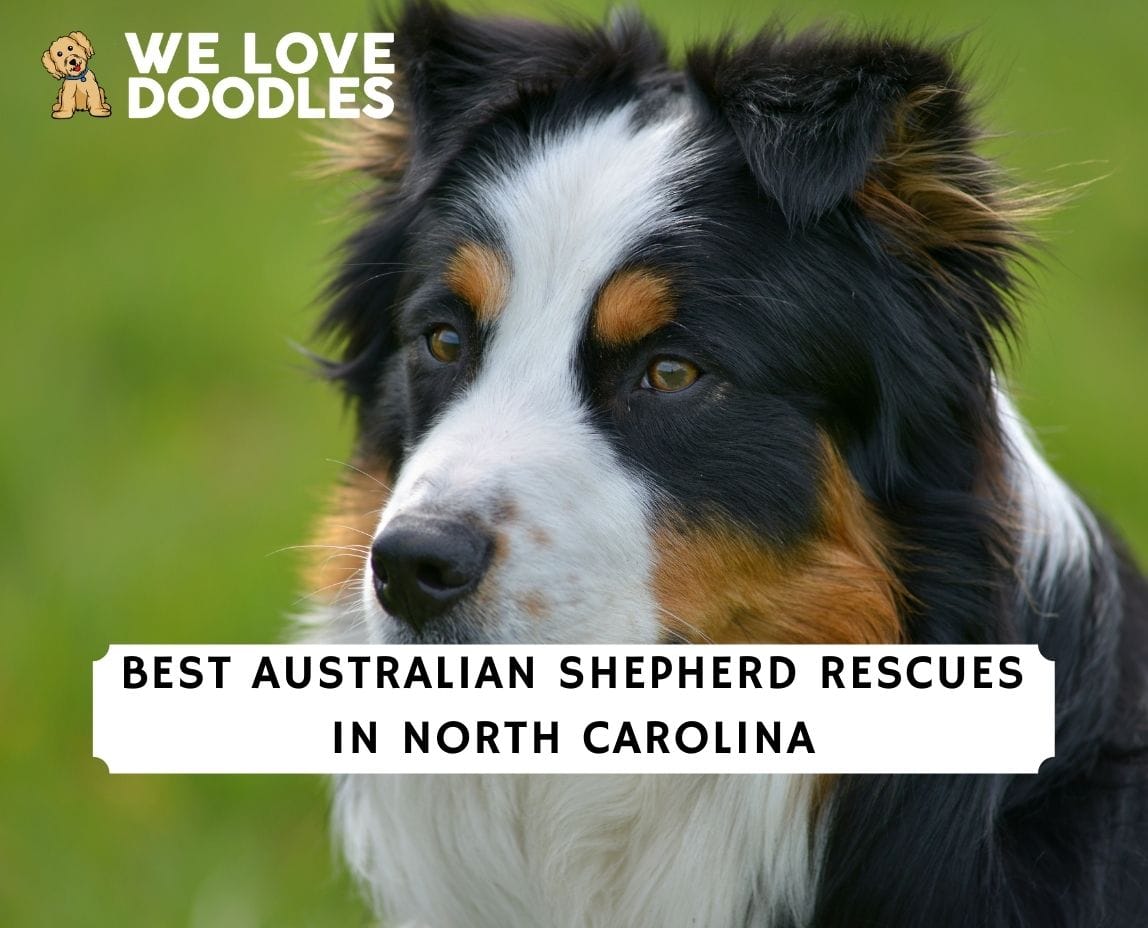 If you're searching for the best Australian Shepherd rescues in North Carolina, you'll definitely want to check out our list! From Asheville to Wilmington, there's a rescue on this list where your new dog is certainly waiting for you!
Australian Shepherds, or Aussies, are playful dogs that are excellent companions for active children. They are intelligent, trainable, protective, and eager to please. Australian Shepherds can be aggressive around farm animals despite being gentle with humans. Even indoors, Australians are very active, and they benefit from lots of exercise in a large yard.
Before you adopt a new dog, make sure your lifestyle and your physical home are compatible with the breed. Many dogs end up in rescues simply because their owners couldn't make a long term care commitment.
Before scrolling down this list of Australian Shepherd rescues in North Carolina, check out these other recommendations from our team at We Love Doodles: Best Yorkie Rescues in North Carolina and Best Dachshund Rescues in North Carolina.
Find an Australian Shepherd Rescue Near Me in North Carolina
Many Australian Shepherds end up in shelters or abandoned. Breed-specific animal rescue organizations were established to ensure these animals' safety and proper care. Here is a list of some of the best Australian Shepherd rescues in North Carolina and the surrounding area to assist you in your search.
Australian Shepherd Product Recommendations: Best Bone Broth For Dogs and Best Dog Football Toys.
1. North Carolina Australian Shepherd Rescue
Jeff Gold founded Rescue Me in 2003 to help animals in need of rescue. Today, the North Carolina Australian Shepherd Rescue branch is part of an expansive network of organizations that connects rescue animals to owners in 150 countries worldwide.
Potential owners and rescue agencies are responsible for ensuring information about an Australian Shepherd is accurate when communicating. Rescue Me helps users rehome and find their next pet as an online platform. They do not provide rescue services, and they do not guarantee any animals posted on their website. Instead, groups are permitted to use this platform to advertise available Aussies and other animals.
The Rescue Me platform has helped many Australian Shepherd find loving homes. They can be found on Facebook, or you can refine your search to a specific location and view adoptable dogs directly on the website and contact the poster directly.
North Carolina Australian Shepherd Rescue Details
2. Ewenity Farm Herding Dog Haven
Ewenity Farm Herding Dog Haven is located in Florida, not North Carolina, but they serve the southern United States. The rescue relies on foster homes to take in and care for dogs until a permanent placement is found.
The shelter's only source of support is volunteers and donors. It is important to note that they do not operate on a first-come, first-served basis. Instead, they put the dog's happiness and needs first in everything they do. Fill out your application thoroughly and honestly to improve your chances of being matched with the perfect pup.
Ideally, you will be 25 or older to apply; all applications are reviewed individually. Those under 25 years of age who meet all of the other criteria may still be considered if they have a match for your family.
Spayed or neutered puppies and dogs less than one-year-old will cost $400 plus a $50 refundable deposit to be returned to you upon proof of spaying or neutering at six months old or contract date. Other fees are as follows:
Puppies and dogs less than a year old that have been altered: $400
Dogs (ages 1-8 years): $350.
Senior dogs (8 years old and older): $250
For applicants aged 65 and over, the donation for senior dogs is $150.
Ewenity Farm Herding Dog Haven Details
3. Jonah's Ark Animal Rescue
Last on the list of the best Australian Shepherd rescues in North Carolina is another that will work with you even if you live out of state. Jonah's Ark Animal Rescue is a non-profit organization that serves a wide "customer" base. North Carolina residents may contact the organization to learn about finding a dog in their local area.
Most Aussies in this rescue come from high kill shelters, though some may be owner surrenders or rescued from the streets. Jonah's Ark takes these animals in and gives them the medical treatment needed to rehabilitate them, if necessary, and provides them with socialization. In short, your dog will be family-ready when it's time to go home with you. You just provide the love!
In addition to providing information to their adoptive community, they also assist them with proper training, veterinary care, and resources for spraying and neutering.
In the long run, Jonah's Ark Animal Rescue hopes to eventually have a farm where the animals that don't get adopted out will have a home. Volunteers and special needs volunteers will be able to work the farm, offering an animal sanctuary and a place for special needs individuals to meet and bond with rescue animals.
Jonah's Ark Animal Rescue Details
Australian Shepherd Rescue Shelters in North Carolina
You and your new dog will need to adjust to each other: the dog will need to get used to a new environment, you will need to adapt to a new schedule, and other adjustments may be required. Some Australian Shepherd dogs may need a short adjustment period, while others may need a few months. During the adjustment period, your new puppy may exhibit the following behaviors:
Shyness, timidity, or hiding
Barking for reasons not evident to you
Territorial marking
Forgetting past house training skills
Possessiveness towards you, toys, or the house
Leash aggression
Fear of strangers
Here are a few tricks to help manage these behaviors:
Crate training

Plenty of exercise
A consistent daily routine
Until the dog decides to come out of hiding, ignore them
Be a calm, confident pack leader/pet guardian.
Training will be required to address possessiveness, nervousness, and leash aggression. Stressed Australian Shepherd dogs often display these behaviors, which are usually easy to correct.
How to Choose an Australian Shepherd Rescue in North Carolina
Adopting a dog and caring for it is a big responsibility. Therefore, it is essential to ensure that the Australian Shepherd's characteristics match your lifestyle before bringing him home. But how do you know if a rescue dog is the right fit for you?
A rescue dog's personality is just as significant as the breed's temperament. The right rescue Australian Shepherd for you is comfortable around you and does not display any signs of nervousness. It may want to be nearby and will feel at ease around you. Look for positive body language from your rescue dog. Foster families can provide valuable information about your puppy's personality.
It would help if you looked for a rescue dog that is healthy and easy to take care of. When adopting a dog with special needs, make sure that you have the proper budget and relationship with your veterinarian to maintain a high standard of care. Ensure you have the time and lifestyle to care for an Australian Shepherd with health issues.
So, at what age should a dog be adopted? Puppies are a lot of work. As a result, many experienced dog adopters prefer to adopt adult dogs who are housebroken, past the chewing stage, and have outgrown most of the issues associated with young puppies. Training older Australian Shepherd dogs can be challenging, but it's still possible with patience.
Where Do You Find an Australian Shepherd Rescue in North Carolina?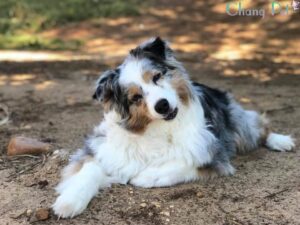 When researching rescue groups, there are several things to look for that will give you an idea of which ones are trustworthy—the group's knowledge of its dogs. A reputable group will be as thorough as possible in vetting the dog's health.
They should at the very least know if the dog has been spayed or neutered, if it has been to a vet, what its health records look like, and if it has received treatments such as de-worming. In addition, they should be familiar with the dog's personality and temperament.
It is usually easy to identify a reputable organization by its non-profit status, board of directors, and tax status. A rescue should have an online presence and a physical address and phone number in this age of internet searches. Ask the group if it is registered locally or with a city, county, or state. There may not be any registration or inspection process in your area, but you should be aware that the group has followed the rules if there is.
Rescue groups usually are made up of passionate individuals dedicated to their work. Therefore, you should come into contact with people who seem happy and committed to the group. At the very least, there should be a general feeling of well-being and organization.
Conclusion For The "Best Australian Shepherd Rescues in North Carolina"
These are just a few of the best shelters for Australian Shepherds in North Carolina. With this list in hand, you should feel more confident when looking for a dog rescue.
Check out their websites to see if any dogs meet your requirements. Call ahead to make sure visitors are welcome, then go check out the available Aussies in rescues near you!
For more guides similar to this list of Australian Shepherd rescues in North Carolina, you can check out:
Before you adopt an Australian Shepherd from a rescue shelter in North Carolina, you can learn more about the breed by watching "Your Guide to The Energetic and Loyal Aussie" down below: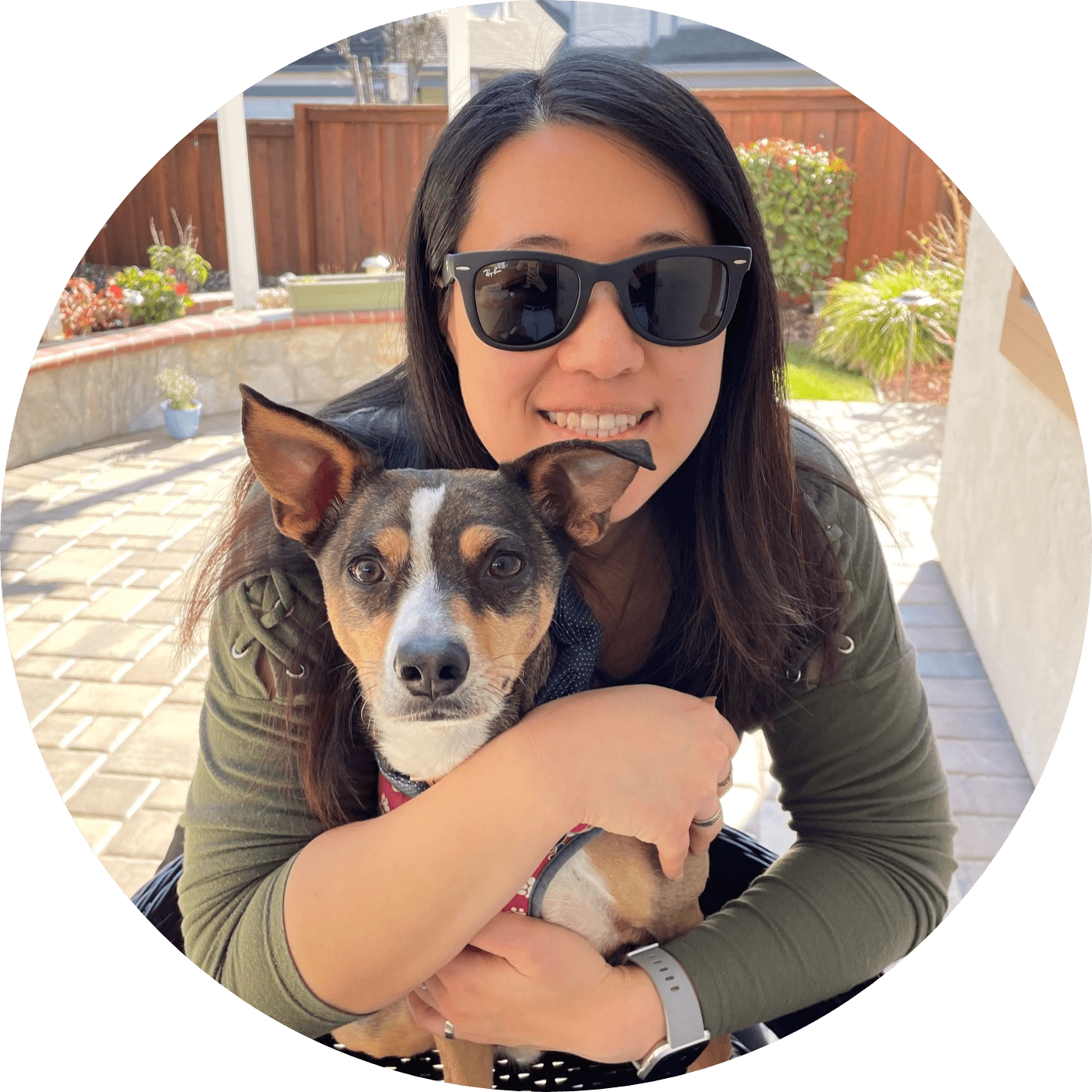 Dr. Sabrina Kong graduated from the Royal Veterinary College in England in 2016 and has been working at a small animal clinic in Northern California since then. She grew up in the Bay Area and got her bachelor's degree from Cal Poly San Luis Obispo. She also became a Certified Canine Rehabilitation Practitioner through a program at the University of Tennessee.
When she isn't in the clinic taking care of her four-legged patients, she enjoys traveling and trying new foods with her friends and her three-legged dog, Apollo. She adopted Apollo from her clinic when he was a puppy with numerous health issues. Dr. Kong truly cares about taking care of animals.