Here's what you need to know if you're searching for Australian Shepherd rescues in Colorado. Australian Shepherds, also known as Aussies, are among the most popular breeds in the United States. They make fun, entertaining, and hardworking pets and service dogs with their boundless energy and high intelligence.
Before scrolling down this list of Australian Shepherd rescues in Colorado, check out these other recommendations from our team at We Love Doodles: Best German Shepherd Rescues in Colorado and Best French Bulldog Rescues in Colorado.
Find an Australian Shepherd Rescue Near Me in Colorado
Are you interested in adopting an Australian Shepherd from a rescue? If that's the case, you should check out this list of Australian Shepherd rescues in Colorado. Regardless of where you live, you'll be able to find an Australian Shepherd rescue close to you.
Australian Shepherd Product Recommendations: Best Dog Soccer Ball and Best Luxury Dog Bowls.
1. Aurora Animal Shelter
Since the 1950s, Aurora Animal Care has been serving residents of Aurora. Initially, Aurora Animal Care was created to combat the rabies epidemic in Colorado by enforcing the state laws that required pet owners to vaccinate their dogs and cats against rabies.
Soon, the City of Aurora realized they needed a shelter for stray dogs and cats. So, in 1968, the city leased space at 2155 South Havana Street to serve as the city's pound.
The Aurora Animal Shelter is glad to be a part of that experience. Adopters are strongly urged to visit the shelter if they are interested in adopting. They do not allow walk-throughs of their kennels.
However, they post the animals they are currently accepting on their website. A potential adopter will be able to get more information about a pet listed on the site and meet the pet in person.
Residents 65 and older can receive a 50% discount on adoption fees (proof of age is required). In addition, veterans and active-duty military receive a 50% discount on adoption fees (proof of service must be provided).
Aurora Animal Shelter Details
2. Soul Dog Rescue
Soul Dog is a nonprofit animal rescue organization founded to spay/neuter and protect animals. Spaying and neutering pets is an essential component of animal welfare, and Soul Dog is proactive in this area.
They travel to Native American reservations; members of these communities volunteer to perform spaying and neutering for free. Soul Dog partners with volunteer veterinarians to provide spaying and neutering services at no cost to the public.
Donations are used to pay for medication, supplies, and operating costs for clinics. Open adoptions are being held at the Fort Lupton shelter daily from 10 am to 5 pm.
Adopters must be at least 21 years old, have identification showing their current residence, and provide a copy of their lease if renting. Also, if you adopt and have a dog in your home, that dog must be present for the meet and greet before adoption. Bring your dog's vet records.
Soul Dog Rescue Details
3. Summit Dog Rescue
The Summit Dog Rescue is an all-volunteer organization that rescues dogs and cats and has saved many lives since 2009. It takes a massive effort by each volunteer to save the lives of animals they rescue all over the country. In addition to saving the lives of dogs and cats in need, SDR educates the public about humane training methods.
The adoption fee for dogs is $485. The adoption fee helps cover veterinary care, spaying, or neutering for adoptable pets. In addition, it provides resources for low-cost spay/neutering in underserved areas.
Summit Dog Rescue Details
4. Herd U Needed A Home Rescue
Last on the list of the best Australian Shepherd rescues in Colorado is Herd U Needed A Home Rescue. Herd U Needed A Home Rescue is not located in Colorado but nearby Oregon. Its mission is to find the best homes for its rescue dogs.
Herding breeds are their primary focus (Border Collies, Heelers, Australian Shepherds, McNabs), but they often rescue other breeds in need. The rescue is a foster-based operation, so there is no one physical shelter. As they wait for their forever family, all of their dogs are placed in loving homes with families just like yours.
Dogs in need of loving homes are in high demand. There are always beautiful dogs waiting to go to their forever homes. Adopting a dog is a match-making process: the dog and the new owner must be a good match.
Only approved homes can adopt their dogs. There is a waiting list. Your first step is to complete the Adoption Application at their website. This will kickstart the process.
It is a lengthy and detailed application. Each question in it is deliberate and important. The more complete your application is, the more likely they will contact you and help you find your new pet. If they do not receive your completed application, they cannot begin working with you to find a new dog.
You should make sure your references and veterinarian are aware that the shelter will be calling them and that you have given them their correct contact information. Don't hesitate! Check out their adoptable Australian Shepherd dogs today if you're looking for an active, loving companion.
Herd U Needed A Home Rescue Details
Australian Shepherd Rescue in Colorado
Adopting an Australian Shepherd has many benefits for anyone who knows anything about animals. There are, however, still misconceptions circulating in the general public. So, if you are an animal welfare advocate, it's time to talk about all the compelling reasons to adopt a rescue pet (you'll be surprised).
1. Fewer surprises
Most Australian Shepherds are fully grown in rescue centers and shelters, so there isn't any surprise when the puppy you saw so cute in the store window grows into a massive dog.
Many pets are surrendered for this reason. In addition, rescue pets undergo a thorough examination, so if there's anything important you need to know (about health or behavior), you'll know ahead of time.
2. A cost-effective option
There can be no doubt that no one should adopt an Australian Shepherd without considering the ongoing costs of healthcare, food, toys, bedding, plus the time needed for daily exercise and socialization.
However, a rescue pet can be a more affordable option than buying through a breeder or, heaven forbid, a pet shop. Furthermore, Australian Shepherds from shelters are usually vaccinated and microchipped, so you won't have to pay for these costs.
How to Choose an Australian Shepherd Rescue in Colorado?
There are no shortages of dogs in need of homes, so if you love dogs, adopting one is the best decision. But how do you choose the "best" dog for your family?
Take into account the dog's energy level.
It is crucial to address the dog's activity level right away. If the dog you're interested in has a foster home, you should ask about the dog's activity there. Is the dog usually active there? Does it find activities on its own, or does it routinely request affection and interaction?
If someone wants a very active dog and needs them constantly, they will need a very different type of dog than someone who wants a dog that hangs out contentedly on their own. Listening to the foster family is essential instead of convincing yourself that a particular dog will suit your interests and needs.
Find out how the dog gets along with children and other pets
Ask about the dog's history and experience with kids, other dogs, and cats. The rescue will sometimes have a more extended history on a dog, and sometimes it will have to rely on information from the dog's current foster home.
Where Do You Find an Australian Shepherd Rescue in Colorado?
An unethical rescue or shelter can quickly turn into a nightmare for your family when you adopt a dog. Whether you're adopting or surrendering, you need to support a good shelter. Supporting an ethical shelter has a ripple effect beyond helping only your dog.
Don't adopt a dog from a shelter that lacks vaccination proof or adopts dogs that aren't vaccinated. A shelter or rescue that cannot afford to vaccinate the dogs in their care should not continue to operate. Get proof of vaccinations, it's not enough to just ask if the dog is up-to-date. All dogs leaving a shelter or rescue should be vaccinated.
Conclusion For The "Best Australian Shepherd Rescues in Colorado"
Congratulations! You are one step closer to owning your very own Australian Shepherd. It can be incredibly rewarding and exciting to own a dog, and it can be just as exciting to adopt one. Hopefully, this article is helpful to you in your search for the perfect Australian Shepherd.
For more guides similar to this list of Australian Shepherd rescues in Colorado, you can check out:
Before you adopt an Australian Shepherd from a rescue shelter in Colorado, you can learn more about the breed by watching "Feeding, Grooming, Training, and Health Care of an Australian Shepherd" down below: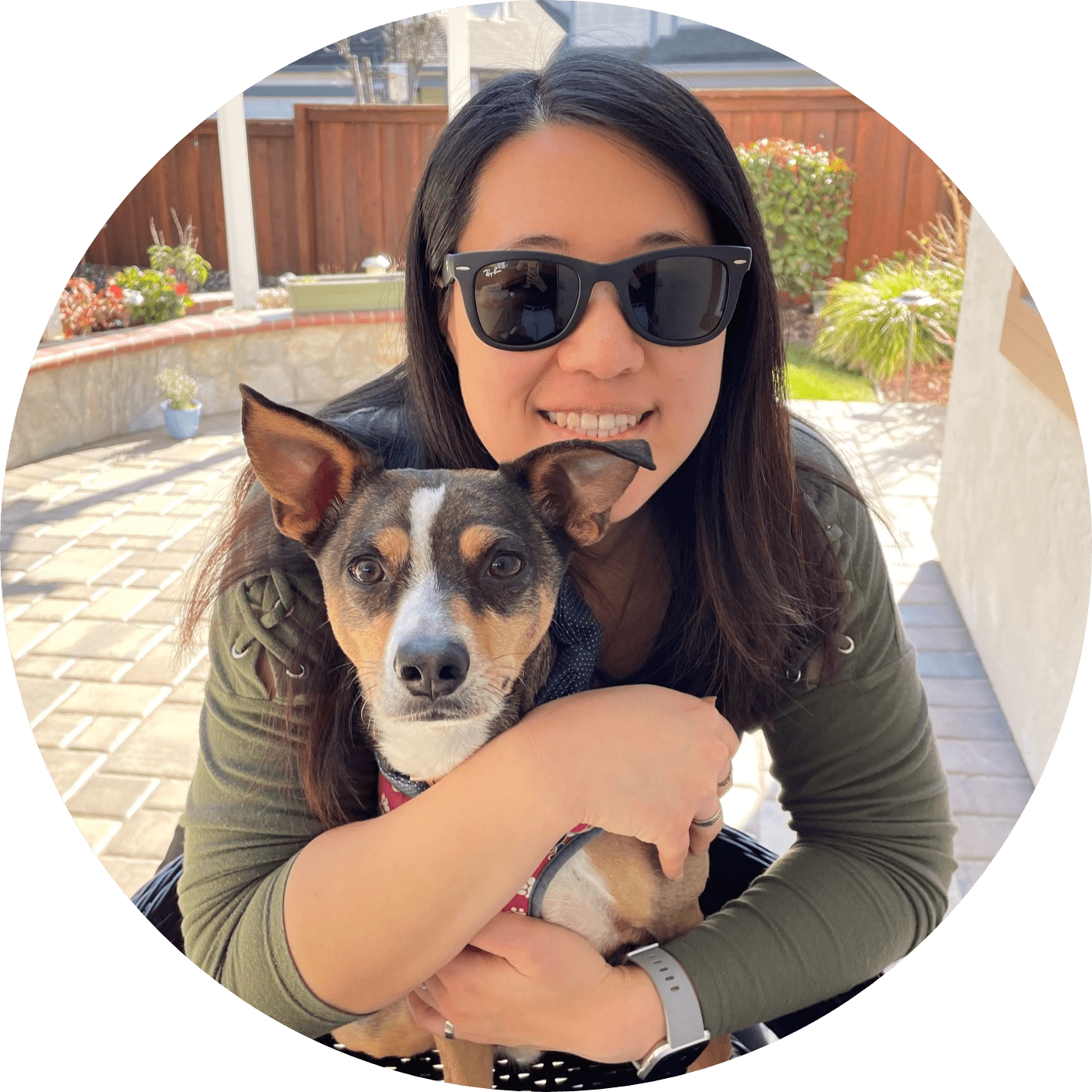 Dr. Sabrina Kong graduated from the Royal Veterinary College in England in 2016 and has been working at a small animal clinic in Northern California since then. She grew up in the Bay Area and got her bachelor's degree from Cal Poly San Luis Obispo. She also became a Certified Canine Rehabilitation Practitioner through a program at the University of Tennessee.
When she isn't in the clinic taking care of her four-legged patients, she enjoys traveling and trying new foods with her friends and her three-legged dog, Apollo. She adopted Apollo from her clinic when he was a puppy with numerous health issues. Dr. Kong truly cares about taking care of animals.