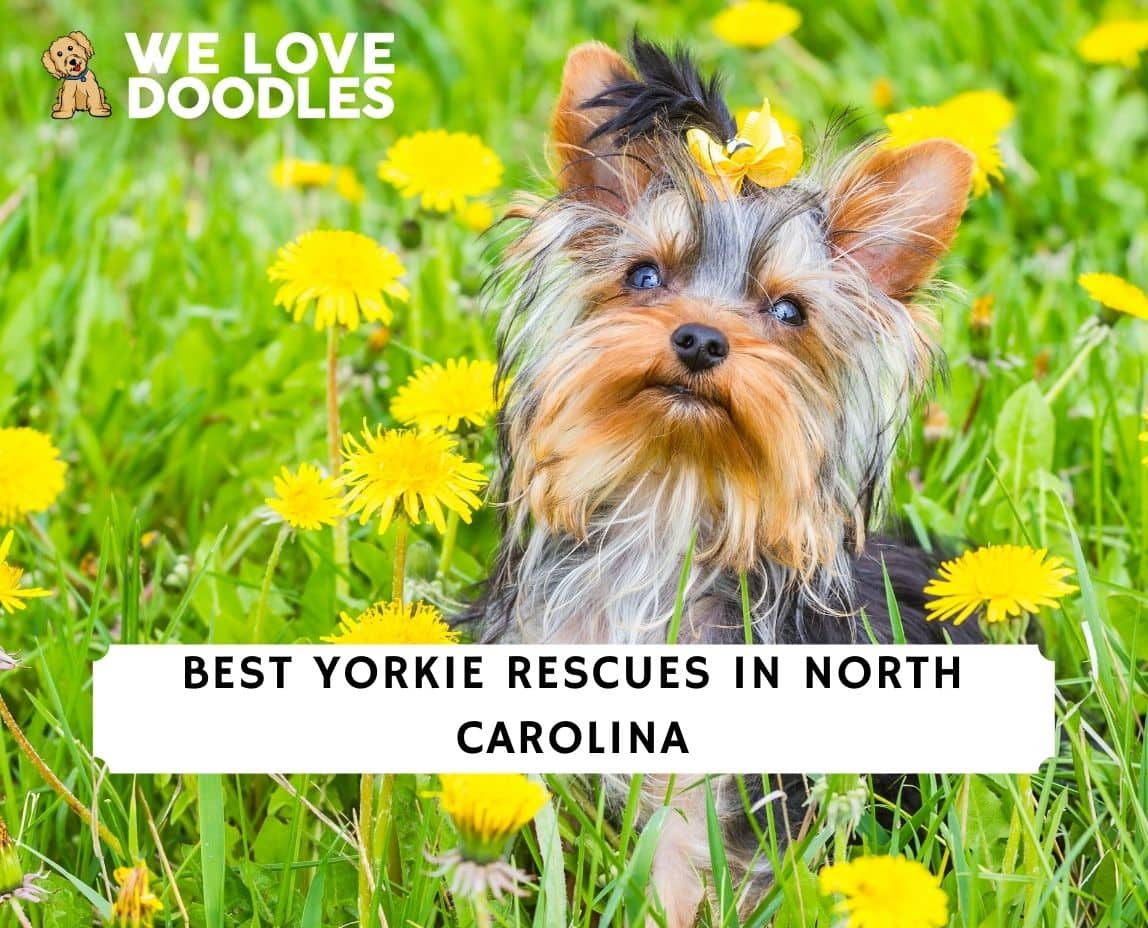 If you're searching for the best Yorkie rescues in North Carolina, you've come to the right place. Yorkshire Terriers are tiny, toy dogs native to England with silky, long coats usually black and tan.
Known as Yorkies, these dogs have an affectionate yet tenacious personality. They are often vocal, loyal, and protective. Although small, they are good watchdogs.
Before scrolling down this list of Yorkie rescues in North Carolina, check out these other recommendations from our team at We Love Doodles: Best Dachshund Rescues in North Carolina and Best Poodle Rescues in North Carolina.
Find a Yorkie Rescue Near Me in North Carolina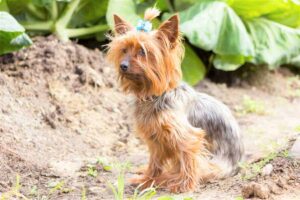 Even though there are many Yorkie breeders in the area, if you want to make a difference without spending a lot of money, you can always adopt a rescue Yorkshire Terrier instead. The best place to start is to check out the top Yorkshire Terrier rescues on this list.
Yorkie Product Recommendations: Best Dog Shampoos For Shedding and Best Dog Crate Alternatives.
1. North Carolina Yorkie Rescue, Inc.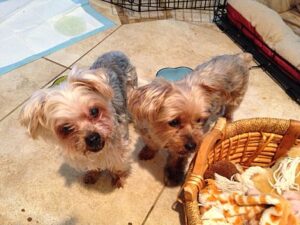 Located in Greensboro, North Carolina, North Carolina Yorkie Rescue is a 501(c)(3) nonprofit organization. They receive calls from other shelters and kind samaritans throughout the state who find Yorkies who have nowhere else to go.
In addition to providing them with the best possible care, they prioritize each Yorkie's wellbeing and happiness. Since 2006, NCYR has rescued almost 2,000 Yorkies.
They never turn away Yorkies, so they have extensive experience. Most Yorkies who come to NCYR are healthy but abandoned or rescued from backyard breeders.
Although they do encounter some Special Needs Yorkies from time to time, they generally meet happy, healthy dogs. You can find all NCYR Yorkies available for adoption on their website if you are looking for a forever companion.
North Carolina Yorkie Rescue, Inc. Details
 2. Yorkie Rescue Of The Carolinas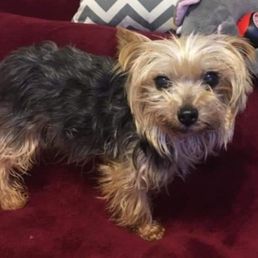 Yorkie Rescue of the Carolinas (YROC) rescues Yorkshire Terriers, Yorkie mixes, and other small breeds regardless of age, health, behavioral issues, or physical handicaps. There is no discrimination based on health, age, or breed.
YROC is based in Salisbury, North Carolina. Their dogs are usually adopted out to North Carolina or South Carolina families. However, every rescue/foster/adoption is unique.
For homes that meet their typical criteria for adoption and are also willing to make the trip to meet and pick up, they make exceptions under certain circumstances. Under no circumstances do they ship their dogs.
Although a home visit is necessary, it is not always possible. Applicants must provide photos of the main living area, pets' sleeping and feeding areas, front and back yards, and all people and pets who reside in the home.
No application will be considered without photos. The adoption fee can range from $250-$600 depending on the dog's age, breed, veterinary costs, and any medical issues.
Yorkie Rescue Of The Carolinas Details
3. Peanut's Place Small Breed Rescue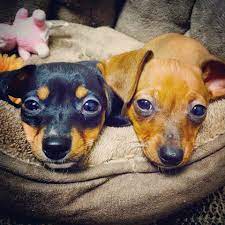 Peanut's Place is a small breed rescue that works to save the lives of unwanted pets. Dogs are rescued from area shelters or pet owners who have to surrender their pets due to various circumstances.
Rescued dogs are of all ages and conditions. Every dog entrusted to them is provided with the best possible home, and all applicants for adoption are carefully screened. Before adoption, all dogs are vetted, altered, microchipped, and groomed.
Dogs are carefully evaluated before being placed in a loving home and are only fed holistic dog food to ensure optimal health. All dogs have been trained in the crate, leash, and house training.
Each adopted dog goes to its new home with food, a complete adoption packet with medical records, a free follow-up vet visit at any Banfield clinic in the country, a primary rescue partner, and free pet insurance from PetFirst for 30 days.
An adult smooth-coated Chihuahua can cost $225, a Chihuahua puppy can cost $300, or a long-haired breed like a Poodle, Maltese, or Bichon can cost $375.
They may charge more for young dogs or Yorkies and occasionally have rare, expensive breeds, like French bulldogs. However, due to age, issues, or disabilities, some of their dogs are available for free or at a nominal adoption fee.
Peanut's Place Small Breed Rescue Details
4. Friends Forever Adoptions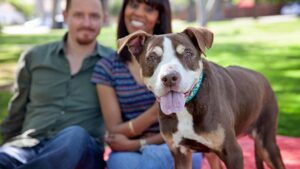 Friends Forever Adoptions is a private, nonprofit organization based in Greensboro, NC, that takes in dogs and cats, including Yorkies. They have many adorable pets available for adoption, making them another great option in NC.
To ensure the pet and the potential owner are a good match, FFA aims to find the perfect home for their rescues. However, FFA believes it is imperative to give these creatures a forever home in keeping with their name.
For those living nearby, this could be a worthwhile opportunity. Their website lists several pets, including Yorkies. Their cute faces are sure to draw you in! They also consider adoptions out-of-state, provided that you can arrange transportation in advance.
Friends Forever Adoptions Rescue Details
Yorkie Rescue in North Carolina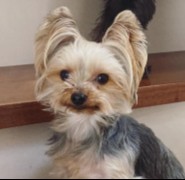 Are you looking for a new dog? We recommend going to a local rescue. You'll get first-hand knowledge about the dog you're adopting through a rescue. It doesn't get any better than that when it comes to finding the perfect dog for your family.
All the time, we hear that dogs in rescue are damaged goods. Some rescue dogs don't get along with other pets, and some don't get along with children. Some might have fear issues, while others might be overprotective. This is true for dogs everywhere.
In most cases, rescue dogs do not have behavioral problems, and many of them are there due to no fault of their own. Many of them are probably there because they weren't a good fit for their families' lifestyle.
Rescues take all kinds of dogs. If you're an avid runner looking for a jogging buddy, they have the perfect match for you. There's a friendly, laid-back family dog there if that's what you're looking for.
How to Choose a Yorkie Rescue in North Carolina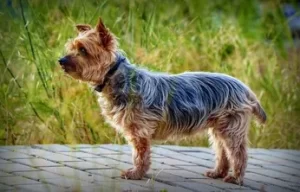 You may want to ask a few questions before adopting a Yorkie. Here's a quick list to get you started:
Ask these questions when you adopt a Yorkie:
What is the source of most of your dogs?
What if you are unable to help a dog? Do you work with other shelters?
What if I can't keep the dog I adopt?
Do you offer post-adoption support?
Remember that no-kill doesn't always work. The staff at the shelter should be happy to explain their processes and help you and your pet through the process.
Related: Ways to Find a Hypoallergenic Dog Rescue.
Where Do You find a Yorkie Rescue in North Carolina?
Check your local reputable animal welfare or rescue organizations first if you're looking for a new dog. Many dogs and puppies are looking for new homes.
It can be a nightmare for your family if you adopt a dog from an unethical shelter or rescue. The best shelters may occasionally adopt a dog into a home that isn't the right fit, but you can stack the odds in your favor by adopting from a reputable shelter.
Looking for a trustworthy rescue is like searching for the right job. Often, it's easier to talk about what to avoid than it is to talk about what to look for. While great rescues come in all shapes and sizes, there are some pretty significant warning signs of rescues to avoid.
You can learn a lot by looking at photos and bios on dog adoption websites, but there's no substitute for meeting your new dog in person. If a shelter is good about letting dogs and adopters meet, you and your dog will be happier.
In some shelters, you may not be able to "think it over" on a dog. However, don't consider this a red flag. Rescues allow you to meet your dog as often as you like, but keep in mind that someone else might adopt your dog while you are thinking it over.
Rescues that take dogs from transportation to adoption are a big red flag. Unfortunately, this often occurs in rescues specializing in bringing dogs from other areas to your area.
Rescues who adopt dogs straight from the transport vehicle aren't getting to know them, letting the dogs relax, or, at worst, skimping on their medical checks before adoption. This is a major red flag!
Conclusion For The "Best Yorkie Rescue in North Carolina"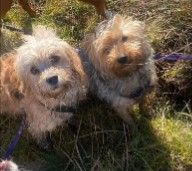 Congratulations on starting your search for a new Yorkie companion. They are lovely dogs, and they can enhance the lives of their owners in many ways.
There are many ways to adopt a Yorkie, and we strongly recommend checking out the rescues on this list when looking for a Yorkie in North Carolina.
For more guides similar to this list of Yorkie rescues in North Carolina, you can check out:
Before you adopt a Yorkie from a rescue shelter in North Carolina, you can learn more about the breed by watching "Yorkshire Terrier – Care and Training Information" down below: