Here's what you need to know if you're searching for Poodle rescues in North Carolina. Originally from northern Europe, these fluffy puppies were hunting dogs. The Poodle is an intelligent and easily trained dog, and they are fun to be around.
Due to their enthusiastic and pleasant personalities, they are often used in service and therapy. In addition to swimming and running, they love retrieving. While nobody can guarantee the absence of allergies, Poodles are frequently known to be hypoallergenic due to their human-like hair instead of fur.
Before scrolling down this list of Poodle rescues in North Carolina, check out these other recommendations from our team at We Love Doodles: Best Doodle Rescues in North Carolina and Best Dog Rescues in North Carolina.
Find a Poodle Rescue Near Me in North Carolina
If you want to adopt a Poodle and need some help navigating the best dog rescues in North Carolina, we're here to help. Below are four of the top dog rescues in the state.
Poodle Product Recommendations: Best Shampoo For Poodles and Best Scissors For Poodles.
1. Carolina Poodle Rescue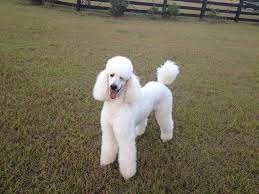 Carolina Poodle Rescue currently cares for 223 dogs. Eighty-seven of them are in a permanent sanctuary due to age, medical needs, or behavioral issues. The organization provides them with housing, food, attention, and medical care.
Filling out an application on Carolina Poodle Rescue's website is the first step to adopting a pet. An adoption counselor within 24 hours will review your application.
The counselors, however, are all volunteers. Almost all of them have jobs and do their part to help. However, there are times when applications are backlogged.
Carolina Poodle Rescue Details
2. Paws Place Dog Rescue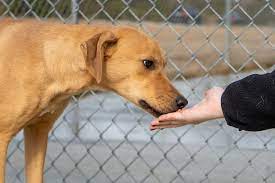 Paws Place Dog Rescue is much more than a no-kill shelter. Paws Place is a no-kill, non-profit organization dedicated to dogs' rescue, rehabilitation, and adoption. No matter how long it takes, every dog they rescue will find a loving home, one at a time.
The organization relies entirely on donations, volunteers, and a love of animals. Paw's Place Inc. (DBA Paw's Place Dog Rescue) was founded in Brunswick County in 1999 and became a 501(c)3 non-profit organization that same year.
Veterinarians examine each of their rescued dogs upon arrival. In addition to being spayed or neutered, they are vaccinated according to their age, start heart-worm prevention, flea and tick prevention, microchipped, and showered with love and affection.
Paws Place Dog Rescue Details
3. North Carolina Poodle Rescue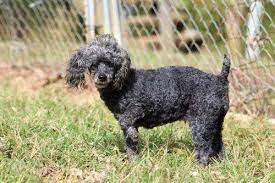 Rescue Me's Animal Rehabilitation Center is located in Watkinsville, Georgia, where Jeff Gold lives with 18 rescue animals. After learning that there was no boxer rescue organization in Georgia, Gold founded Boxertown, which has since found homes for more than 500 boxers.
The success of Boxertown led Gold to create Rescue Me! A non-profit organization that helps dogs, cats, and other animals find homes worldwide. On Rescue Me's website, several Poodles are looking for homes in North Carolina. Learn more about their services and adopt a pet by contacting them.
North Carolina Poodle Rescue Details
4. Saving Grace
Last on the list of the best Poodle rescues in North Carolina is "Saving Grace." Saving Grace partners with North Carolina shelters to find adoptable dogs who want a second chance.
In addition to finding adoptable dogs, they also take in a lot of dogs in critical situations: dogs from puppy mills, dogs seized in cruelty cases, or dogs abandoned following natural disasters or at a veterinary clinic when their owners pass away.
Stray, abandoned, or surrendered pets cannot be accepted directly since they are not public facilities. Instead, they are responsible for getting rescued animals medically and emotionally ready for adoption and a great life!
Volunteers and foster families are the backbones of Saving Grace's operations. They are dedicated to finding families for a diverse but unique group of dogs.
Saving Grace Details
Poodle Rescue Shelters in North Carolina
Adopting a pet Poodle has many benefits, some of which you may not have considered. Here are five reasons why adopting a pet would benefit you and your family.
Animals are mostly housetrained: Shelter animals often came from homes where they were housetrained, especially older animals. Not having to train your new pet to relieve itself will save you a lot of time and effort.
Unconditional Love: Pets are companions that will never judge you, will always love you no matter what happens, and will never leave you alone. Because of the affection, they show you, their unconditional Love makes you feel great and boosts your self-esteem. Also, according to animal experts, animals know when they've been rehomed, so you'll have a special bond with your rehomed pet.
You might not get what you're expecting: Even though you may know what you want, there are a wide variety of animals waiting to be adopted from shelters. The animal you would have never imagined could turn out to be the perfect match for you. Therefore, visiting shelters should always be done with an open mind.
Older animals can often be the most loyal companions: It is common for people to adopt puppies and kittens without considering the benefits of having an older pet. If trained in their previous home, they require less supervision, so they are less likely to destroy furniture than a young pet. Older pets tend to be calmer and more content to sit in your company rather than demand constant attention. Additionally, they have more developed personalities than puppies. Therefore, it may be easier to tell if you are a suitable fit for them when you visit them at the shelter.
Supporting spaying and neutering: Spaying and neutering are essential to control the animal population. Animals that aren't spayed or neutered often contribute to the problem of unwanted animals, which leads to more animals being left at shelters. If you adopt from a shelter, your new pet has been spayed or neutered where possible.
Related: Fun Games to Play with Your Poodle.
How to Choose a Poodle Rescue in North Carolina
After deciding whether an adopted dog may be right for you, your next step is deciding whether you would make a suitable adoptive owner. Poodles looking for homes come in various sizes, shapes, and personalities. Their requirements can also vary greatly.
Potential pet owners can find pets whose needs best match their abilities and lifestyles when they do their homework. However, the right match must arrive at the right time in an owner's life. Understand why you want to adopt.
Most people adopt a dog because their children desire a pet or want them to experience both the joys and responsibilities of dog ownership. Some people assume because they wish to help a dog in need.
Despite their reasonableness, none of these goals should be the basis for your decision to adopt a pet. While you may want to make a difference in the lives of your children and the dog you choose, you must want to bring this dog into your home first and foremost.
People who have lost their previous pet and miss its companionship can adopt a dog. They may also be interested in training and entering a dog in obedience trials. Therefore, you should fully understand what caring for it entails before adopting a dog.
Although there is no right or wrong reason to adopt, there are some reasons that you should never use. For example, a security system would be a better choice than a dog to protect your home.
Finally, avoid choosing a dog solely based on appearance. For example, you may love the look of a Poodle, but this one has particular requirements, as with many other breeds. In the same way, you shouldn't adopt a dog just because it's trendy.
Related: Best Brush For a Poodle and Best Dog Food For Poodles.
Where Do You Find a Poodle Rescue in North Carolina?
The AKC Rescue Network is the best and most reliable resource for finding a rescue dog. As well as these resources, there are things you should look for when researching various rescue groups to determine which are trustworthy.
They should know their dogs well. Ideally, a reputable group will have vetted the dog's health to the extent possible. For example, a potential owner should know if the dog has been spayed or neutered if it has seen a vet, what records exist for the dog, and what treatments, such as de-worming, have been administered.
They should also know something about the dog's temperament and personality. Most reliable groups display their non-profit status, board of directors, and tax status. Nowadays, rescues should have a physical address and phone number, as well as some form of an online presence.
In addition, the group should be registered locally or with the city, county, or state. Many localities don't have any form of registration or inspection process, but if yours does, you should know if the group has complied.
Related: Best Dog Clippers For Poodles and Sable Poodle Guide.
Conclusion For The "Best Poodle Rescues in North Carolina"
Choosing to adopt a rescue Poodle is a big decision. It can be hard to consider everything you need to be ready for (both anticipated and unexpected). Still, the rewards far outweigh any concerns or fears many people have about adoption.
For more guides similar to this list of Poodle rescues in North Carolina, you can check out:
Before you bring home a Poodle from a rescue shelter in North Carolina, you can learn more about the breed by watching "Everything You Need to Know About Owning a Poodle Puppy" down below: