Deciding to welcome a new Aussie Mountain Doodle puppy into your family is incredibly exciting, but the process can feel a little bit overwhelming for some. It can be challenging to sift through the countless breeders out there to find the right fit for you and your family, but if you do your research and are committed to the process, the reward is immeasurable.
The world of dog breeders can be a tricky thing to navigate. While many breeders are genuine and prioritize healthy and happy puppies, there are some who are just in it for the money — and even a few who will try to lie about the puppy's breed to trick you! In order to help you find the perfect Aussie Mountain Doodle puppy for you, we've compiled a list of the best Aussie Mountain Doodle breeders in the United States.
Other articles you would like: Australian Mountain Doodle Dog Breed Guide and Best Mini Bernedoodle Breeders.
Top Aussie Mountain Doodle Breeders in the U.S.
Aussie Mountain Doodles are adorable dogs that are a cross between an Aussiedoodle and a Bernedoodle, and those breeds are a mix between an Australian Shepherd and a Standard Poodle, and a Bernese Mountain Dog and a Standard Poodle, respectively.
The Aussie Mountain Doodle Breed has been carefully bred to capture the most desirable qualities of all three breeds: the gentle, loving disposition of Bernese Mountain Dogs; the intelligence and health of Australian Shepherds; and the hypoallergenic fur and long life of the Standard Poodle.
These dogs are so special and well-behaved that they have been dubbed by many to be "the perfect family dog!" Naturally, this popularity means that there are a lot of Aussie Mountain Doodle breeders to choose from across the country. As stated previously, not all of the Aussie Mountain Doodle breeders out there are good breeders, but many of them are.
In our opinion, good breeders are devoted to the health and wellbeing of their dogs, thoroughly vet potential new owners to make sure the dogs will be well cared for, and can offer breed authentication. It is with these criteria that we compiled our list of the best Aussie Mountain Doodle breeders in the U.S.
1. Sand Lake Kennels

Sand Lake Kennels is the first Aussie Mountain Doodle breeder to earn a spot on our list. Sand Lake Kennels specializes in Doodle breeds like the Aussie Mountain Doodle, as well as Goldendoodles, Aussiedoodles, and English Shepherdoodles.
Sand Lake Kennels has tons of warm and glowing reviews and testimonials from happy puppy owners in their area. Their website is easy to navigate and is chock full of helpful resources and tips and tricks that cover a range of topics from picking the right breeder to training your new puppy.
We love that Sand Lake Kennels treats all of their animals with kindness, love, and the proper care. We also think it's incredibly admirable and important that they devote so much time to making sure their puppies all go to good and loving homes.
They provide a two-year health guarantee ensuring that no genetic defects are found in your puppy, and all puppies are vaccinated and dewormed before they are sent to their new forever homes.
Aussie Mountain Doodle Breeder Information:
2. Cottonwood Creek Doodles

Cottonwood Creek Doodles is a Utah-based breeder that specializes in Aussiedoodles, Bernedoodles, and Aussie Mountain Doodles. Their puppies are all socialized since birth and all of their puppies are also litter box and crate trained, both of which help make potty training a lot easier.
We love that Cottonwood Creek is a 10-year+ family business run by sisters who genuinely love dogs and are incredibly passionate about breeding happy and healthy doodles. While the sisters only have a few breeding dogs living in their homes, they have a Guardian Home Program that allows them to breed with many more purebred, healthy parent dogs— all of whom are tested for genetic defects and temperament before breeding.
Because Cottonwood Creek Doodles has been breeding and raising dogs for more than a decade they have amassed tons of testimonials from thrilled puppy owners. Their website also has a great FAQs page to help you figure out which puppy is right for you, as well as some tips for training and grooming your doodle.
All their Aussie Mountain Doodle puppies purchased from Cottonwood Creek Doodles come with health records that include the de-worming and vaccination schedule.
Aussie Mountain Doodle Breeder Information:
3. WestPenn Aussie Mountain Doodles

Last on the list of Aussie Mountain Doodle breeders is WestPenn Doodles. WestPenn Doodles pride themselves on their mission to breed and raise healthy puppies with a purpose. They proudly state that the health and happiness of all of their dogs comes before breeding and earning money, and they only breed dogs that have undergone temperament and genetic testing to ensure the puppies are the healthiest they can possibly be.
WestPenn Doodles, which is located in Pittsburgh, is a family owned breeder. The family has several small children, which means that all of their puppies have interacted with children and are used to them.
Unlike many breeders out there, WestPenn doesn't have a paid waitlist for their puppies, but instead operates an "interest list," where interested families can sign up for notifications when puppies become available
Aussie Mountain Doodle Breeder Information:
Aussie Mountain Doodle Breeders vs. Adoption
There has always been a lively debate around whether you should get your dog from a breeder or by adopting it, and there are arguments for both. Sometimes you really want a specific breed, whether for their temperament, appearance, service dog potential, or other reason, and that's ok!
That being said, there are so many dogs in the country (and the world) who would love to be a part of your family. Many adoptable dogs haven't had very fortunate lives, and you could make all the difference to them. Adopting is a noble and far less expensive way to add a new dog to the family, but you should be prepared for the possibility that an adopted dog may need a little more time to work through any behavior or fear issues they might have.
Breeders typically have very long waitlists for their puppies— sometimes up to two years just to be considered for a puppy. If you aren't prepared to wait that long, adoption may be a good choice for you. If you aren't sure, we suggest visiting your local animal shelter to see if any dogs there seem like a good fit for your family. If not, you can always purchase a puppy from a breeder.
Whatever you do, though, never buy puppies from craigslist or "pet stores." Not only do many of these places sell mix-breed dogs listed as "purebred," but they also get many of their dogs from puppy mills (puppy mills are horrible places where dogs are treated terribly and only used to breed puppies they can sell).
Getting an Aussie Mountain Doodle is a Big Commitment
Many of the dogs you see in shelters are the result of people getting a dog and then realizing they just weren't prepared for the work involved. Raising a puppy is a lot of work, and both puppies and grown dogs require love, attention, play, nourishing food, and regular vet visits / routine medication.
If you're considering getting your very first dog, make sure you do sufficient research on the time commitment and costs of raising a dog. We also recommend waiting several months to a year after deciding you want a dog to actually bring one home.
We suggest this because not only could you change your mind during that time, but you also might have a change in circumstance such as relocating, a medical emergency, or a new, time-consuming job that might make owning a dog difficult.
Dogs are living, loving creatures that fully depend on their owners, and you should only undertake that responsibility if you are fully prepared to devote the required time and energy to the task.
We aren't trying to talk you out of adopting a dog, but rather impart upon you the significance of your decision. If you do decide to get an Aussie Mountain Doodle, that's amazing! These dogs are so special and will be a rewarding and devoted part of your family for their whole lives (which is usually between 10-15 years). Aussie Mountain Doodles are intelligent, snuggly, playful, and generally very healthy dogs, and they will certainly fill your life with joy.
Conclusion For The Best Aussie Mountain Doodle Breeders in the U.S.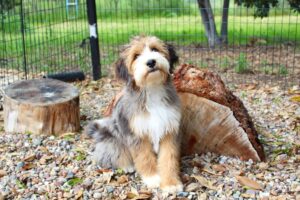 We hope that you were able to find a breeder that fits your Aussie Mountain Doodle needs. All three of the breeders on our list are wonderful and very professional, and they are also great resources for any questions you might have.
Aussie Mountain Doodles are truly special dogs, and they will fill your lives with love and joy for as long as they live. Just be sure that you're ready for the commitment before agreeing to take one home.
You will also like:
Garrett loves animals and is a huge advocate for all Doodle dog breeds. He owns his own Goldendoodle named Kona. In addition, he volunteers at the Humane Society of Silicon Valley, where he fosters dogs and helps animals. Garrett enjoys writing about Doodles and believes that dogs can teach humans more about how to live than humans can teach a dog.
Why Trust We Love Doodles?
At We Love Doodles, we're a team of writers, veterinarians, and puppy trainers that love dogs. Our team of qualified experts researches and provides reliable information on a wide range of dog topics. Our reviews are based on customer feedback, hands-on testing, and in-depth analysis. We are fully transparent and honest to our community of dog owners and future owners.