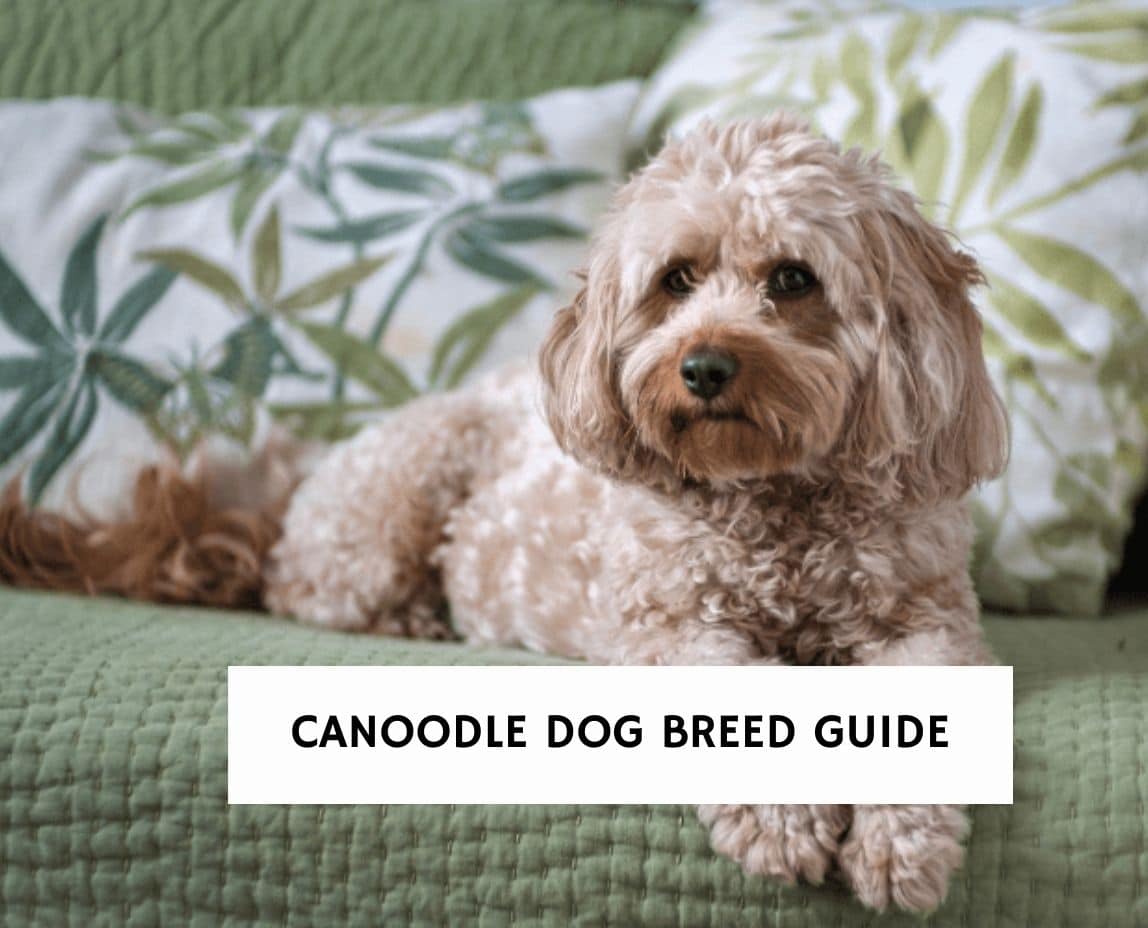 Here's a question we have for you if you want to learn about the Canoodle dog. Are you a Cane Corso lover but want to adopt a dog with minimal shedding? Well, good news.
Canoodles are a great combination of both of these things. Canoodles, also known simply as Cane Corso-Poodle mixes, have the best characteristics of these dog breeds combined into one adorable puppy.
They are an excellent option for people looking for the size and people-pleasing demeanor of a Cane Corso and the intelligence and hypoallergenic coat of a Poodle.
Below you will find our Canoodle dog breed guide, where you will find everything you need to know about these unique dogs.
Before scrolling down this Canoodle dog breed guide, you can check out these other popular Poodle mixes: Best Poodle Mixes and Goldendoodle Guide.
What is a Canoodle?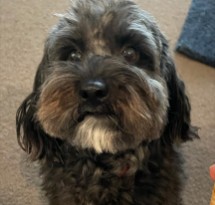 Canoodles are an extremely new designer dog breed. These dogs are the result of breeding a Cane Corso with a Standard Poodle. Standard Poodles are the largest Poodles, making them a better fit for the Cane Corso compared to some of the smaller Poodles.
Designer dogs have been strategically bred to have the best characteristics of both parent breeds. Mixing breeds reduces the puppy's chances of developing illnesses that purebred dogs are prone to inherit. Therefore, many people do this to have healthier puppies.
Another reason designer dog breeds, especially Poodles mixes, have become increasingly popular is their hypoallergenic qualities.
Poodles are known for their non-shedding fur. So, many people have begun mixing Poodles with other breeds to create unique dogs who inherit the non-shedding coat of their Poodle parents. Canoodles are a great example of this.
More Poodle Mix Guides: Chihuahua Poodle Mix Guide and Bichon Poodle Mix Guide.
Size
Canoodles are relatively large dogs compared to many other types of Poodle mixes. This is primarily due to the immense size of the Cane Corso.
Even a Standard Poodle is not as large as a Cane Corso. This is why only Standard Poodles are used when breeding Canoodles. Anything smaller than that is simply too small.
Cane Corso's are massive dogs with an approximate height of 23.5-27.5 inches. Their weight typically ranges between 99lbs and 110 lbs.
Standard Poodles are any Poodle over 15 inches in height and 40-70 lbs. Therefore, when you mix these two breeds, you get a Canoodle.
Canoodles can be anywhere from 15-27.5 inches in height and weigh 40-110 lbs. This can also be affected by the amount of each parent's genetics are in each puppy.
For example, suppose you mix a Canoodle with a purebred Cane Corso. In that case, you will have a puppy with 75% Cane Corso genetics and 25% Poodle genetics. Your puppy will resemble a Cane Corso more, which will make it larger.
The opposite applies to Poodles. So, if you mix a Canoodle with a purebred Poodle, your puppy will be 75% Poodle and 25% Cane Corso.
This combination is likely to be smaller because it has more Poodle influence. A Canoodle resulting from a purebred Cane Corso and a purebred Poodle has an unpredictable size.
It's important to remember that guessing a dog's exact size before it is born is virtually impossible, especially for mixed breed dogs. Just know, Canoodles are large dogs, regardless of where they fall in the typical size range.
More Poodle Mix Guides: Blue Heeler Poodle Mix Guide and Fox Terrier Poodle Mix Guide.
Appearance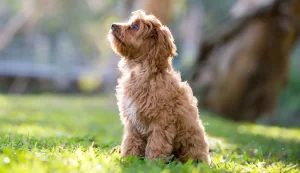 The appearances of Canoodles can vary significantly between individual dogs. This, again, has a lot to do with which parent breed your puppy takes after more.
A Canoodle that takes after its Poodle parent more will have longer, curlier hair that is less likely to shed. On the other hand, a Canoodle puppy similar to its Cane Corso parent is more likely to have shorter and smoother hair and is less likely to shed.
Cane Corsos and Poodles both come in a variety of colors. The most common colors for Poodles are black, white, and brown. Cane Corsos are also most commonly found in black, along with grey and fawn.
Therefore, Canoodles can also be a multitude of colors. Poodles are typically a solid color across their entire body. At the same time, Cane Corsos are a solid color except for the mask area of their face, which is usually black or grey.
Therefore, your Canoodle may have unique markings like its Cane Corso parent. One of the main reasons these dogs were bred in the first place was to create hypoallergenic coats.
Remember, there is never a guarantee that your dog is 100% shed-free with mixed breeding. There is still a chance that your dog will shed somewhat, mainly because Cane Corsos naturally shed.
Additionally, Cane Corsos are known for their drooling, which can irritate allergies. Therefore, if you are allergic to dogs, a Canoodle is not guaranteed to be allergen-free.
More Poodle Mix Guides: Whippet Poodle Mix Guide and Chow Chow Poodle Mix Guide.
Temperament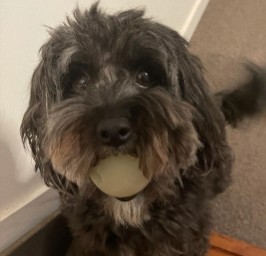 Canoodles have unique temperaments because their parent dogs are so different in personality. Poodles are brilliant, playful, and loyal dogs.
They are highly affectionate with their family and love meeting new people. Poodles make great companions for families with children.
On the other hand, Cane Corsos are reserved and guarded. Despite their aloof personalities, Cane Corsos are dedicated to their family and protect them at all costs.
Unfortunately, without proper training, this means that your Cane Corso can be aggressive towards strangers and children. Therefore, it is essential to socialize your Cane Corso from an early age; otherwise, these large dogs can be dangerous.
Luckily, Cane Corsos are also intelligent and eager to please, making them reasonably easy to train. These dogs have a high prey drive, so they are not recommended for families with small animals or even children.
Based on the different personalities of these parent dogs, Canoodles have very unique temperaments. These dogs are loving and playful but also protective and eager to please.
This combination of traits makes Canoodles a very easy dog breed to train. However, their intelligence causes them to become bored quickly, so you should always provide a toy or activity to keep your Canoodle occupied.
Related: Friendliest Dog Breeds with Images.
Training
Training any type of dog requires time and patience. It is essential to start preparing early so bad habits do not form and follow them into adulthood.
Socialization is a huge part of this training, especially for dogs with Cane Corso genetics. Cane Corsos can be suspicious of strangers, so showing them at a young age that strangers are safe means your dog will be less guarded.
Cane Corsos can be stubborn dogs who only listen to their owner. Even then, you must be firm and show your Cane Corso, who is in charge.
Luckily, these dogs are eager to please their owner, so they will train efficiently as long as the right person is there. Canoodles are a little less stubborn than purebred Cane Corsos because they have some Poodle genetics for balance.
Poodles are brilliant dogs who learn exceptionally quickly. However, they are also sensitive dogs greatly affected by harsh words. Therefore, Canoodles require a balance of firmness and gentleness.
Do not scold your Canoodle; simply repeat yourself and hold firm. That being said, with their combination of intelligence and eagerness to please, Canoodles are a very easy dog breed to train.
Related: How to Train a Dog with a Shock Collar and How to Use an E-Collar to Train Your Dog.
Health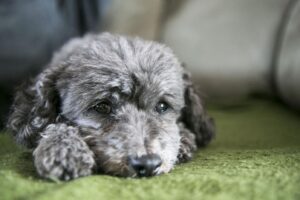 When adopting any dog, you should ensure that the breeder you choose is reputable. Reputable breeders will complete a thorough series of health tests on parent dogs.
These ensure that they are in good health and do not have any hereditary illnesses passed to their puppies. Reputable breeders will also provide the newborn puppies with individualized health care and vet visits before sending them to their forever homes.
As we mentioned before, hybrid dogs are often healthier than purebred dogs because their chances of developing certain diseases are less than those with purebred genetics.
These dogs can still get sick and are prone to some illnesses. They are just less likely to develop them than purebred dogs are. Below we will list some of the most common health problems found among Canoodles.
This does not guarantee your Canoodle will have any of these illnesses; some Canoodles go their entire life without getting sick. However, it is essential to be aware of these illnesses just in case.
Epilepsy
Hip Dysplasia
Addison's Disease
Gastric Torsion (Bloat)
Trachea Collapse
Thyroid Problems
Eye Issues
Being aware of these illnesses allows you to seek help for your dog if needed. That being said, Canoodles are relatively healthy dogs with long lifespans.
Cane Corsos have an exceedingly long lifespan for such a large dog at 9-12 years. Standard Poodles commonly live for 10-18 years. Therefore, Canoodles have lifespans ranging from 9 to 18 years of age.
Diet
Diet is another contributing factor to your Canoodle's overall health. Canoodles require a healthy, well-rounded diet with lots of essential nutrients.
Their large size means that Canoodles should be given food made for large dogs. This specially made food ensures your dog receives the proper nutrients for its large size.
These dogs are highly active, so they need to eat plenty of food to keep their energy up. A professional veterinarian should determine the proper amount of food, mainly because these dogs can vary so greatly in size.
Once you have consulted a professional veterinarian about your dog's specific needs, you will have to choose times to feed your Canoodle.
Because these dogs are prone to Gastric Torsion (also known as bloat), their daily food should be broken up into multiple smaller meals instead of one large meal. These little meals throughout the day reduce the chances of your Canoodle experiencing bloat.
Related: Best High-Fiber Dog Food For Anal Gland Problems and Best Non-Prescription Diabetic Dog Foods.
Exercise
Canoodles are high-energy dogs who require lots of exercise. These dogs are large and need plenty of room to run and play. Therefore, Canoodles are not suitable for apartment living, or your downstairs neighbor may begin to wonder why you have a horse in the house.
Additionally, you need to make sure you have enough time to exercise with your dog before adopting a Canoodle. These dogs require tons of activity, not just for keeping in shape.
Their high intelligence causes Canoodles to become easily bored. Therefore, fetch, and agility games keep your Canoodle stimulated while also tiring them out. Otherwise, your dog could become restless and bored, leading to undesirable behavior.
Related: Best Dog Playpen For Hardwood Floors.
Grooming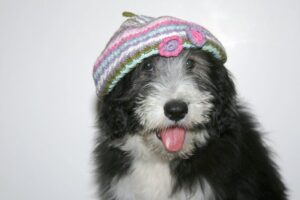 Grooming practices for Canoodles largely depend on the type of fur they have. Canoodles whose hair is more similar to a Poodle will need to be brushed daily to avoid matting.
Additionally, these dogs will need a haircut every 6-8 weeks because they do not shed, so their hair will get long and hard to manage.
If your Canoodle resembles a Cane Corso more than a Poodle, then brushing is only required once a week. This is because your dog's hair will be smoother and shorter.
These dogs will still need to see a groomer occasionally for a quick haircut. They will still have some Poodle genetics preventing hair from shedding like normal.
While at the groomer, you can ask for your dog to have its teeth brushed and nails clips. Clipping your dog's nails is essential otherwise, they can become sore and dangerous.
Your groomer may also inspect your Canoodles ears for any sign of infection and clean them to prevent debris from getting caught.
Related: How Long Does Dog Grooming Take and How Do You Groom with a Slicker Brush?
Conclusion For "Canoodle Information, Facts, Images"

While the name, Canoodle, isn't as popular of a Poodle mix it is. It sure is interesting learning about the many different breeders. You can learn more about other Poodle mixes by checking out our list of Doodle breeds.
If you enjoyed learning about the Canoodle dog, you can check out these other dog guides:
You can learn more about other Poodle mixed breeds by watching "15 Poodle Mix Breeds That Will Melt Your Heart" down below: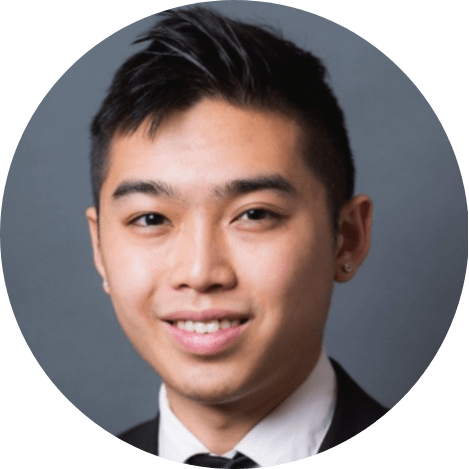 Andy is a full-time animal rescuer and owner of a toy doodle. When he's not saving dogs, Andy is one of our core writers and editors. He has been writing about dogs for over a decade. Andy joined our team because he believes that words are powerful tools that can change a dog's life for the better.
Why Trust We Love Doodles?
At We Love Doodles, we're a team of writers, veterinarians, and puppy trainers that love dogs. Our team of qualified experts researches and provides reliable information on a wide range of dog topics. Our reviews are based on customer feedback, hands-on testing, and in-depth analysis. We are fully transparent and honest to our community of dog owners and future owners.