Are you struggling to find Malshi puppies for sale? If so, you have come to the right place.
Unfortunately, finding a reputable breeder for designer breeds can often be hard. But don't worry! We've got you covered. We have created a list of the top places you can get an adorable Malshi puppy.
Malshi puppies are a cross between a Maltese and a Shih Tzu. Both the parent breeds have been around for a long time. The Maltese was a status symbol among the Greeks, and the Shih Tzu was a loyal companion of Chinese Emperors. However, the Malshi is a newer designer breed that has gotten quite popular recently.
The Malshi is known for its adorable looks and fluffy coat. These dogs are usually easy to maintain, low-shedding, and hypoallergenic. On top of that, they have an excellent temperament that's hard to match.
These dogs are incredibly cuddly, affectionate, and social as well. A Malshi loves pleasing its owner and is eager to learn new tricks, making it easily trainable. In addition, it gets along with other pets and children.
So, if you are thinking about adding a cute Malshi puppy to your family, look no further. Here is a list of breeders offering healthy, happy, and adorable Malshi puppies.
Before scrolling down this list of breeders with Malshi puppies for sale, check out these articles: Teacup Maltipoos for Sale: Top 10 Breeders! (2023) and Shorkie Puppies For Sale: Top 8 Breeders! (2023).
1. Perfect Paw Pups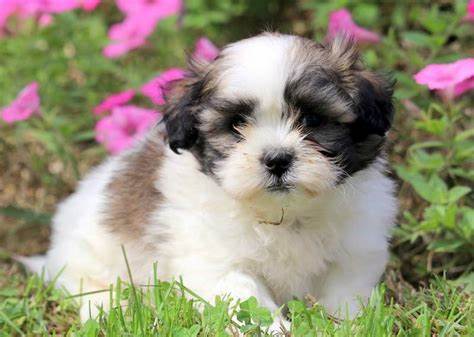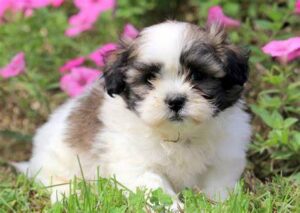 Perfect Paw Pups is a family-owned breeding program that breeds purebred Maltese, Shih Tzu, and F1 Malshi puppies. An F1 designer breed means the breeder uses only purebred parents — in this case, the Maltese and the Shih Tzu — to breed Malshi puppies. So, you can get some of the best quality Malshi puppies from Perfect Paw Pups.
The breeder raises its puppies at home. With that in mind, the puppies receive lots of care and attention and grow up in a loving and safe environment. And the breeder claims to breed all puppies for beauty, quality, temperament, and health.
Browse the healthy and well-tempered Malshis for sale on the breeder's website to learn more about the available puppies. The total price of each puppy is $1,600. However, the breeder requires $400 for a reservation, and the rest is due at pickup.
If you want the first pick of a litter, you'll have to pay $500 to reserve your spot. Apart from this, the breeder also offers multiple payment options to make buying a pet easier.
Perfect Paw Pups Details:
2. Princess Puppies
Next on the list of Malshi breeders is Princess Puppies. It is also a family-owned breeding program that has been breeding several small breeds for over 15 years. Princess Puppies breeds Yorkshire Terriers, Maltese, Poodles, Malshi, Shih Tzus, Maltipoos, Morkies, and other hybrid breeds.
Princess Puppies strives to breed and raise healthy and well-socialized puppies. They offer a lifetime health guarantee against congenital defects. In addition, the breeder vaccinates and deworms all puppies before they leave for their forever homes.
The breeder will educate you as much as possible about your puppy to make the transition easier and help you better understand your puppy and its needs.
You can visit the Princess Puppies website to check if they have Malshi pups available for adoption. If you like a puppy, you can contact the breeder via phone or email to confirm whether the puppy is still available. Then you can reserve the puppy by clicking on the Reserve Me button on their profile.
You will also have to deposit $500 to reserve the puppy, which will go toward the total amount. However, the full price of the puppies can vary. For instance, Princess Puppies' latest Malshi litter is available for around $1,800 to $2,300.
Rest assured, you can visit Princess Puppies and meet your puppy before buying to ensure that it is the perfect match for you.
Princess Puppies Details:
3. Georgia Puppies Online
Georgia Puppies Online was established in 2017. However, the owners have been breeding dogs since 2004. They also offer puppies in Alabama, Louisiana, South Carolina, North Carolina, and Tennessee.
The breeder strives to help families find the most playful and healthiest puppies. Although Georgia Puppies Online breeds some dogs, they also work closely with other reputable breeders to help puppies find loving homes.
A great quality that sets this breeder apart from the rest is that they also put up rescue dogs for adoption. The breeder works with non-profit rescues and helps needy dogs find a second chance at life. And every rescue for adoption is also spayed/neutered, dewormed, vaccinated, groomed, and checked by the vet.
The breeder raises all their puppies with as much love and care as possible. They make sure their pups are socialized early on and are updated on their vaccines and dewormed.
In addition, every puppy comes with a Georgia Health Certificate and a one-year health guarantee from the breeder. They also allow prospective clients to interact with puppies one-on-one. It helps you understand the puppy's temperament, learn more about the breed, and make an informed choice.
Georgia Puppies Online ensures that your adoption experience goes smoothly. They have a team dedicated to helping clients and answering all their questions. Their team can also help you pick the best breed for you and choose a puppy.
Additionally, they also offer lifetime breeder support. So, you can have all the help you need even after you have bought the puppy.
Finally, you can find a Malshi for sale at Georgia Puppies Online for around $2,000. However, the price may vary according to different characteristics.
Georgia Puppies Online Details:
4. Infinity Pups
Infinity Pups is a family-owned program that helps families connect with the best breeders and buy high-quality pups. Although they mainly act as a broker, they also breed some puppies.
Infinity Pups ensures that they only work with reputable and ethical breeders and never with puppy mills. A team member visits breeders to inspect their facility and breeding practices and takes adorable pictures of the pups.
In addition, you can meet the breeder when you pick up your puppy. You can also get to meet the puppy's parents if possible.
Visit Infinity Pup's website and learn more about the numerous dog breeds available to find one you like. Visit their Our Puppies page to check whether they have the puppy you want.
If you find a puppy, you can contact the breeder instantly via the link available on the puppy's profile. If satisfied, you can chat with the breeder and set up a pickup date. You will also have to make a non-refundable deposit to reserve the puppy you like.
Contact Infinity Pups with the information below if you have any questions. Infinity Pups can also help arrange air shipping or ground transport if you cannot pick up your pet.
Infinity Pups Details:
5. Premier Pups
Premier Pups is a popular pet adoption agency where you are bound to find Malshi puppies for sale from different breeders. The agency is located in Ohio and strives to provide its clients with a premier experience. Premier Pups is not a pet store. In fact, you can visit their home in Ohio and pick up your puppy as well.
The adoption process at Premier Pups is smooth and stress-free. First, you can search their website for the breed or puppy you want. Here, you can find detailed puppy profiles, including information such as health, parent information, age, gender, and more.
In addition, every puppy up for adoption is vaccinated and healthy and comes with quality puppy supplies and care instructions. You can also choose to get your puppy microchipped.
When you find a puppy you like, you can adopt it directly or reserve it. You can also make an offer; however, making an offer cannot guarantee you a puppy. After this stage, Premier Pups will contact you to decide on the delivery or shipping details. You can also visit the Premier Pups' home and pick up the puppy.
At Premier Pups, you can be sure you will get the best puppy. Premier Pups has on-site staff that takes care of the puppies 24/7. They use some of the best methods to ensure that the puppies grow up healthy, well-tempered, and well-socialized dogs. They also offer a ten years health guarantee if you get your puppy insured within six weeks.
Premier Pups Details:
Frequently Asked Questions
Are Malshis a good pet?
Whether you're an experienced dog owner or a total novice, Malshis have great qualities, including high adaptability. They are loving dogs who do well around other pets and children. You won't have to worry much about shedding, either.
Do Malshi puppies shed?
There's a misconception about Malshis being non-shedding in certain circles. Malshis are considered low-shedding, so plan to brush your puppy accordingly.
Do Malshis like to cuddle?
Unequivocally, yes. As puppies and even adults, Malshis love to show their affection. Expect plenty of cuddle time if you end up getting a Malshi puppy.
Conclusion for "Malshi Puppies for Sale – Top Breeders"
The Malshi is an incredible breed and possesses some of the best characteristics of its parent breeds.
While small, this breed is the complete package. Malshis are friendly, easily trainable, social, and affectionate as well. These qualities make the Malshi an excellent choice for novice dog owners and urban dwellers.
Overall, the Malshi is a popular designer breed. So, there are many places where you might find these cute dogs. However, it is important to go for reputable breeders to ensure you get a happy and healthy puppy.
The list above has some of the best places to find quality Malshi puppies for sale in the United States. We hope it helps you find your dream dog.
For more guides similar to this list of Malshi puppy breeders in the US, you can check out:
Before bringing home a Malshi puppy from a breeder in the US, you can learn more about this dog breed by watching "Malshi – Top 10 Facts (Maltese Shih Tzu Mix)" down below: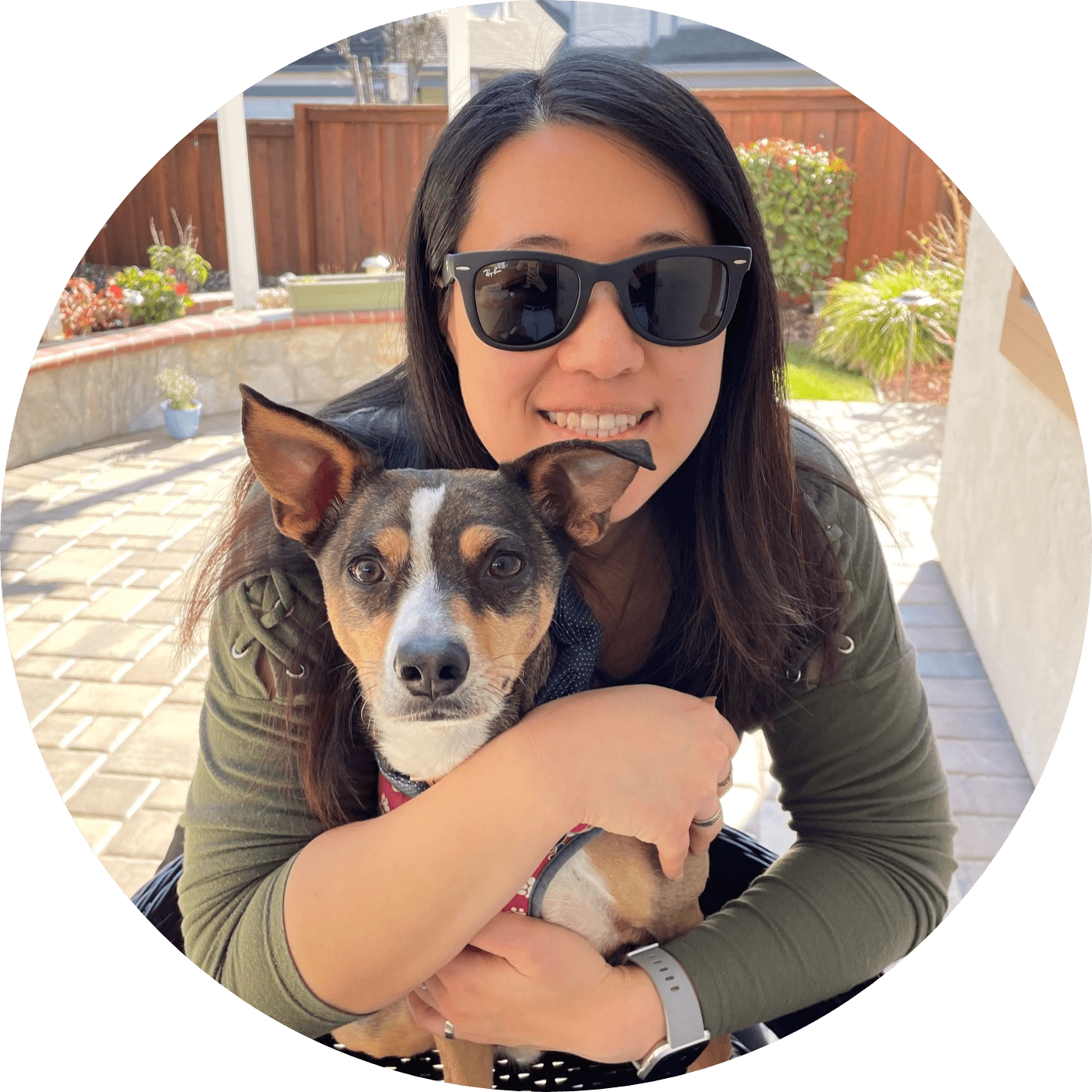 Dr. Sabrina Kong graduated from the Royal Veterinary College in England in 2016 and has been working at a small animal clinic in Northern California since then. She grew up in the Bay Area and got her bachelor's degree from Cal Poly San Luis Obispo. She also became a Certified Canine Rehabilitation Practitioner through a program at the University of Tennessee.
When she isn't in the clinic taking care of her four-legged patients, she enjoys traveling and trying new foods with her friends and her three-legged dog, Apollo. She adopted Apollo from her clinic when he was a puppy with numerous health issues. Dr. Kong truly cares about taking care of animals.