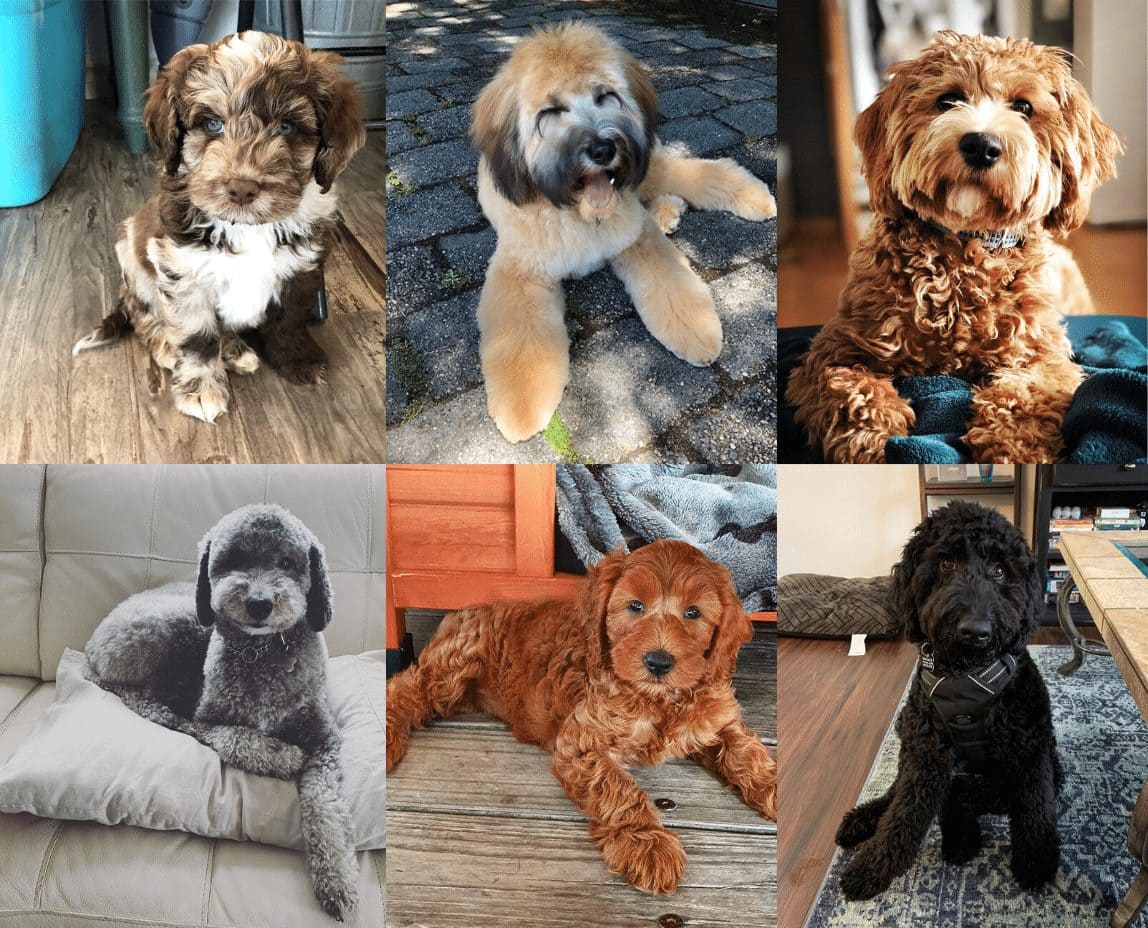 If you've been looking to get a Labradoodle, you know there are virtually infinite combinations of Labradoodle colors that you can buy from various breeders.  Since there has been a huge surge in the popularity of the Labradoodle breed due to their hypoallergenic, nonshedding, and loving traits, they are being bred in every single distinctive size and color. 
We will review the most common dog colors like the Gold Labradoodle, Red Labradoodle, Cream Labradoodle, Blue Labradoodle, White Labradoodle, Chocolate Labradoodle, and many others.  Dog breeders are even getting fancier with their colors and you'll even learn about some uncommon multicolor dogs like parti Labradoodles or phantom Labradoodles!
Why are there so many different Labradoodle colors? 
Since the Labradoodle isn't a purebred dog, mixing the Labrador Retriever (which has three standard colors) with the Poodle (which has ten standard colors) creates almost an infinite amount of different Labradoodle coat colors.  Outside of the standard Labrador Retriever and Poodle colors, there are likewise parti Poodles (two colored Poodles) and multi-colored Labrador Retrievers.  
There are three standard Labrador Retriever colors that the American Kennel Club (AKC) formally perceives: Black, Yellow, and Chocolate.  On the other hand, the AKC perceives ten distinct kinds of standard Poodle colors: Apricot, Blue, Silver, Gray, Brown, Cream, Cafe-au-lait, etc. Below we break down the most common Labradoodle colors and multi-color Labradoodles.
Golden Labradoodle / Apricot Labradoodle Color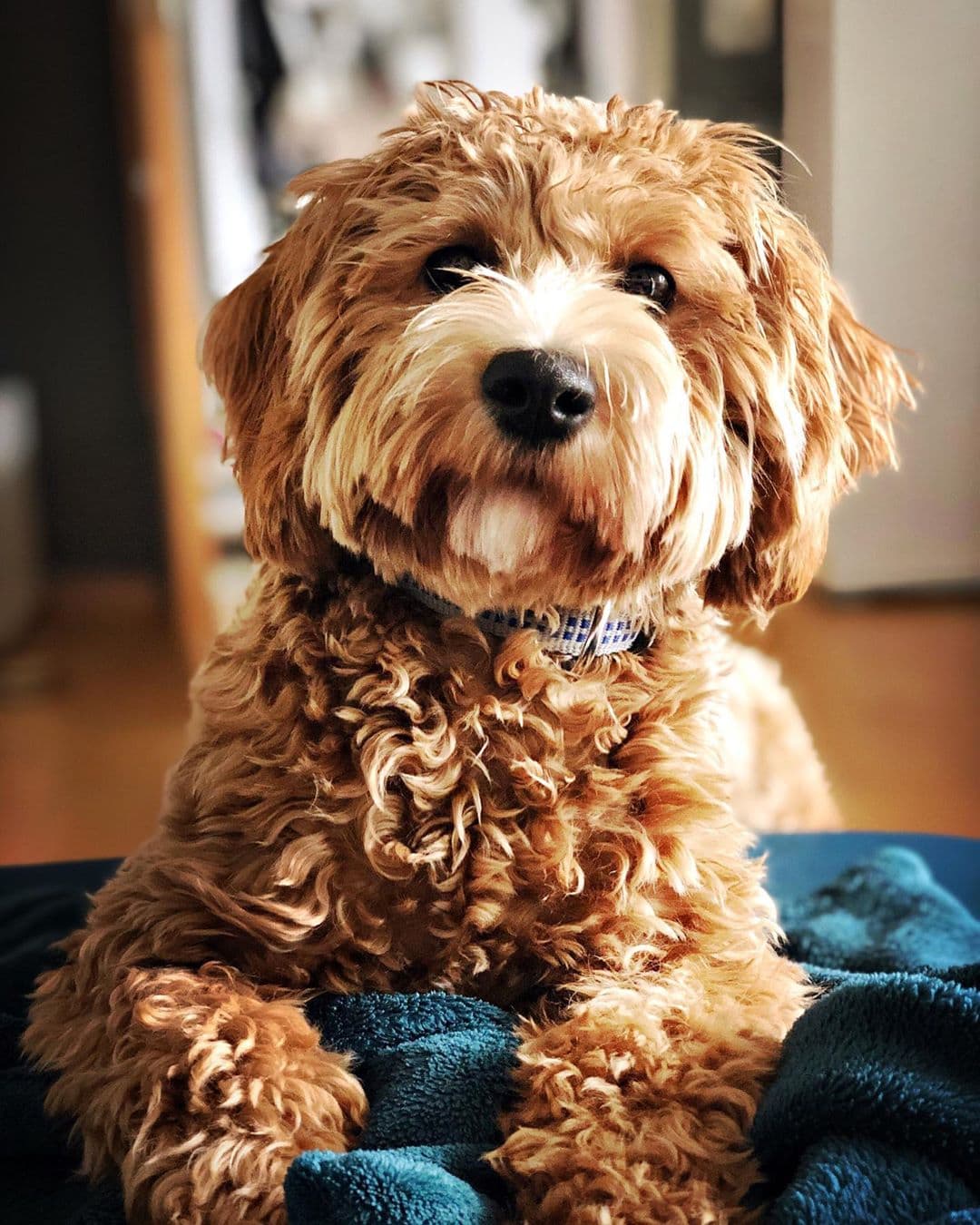 The Golden Labradoodle is one of the most popular colors of the dog.  The correct name of the Golden Labradoodle is actually the Apricot Labradoodle since the AKC perceives the Apricot color of the Poodle as a standard color.  Regardless, this is one of the most bred and trending shades of the Labradoodle because it resembles a sweet little teddy bear.
Quite often, you will see Apricot Labradoodles and Gold Labradoodles obtain black features, including their nose, eyes, toenails, and eye rims. The most common nose color of the Gold Labradoodle is black or brown.  It's important to note that the Apricot Labradoodle coat does tend to become lighter as they age.  In many cases, your Labradoodle could be born in the apricot or gold colors and then be mistaken for Cream Labradoodle later on in life because of their coat fading in color.
Quick Apricot Labradoodle Fact:  The Apricot Poodle shading was the last official Poodle shading to be acknowledged by the AKC in 1898.  It is profoundly speculated that the Apricot Poodle shading happened as an uncommon mix of blue, darker brown, and silver genetic traits.
Red Labradoodle Color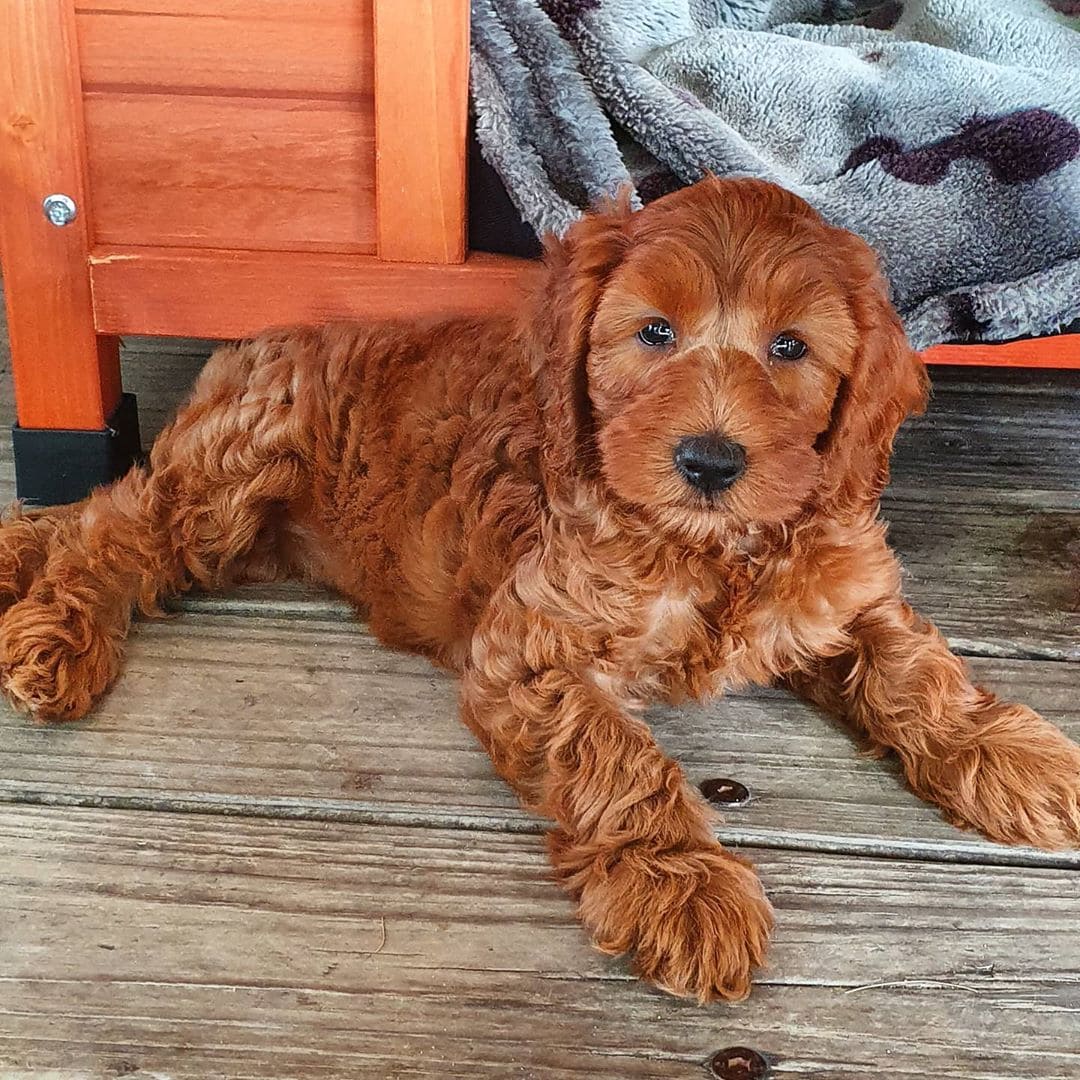 Like the Apricot Labradoodle and Gold Labradoodle, the Red Labradoodle is slightly darker in color.  The Red Labradoodle color is best described as a "mahogany" shading.  Again, Red Labradoodles are popular because they look like a teddy bear and usually contain a signature black nose.  However, the Red Labradoodle color is definitely a lot harder to breed and is rarer than the Gold Labradoodle due to it being a more recessive trait color. 
Red is not an official Poodle or Labrador Retriever color recognized by the AKC. However, breeders often use the term Red Labradoodle because this is the color of a darker-shaded Poodle mixed with a typical tan or cream Labrador Retriever.  Red Labradoodles are what many people think when they hear the expression "Labradoodle." 
Black Labradoodle Color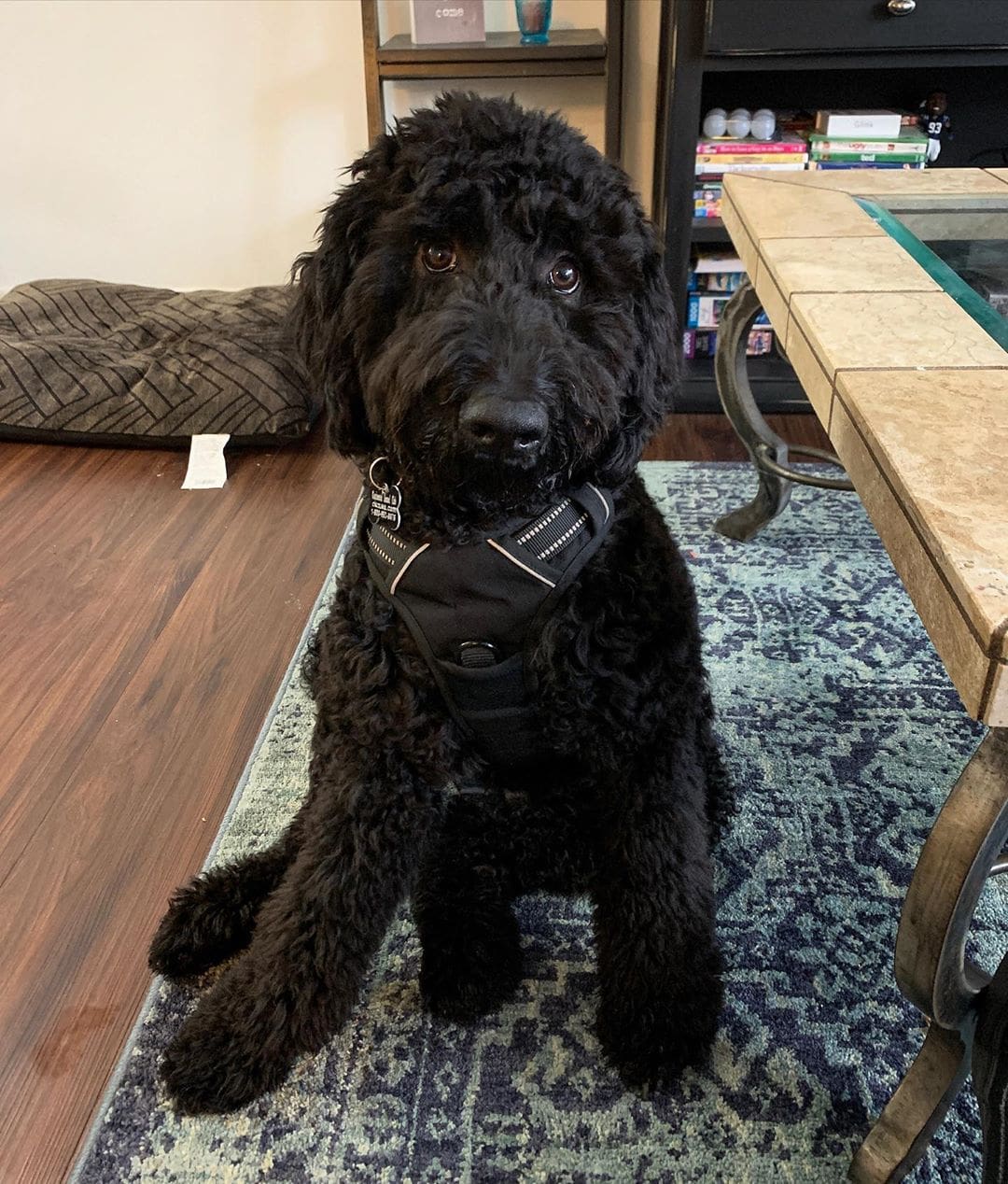 A Black Labradoodle is one of the more common colorations of Labradoodle; the dog is typically mixed with a Black Poodle and Chocolate Labrador Retriever.  Black Labradoodles are a relatively common color, unlike a Black Goldendoodle since the Golden Retriever doesn't come in a standard chocolate color. 
The Black Labradoodle is certainly rarer than a Golden Labradoodle since black is considered a recessive genetic trait.  Thus, black is more unlikely to be a Labradoodle color unless both parents are a dark color.  Even if both parent dogs are black, sometimes you'll get a Chocolate or Brown Labradoodle since the black color is a recessive trait.
As a general rule, Black Labradoodles are quite often all black.  This incorporates their noses, paw pads, eyes, and other physical attributes.  In other Labradoodle colors, you will see significantly more variety in their physical qualities, however, Black Labradoodles tend to quite often be pure black.
Chocolate Labradoodle / Brown Labradoodle Color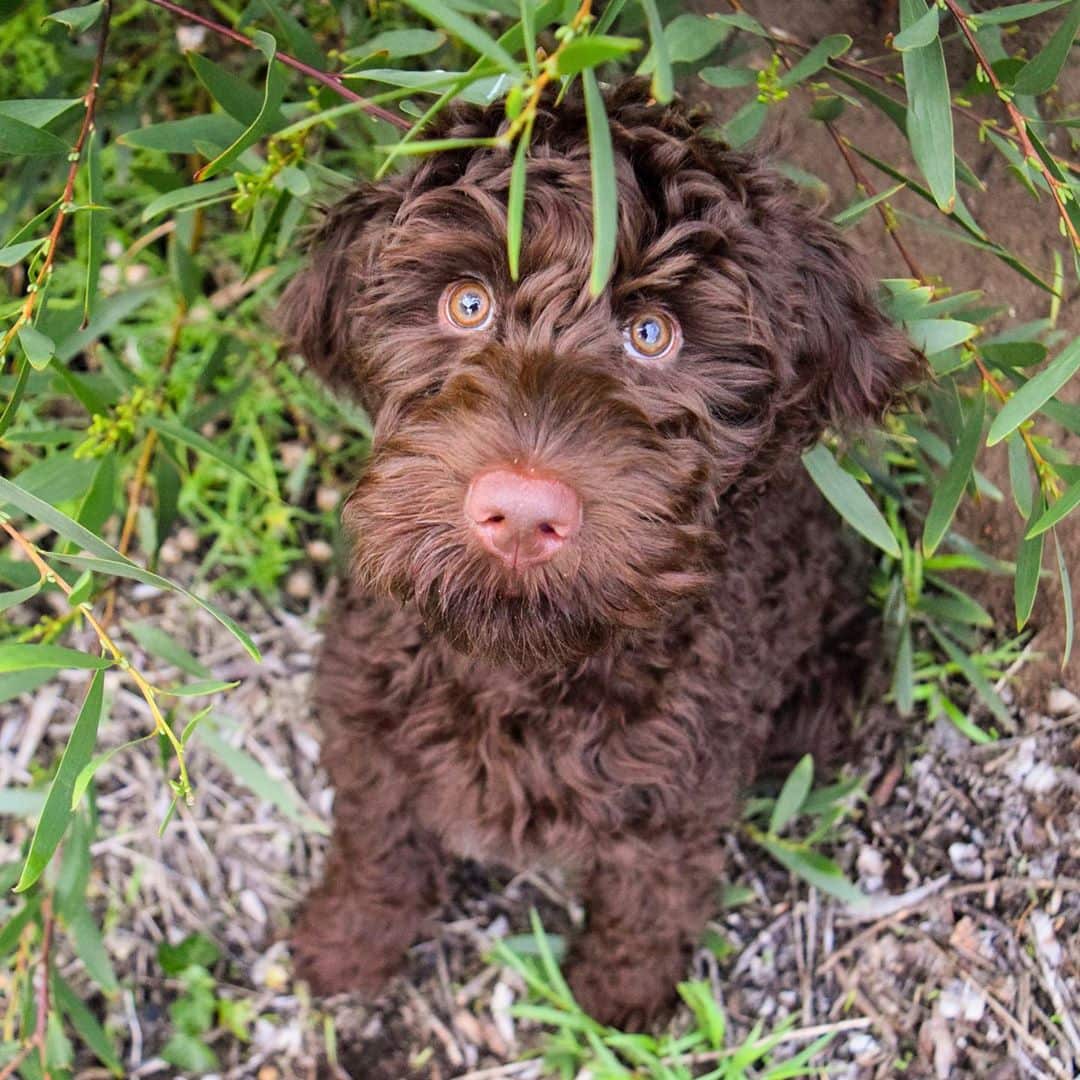 Chocolate Labradoodles or Brown Labradoodles are one of the more well-known coat colors for a Labradoodle since the Labrador Retriever has a standard brown color.  In addition, there are several standard variations of a darker-colored Poodle so you will see many darker Labradoodle colors around your dog park.  A Chocolate Labradoodle or Brown Labradoodle is best described as a dark-colored and rich mahogany with a dull pecan color. 
With the Brown Labradoodle, it's relatively common to see two different colors mixed together.  This is due to the fact that the darker-colored recessive genes tend to be masked by the more dominant lighter-colored genes.  Multi-colored Brown Labradoodles occur in some areas of the Labradoodle's body where recessive genes become dominant.
Cream Labradoodle Color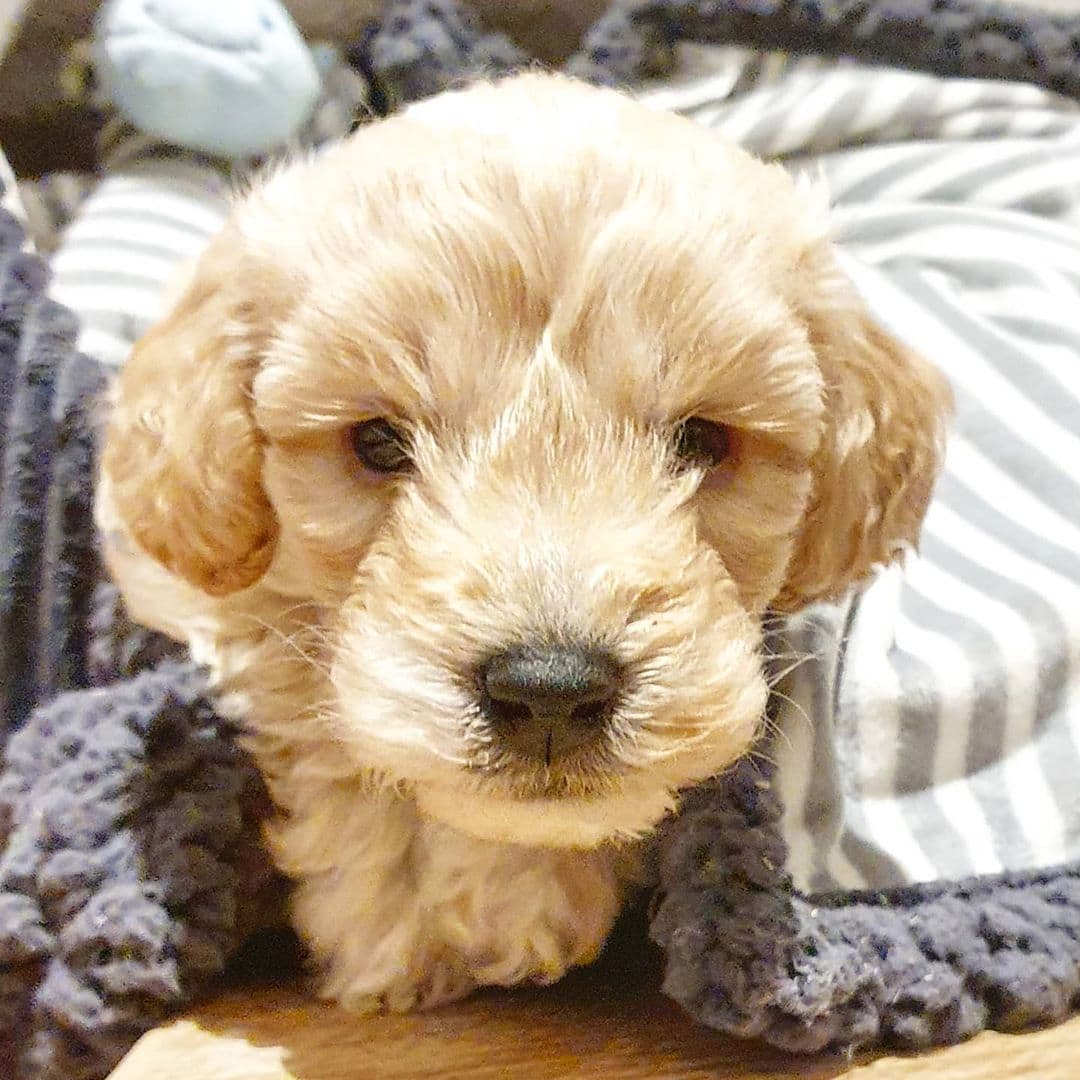 In many cases, people get Cream Labradoodles mixed up with white Labradoodles because of the light-colored coats.  If a Labradoodle isn't completely white, then "cream" is the official color acknowledged by the AKC for Poodles. A Cream Labradoodle is typically used to breed a variety of different colors.  When you look at some of the fancy Labradoodle colors like the Parti Labradoodle, Merle Labradoodle, or even Phantom Labradoodle, you will see that the cream shading is generally used to breed a multicolor coat. 
Cream Labradoodles are special because their traits can vary widely based on the parent dog breeds.  You will see some Cream Labradoodles with light or dark-colored noses, different eye shades, and even lighter toenails.  You will likewise see that many Cream Labradoodles have a pinkish skin underneath their coat. This shading has the biggest variety of physical characteristics and it's unlikely that you'll spot two of the same cream Labradoodles with precisely the same physical traits.
Blue Labradoodle / Silver Labradoodle Color
Blue Labradoodles and Silver Labradoodles are both a unique grey coloring and tend to only show up in multi-colored Labradoodles like the Parti, Merle, or Sable Labradoodles.  You can think of this coloring as an "off" black.  It's very rare to find a one-color Blue Labradoodle or Silver Labradoodle, so we won't talk too much about these colorings.  We will talk more about the Blue Labradoodle and Silver Labradoodle in the multi-colored sections.
Parti Labradoodle Color
As breeders become fancier with their Labradoodle colors, several different variations of multi-colored Labradoodles have started to appear.  The Parti Labradoodle is one of these multi-colored Labradoodles that contains two different coat colors with one of those colors being white.  The other color of the Parti Labradoodle can be any color, but the most basic colors are apricot and brown. Occasionally, you will also notice blue or silver colorings in a Parti Labradoodle.
Recessive traits give the Parti Labradoodle its colors which typically come from the Poodle parent.  Thus, it is quite uncommon to discover a Parti Labradoodle that is not a multi-generation Labradoodle with a lot of Poodle genetics.  To get the Parti Labradoodle shading you have to breed two passive genes together and hope for the best.  One dominant gene can mess up the shade of a Parti Labradoodle and mask the recessive genes. This makes anticipating the shade of your Parti Labradoodle difficult without a DNA test.  Since Parti Labradoodle colors are so rare, there are virtually no two Parti Labradoodles that are the same colors.
Black and White Labradoodle (Tuxedo Labradoodle)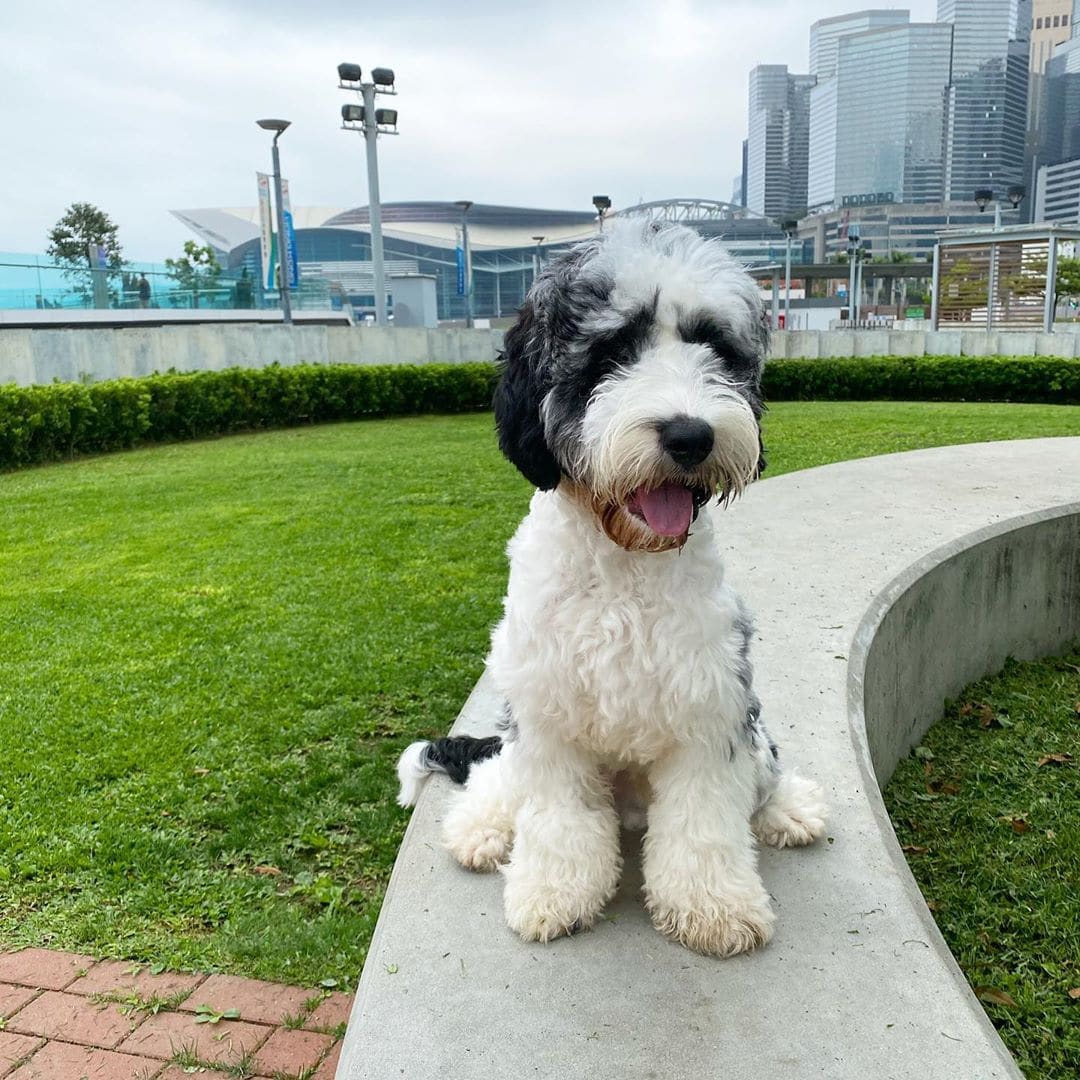 The Black and White Labradoodle is a type of Parti Labradoodle that is exploding in popularity.  The Black and White Labradoodle has very distinct features that incorporate a white chest, white nose, and a dash of white on the highest point of its head.  The rest of the body tends to be black.
The Black and White Labradoodle is regularly called the Tuxedo Labradoodle due to its black and white coloring. However, a Tuxedo Labradoodle has certain imprints that are not the same as the Black and White Labradoodle. For instance, the Tuxedo Labradoodle only has a white tummy and white legs.  The rest of the body of the Tuxedo Labradoodle is black, which includes the face and back.
To get a Black and White Labradoodle, a breeder has to get a white Labrador Retriever and a Parti Poodle to reproduce. They would have to expect the black and white Parti Poodle genetics to pass through to the offspring.  This makes the Black and White Labradoodle very unique and difficult to breed.
Sable Labradoodle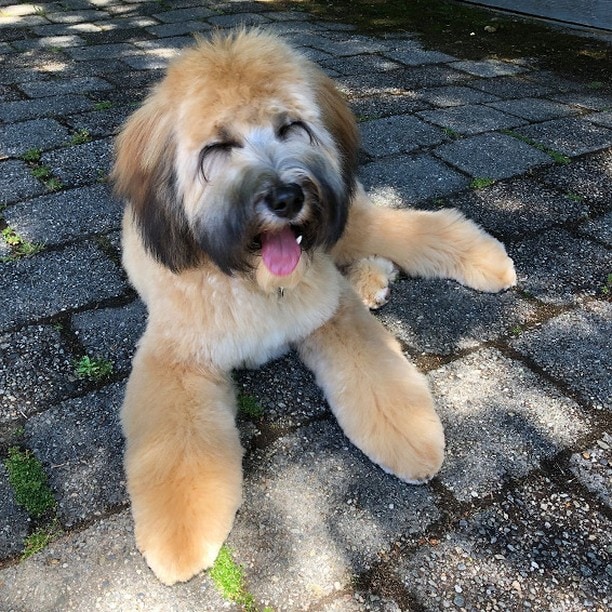 Sable Labradoodles are probably the most unique type of Labradoodle that you can get.  Believe it or not, Sable Labradoodles are all black as a puppy and become cream or white as they age with some parts of their body still remaining black.  As the Sable Labradoodle starts to age, the genetic qualities in the coat begin to fade, typically turning the body into a lighter color. Sable Labradoodles do tend to have black spots on their ears or other parts of their body even as they turn into a cream color.  This is one of the most unique Labradoodle colors.
Merle Labradoodle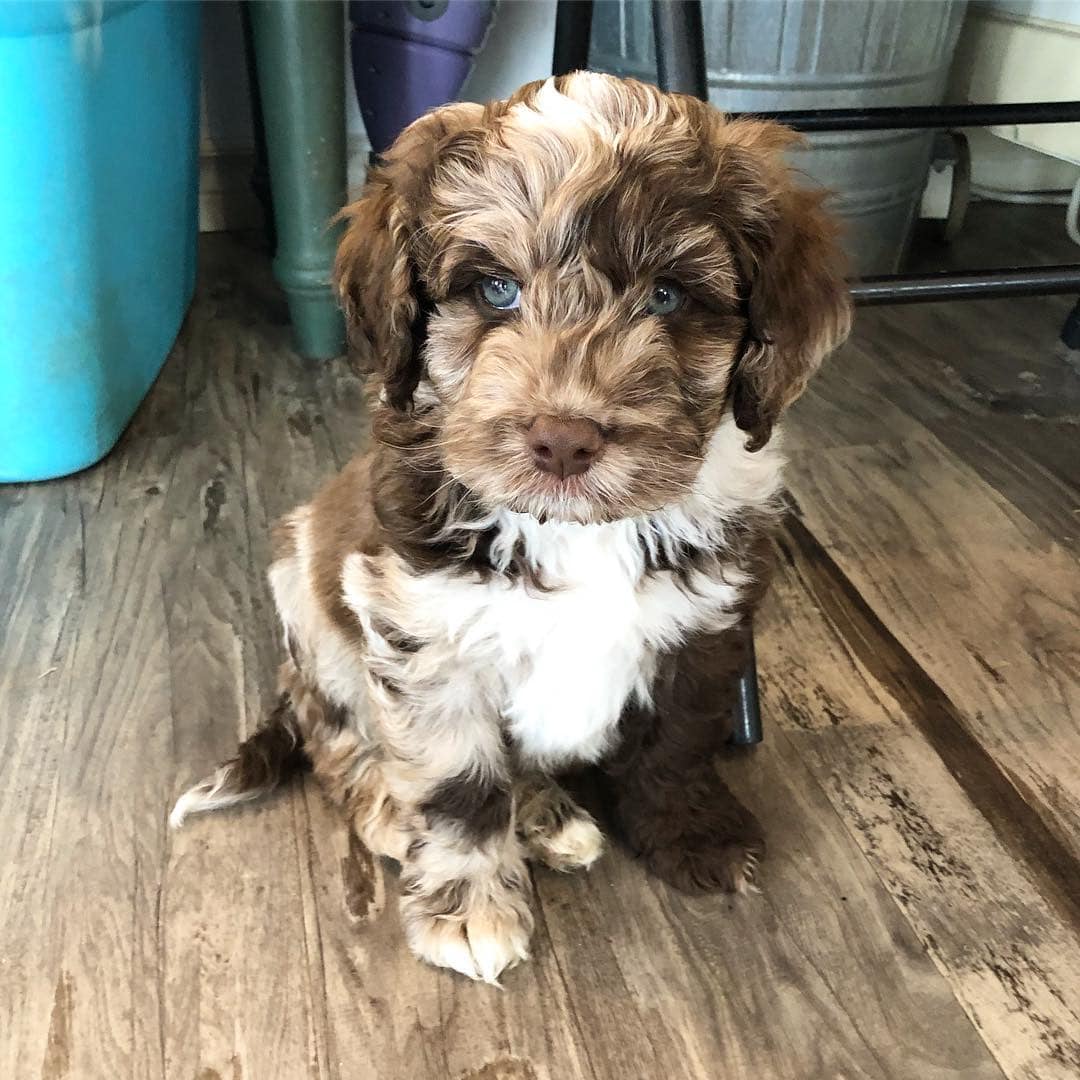 Merle Labradoodles are most common when a Poodle is bred with a Border Collie or Australian Shephard.  Though uncommon, Merle Labradoodles can happen from breeding two Labradoodles together, but one parent must have the Merle gene. However, most Merle Labradoodles aren't really Labradoodles, but they are actually Aussiedoodles.
The Merle Labradoodle is actually different than the Parti Labradoodle.  The Merle coloring is actually a dominant gene, which is why many Australian Shepherds are the same colors.  To get a Merle Labradoodle, you have to have one parent dog be Merle.  Because of the dominant qualities, two Merle Labradoodles should never be bred together. If they are bred together, Merle Labradoodles can frequently be visually impaired, hard of hearing, or have different disfigurements. 
Grey Labradoodle Color 
Grey Labradoodles are fundamentally very similar to a Silver Poodle.  In order to get a Grey Labradoodle color, they are frequently born into the world with a dark shade like chocolate or brown.  Around the two-year mark, their hair starts to lighten and your dog becomes a Grey Labradoodle. After the Grey Labradoodle has completely faded, they resemble the color silver and are no longer a darker color. You will normally know following a month and a half whether your Labradoodle hair will clear up to be a Grey Labradoodle. In addition, you can look at your Labradoodle's skin color and see if it is a light color.  Chances are that your Labradoodle coat color will fade if they have a lighter-colored skin.
Another approach to get a dog that looks like a Grey Labradoodle is to make an Aussiedoodle which is an Australian Shephard and Poodle mix.  Though not actually thought to be a Labradoodle, they are a grey-colored Doodle dog.
Phantom Labradoodle
Phantom Labradoodles are rare for a Labradoodle.  Unlike the Parti Labradoodle, the Phantom Labradoodle must have distinct colors in certain areas of its body.  In order to be a Phantom Labradoodle, a majority of the body has to be one specific color (typically black) and the other colors will appear around their paws, nose, face, or eyes.  The most famous dog that is known to have this Phantom coloring is the Yorkie.
Phantom Labradoodles are usually black and brown.  However, there are several different combinations of Phantom Labradoodles including brown and cream, brown and silver, or black and cream.  In addition, Phantom Labradoodles also sometimes have three different color shades.
A Phantom Labradoodle is born with their markings, so you can easily tell whether or not your Labradoodle will have the rare phantom colorings.  A Labradoodle can't develop the Phantom colors over time, so this type of coat coloring is very rare.
Conclusion for Types of Labradoodle Colors
The AKC does not have any official Labradoodle colors because this is not a purebred dog. However, we do know that there are three different types of Labrador Retriever colors and 10 types of Poodle colors.  This creates several different types of variations and colors that the dominant and recessive traits will start appearing through multi-generational Labradoodles.  We do know that the most common colors are the Gold Labradoodle, Red Labradoodle, Black Labradoodle, Chocolate Labradoodle, and Cream Labradoodle.  There are also several different rare Labradoodle colors like the Parti Labradoodle, Merle Labradoodle, Black and White Labradoodle, and Sable Labradoodle.  Which color Labradoodle is your favorite?
Other Popular Articles:
Frequently Asked Questions
What Color will my Labradoodle Puppy be?
It's very difficult to predict exactly what Labradoodle color your puppy will be since many litters have several different colors and a Labradoodle isn't a purebred dog.  However, the most common colors are a Gold Labradoodle, Cream Labradoodle, Black Labradoodle, or Red Labradoodle.  In order to get a better sense of what color your puppy will be you have to look at the parent dogs genetics.  Generally, lighter colors are more dominant genes.
Will my Labradoodle Coat Colors Change?
Since Labradoodles are a mixed breed and not a purebred dog, there are numerous factors that can influence the color of the adult coat.  If a puppy keeps the same color coat into adulthood, this is known as "holding." Oftentimes, however, a Labradoodle puppy coat will fade to a lighter color which is known as "clearing."
As a rule, always pick a Labradoodle that is a shade darker than what you are expecting. Most Labradoodles tend to fade or dim in color as they grow older.
What Color Labradoodle is best?
This comes down to personal preference.  Personally, I think the Red Labradoodle is my favorite color.  However, some of the more rare colors like Parti Labradoodle, Phantom Labradoodle, or Black and White Labradoodle are becoming more popular due to their exotic colors. 
Garrett loves animals and is a huge advocate for all Doodle dog breeds. He owns his own Goldendoodle named Kona. In addition, he volunteers at the Humane Society of Silicon Valley, where he fosters dogs and helps animals. Garrett enjoys writing about Doodles and believes that dogs can teach humans more about how to live than humans can teach a dog.
Why Trust We Love Doodles?
At We Love Doodles, we're a team of writers, veterinarians, and puppy trainers that love dogs. Our team of qualified experts researches and provides reliable information on a wide range of dog topics. Our reviews are based on customer feedback, hands-on testing, and in-depth analysis. We are fully transparent and honest to our community of dog owners and future owners.