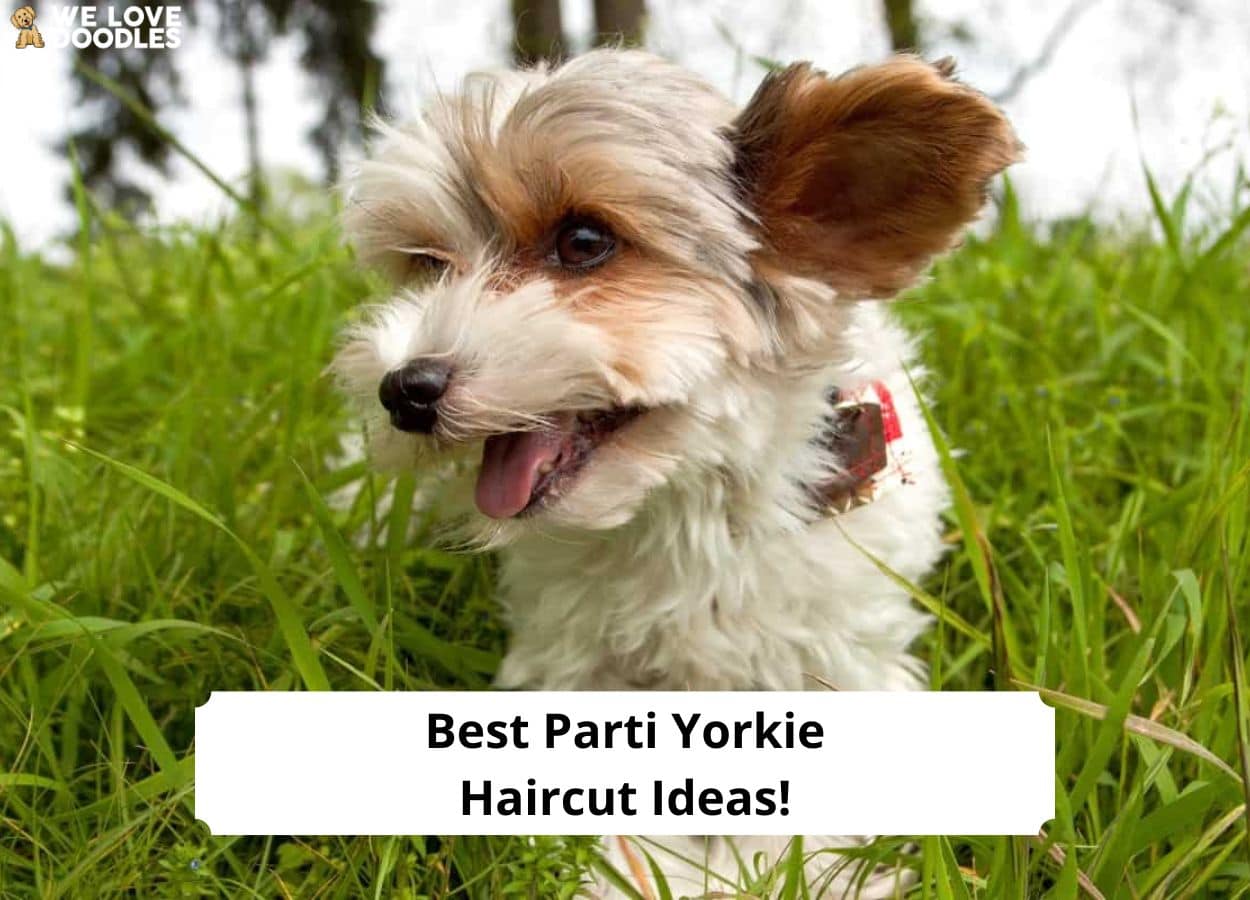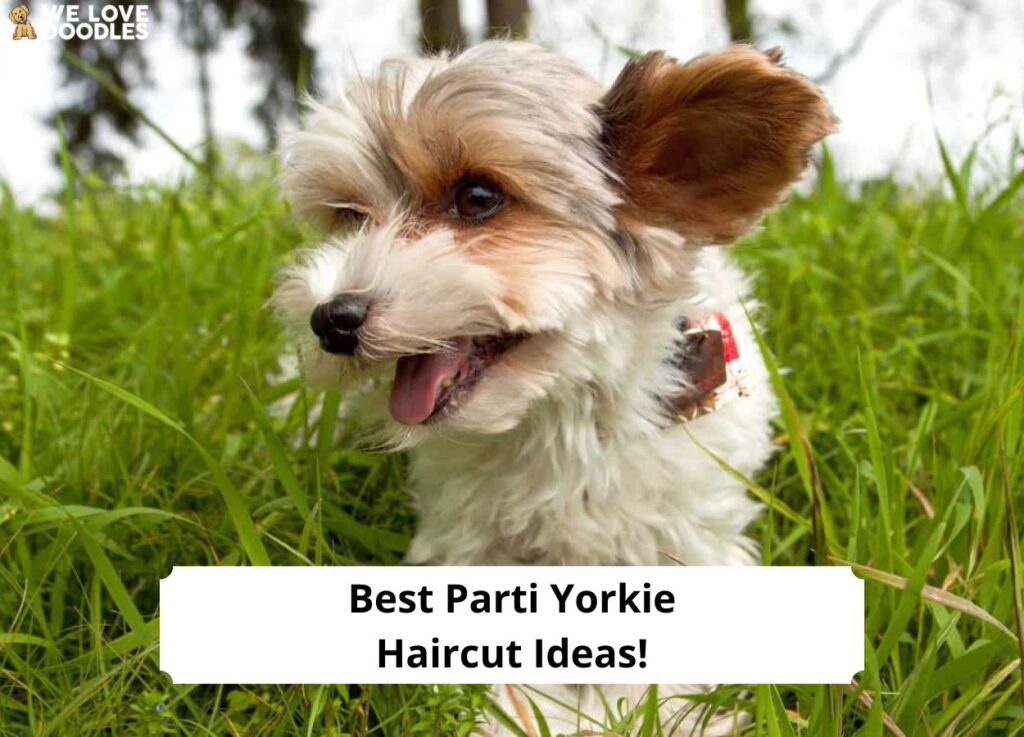 Cutting your Parti Yorkie's hair is vital to prevent tangling and accumulation of dirt. With the right haircut, your Parti Yorkie will enjoy the process and the look after. If you're looking for a new fun haircut or wondering about the best ideas for your Parti Yorkie, you're at the right place.
We have put together a list of our best Parti Yorkie haircuts from which you can choose. After going through our list of your Parti Yorkie haircut ideas, choosing a haircut will be pretty straightforward.
Before listing the haircuts, let's look at some basics.
Before scrolling down this guide "Best Parti Yorkie Haircut Ideas," check out: Teacup Yorkie vs. Yorkie: What's The Difference? (2023) and Are Yorkie Poos Hypoallergenic? (2023).
Three Things to Consider When Choosing Your Parti Yorkie Haircut
Hair growth and length: Your dog's haircut will be determined by the size of your Parti Yorkie's hair and how fast it grows.
Grooming needs: A long haircut style will require more regular grooming than a short one. If you only want to brush your Parti Yorkie one to two times a week, consider going for a short haircut. Also, a short hairstyle will ease the cleaning process if your Parti Yorkie often plays in the dirt.
Your Parti Yorkie personality: Choose a haircut that features your Parti Yorkie personality. All haircuts in our list will bring out a particular character.
Why Is It Crucial to Choose the Right Haircut?
Choosing the right haircut for your Parti Yorkie influences its activity and temperament.
Your Parti Yorkie will be a happy, active, and comfortable friend with the right hairstyle.
The wrong haircut can lead to infections and overheating and even give you a hard time keeping up with cleaning and maintenance.
We advise you to select a haircut that you can maintain without neglecting the grooming needs of your Parti Yorkie.
Parti Yorkie Haircut Ideas
If you want to get your pup a new style, here are the nine most trendy ideas for Parti Yorkie haircuts.
1. Teddy Bear Haircut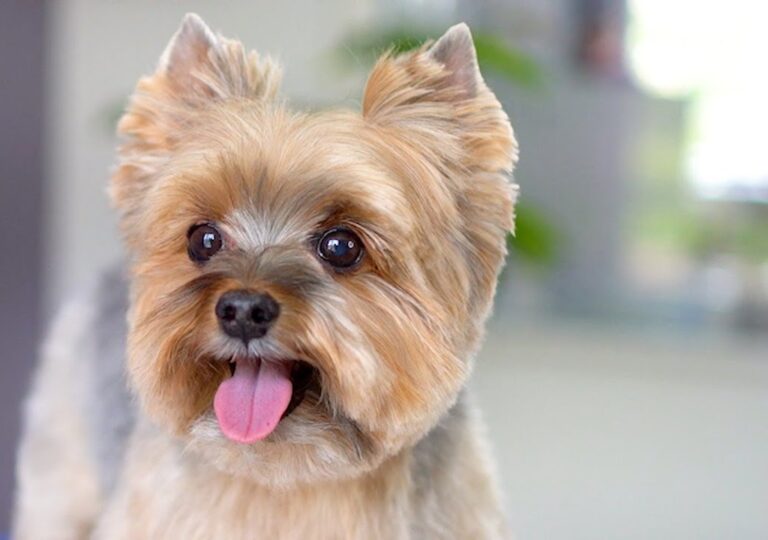 If beauty is your priority for your Parti Yorkie haircut, the teddy bear haircut is the one for you.
For this cut, hair is evenly trimmed all over the body, leaving a medium-sized length of about three inches. As a result, the Parti Yorkie is left with a beautifully fluffy, full, neat look.
The hair around the face is trimmed precisely to be shaped like a teddy bear, hence the name.
The teddy bear haircut requires simple maintenance as hair is even all over the body and not too long.
2. Puppy Haircut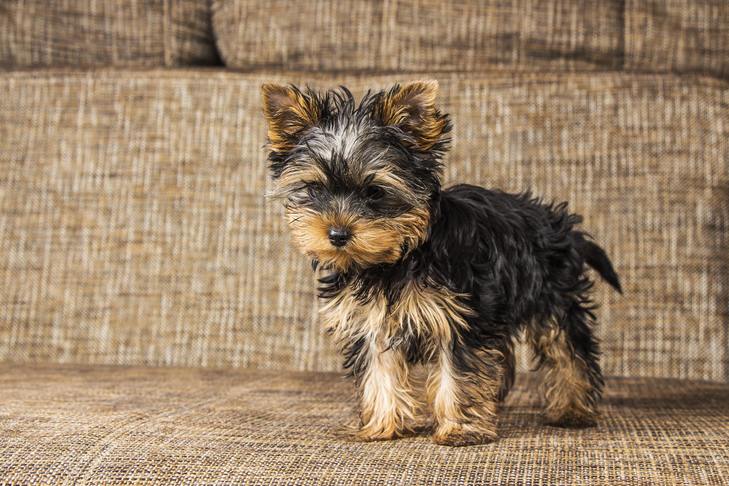 The puppy haircut is a simple one. However, it is ideal if you wish for a low-maintenance haircut.
With this haircut, your Parti Yorkie's hair is trimmed equally all over its body. But, unlike the teddy bear cut that leaves a medium hair length, this style leaves a concise, manageable hair of two inches or less.
Because this style leaves an even amount and size of hair well distributed over the body, cleaning and combing are easy. The tangles and mats are also minimal.
The puppy cut requires minimal maintenance, making it a perfect option for busy Parti Yorkie owners. If your Yorkie is an active dog that plays in the mud often, this is the best haircut.
The puppy haircut style leaves Yorkies looking young, adorable, and vibrant regardless of age. But, of course, even your adult Yorkie will look a few years younger with this cut.
It is ranked as the most popular haircut for Parti Yorkies.
3. Schnauzer Trim
The Schnauzer trim is an intriguing cut. It imitates the look of a Schnauzer, giving your Yorkie an in-between look of an actual Schnauzer and a Parti Yorkie.
Hair is cut shorter in certain parts of the Parti Yorkie, leaving the hair around the chin, chest, and legs longer.
In terms of maintenance, the Schnauzer trim will require more care as the long hair is prone to tangling and mat.
This style is perfect if you're willing to spice it up and simultaneously make your Parti Yorkie look fierce and beautiful.
This haircut is a little complex and requires hiring a professional groomer.
4. Show Cut
This haircut involves little to no interference on the Parti Yorkie's hair.
The hair is left to grow to the maximum possible length. As the name suggests, it is a cut that allows your Parti Yorkie's hair pattern, color, and length to show off.
The hair on the body flows freely to the floor. Hair is put into a top knot on the face to allow the dog to see ahead clearly.
This haircut requires the most maintenance. It requires regular washing and combing daily to prevent tangles, mat, and dirt buildup.
If your Parti Yorkie is an overly active dog that loves to play in the dirt, you may have to avoid this haircut.
This style is for you if you're a dedicated Yorkie owner who regularly has time to groom it.
Generally, the show cut is a beautiful haircut that accentuates the beauty and color of your glorious Parti Yorkie's coat.
5. Lamb Haircut
The lamb haircut is perfect if you're looking for a simple yet fun style.
As the name suggests, the lamb cut imitates the look of an actual lamb. Hair is cut shorter on the body and neck area, leaving fluffier hair on the head and face.
This style requires little maintenance as the hair length is manageable and almost even.
It is a good haircut for Parti Yorkies that want to keep it simple but stylish.
6. Kennel Haircut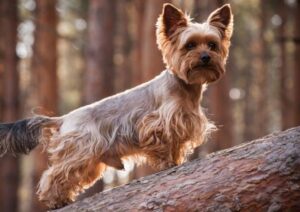 The kennel haircut is another excellent choice for Parti Yorkie owners looking for a low-maintenance style.
The hair is cut very closely to the skin and evenly distributed all over the body except the face. Facial hair is cut to half an inch. It is a combination of the summer and the teddy haircuts.
The kennel haircut is the shortest haircut style — even shorter than the puppy cut. It is perfect for hot seasons as it helps with thermoregulation.
Its easy maintenance makes it great for busy Parti Yorkie owners. It is also great for very playful dogs because cleaning is effortless.
The kennel haircut is an effortless style you can often achieve by yourself.
7. Poodle Haircut
The Poodle haircut is named after the popular breed.
Hair is cut short all over the body except the feet area, tail, and ears.
8. Full Shave Haircut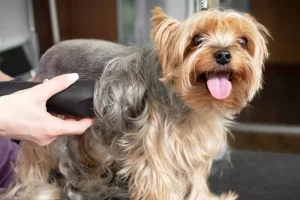 The full-shave haircut is another low-maintenance style customized according to the shape of the Parti Yorkie.
Hair is trimmed short all over the body and is cut shapely around the ears and face. This haircut emphasizes the Parti Yorkie's natural shape.
Instead of leaving an even length of hair across the entire body, the full shave trims hair according to the natural shape of the Parti Yorkie. It is what differentiates it from other short haircuts.
The haircut is perfect for Parti Yorkies looking for an easy, neat, and clean style.
9. Summer Cut
This haircut leaves very little hair on the Parti Yorkie. Hair is cut about half an inch from the skin, all over the body. It leaves the Yorkie feeling light and free.
It is a perfect style to switch to during the summer as it helps your Parti Yorkie thermoregulation.
The summer cut will also be a great option if you live in warmer areas, and you can achieve it at home by yourself. It is an easy maintenance style that requires minimal care and effort.
10. Lion Cut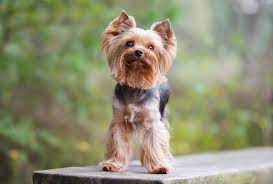 The lion cut imitates a lion's mane. So if you want your Parti Yorkie haircut to reflect its strong personality and stand out from the rest, go for the lion cut.
Hair is cut shorter on the body, while the hair on the face and neck is left much longer. It gives your Yorkie a fierce lion-like appearance.
The lion cut requires moderate maintenance as the hair on the head and neck is left long.
It is an excellent style to prevent tangling, as most of the Parti Yorkie's hair is short.
Frequently Asked Questions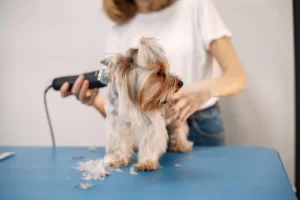 The following are answers to questions we frequently receive about Parti Yorkie haircuts.
Which haircut requires the least maintenance?
The low-maintenance haircuts are puppy haircuts, kennels, and summer cuts. Generally, a low-maintenance haircut leaves the hair short. Short hair does not dirt, mat, and tangle easily and is the simplest to groom.
How can I prevent my Patri Yorkie's hair from matting?
Proper maintenance will prevent your Parti Yorkie's hair from matting. Ensure regular brushing, washing, and keeping up with the six to eight weeks of hair trimming.
When should I groom my Patri Yorkie?
Aim to groom your Yorkie every four to six weeks.
Conclusion for "10 Best Parti Yorkie Haircut Ideas"
When choosing a haircut for your Parti Yorkie, ensure you can keep up with its maintenance schedule. A perfect haircut plays a massive role in the general mood, health, and wellness of your Parti Yorkie, but there's no denying that aesthetics are important too.
For more guides similar to this list showing Parti Yorkie haircuts, check out:
Learn more about the Parti Yorkie by watching "Parti Yorkie v/s Standard Yorkie – What's the Difference?" down below:
Garrett loves animals and is a huge advocate for all Doodle dog breeds. He owns his own Goldendoodle named Kona. In addition, he volunteers at the Humane Society of Silicon Valley, where he fosters dogs and helps animals. Garrett enjoys writing about Doodles and believes that dogs can teach humans more about how to live than humans can teach a dog.
Why Trust We Love Doodles?
At We Love Doodles, we're a team of writers, veterinarians, and puppy trainers that love dogs. Our team of qualified experts researches and provides reliable information on a wide range of dog topics. Our reviews are based on customer feedback, hands-on testing, and in-depth analysis. We are fully transparent and honest to our community of dog owners and future owners.