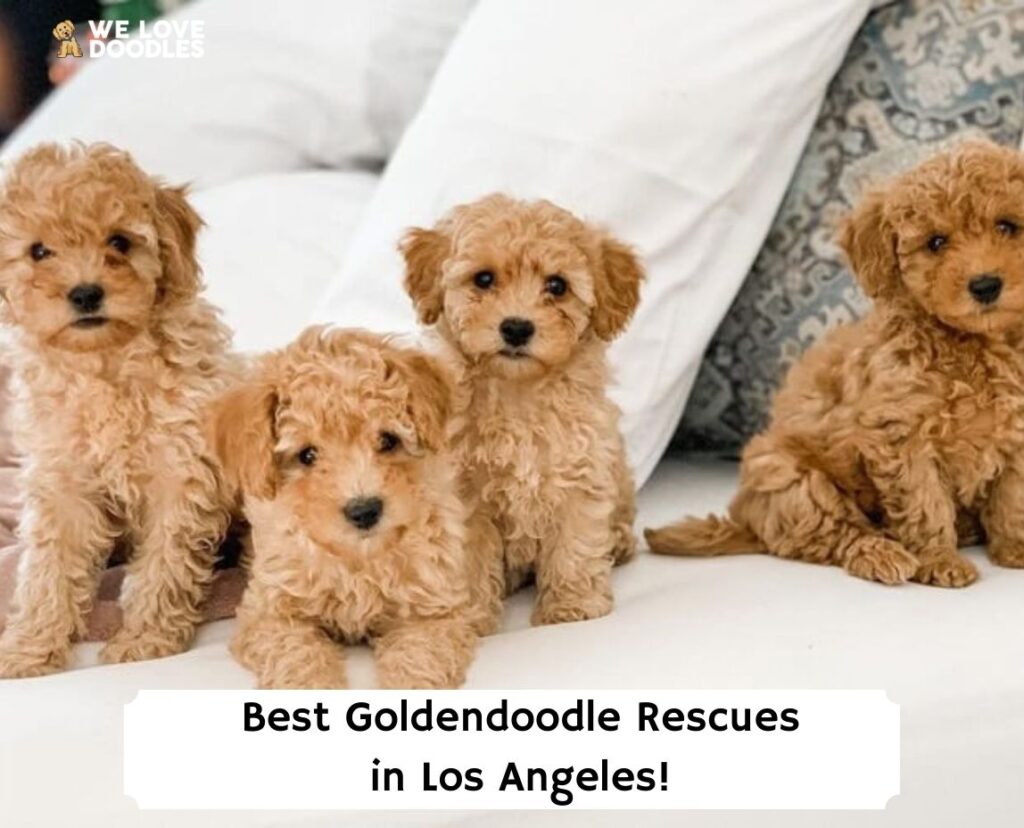 You need to know if you're searching for the best Goldendoodle rescues in Los Angeles. Goldendoodles are genuinely some of the best dogs you can own. These puppies are so cute and lovable that they make the perfect companion for any family.
Goldendoodles, for those unfamiliar, are a designer hybrid of a Golden Retriever and a Standard Poodle. These puppies hit the genetic jackpot and ended up with the best qualities from the parent breeds. Goldendoodles are known for being loyal, affectionate, outgoing, playful, high energy, intelligent, and very low shedding.
Many even believe that Goldendoodles are the most hypoallergenic dog you can own, which is great if you have allergies or don't want to spend your time vacuuming up dog hair all day.
These puppies are well known for being easy to train, and they are great dogs for a pet owner with any level of experience, even first-time dog owners. They are very high energy and playful, and they need a lot of exercise and time with you to be truly happy.
Given how great Goldendoodles are, it's no surprise that they're some of the most popular dogs around. This isn't the right breed if you're rarely home (and can't bring your dog with you) or if you prefer to live a lazier lifestyle. Goldendoodles need to go for long walks, have lots of time to play and romp, and snuggle up with their favorite humans.
If you live in Los Angeles and want to own a Goldendoodle, you might be surprised to learn that you have more options than buying an expensive puppy from a breeder.
Many people don't know this, but it's easy to adopt specific breeds from animal shelters or dog rescues. There are tons of breed-specific rescues that work to keep certain breeds out of the shelter system and abusive situations.
Before scrolling down this list of Goldendoodle rescues in Los Angeles, check out these other recommendations from our team at We Love Doodles: Best Dog Rescues in Los Angeles and Best English Bulldog Rescues in California.
Find a Goldendoodle Rescue Near Me in Los Angeles
These rescues know that some dogs are so popular that they are worth a lot of money, and they work to keep them out of the hands of people who would sell them for a profit.
Breed-specific rescues also often work to seize dogs and puppies from puppy mills around the country, where they are forced to breed and held in abusive conditions. Check out this list of the best dog rescues in Los Angeles.
Goldendoodle Guides: Best Dog Food For Goldendoodles and Best Grooming Tools For Goldendoodles.
1. Dogs Without Borders

Dogs Without Borders is a great dog rescue in southern California. This rescue is a foster-based rescue that works to keep dogs out of the high-kill shelters in LA. This rescue primarily focuses on rescuing smaller breed dogs, but they take large dogs when the need arises. This non-profit has saved over 6000 dogs since they opened their doors.
Dogs Without Borders Details
2. Wags and Walks

LA-based Wags and Walks is a non-profit dog rescue founded in 2011. Since then, they've saved over 8,000 dogs, and they don't plan to stop soon.
This rescue works with dedicated volunteers to ensure successful adoptions. They work hard to pull dogs at risk of euthanasia from the high-kill shelters around the state. All of their adoptable dogs are given temperament evaluations to ensure they are fit for family environments.
Wags and Walks Details
3. Vanderpump Dogs

Vanderpump Dogs is a non-profit dog rescue founded by reality TV star Lisa Vanderpump. They run multiple initiatives to educate the public, encourage legal reform, cut back on overpopulation, and end animal abuse.
Their rescue center has a ton of adorable dogs, and they source their puppies from high kill shelters in the area and abusive or neglectful owners. All dogs are given a medical and behavioral check to ensure they're in good shape before finding their forever homes.
Regardless of what you might think of reality TV or Lisa Vanderpump precisely, the mission that drives Vanderpump dogs is incredible, and the work they do indeed makes a difference.
Vanderpump Dogs Details
4. Downtown Dog Rescue

Last on the list of the best Goldendoodle rescues in Los Angeles is "Downtown Dog Rescue." Downtown Dog Rescue is a non-profit rescue located in Los Angeles, California. This rescue was founded in 1996, making it nearly 30 years old.
Since then, they've prevented 12,000 pets from entering the shelter system and performed 2,500 free spay/neuter surgeries per year.
This rescue works hard to provide information, assistance, and resources to the LA communities who need it. They also offer dog training classes for free and obedience classes, basic commands, agility, urban walking, and much more.
Downtown Dog Rescue Details
Be Sure You're Ready For a Goldendoodle in Los Angeles
It can be so exciting to think about getting your first dog, and many people look forward to that day for their whole lives. However, if you don't have any experience owning a dog, you should be aware of just how much work it takes to own and raise one.
Many first-time pet owners are shocked when they discover just how difficult and time-consuming owning a dog can be— not to mention expensive. One of the best ways to know if you're ready to own a dog is to talk to someone you know who owns one.
It's beneficial if they're in a similar situation to you when it comes to money and free time, and it's also helpful if they know you well enough to know your personality and habits.
Ask them tons of questions about their experience with dog ownership, including how much they spend per month, how much time they devote to their dog, what they wish they knew before adopting, and anything else they think might be helpful for you to know.
Goldendoodle Guides: How to Train a Goldendoodle and Best Pet Insurances For Goldendoodles.
Goldendoodle Puppy-Proof Your Home in Los Angeles
Although it can be tempting to want to bring your new dog home as soon as possible, it's much better if you take the time to get your space ready for your new family member truly.
Dogs are curious and rambunctious, and they love to explore the world around them by tasting and smelling things. Unfortunately, this technique means it's relatively easy for them to ingest something they shouldn't accidentally. Hence, it's your job to minimize the number of hazardous items they can eat or lick.
Keep your puppy safe by locking up cleaning supplies, medications, human foods, and breakable or valuable items that they could chew or knock over. We also suggest getting a particular room ready for your new dog that they can use as a haven of sorts if they feel overwhelmed.
It's scary for anyone to be thrust into a new and unfamiliar situation, but this is especially true for rescue dogs who haven't had the easiest lives. Out-of-the-way closets and bathrooms are great for this, but a bedroom will work well too.
Be sure to stock the space with a comfy place to sleep, a few things that smell like you, and some water in case they get thirsty. If your puppy isn't super social right away, that's ok. It takes some time for dogs to feel comfortable in a new place, and it's best if you can leave them alone during this adjustment period.
Goldendoodle Guides: Best Toys For a Goldendoodle and Common Goldendoodle Food Allergies.
Conclusion For The "Best Goldendoodle Rescues in Los Angeles"
Goldendoodles are some of the best dogs around, and it's so exciting when you finally get to adopt your own. We hope you found this article helpful, and we wish you the best of luck with your doodle adoption.
For more guides similar to this list of Goldendoodle rescues in Los Angeles, you can check out:
Before you adopt a Goldendoodle from a rescue shelter in Los Angeles, you can learn more about the breed by watching "Goldendoodle Dog Breed Guide" down below: