If there's one thing we all know about dogs, it's that they love to chew. Puppies especially have a strong affinity for chewing due to youthful curiosity and teething. You may try many things to get your dog to stop chewing. Maybe you even considered a homemade dog anti-chew spray.
While you can certainly train your dog not to chew on objects that aren't dog toys, using other tools like anti-chew sprays can be helpful. These sprays use foul taste and smell to deter your dog from certain areas or items.
Want to learn more about how to make a homemade dog anti-chew spray? Keep reading!
Before you scroll down this guide, "How to Make Homemade Dog Anti-Chew Spray," you can check out these other dog guides: Best Homemade Dog Food for Gastrointestinal Problems and Homemade Peanut Butter Banana Dog Treats Recipe.
Why Does My Dog Chew?
There are several reasons why a dog might chew on your items. For the most part, puppies chew to relieve pain from growing teeth, while older dogs chew to keep their teeth clean and jaws strong. They may also chew out of boredom.
However, some instances of chewing are purely a result of destructive behavior that needs a solution.
Stress and Anxiety
It's not uncommon for dogs to experience stress in the form of separation anxiety. Dogs who form deep attachments to their owners can exhibit signs of stress when left alone.
A little whining is normal, but dogs with severe anxiety problems show more intense signs, including:
Howling
Excessive crying or barking
Indoor accidents
Drooling and panting
Pacing
Additionally, a dog with separation anxiety may often be destructive, chewing on various objects, scratching the floor or door, and tearing apart blankets and pillows. If your dog does these things when you're away, it's likely due to separation anxiety.
Anti-Chew Sprays
There are several anti-chew sprays on the market today, but they can be expensive. Rather than buying these products, you can try making a homemade dog anti-chew spray using everyday household products.
Vinegar Spray
The bitter, almost sour taste that vinegar offers makes an excellent deterrent for chewing dogs. Once they get this taste in their mouths, they won't want to come back to it.
Here's what you need:
White Vinegar
Apple Cider Vinegar
Spray Bottle
This recipe doubles up on vinegar, using two different types for a bold, impactful scent and flavor. Combine one part white vinegar with two parts apple cider vinegar and pour them into the spray bottle.
After shaking well, you can spray this anti-chew remedy on all kinds of household objects to keep your dog away from them. Use it on furniture, shoes, area rugs, and more.
Keep in mind that while this method is effective, it can leave a lingering vinegar smell in your home. Use it sparingly if the smell bothers you, or opt for another solution.
Citrus Spray
As humans, most of us love the fresh scent of citrus. That's why natural essences like orange, lemon, and lime are so prevalent in cleaning products. Even the flavor can add brightness to snacks and meals!
On the other hand, dogs typically don't enjoy citrus smells or tastes. For this reason, citrus makes a great ingredient to add to your homemade anti-chew spray. Citrus is also a pleasant alternative to vinegar because it smells better.
You can use citrus simply by putting lemon or lime juice in a spray bottle and adding a squirt to objects your dog tends to chew on. If you're worried about damaging surfaces, dilute the juice with a bit of water.
Here's what you'll need:
2 cups citrus peels
4 cups water
Large pot
Add the water to a large pot and bring it to a boil on your stovetop. Remove it from the heat and add the citrus peels to the water. You can use lemons, limes, oranges, or a combination of the three.
Once the water has cooled, pour it into a spray bottle. Use this citrus water in areas where you spot your dog chewing.
Citrus and Vinegar Spray
If you're looking for an extra powerful spray for a tough chewer, you might decide to combine the first two recipes. Both citrus and vinegar scents and tastes are unappealing to dogs, so using both might have a greater impact on your furry friend.
Gather the following items:
Lemon juice
White vinegar
Spray bottle
This recipe is similar to the first one. Instead of mixing two parts of apple cider vinegar with one part of white vinegar, mix two parts of lemon juice with one part of white vinegar. Mix these and add them to a spray bottle.
This combination is nice because, while the vinegar can be effective in preventing chewing, the lemon leaves you with a more pleasant scent than the vinegar combo.
Cayenne Pepper Spray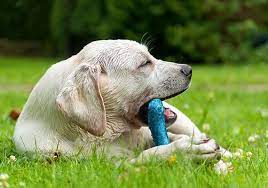 Cayenne pepper has many more uses than just adding a little spice to taco night. While cayenne might irritate your dog's mouth, it's not harmful in small doses. It can also be quite effective in an anti-chew spray.
However, cayenne can cause pain and irritation if it gets into your dog's eyes, so be careful when spraying it. It's a good idea to try vinegar and citrus sprays before resorting to this method.
Here's what you need:
All you need to do is add a couple of teaspoons of ground cayenne pepper to a spray bottle with water. Shake the bottle to integrate the cayenne, and it's ready for use. Spray the mixture on objects you see your dog chewing most frequently, such as the furniture legs or plants.
The spicy flavor is sure to stop your dog from destroying your possessions.
Frequently Asked Questions
Dealing with a chewing dog isn't fun. But it's a common problem that dog owners face. Understandably, you might still have questions. These FAQs can help you learn more about dogs and their chewing habits.
What can I spray so my dog doesn't chew?
You can spray several different household ingredients that help prevent your dog from chewing. Some of the most common ingredients include vinegar, apple cider vinegar, lemon juice, lime juice, and cayenne. Store-bought anti-chew sprays often use bitter ingredients like bitter apple, eucalyptus, lemongrass, and menthol.
Does spraying vinegar stop dogs from chewing?
Spraying vinegar may help stop your dog from chewing, but there's no guarantee. Each dog will have a different reaction to anti-chew sprays. While some may gag or spit out anything with vinegar on it, others may not mind.
What scent will deter dogs from chewing?
Certain scents are known to keep dogs from chewing. Your dog may not enjoy the smell of citrus, vinegar, or different types of pepper. In some cases, the smell alone may be enough to prevent a dog from chewing, while other dogs need to taste it to get the hint.
What repels dogs from chewing?
Various tastes and smells can repel a dog from chewing on certain objects with repeated use. Strong citrus smells can deter dogs, while the spicy taste of cayenne and the bitter flavor of vinegar can repel them as well.
What to put on things to keep dogs from chewing?
The most common thing you can use to keep dogs from chewing is a spray. Liquid sprays are easy to use or make on your own and provide a fine mist that won't saturate items. You can also try anti-chew strips and pet guards, which protect hard surfaces and furniture from dogs.
Why does my dog constantly chew on everything?
Dogs chew for a wide variety of reasons. If your dog is still a puppy, it may be chewing because of curiosity, boredom, or teething. Your dog may also be experiencing separation anxiety and use chewing to relieve stress. Chewing may also be a behavioral problem.
Can you train a dog not to chew on everything?
You can train your dog not to chew on household objects by telling it no when you see it chewing something it shouldn't. Take the object away and replace it with something your dog can chew, like a toy or a bone.

You may also find that crate training can help with chewing while you're not home. Teach your dog that its crate is a good place and fill it with toys and treats your pup can chew on while you're gone.
Stop Your Dog from Chewing: Homemade Dog Anti-Chew Spray
It can be frustrating to constantly find your dog ruining items by chewing on them. But chewing doesn't have to be a life-long problem. In addition to consistent and impactful training, you can use homemade dog anti-chew spray to stop your pup's chewing.
Try out the recipes in this article to keep your dog from chewing on things like shoes, furniture, purses, and more. You may just find the solution you need!
If you find this guide, "How to Make Homemade Dog Anti-Chew Spray," helpful, check out these other related guides from our team:
You can learn more about how to stop your dog from chewing by watching "How To Stop Your Dog From Chewing!" down below:
Garrett loves animals and is a huge advocate for all Doodle dog breeds. He owns his own Goldendoodle named Kona. In addition, he volunteers at the Humane Society of Silicon Valley, where he fosters dogs and helps animals. Garrett enjoys writing about Doodles and believes that dogs can teach humans more about how to live than humans can teach a dog.
Why Trust We Love Doodles?
At We Love Doodles, we're a team of writers, veterinarians, and puppy trainers that love dogs. Our team of qualified experts researches and provides reliable information on a wide range of dog topics. Our reviews are based on customer feedback, hands-on testing, and in-depth analysis. We are fully transparent and honest to our community of dog owners and future owners.