Deer antlers for dogs have become so popular over the last few years. Dogs can't but wag their tails because they love eating the bone marrow in deer antlers. However, one of the most common problems when you buy a whole deer antler is that they are simply too hard. Smaller or medium-sized dogs won't be able to chew through the hard exterior and get to the bone marrow inside of the deer antler. This article will address how to soften deer antlers for dogs! 
As a quick summary, one of the most common ways to soften a deer antler for your dog is to soak the antlers in water for 1 or 2 days, depending on how aggressive your dog chews. The longer that you soak the deer antler, the softer it will get. One alternative is that you can also soak the deer antler in a broth that is safe for dogs. Your dog will love chewing on the deer antler if you soak it in some type of broth!
Related article you might like: Best Horns For Dogs to Chew On!
What Is A Deer Antler?
The deer antler is the curvy horn-like extension of the male deer's skull. Unlike the other animal's horn, the deer antlers are edible bones rich in amino acid and protein. Deer antlers vary in size and are way more substantial than a typical bone. Every year the male deer sheds its antlers and grows a stronger and bigger one to attract its mate.
You can often find an antler in the woods for your dog or buy it at a store. However, it is advisable to get fresh antlers from deer hunters around you for your pets. A deer antler is a better chewable option for your dog as it lasts longer than the bone. Another exciting thing about deer antlers is that they come in different shapes and sizes.
How Do I Soften a Deer Antler For My Dog?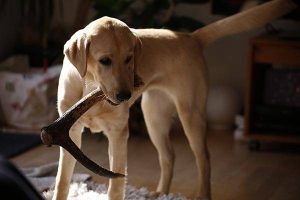 Below are steps to soften the deer antler to avoid your dog breaking its teeth or having bleedings gum. 
Step 1
Make sure to get a clean dog pan big enough to contain the antler. People will typically use a buck for whole deer antlers or a pot for smaller deer antlers.
Step 2
Fill it with clean water or a dog safe broth to make the antler tastier. Many people will use some type of chicken or beef broth to soak the deer antler in.
Step 3
Put the deer antler in the water or broth to soak. Make sure the antler is submerged in the water or broth.
Step 4
Leave the deer antlers to soften for a day or two, depending on how aggressive your dog chews. We typically leave it in the water for 24 hours.
Step 5
Remove the antler from the water or broth and leave to dry up before serving your dog.
Boiling a Deer Antler to Soften it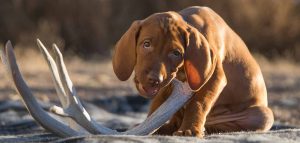 For faster results, you can opt to boil a deer antler in water. Although this option is a much faster way of softening the antler, it is not advisable. This is because the deer antler oftentimes gets too soft will splinter just like cooked bones. If the deer antler splinters when your dog is eating it, they will need surgery for gastrointestinal blockage.
However, you can boil a deer antler to kill off bacteria. Deer antlers from the woods need to be properly sanitized. You can boil the antler in water for about an hour before soaking it in cold water. This will make sure the antler gets rid of any bacteria.
Why Do I Need To Soften The Deer Antler?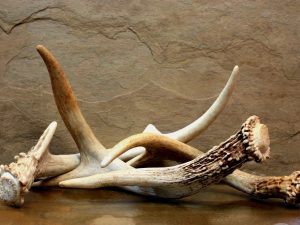 As mentioned earlier, an antler is stronger than a typical dog bone.  Softening the deer antler makes it easier for your dog or puppy to chew.  Also, this prevents your dog from fracturing their tooth or causing their gums to bleed. In most cases, if your dog is not an aggressive chewer, you will need to soften the deer antler slightly. However, be sure not to make the deer antler too soft as this can be dangerous for your dog. Splintering is a serious issue with deer antlers and will cause a costly trip to the veterinarian.
Can I Give My Puppy A Deer Antler?
Deer antlers are not advisable for young puppies as they might be too strong for their tender teeth. Puppies can easily fracture their teeth as they are learning how to control their bodies. It is good to wait till your dog is much older and has all its adult teeth.
Deer antlers are generally considered safe for dogs as long as your watch them while they are eating them. As soon as the deer antler starts to create sharp points or splinter, you will want to take it away from your dog and throw it away. Also, if the deer antler becomes too small, you should take them away to avoid choking. 
Conclusion For "How To Soften Deer Antlers For Dogs"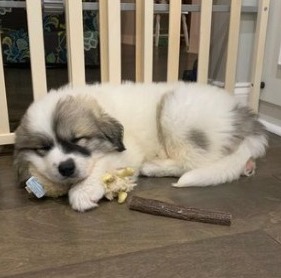 We hope this guide "How To Soften Deer Antlers For Dogs" helped you! Deer antlers are longer-lasting replacements for bones when getting your dog is getting a treat. They are edible and healthy meals rich in nutrients like amino acids and protein. Due to their durability, they tend to last longer depending on how aggressive your dog chews and the dog's age. This will save you some cash as you don't get to buy as many treats as regularly. A quick way to soften a deer antler for your dog is to soak them in an edible liquid like water or bone broth.
For more how-to guides related to "How To Soften Deer Antlers For Dogs," check out:
To see dogs chewing on deer antlers in action, watch "Antler Dog Chews" from Gone to the Snow Dogs down below:
Garrett loves animals and is a huge advocate for all Doodle dog breeds. He owns his own Goldendoodle named Kona. In addition, he volunteers at the Humane Society of Silicon Valley, where he fosters dogs and helps animals. Garrett enjoys writing about Doodles and believes that dogs can teach humans more about how to live than humans can teach a dog.
Why Trust We Love Doodles?
At We Love Doodles, we're a team of writers, veterinarians, and puppy trainers that love dogs. Our team of qualified experts researches and provides reliable information on a wide range of dog topics. Our reviews are based on customer feedback, hands-on testing, and in-depth analysis. We are fully transparent and honest to our community of dog owners and future owners.