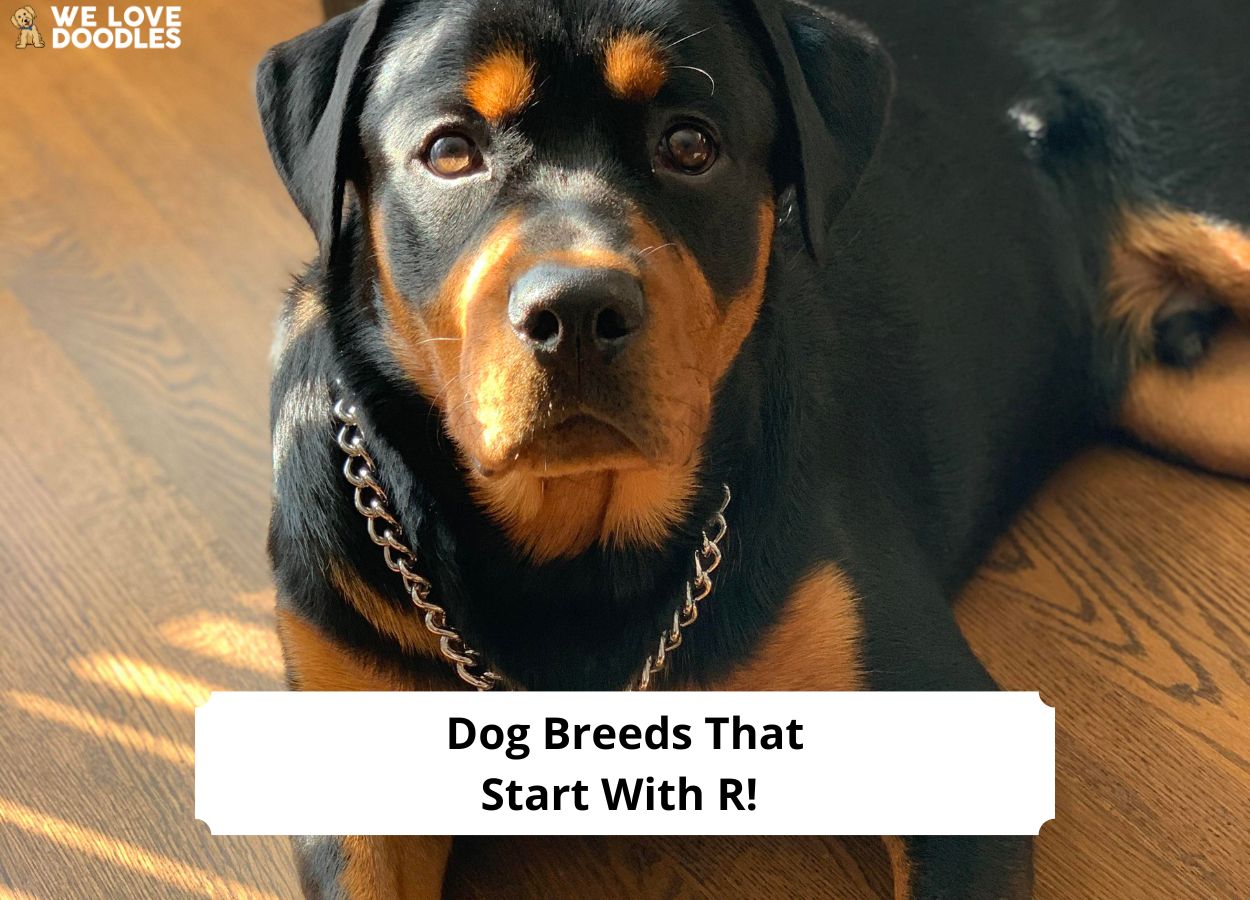 We love dogs. That's why there are so many of them around. Dogs come in a variety of breeds, many of which can be divided by letter. You may be wondering which dog breeds start with the letter R.
There are many dog breeds that start with the letter R, including Rhodesian Shepherd, Roman Rottweiler, Romanian Mioritic Shepherd Dog, Rott Pei Dog, Rottaf Dog, Rotterman Dog, Rottie Basset Dog, Rottie Chow Dog, Rhodesian Ridgeback, and many more.
Keep reading below for a detailed list — you'll learn about breeds you've never seen before.
Before you read this list of dog breeds that start with the letter R, check out: 9 Black Dog Breeds With Blue Eyes! (2023) and White Dog Breeds With Blue Eyes – Top 8 Breeds! (2023).
Dog Breeds That Start With R
Below you'll find an extensive list of dog breeds that start with the letter R.
Rhodesian Shepherd
This hybrid dog, sometimes known as the Rhodesian Shepherd, is a cross between the Rhodesian Ridgeback and the German Shepherd. Although the Rhodesian Ridgeback is recognized for its strong hunting drive and independent nature, the breed is also adored for its devotion to its human family.
It is normal practice to use Shepherds for work as police dogs, bomb dogs, and support dogs.
Roman Rottweiler
The Rottweiler originated in Rome as a herding dog, hence the name "Roman Rottweiler."  These dogs are hybrids of the Rottweiler and Mastiff.
They are significantly larger than a modern Rottweiler and are ideal guard dogs due to their size and build. As a breed, modern Rottweilers are known for their amiability and temperament toward kids.
Although modern Rottweilers are great with kids, this wasn't always the case with the ancient Roman breed. These dogs should never be left unattended with children.
Romanian Mioritic Shepherd Dog
Originating in the Carpathian Mountains, the Romanian Mioritic Shepherd Dog is native to Romania. These large dogs are recognized for their loyalty and affection. They also work extremely hard, are reliable, and make great watchdogs.
The breed develops a deep bond with its owner, preferring one member of the family above the others.
Rott Pei Dog
The Rott Pei, descended from a Rottweiler and a Shar-Pei, is an odd-looking mixed breed.
Although he is devoted to his family, this dog breed does not display aggressive behavior. His Rottweiler heritage makes him patient and kind among young children.
If you want him to be friendly with strangers and other dogs as an adult, however, you'll need to start socializing with him when he's young. This will also make him more likely to be kind to kids.
Rottaf Dog
The Rottaf is a unique breed of dog that combines the characteristics of the Rottweiler and the Afghan Hound. Because of his high energy and the fact that one of his parents is a Rottweiler, he may not be the best dog for a family with young children.
He has the characteristics of a great guard dog due to his natural wariness with strangers.
Rotterman Dog
The Rotterman is a hybrid dog that comes from a cross between a Rottweiler and a Doberman Pinscher. This large and powerful dog deserves an owner who can keep up with him physically.
Intelligent and loving, these dogs can make wonderful companions. In addition to being excellent guard dogs, they also excel as search and rescue dogs and in a variety of other service roles.
Rottie Basset Dog
The Rottie Basset is a cross between a Basset Hound and a Rottweiler.
Rottweilers are required by their breed standard to have a nice personality and get along well with children, despite the widely held belief that they are deadly canines.
The Rottie Basset's hound ancestry makes him friendly toward people in the family, but he won't let go of a scent once he's detected it.
Rottie Bordeaux Dog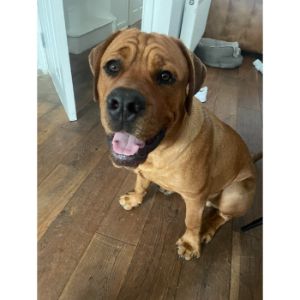 The Rottie Bordeaux is a hybrid of the Rottweiler and the Dogue de Bordeaux.
Large breed dogs like this are typically loving family pets, despite their tendency to snort and make other noises that some may find bothersome.
First-time dog owners should consider avoiding the Rottie Bordeaux as a pet because of the rigorous training and early socialization needed to ensure a calm future.
Rottie Chow Dog
The Rottie Chow is a hybrid dog that combines traits from both the Chow Chow and the Rottweiler.
The Chow Chow parent is more prone to showing aggressive behavior with other dogs; therefore, owners should be aware of this possible characteristic in their descendants.
Despite its bad rep, the Rottweiler makes for a good family dog, and a cross between the two might produce a dog that is equally devoted to its human family.
Rottie Cocker
Wet and dirty, your Cocker Spaniel Rottweiler mix will likely want to get up and give you a hug since it inherited its kind demeanor from the Cocker Spaniel parent in addition to its love of water. They will be enthusiastic about playing fetch with you and want to please you.
This dog breed has a relatively low exercise requirement, but they still need regular, vigorous activity.
Rottie Shepherd
The Rottie Shepherd is a cross between a Rottweiler and a German Shepherd, combining the best of both breeds.
These dogs are full of life, completely loyal to their families, and incredibly simple to train because their heritage includes two breeds commonly used as service dogs. They need and desire to play for long periods of time, and you'll need to give them plenty of physical activities if you want peace and quiet.
Rottle Dog
This hybrid designer dog is a combination of the Rottweiler and the Poodle.
Because these dogs are smart, active, and eager to please, it is possible to train them for any objective. Nevertheless, it is recommended that they be trained as members of the family.
They'll have every bit as much fun snuggling as they will frolicking in the crisp outdoors.
Rottsky
The Rottsky is a crossbreed between a Husky and a Rottweiler.
The resulting puppy is a bundle of vitality who takes equal delight in time spent indoors and outdoors and who will grow up to be a trustworthy and loyal family protector.
His Husky background makes him more likely to howl, and this breed is notorious for destructive behavior if not adequately exercised and mentally stimulated.
Rottweiler
The Rottweiler is an extremely popular breed, especially as a guard dog. Indeed, he has a face that looks frightening to strangers, which contributes to the stereotype that all dogs of this breed are deadly.
He has all the characteristics of a great pet for a home. Because of his extraordinary strength, he may serve in a wide variety of roles as a service dog around the world. Butchers used to have Rottweilers pull carts full of meat, which is how he got the title "Butcher's Dog."
Ruff-Color Collie
Rough Collies are huge dogs bred specifically for herding. They have a remarkable talent, and one of their most cherished qualities is the fact that they like being near young kids.
Though they require a lot of time and effort from their owners due to their high exercise and socialization needs, the affectionate and devoted nature of these dogs makes up for it.
Running Walker Foxhound
The Running Walker Foxhound, like many other hounds, has a strong desire to hunt but a short attention span, making them seem like difficult house pets. These dogs are smart, but they can be difficult to train.
They are not the best for people who have never owned a dog before or who have little experience with more advanced breeds. They need a lot of exercise to keep from being destructive and depressed.
Rus-A-Pei
The hybrid breed known as the Rus-A-Pei is a cross between the Jack Russell Terrier and the Shar-Pei.
Both the Shar-Pei and the Jack Russell Terrier are well-known for their roles as guard dogs, although the latter is especially renowned for its ability to hunt and kill rats.
This crossbreed is known for its high IQ, but the Jack Russell in it can make the dog unfriendly and even reject you if you fail to make training fun.
Russian Bear Schnauzer
The Russian Bear Schnauzer, known today as the Giant Schnauzer, was created to suit the needs of the Russian military for the best possible guard dog. Although he is a desirable combination of a guard dog and a loyal family pet in modern times, he is not a good choice for first-time dog owners.
Despite his willingness to lay down his life for his loved ones and home, he is gentle and caring toward his family.
Russian Harlequin Hound
The Russian Harlequin Hound is a breed with Russian roots. Despite being incredibly trainable and bright, and highly esteemed in the hunting world, the breed struggles to find a name for itself outside of Russia.
These dogs are normally friendly and get along with both other dogs and people, but their high prey drive causes them to occasionally go after cats and other small animals.
Russian Bandog
The Russian Bandog's bulky, muscular build and fierce look are remnants of its former role as a guard dog. Despite their formidable protective abilities, they are dedicated and loving family companions.
In terms of upkeep, they're an ideal pet. However, due to their strength and protective nature, they may not be the best choice for a new pet owner.
Russian Spaniel
The English Cocker Spaniel was one of several parent breeds used to create the modern Russian Spaniel.
The resulting dog looks much like a Cocker Spaniel. People use them as hunting dogs because they are willing to go through water or fields in an effort to flush out birds. They are oblivious to any kind of inconvenience.
These dogs are devoted to their owners and show their appreciation by constantly wagging their tails.
Russian Toy
The distinctive ear tufts of the Russian Toy are the source of the breed's name.
Up close, you'll notice their soft coat and lovely appearance. The Russian Toy has a high level of intelligence and thrives in close proximity to its owner.
Early socialization is crucial if you want your dog to get along well with people. Nonetheless, these dogs tend to be wary of strangers.
Russian Tsvetnaya Bolonka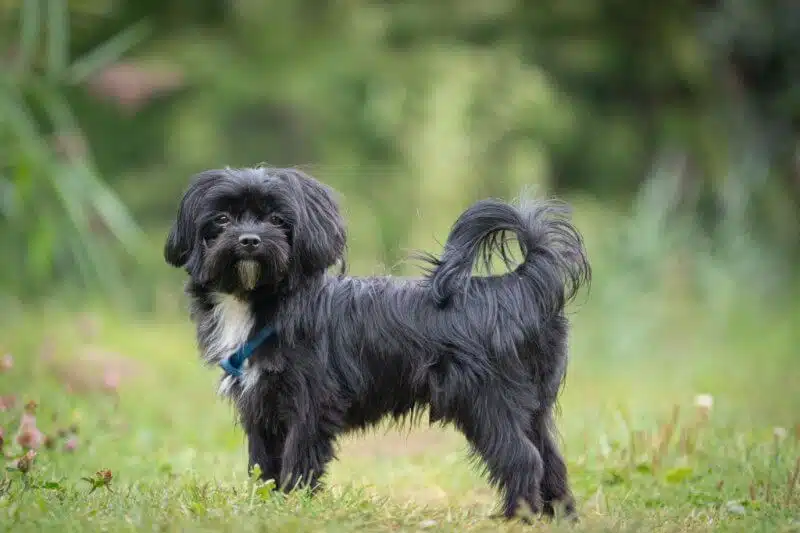 Tsvetnaya Bolonkas are a type of Russian dog. Its name means "Russian colored lap dog," and this breed is ideal for apartment dwellers due to its small stature.
They are approachable, smart, and a pleasure to be around with anyone you bring into their company. This makes them great pets because they are never aggressive toward other creatures.
Russian Wolfhound
The Russian Hound is an incredibly fast dog. It can achieve speeds of up to 40 miles per hour, all while maintaining its strength, grace, and agility.
Being sighthounds gives them the ability to chase down smaller animals that cross their path. These dogs are notoriously difficult to train because of their stubborn nature.
Russo-European Laika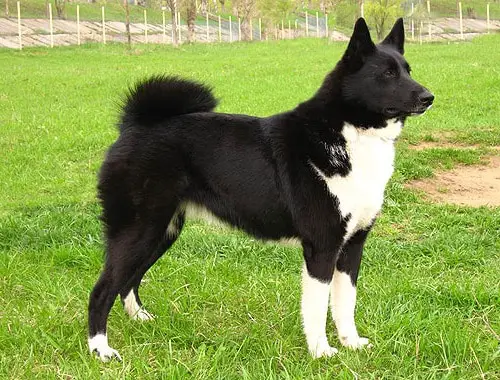 Russian and northern European hunters developed the breed known as the Laika, which is also referred to as the Russo-European Laika. His duties included assisting in hunting moose and other big game.
Due to their incredible loyalty, they can be difficult to rehome because they will do anything to return to their original household. Young dogs are more likely to exhibit territorial and aggressive tendencies, although these problems can arise at any age.
Rustralian Terrier
The Rustralian Terrier was created by crossing Jack Russells and Australian Terriers.
The resulting breed exhibits some characteristics found in the larger terriers. He is able to burrow under and leap over any obstacles that stand in his way, and he is prone to go after any small creatures he comes across.
They are warm and welcoming, and they take great pleasure in bouncing around. He needs you in his life and will suffer if you leave him for too long.
Rafeiro do Alentejo
The Rafeiro do Alentejo is a Portuguese dog breed originally developed for hunting big game but currently used primarily as a livestock guardian. Even though he keeps a level head, he is quite watchful over those he supervises, especially when the flock is by itself in the middle of the night.
The strong will and consistent training and socialization requirements of these dogs make them unsuitable for inexperienced dog owners.
Raggle Dog
The Raggle is a unique breed that combines characteristics of the Rat Terrier and the Beagle.
Though small in stature, these dogs more than make up for it with their insatiable appetite for play and a keen urge to hunt.
They also have a reputation for being stubborn. Therefore, only those with experience taking care of dogs should attempt to handle them.
Rajapalayam Dog
The Rajapalayam is a purebred dog breed from southern India. His physique is very similar to that of a Greyhound, and he was designed to fulfill the roles of hunter, protector, and companion in particular.
They make great guard dogs because they are incredibly loyal to their masters but might be wary of strangers. This breed greatly benefits from early and consistent socialization.
Rampur Greyhound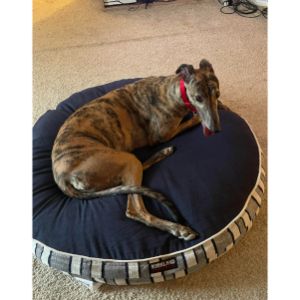 The Rampur Greyhound, a type of sighthound, originated in northern India. It's a descendant of Greyhounds and Afghan Hounds.
He retains the sighthound abilities that made him useful for his original purpose of hunting wild boar. Because of this, he will be able to run fast and give chase to anything that tries to get away from him.
Rashon Dog
The Rashon is a unique dog that combines Rat Terrier and Bichon Frise characteristics.
This breed is great for people who are looking to own a dog for the first time because of his friendly demeanor, outstanding intellect, and eagerness to please.
His enthusiasm for learning makes him a promising trainee. Nevertheless, considering they are active and need daily activities, you should be prepared to plan outings for them.
Rastreador Brasileiro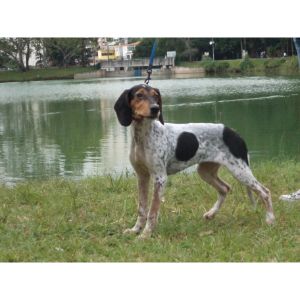 The Rastreador Brasileiro is an indigenous Brazilian breed of scenthound.
Due to a widespread disease that wiped out the breed in the 1970s, these dogs are considered extinct. There are current efforts underway to revive them. Those efforts bore fruit in 2013 when the Brazilian Kennel Club removed the Rastreador from its list of endangered species.
Due to the fact that they are scenthounds, these dogs will be spending a substantial amount of time with their noses pushed against the ground.
Rat-A-Pap Dog
In order to produce the Rat-A-Pap, breeders crossed a Papillon with an American Rat Terrier.
These dogs are perceptive and intelligent pets who always seem to have an intuitive grasp of their owner's emotional state.
They are a fantastic option for a household pet due to their high levels of activity and willingness to engage in playful interaction with children. They tend to be their owner's constant companion, accompanying them from room to room.
Rat Apso Dog
The Rat Apso is a designer breed that originated from a mix between a Toy Rat Terrier and a Lhasa Apso.
This dog can be reserved and wary around new people, but after getting to know them, he opens up and becomes a loving companion.
Because of his mood swings, he is not a good pet for families with little children. For an individual who has never owned a pet before, these dogs may not be the best choice. They can be too temperamental.
Rat Basset
Mixing Rat Terriers with Basset Hounds resulted in a new breed of dog known as the Rat Basset.
Even though he appears to have a calm disposition most of the time, he has moments in which he may be quite mischievous.
These dogs are great for first-time pet owners because they are generally friendly toward children and adults. Rat Basset puppies may take on the barking and wailing tendencies of either the Basset or the Rat Terrier, depending on which parent breed is more dominant.
Rat-Char Dog
The Rat-Char is a hybrid dog that combines the characteristics of the Rat Terrier and the Chihuahua. He's incredibly devoted to whoever loves him and has a streak of mischief in his blood.
This hybrid breed has a tendency to be overly protective of his human companions, thus it is important to socialize him from the beginning so that he does not develop hostility toward strangers.
Usually, he'll develop a special bond with one family member and prefer to hang out with them rather than the others, following them around or even sitting on them.
Rat Terrier
The Rat Terrier is a breed with American roots. Terriers were bred with several hound breeds to create this new, even more popular breed. He is, and always has been, an expert rodent killer.
He can leap unexpectedly high and dig beneath fences and other barriers. The Rat Terrier can also overcome other obstacles. He has boundless energy, is always up for a game, and stands ready to protect his family, making him an ideal family guard dog.
Ratese Dog
Small in stature but big in energy, this dog breed is a cross between a Rat Terrier and a Maltese.
Although they are generally calm and happy dogs, they can grow fearful around youngsters and are better off in a home without young children. They're fine with living among other dogs, but they really just want to be the focus of your attention.
Ratshi Terrier
The Ratshi Terrier is a cross between a Rat Terrier and a Shih Tzu, and it shares traits from both of its parent breeds. The resulting dog is extremely active and full of life.
The fact that they make so much noise suggests that they would make good guard dogs, despite their diminutive size. They are smart and eager to please their owners, so training them isn't too much of a hassle even if they lead active lifestyles.
Ratshire Terrier
Ratshire Terriers are a cross between the American Rat Terrier and the Yorkshire Terrier. They may be on the bigger side, but this breed is extremely active and needs plenty of exercise.
They are devoted companions, but they need an adult-only environment without young children, and plenty of care to keep their fur healthy and lustrous.
Rattle Dog
Rattle is a Terrier-Poodle mix that combines the best qualities of both parent breeds.
There are few dog breeds that are as smart as the Poodle. In addition to his brilliant mind, his energy and agility seem to have no limits. He wouldn't just be a great buddy, but a reliable protector as well.
Rattle Griffon
The Rattle Griffon is a hybrid dog containing traits from both the Brussels Griffon and the Rat Terrier.
The puppies they produce are usually sociable dogs who enjoy being around individuals from all walks of life. These dogs are high-energy and require daily walks or runs to stay healthy, but otherwise, they make fantastic pets.
They do require some maintenance, and if you want to maintain the lovely appearance of their facial hair, you should probably think about working with a professional groomer to take care of it.
Reagle Dog
The Reagle is a medium-sized hybrid dog descended from the Rottweiler and the Beagle.
They are loved by their owners because they are so devoted to them. They have a soft heart and love to play with everyone in the household, including kids and pets.
The Reagle Dog frequently runs after smaller animals, and if it bonds with a stranger, it may treat them like a part of the family.
Redbone Coonhound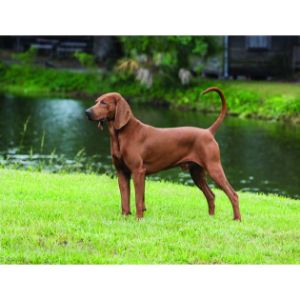 The Redbone Coonhound is a purebred member of the hound family.
He's strong, lively, and fast thanks to his well-developed body. He's an able companion when they're adventuring in the wild, but at home, he tends to take on a subordinate role with the family.
You'll want to have a towel handy to dry him off after he comes out of the water; he likes to swim about as much as a jog.
Red-Tiger Bulldog
The Red-Tiger Bulldog is representative of all Bulldogs in many respects.
His jaw is strong, his face is muscular, and he is incredibly faithful to his master, to the extent that he will often risk his own safety to protect. A confident and experienced handler is necessary for these dogs.
Rhodesian Bernard
The Rhodesian Bernard is a hybrid of the Rhodesian Ridgeback and the Saint Bernard.
They tend to be much larger than average, and their musculoskeletal frame more closely resembles that of a Ridgeback than that of a St. Bernard.
Although they have a reputation for being peaceful and mellow, these "gentle giants" can become fiercely protective of their loved ones and their homes.
Rhodesian Boxer
The Rhodesian Boxer is a hybrid breed descended from the Rhodesian Ridgeback and the Boxer. Because of his intelligence, he requires daily physical and mental stimulation.
You'll need to establish your authority over him throughout training if you want him to follow your lead, but once he does, he'll be a loving, playful, and devoted companion.
Rhodesian Labrador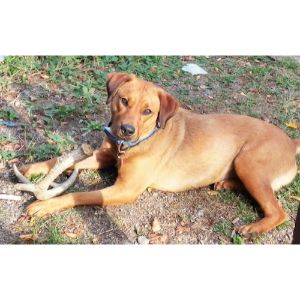 The Rhodesian Labrador is a cross between the beautiful Labrador Retriever and the sturdy Rhodesian Ridgeback. It is extremely devoted to its caregivers and wants to enjoy every waking moment with them.
These dogs are prone to acting funny and eating a lot. On the other hand, because of their size, they are typically capable of finding rewards on their own. This is helpful for training purposes since they have ready access to healthy snacks, but it also means they can locate tempting goodies on their own.
Rhodesian Ridgeback
The Rhodesian Ridgeback is named after the distinctive ridge of hair along the center of its back.
He's well-known for his skill at tracking, and while his breed makes wonderful household pets because of its loyalty and friendliness, it may be difficult to train because of its strength and stubbornness.
They also have a strong urge to hunt, which must be managed if they are to thrive in a domestic setting.
Frequently Asked Questions
Is a Rottweiler a good family dog?
Rottweilers are a popular choice for families who want a sweet yet protective dog for their kids.
Do Rat Terriers like to cuddle?
While individual dogs may vary, most Rat Terriers are clingy and enjoy cuddling with their owners.
Can you leave a Rhodesian Ridgeback alone?
Rhodesian Ridgebacks are prone to destructive behavior when they don't have a sufficient outlet for their energy and they're left alone at home for an extended period.
Conclusion for "Dog Breeds That Start With R"
It can be helpful to know about the different dog breeds that have existed alongside humans for years, decades, and in some cases, centuries. We hope you found our list of dog breeds starting with the letter R useful in your research.
For more guides similar to this list of dog breeds that start with the letter R, check out:
Learn more by watching "These Are 10 Happiest Dog Breeds" down below:
Garrett loves animals and is a huge advocate for all Doodle dog breeds. He owns his own Goldendoodle named Kona. In addition, he volunteers at the Humane Society of Silicon Valley, where he fosters dogs and helps animals. Garrett enjoys writing about Doodles and believes that dogs can teach humans more about how to live than humans can teach a dog.
Why Trust We Love Doodles?
At We Love Doodles, we're a team of writers, veterinarians, and puppy trainers that love dogs. Our team of qualified experts researches and provides reliable information on a wide range of dog topics. Our reviews are based on customer feedback, hands-on testing, and in-depth analysis. We are fully transparent and honest to our community of dog owners and future owners.