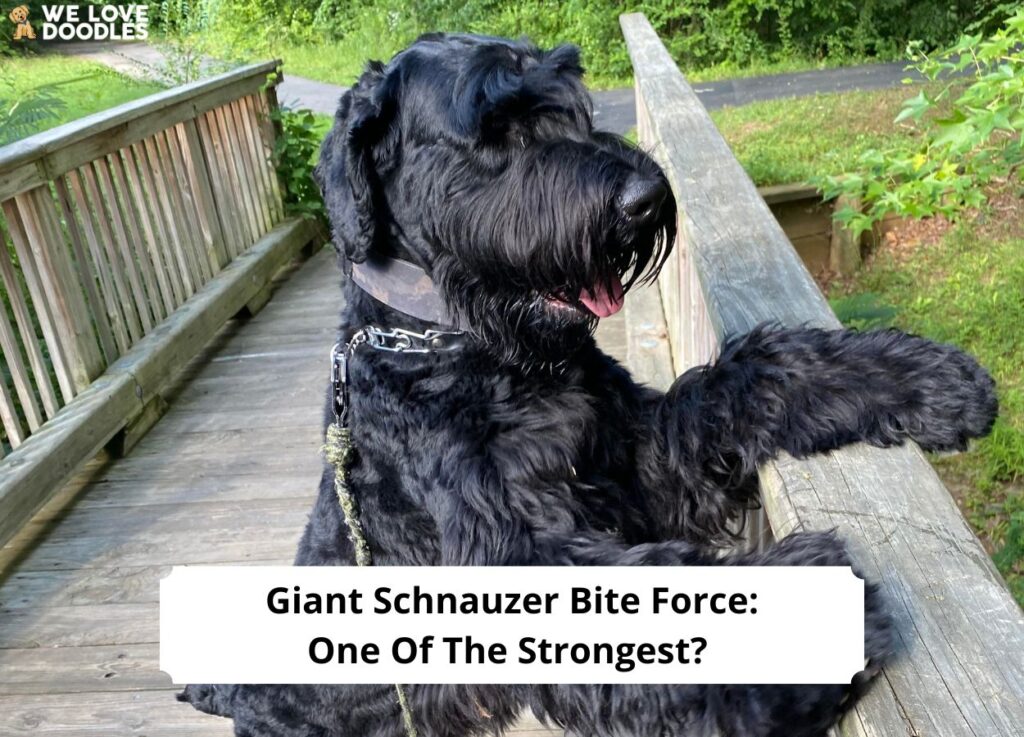 Protection dogs are generally stronger than other breeds and have the tendency to turn aggressive toward anything they deem a threat. The Giant Schnauzer is popularly used for protection and guarding, which often leads owners to wonder about its bite force.
The Giant Schnauzer's bite force measures up to 556 PSI. This is extremely strong when compared to other dogs and ranks fourth in the list of strongest dog bite force, just after the mighty Cane Corso.
Keep reading below for more information about the Giant Schnauzer and its ferocious bite force.
Before reading this article, "Giant Schnauzer Bite Force: One of the Strongest," check out: Why Does My Dog Bite My Cat's Neck? 5 Reasons! (2023) and Why Does My Dog Bite My Feet? 7 Reasons (2023).
History of the Giant Schnauzer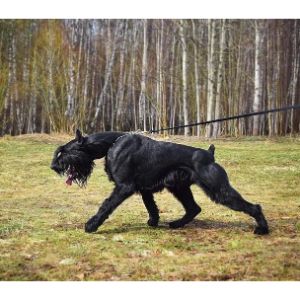 The Giant Schnauzer, also known as the Riesenschnauzer, is the biggest and strongest of the German Schnauzers. This breed was created by increasing the size of the regular Schnauzer.
All Schnauzers may trace their ancestry back to the kingdoms of Bavaria. The people who lived in this agricultural area relied on dogs to herd livestock while taking them to market.
Standard Schnauzers were bred with rough-haired Sheepdogs, and then afterward with black Great Danes. It's possible the Bouvier des Flandres and the Giant Schnauzer share a common ancestor. The Giant Schnauzer was formerly known as the Munchener and prized as a cattle and driving dog.
This dog became a popular guard for butchers, stockyards, and brewers once they were no longer needed to herd cattle and other livestock. It became a "utility" dog in 1925. Since then, the Giant Schnauzer has primarily been employed in the fields of security and law enforcement.
This dog had important roles as a guard, trench, and messenger dog during both World Wars. World War II caused an enormous decline in the breed's population — especially the salt and pepper variation.
Do Giant Schnauzers Make Good Protection Dogs?
Giant Schnauzers have long been revered for their inherent guardian instincts and historical importance. After receiving proper security dog training, they can serve brilliantly as personal protection dogs, guard dogs, or family protection dogs.
This kind of dog will do anything to protect its family, and they have saved numerous lives. There are many stories attesting to the Giant Schnauzers' formidable guarding skills.
For instance, after his 64-year-old owner (and Mayor of Redruth) got hit by lightning during their routine walk, Cornwall's Giant Schnauzer, Monty, pulled him home to his wife.
Betzi Boo, another Giant Schnauzer, saved her owner Mark Brow from a falling tree when he was oblivious of the danger. She also protected Mark's wife from intruders who tried to crowbar the front door. When they got through, they were met by a terrifying Betzi who attacked and chased them off.
These are just a few of the countless instances where Giant Schnauzer have shown their bravery and ferocity. What, then, is it about these animals that makes them such effective guard dogs?
Why Giant Schnauzers Are So Successful
The Giant Schnauzer's innate ability for protection can be traced back to its past, much like the abilities of many other notable guard dog breeds.
The Giant Schnauzer was specifically bred to become a guard dog. Breeders selectively bred dogs who would excel at both property guarding and livestock protection and herding.
The Giant Schnauzer may have been bred with large breeds like the Great Dane, German Shepherd, Doberman, and Rottweiler, as well as smaller dogs like Boxers and Bouviers des Flandres.
It goes without saying that the breeding was a tremendous success! Giant Schnauzers eventually made their way into urban Bavarian society, where they found work as guard dogs and watchdogs.
They spent time in Bavaria keeping slaughterhouses, factories, stockyards, and breweries safe from thieves and vermin. However, that wasn't the end of the Giant Schnauzer's tale.
They would go on to find themselves being proudly utilized as war dogs during World War I and World War II, and they continue to be police dogs and rescue dogs up to this very day.
The Giant Schnauzer is often regarded as one of the best protection dog breeds due to its long tradition of excellence in this field. The breed has become increasingly popular for Schutzhund training.
Giant Schnauzer Bite Force
Guard dogs surely have the bite to match their bark when it comes to protecting their territory. Giant Schnauzers have a bite strength of 556 PSI, meaning they can destroy bones as well as skin. This makes their bite strength the fourth strongest of any breed, only below that of the Cane Corso.
Their tremendous biting strength makes them valuable to their masters in life-or-death situations, when a powerful deterrent is required. They are entirely capable of preventing an attack or grabbing an intruder and holding on to them until they are given the instruction to "release."
But what use would such a powerful dog be? Because a yapping Chihuahua won't deter a determined intruder or attacker from causing damage to you or your property. Sometimes you need a level of defense that will scare threats away. And when you do, a Giant Schnauzer will be there to provide it.
The temperament of the Giant Schnauzer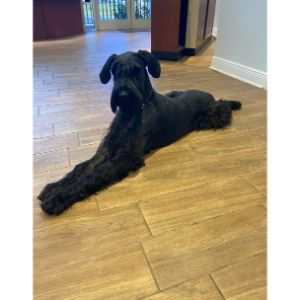 Have you ever wondered what it's like to have a Giant Schnauzer as a guard dog?
Intelligent and watchful, Giant Schnauzers are excellent guard dogs with a strong sense of independence. This can make training more challenging than with other breeds.
Once trained, they transform into one of the most effective guard dogs. Giant Schnauzers are outstanding even if they have not been trained because of their intense protective instincts.
They always seem to be on the lookout for something unfamiliar, and they never fail to point it out. They can assess the safety of a scenario quickly and accurately thanks to their analytical prowess.
The Giant Schnauzer's sensitivity and keen understanding of its owner's emotions, however, stand out. Giant Schnauzers are "near-telepathic" in their capacity to tune into their owners' emotions.
Don't be shocked if your Giant Schnauzer knows when you're afraid, threatened, unhappy, or like you shouldn't have eaten that last slice of pizza. It's eerie! But it could save your life in a sticky situation.
The Giant Schnauzer is an excellent family dog due to its high intelligence and keen perception, which allow it to spot potential threats (such as "stranger danger") and keep kids safe. But if you also have cats and other pets, a Giant Schnauzer will need rigorous socialization training.
Schnauzers are born with something called a prey drive instinct that makes them love the chase. This means that, unless properly trained, they might try to chase cats.
If a Schnauzer isn't properly socialized, they can pose a significant threat to the safety of other dogs due to their suspicious demeanor and their extremely lethal biting strength.
Physical Characteristics of a Giant Schnauzer
One of the larger dog breeds, the Giant Schnauzer, is a popular choice for use as a protection dog. Schnauzers range in size from 60 to 85 pounds in the case of large males.
The Schnauzer appears both curious and authoritative, with a powerful, square build. Their dark eyes are accentuated by the heavy brows that surround them.
These dogs have a particularly "wise" appearance due to the combination of their short, clipped ears (where legal) and scruffy beard. They look like they were taken straight from an old Western movie.
The Giant Schnauzer's coat is typically either black or salt-and-pepper gray, and it has a coat that is medium in length, thick, and wiry. Giant Schnauzers are popular with those who don't enjoy shedding but are willing to put in the time and effort required for regular grooming.
The reason for this is that the Giant Schnauzer hardly ever sheds. The Giant Schnauzer is considered hypoallergenic, meaning it will not cause as many allergic reactions in those who already have them. However, there is no dog breed that is truly 100 percent hypoallergenic.
How to Stop Your Giant Schnauzer from Biting
Here are three effective strategies for preventing your Giant Schnauzer from biting.
Using the "Reach Out and Touch" Approach
Your dog should already know how to sit and stand before you use this approach. Get down on the floor at your dog's level and slowly extend your hands, starting with a distance of only a few inches.
If he moves, put him back where he was and try again. If he waits patiently, reward him with praise and a treat.
Then, put a reward on the ground in front of you and slowly bring your hand closer to it. If he keeps his distance, reward him. Maintain this practice until you and the treat are practically touching each time.
If you use this technique on a regular basis, your dog will no longer bite when you reach out to pet him.
Redirecting Technique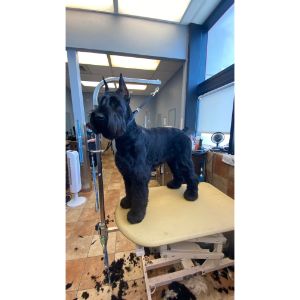 Using chew toys is a great way to distract your dog from destructive biting behavior.
Slowly back away while saying, "No biting!" if he makes a move. The next step is to introduce the chew toy. When the dog accepts it and chews on it, reward him with praise and a treat.
As an added bonus, this strategy works just as well during rough play, when your Giant Schnauzer is ready to bite, since you can use a chew toy rather than your hands when playing with him. Having something to chew on reduces the likelihood that your dog will develop persistent biting.
The "No Bite" Technique
When he starts to bite, stop playing and firmly state "No bite!" before calmly leaving the area.
Another option is to use a can full of pennies and rattle it at him while saying "no bite!" when he starts to bite. If you do this often enough, your dog will learn that biting will result in you ending the game.
Frequently Asked Questions
How protective is a Giant Schnauzer?
Even without extra training, all Giant Schnauzers are protective due to their instincts.
Why are Giant Schnauzers police dogs?
Giant Schnauzers are fast learners who can excel in search and rescue, protection, and other tasks that benefit the police force. Their large size also makes them a natural fit.
Are Giant Schnauzers kid-friendly?
Giant Schnauzers are friendly with children and protective of them. That said, they can be too large and unwieldy around young kids, so exercise caution and supervise them.
Conclusion for "Giant Schnauzer Bite Force: One of the Strongest"
Before you bring a dog home, it's important to do proper research so that you both can coexist in harmony. In the case of the Giant Schnauzer, there is considerable potential for harm due to their strong bite force. So, it's important to socialize and train it early on to avoid problems down the road.
If you find this guide, "Giant Schnauzer Bite Force: One of the Strongest" helpful, check out:
Learn more by watching "Giant Schnauzer – Top 10 Facts" down below:
Garrett loves animals and is a huge advocate for all Doodle dog breeds. He owns his own Goldendoodle named Kona. In addition, he volunteers at the Humane Society of Silicon Valley, where he fosters dogs and helps animals. Garrett enjoys writing about Doodles and believes that dogs can teach humans more about how to live than humans can teach a dog.
Why Trust We Love Doodles?
At We Love Doodles, we're a team of writers, veterinarians, and puppy trainers that love dogs. Our team of qualified experts researches and provides reliable information on a wide range of dog topics. Our reviews are based on customer feedback, hands-on testing, and in-depth analysis. We are fully transparent and honest to our community of dog owners and future owners.