Why does my dog bite my feet, you ask? Any animal lover knows that dogs are not our whole lives, but they make our lives whole. Coming home to your furry pet can turn any bad day around. Being a dog owner might make you feel incredibly proud and even indulge in the joys of petting them, playing with them, snuggling close to them, and cuddling them while sleeping. However, they sometimes bite, and being bitten by a cuddle buddy is not an enjoyable experience. Many breeds become oddly interested in feet and ankles, especially if it's herding season. Does your dog also keep licking, biting, and nibbling your feet? Before trying to find out the reasons behind your dog's erratic behavior, there is one thing that you can contemplate.
Before scrolling down this article "Why Does My Dog Bite My Feet," check out similar questions: Why Does My Dog Lick My Eyes and Why Does My Dog Nibble Me With Its Front Teeth?.
Did Your Dog Start To Bite Your Feet?
If you start by considering your dog's first time biting your feet, it will help figure out the causes. There could have been some things that triggered them to behave this way. The key is to find the particular reason that applies to your puppy and fix it.
Related Articles: Once a Dog Bites, Will It Bite Again, and How To Stop a Goldendoodle From Biting.
Reasons Why Your Dog Bites Your Feet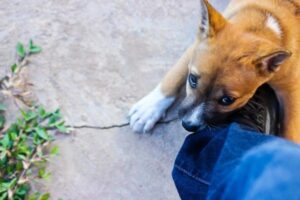 1. Attention Seeking
Dogs are very energetic and playful. If you haven't been giving your dog a lot of attention lately, they might be craving it. Your cuddle-buddy loves spending time with its favorite humans. There is nothing more they would instead do than playing with you. If you're busy doing something like reading the newspaper or watching TV, this could be their way of drawing your attention. It's a highly likely scenario, especially if you do end up giving your companion what it wants.
2. Teething
Puppies try to discover the world around them with their mouths, using their teeth. They have very sharp canines and feel like mouthing everything, including your feet. A puppy's baby teeth come in when they're 5-6 weeks old. However, these shed around the 12 to 13 weeks, to be replaced by adult teeth. When a puppy is shedding teeth or teething, it's incredibly itchy and painful for them. Their gums are swollen, and you might notice some blood on their toys or small teeth lying around the house. To the pain, puppies may nibble on soft things, and your hand and feet end up falling prey to it.
3. Excitement
Sometimes, when your dog bites your feet, they could just be goofing around with you. It's an exhibition of excitement. This is highly likely if the only time it bites you is when you've taken it out for a walk, or you're playing with it. Because dogs cannot communicate verbally, they try to talk to you through these gestures.
4. Boredom
Dogs often do not have healthy ways to release their frustration. When they feel annoyed or bored, they might end up biting your feet. If your dog is left alone most of the day, they are bound to feel that way. Your fur-buddy might resort to undesirable behaviors to relieve its boredom, such as playing with the furniture. Your dog loves nibbling on your favorite sneakers or your couch. What looks like destruction to you seems like a fun evening to your pet.
5. Herding
The herding breeds are usually Border Collies, Corgis, and German Shepherd. If your dog belongs to any of the above, know that biting comes to them naturally. This behavior is pervasive when they are herding cattle, as nipping at their feet helps the dogs move the herd.
6. Anxiety
Your dog might be biting you because of nervousness and anxiety. Just like humans, animals can be emotional messes too. Some pets might feel extremely uncomfortable and end up biting your feet when you walk past them. It's their way of communicating that something is bothering them. Some dogs feel separation anxiety too. If you're about to leave your dog, it might possibly bite your feet.
7. Physical Pain
A dog will do anything to protect itself. If they are suffering an injury, they might bite you to let you know. If by chance, you stepped on your dog, it might bite you to make sure you step away from it. It could also be to stop the pain that you're causing them. The points mentioned above could be a few reasons why your dog is biting you. There is nothing to worry about as long as the licking and the nibbling are playful and not aggressive. You need to figure that out. If the biting is accompanied by growling, glaring, and stiffening up, you should consult a veterinarian. If this behavior is excused, it may lead to hard bites, aggression, and trouble that could be avoided easily.
Related Article: What Should I Do If My Dog Chewed Through Its Crate?
How To Stop Your Dog from Biting You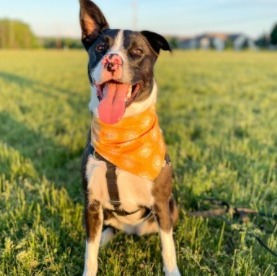 We believe it's safe to assume that you are tired of your canine's behavior and the commotion that it causes. One accidental bite can land you in a lawsuit, or costly medical bills, which none of us would want. Check out the following ways you can pause and stop your dog's biting:
1. Give Them Chew Toys
If you want to stop your dog from biting you, one way is to always carry a toy with you. When they approach your feet, you can distract them by waving the toy in front of them. Once they start nibbling at the toy, praise them. Even if you do not have a toy at hand, the goal is to teach them that they cannot be biting you.
2. Avoid Punishments
While punishments might work, it's a short-term solution. If you punish your dog regularly, it might end up stressed and exhausted. Positive reinforcement is way more productive while training your dog. It includes using rewards such as chew toys, attention, praise, and food.
3. Give Your Dog Something to Chase
Herding dogs cannot be trained out of biting, they. However, they can be distracted. There is no denying the fact that dogs love running and chasing after people, playing catch, and whatnot. You can divert your dog's attention by giving them something to play with. A giant exercise ball could help. This can also help with controlling their arousal and frustration.
4. Train Your Dog
Puppies are more likely to bite you than older, mature dogs. These puppies need to be appropriately trained. Once you do that, they can be taught not to bite you, or if they do enjoy biting, they do so only in a playful manner.
5. Bite Inhibition
Bite inhibition is the behavior by which animals, particularly carnivores, learn how to control the intensity of their bites. It's a crucial part of socialization in pets. It's the ability by which your dog would handle the pressure of their mouth on you when they bite you playfully. All dogs bite and chew, but it's essential to teach your fur-buddy bite inhibition and stop puppy gnawing before it gets out of hand. What seems cute right now might turn dangerous as your bundle of joy gets older. While a puppy's teeth can rip your clothes and tear your flesh, an older dog's bite can even break bones. If the methods mentioned above do not work on your dog, feel free to use the help of an animal behaviorist. It will be able to train your dog better using personalized tricks and techniques suitable for your dog.
Related Articles: What Should I Do If My Puppy Won't Stop Biting Me?
Conclusion For "Why Does My Dog Bite My Feet"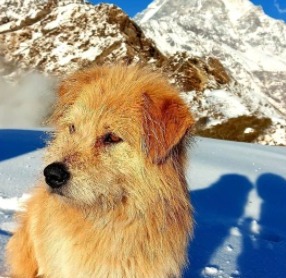 Dogs do speak, but only to those who listen. The key is to develop a form of understanding and loving bond with your dog. Puppies or few canines would bite your feet as part of their game or herding nature. However, that is unsurprising. If the bite is excruciating and unbearable, you need to put an end to it then and there. You can offer your pet other methods to connect with you, such as gentle touches. Providing your puppy with a bundle of chew toys and teaching your companion proper bite inhibition can go a long way.
For more similar dog questions, check out answers from our team at WeLoveDoodles:
You can learn more from watching "How To Make a Dog Stop Biting and Why You Must Do This" from Top Dog Tips down below: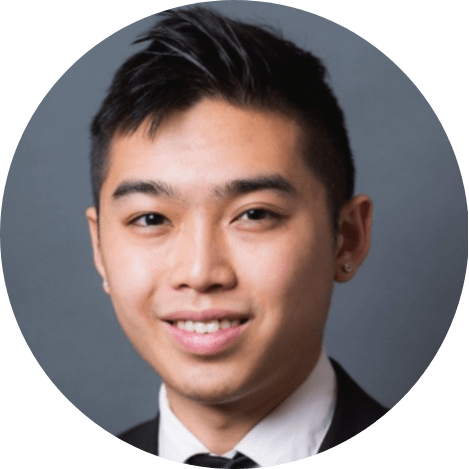 Andy is a full-time animal rescuer and owner of a toy doodle. When he's not saving dogs, Andy is one of our core writers and editors. He has been writing about dogs for over a decade. Andy joined our team because he believes that words are powerful tools that can change a dog's life for the better.
Why Trust We Love Doodles?
At We Love Doodles, we're a team of writers, veterinarians, and puppy trainers that love dogs. Our team of qualified experts researches and provides reliable information on a wide range of dog topics. Our reviews are based on customer feedback, hands-on testing, and in-depth analysis. We are fully transparent and honest to our community of dog owners and future owners.