In the late 19th century, Doberman Pinschers were mainly bred as guard dogs in Germany. Although their exact ancestry is unknown, they're believed to be a mix of many dog breeds, including Rottweilers, Black and Tan Terriers, and German Pinschers. They are highly energetic and intelligent dogs that perform well in police or military work, canine sports, and family guardians and companions.
Choosing the right dog isn't easy, but with this list of the leading Doberman breeders in Washington, you'll be well on your way. These ethical well-established breeders are the most reputable in the state.
1. Prima Dobermans Washington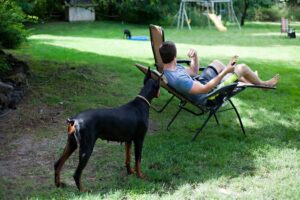 First on the list of Doberman breeders in Washington is Prima. Prima Dobermans is located near Spokane, Washington, and breeds AKC registered Doberman Pinschers. Their dogs make excellent family pets, performance sport dogs, and show dogs. They are all fully health-tested and kept up-to-date.
Their dream is to produce conformationally correct Dobermans who exude breed type, are healthy and long-lived, serve as caring companions, and excel in conformation, working, and performance sports events. They aim for perfection!
They are committed to their Doberman puppies for a lifetime. They will only sell their puppies to homes they know and approve as compatible matches. They are lifelong Doberman lovers and learners. While striving to produce the ultimate vision of the breed, they want to share everything they can with you. Feel free to contact them with more questions.
Doberman Breeder Information:
2. Wingate Dobermans WA
Wingate Dobermans is located in Napavine, Washington, 30 minutes south of Olympia, midway between Portland and Seattle. Since the 1980s, they have been breeding Dobermans in limited numbers. Dobermans that excel in conformation, trainability, and temperament have always been their goal. For years, their dogs have served as friends and protectors to their owners.
Also, those purchased for competition have won breed championships and become excellent obedience/agility performers. Over 60 champions have been bred from their 30+ litters, many with working titles. You can rest assured that their Doberman puppies for sale in Washington are going to be high-quality purebreds.
Doberman Breeder Information:
3. Ravensown KO Dobermans
Ravensown KO Dobermans is committed to ensuring the highest quality of the breed, always putting quality temperament first. Since 1988, they have strived to breed healthy, sound Dobermans that conform to the Doberman Pinscher Club of America's breed standard.
Their dogs are active, devoted family members, competing and titling in conformation, obedience, rally, agility, barn hunt, farm work, and service/therapy. They raise their Doberman puppies for sale in Washington in their home, nestled in the Cascade Mountains, on three acres. Their puppies are from carefully selected, health-tested Champion lines.
They work hard to ensure the right dog goes to the right home and make a lifetime commitment to their Doberman puppies. Their goal is to get to know you and help you find the most suitable companion for your family.
Doberman Breeder Information:
Check out for more: Best Doberman Breeders in Michigan! and Best Doberman Breeders in Colorado!
4. Northstar Doberman Kennel
Northstar Dobermans breed healthy champions, loving companions who are a beautiful reflection of the breed type. The breeder focuses on quality over quantity to provide families with the most desirable puppies. They are happy, healthy, and socialized dogs with exceptional beauty, temperament, and good health.
As a result, you can bring a Doberman from them into your family with complete confidence. No other breed can compare with the Doberman's beauty, intelligence, alertness, protective ability, and athletic ability.
Doberman Breeder Information:
5. Deerun Dobermans Washington State
For several years, Deerun Dobermans primarily bred for temperament and health and only competed in obedience, earning several AKC CD's and CDX's for their Dobermans. Then, in the mid-80s, they got interested in the AKC conformation ring.
They have produced American, Canadian, Peruvian, and International Champions, grand sweepstakes winners, and obedience titled Doberman Pinschers. Since 1974, they have served as officers and board members, including the Puget Sound Doberman Pinscher Club president.
They've got their program down pat! Their Doberman puppies in Washington are carefully selected for breeding to create the most healthy puppies possible. As a result, it has never produced a puppy with any common health problems associated with this breed. That means you can bring home your new Doberman with complete peace of mind.
Doberman Breeder Information:
6. Starlaine Dobermans Whippets
Last on the list of the best Doberman breeders in Washington is Starlaine. Starlaine Dobermans Whippets breed with agility, obedience, and champion titles in limited numbers. Dedicated to breeding the best of the best, they do all the health testing to ensure the future of the breeds they love.
Their memberships include the Doberman Pinscher Club of America, the American Whippet Club, the Mt Hood Doberman Pinscher Club, and the Puget Sound Doberman Pinscher Club, where they have served as president. In addition, to promote responsible breeding and educate the public, they have helped develop breeder referral programs.
The breeder welcomes questions about their puppies, and there are various ways to contact them. You can also get information, advice, and education about your new puppy's care from them. So you can be sure he's taken care of properly when he's with you.
Doberman Breeder Information:
More Information About Doberman Puppies in Washington
Even though Dobermans are generally healthy, there are certain conditions to which they are prone. The first one is bloat, a life-threatening digestive condition that owners should learn the signs in advance.
In addition, genetic health conditions associated with the breed include hip dysplasia, dilated cardiomyopathy (enlarged heart), von Willebrand's disease (clotting disorder), progressive retinal atrophy, albinism, and hypothyroidism.
Breeders are responsible screen their breeding stock for these health conditions with medical testing. Please do not purchase a puppy or dog from a breeder who does not genetically test their breeding stock.
Although the Doberman is primarily a 'wash and wear' breed, some routine grooming will help to keep it in optimal health. Keep its coat looking shiny and healthy by brushing it daily with a short-bristled brush or a grooming mitt. Regular bathing is not necessary.
It would help if you trimmed its nails at least monthly, and You should brush its teeth regularly. It's a smart idea to wipe out the ears carefully every few days using a paper towel soaked in baby oil. You can ask your veterinarian how to clean your dog's ears to prevent damage and stay on top of potential issues.
How to Choose a Doberman breeder in Washington?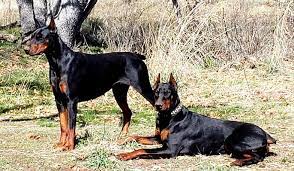 Washington has several Doberman puppy breeders. It may be challenging to find a reputable breeder at the right time and within your budget, but the future, health, and welfare of the Doberman breed depend on it. If you want to choose the best Doberman Breeders in Washington, you should perform some basic research. You should, for example, visually inspect the litter and its surroundings.
Next, ask the breeder which puppy would be best for you. Finally, spend some time with each puppy individually. To save money over its lifespan, you should be prepared to invest in a Doberman puppy. The more wisely you spend, the more you save.
The most successful dog breeders are members of a breeders association and breed following the breed association's rules and guidelines. Besides participating in beauty and performance shows, this also includes health checks on breeding dogs.
Pedigree papers, also called "pedigrees," are also given to puppies. Documents like these show which ancestors contributed to the puppy's development and whether inbreeding occurred.
Where do you find a Doberman breeder?
It is common for Dobies to be purchased without knowing where to buy a quality dog. However, you can find additional information about the Doberman in breed clubs, organizations, and associations. You can also find breeder reviews on Facebook.
The Doberman Pinscher Club of America (DPCA) maintains a list of people breeding Dobermans in the United States, Canada, and other countries. In the search box, type the name of your state to locate a Doberman breeder near you. In addition, to assist the general public, the DPCA provides a list of breeders.
Breeders listed there are members of the Doberman Pinscher Club of America. DPCA does not guarantee the services provided by these breeders or assume any responsibility or liability regarding agreements you may enter into with them.
Conclusion For Doberman Puppies in Washington
Numerous breeders are available, but it is wise to choose one that raises quality Dobermans with a happy temperament. This guide can help you find the most reliable breeders of Dobermans in Washington.
We strongly recommend that you research before buying a Doberman puppy from an inexperienced breeder. Unfortunately, there are many puppy mills, and we would like to prevent these unethical businesses from continuing.
You will also like:
Garrett loves animals and is a huge advocate for all Doodle dog breeds. He owns his own Goldendoodle named Kona. In addition, he volunteers at the Humane Society of Silicon Valley, where he fosters dogs and helps animals. Garrett enjoys writing about Doodles and believes that dogs can teach humans more about how to live than humans can teach a dog.
Why Trust We Love Doodles?
At We Love Doodles, we're a team of writers, veterinarians, and puppy trainers that love dogs. Our team of qualified experts researches and provides reliable information on a wide range of dog topics. Our reviews are based on customer feedback, hands-on testing, and in-depth analysis. We are fully transparent and honest to our community of dog owners and future owners.