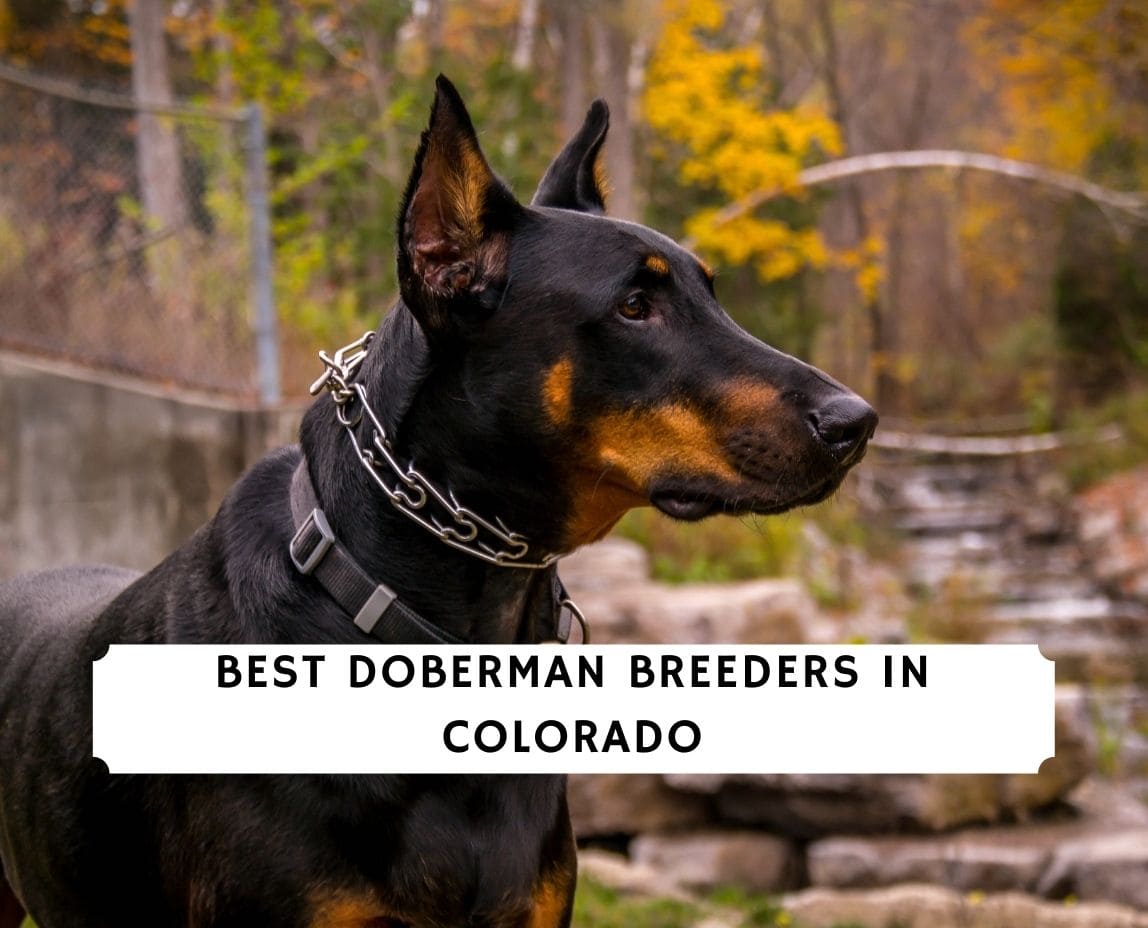 If you're searching for Doberman breeders in Colorado, then here's what you need to know. Majestic stance, noble presence, awe-striking power, an intense expression, and striking gaze — these are the words that best describe a Doberman Pinscher. Doberman may come across as intimidating and aggressive, but these dogs make for the most reliable, intelligent, and trustworthy family companions.
Before scrolling down this list of Doberman breeders in Colorado, check out these recommendations: Best German Sheperd Breeders in Colorado and Best Sheepadoodle Breeders in Colorado.
Doberman Puppies For Sale in Colorado
Once you decide to get your Doberman puppy, the first step is finding a good breeder. A reputable Doberman breeder breeds to produce well-tempered, healthy Dobermans that will be a progressive addition to the breed.
You'll probably find a ton of Doberman Pinscher breeders in Colorado online, but how can you be sure they are ethical and reputable breeders? Here are the best Doberman breeders in Colorado to help you kickstart your journey of bringing home your Doberman.
Doberman Product Recommendations: Best Slicker Brush For Large Dogs and Best Device to Stop Dog Barking.
1. PuppySpot's Dobermans for Colorado
PuppySpot is America's most reputable one-stop-shop for Doberman breeders. Be it in Colorado or other states across the US, PuppySpot extends its services with finesse and accuracy. As a result, it is an ideal marketplace that offers a convenient option for finding your perfect Doberman.
PuppySpot is known to provide exceptional services and have a reduced waiting period, unlike other breeders that may make you wait up to a year before you bring home your puppy. In addition, they have standard guidelines and requirements in place for breeders.
Every breeder has to undergo an extensive screening process at PuppySpot that includes several rounds of interviews, compliance evaluation, field visits, and facility review. In addition, all PuppySpot puppies receive their initial vaccination, deworming, AKC registration, and come with a health guarantee.
So you can keep all your worries about the puppy's health at bay. With an impressive network of breeders from all states, they take the initiative of reaching out to their partner breeders to ensure that they meet the needs of specific breeds. It is their mission to match healthy puppies with loving homes.
They also provide private travel arrangements in case you are unable to travel to the respective breeder. In addition, PuppySpot is trusted by more than 200,000 families across the US, so you can rely on PuppySpot to safely bring home your new Doberman puppy.
PuppySpot Details
2. Rocky Mountain Dobermans
Rocky Mountain Dobermans offer a limited variety of top-quality European Dobermans. They promise to deliver you a stunning, ranch-raised Doberman that has been treated like family and not kept in kennels.
Located in Colorado's high West Elk Mountains, the puppies at Rocky Mountain Dobermans are allowed to roam free in lush hay fields and swim in ponds in the summer and enjoy snow drifting in the winter. At nights, they ensure the dogs stay indoors from fear of lions and coyotes.
At the time of pickup, you'll obtain puppies with their ears cropped, tails docked, dewclaws removed, dewormed, two sets of immunizations, and their temperaments tested before they leave their quality care and join their forever homes.
You will also receive your puppy with a 3-year health guarantee, genetically tested for disorders, and AKC papers in hand. Their Dobermans costs from $4,000 to $5,000, depending on sex and lineage. New owners can take home their puppies at 10-12 weeks of age.
Rocky Mountain Dobermans Details
3. Blessed Beyond Dobermans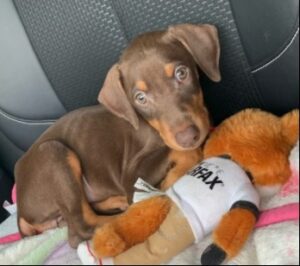 This Doberman breeder from Colorado believes in ethical breeding and only supports breeders with integrity. It is a family-based kennel located in Colorado Springs that delivers Doberman dogs that meet the breed's standards.
All of their puppies receive the best care to ensure that they develop into healthy and muscular dogs. They also prioritize the health of each puppy by making sure they are given to responsible homes.
The team at Blessed Beyond Dobermans is passionate about its work and strives to promote good and responsible dog ownership. You can get home a new furry family member for $2,500 along with a $500 fee with AKC certification. In addition, they offer 100% support on your new journey to acquire a puppy.
Blessed Beyond Dobermans Details
4. Pet City Pet Shop
Purchasing a new puppy requires you to be wholeheartedly committed to raising, training, and nurturing it. At Pet City Pet Shops, they ensure that they handpick their puppies from well-respected, reputable, and most trusted breeders in the country.
They aim to provide healthy and affordable puppies, so you can be assured that all their puppies are chosen from licensed and trustworthy breeders. In addition, the puppies at Pet City Pet Shop all come with a health warranty as they are taken care of by knowledgeable and caring staff members.
In case of any queries about your puppy's health, you can also seek their list of highly respected veterinarians. They have managed to help 10,000 families find the paw-fect puppy that will fit right into their family.
Pet City Pet Shop Details
Website: Pet City Pet Shop
Contact 1: (719) 215-8216
Address1: Chapel Hills Mall, 1710 Briargate Blvd. Colorado Springs, CO 80920
Contact 2: (719) 220-3814
Address 2: Citadel Mall. 750 Citadel Drive East, Colorado Springs, CO 8090
5. TLC Kennel
The proud owners of TLC Kennel offer a wide selection of breeds for you to choose a pet from and help ensure that your puppy fits into your family's lifestyle. Family-owned and operated, the owners have over 30 years of experience and are licensed by the USDA and the State of Colorado.
Along with a state-of-the-art facility, they have followed the guidelines of breed standards, record keeping, and identification as per AKC and America's Pet Registry. Their health guarantee list includes all necessary immunizations and dietary guidelines, and they also recommend veterinary care. In addition, all their puppies come with a 6-month health guarantee.
TLC Kennel Details
6. CastleGuard Cane Corso
Whether you're looking for a companion or show prospect Doberman puppies, Merle and Shauna from CastleGuard believe their family affair sets them apart from other breeders. In addition, they strive to be exceptional by paying careful attention to every detail of their program to breed healthy dogs of high-breed standards.
They also specialize in breed education. With over two decades of experience, the core aim of CastleGuard is to raise well-adjusted, healthy Dobermans that will continue to set the bar for excellence. They take pride in their puppy training programs and being AKC breeders of merit, and having a breed club judge mentorship.
The cost of taking home a puppy from CastleGuard is $2,800, with a $400 deposit to reserve your puppy. The happy puppy package for both show puppies and companion puppies includes the following:
Age-appropriate immunizations and deworming
AKC registration
Microchipped with lifetime activation
26-month temperament and health warranty
Ear crop (optional), tail and dewclaw removal (mandatory)
CastleGuard Cane Corso Details
7. Kettle Cove Dobermans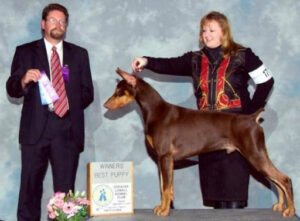 Located on 26 acres of land in Montague, Massachusetts, Kettle Cove Dobermans pride themselves on their show dogs and have been in the business of owning Dobermans for over two decades. Be it the Dobermans in the ring or at home on the couch. They are all bred as per the Doberman Pinscher Club of America Standard.
They are strictly against breeding white or Albino Dobermans as they believe it is a genetic mutation. Instead, Kettle Cove emphasizes their puppies' health and ensures that they are raised on healthy food from Dr. Kruger's Healthy Skin and Coat Formula and Life's Abundance All Life Stage Dog Food.
While they train and socialize their dogs and allow them to stay in the house, they don't raise their puppies in crates, kennels, or cages. , So if at any point you cannot take care of your Doberman puppy, they are there to care and provide protection to their dogs. They are also very careful about finding their puppies happy and safe homes to ensure they do not end up in shelters or rescue homes.
Kettle Cove Dobermans Details
8. Magis Dobermans
Last on the list of the best Doberman breeders in Colorado is "Magis Doberman." Magis Doberman is an AKC registered breeder based in Massachusetts, Colorado. They do not believe in supporting the breeding of white or Albino Doberman as it is a genetic mutation.
The owners are also careful about the buyers who approach them as they believe Dobermans require a lot of care and open space to grow healthy. Therefore, they urge prospective owners to be sure about providing their Dobermans with the necessary activities and care before they make their decision.
All puppies get their initial vaccination, dewclaws removed, tail docked, ears cropped, veterinarian certificate of good health, and tattooed for IDs. Temperament is a priority at Magis Dobermans, which is why they strive to develop playful and loving Dobermans.
Magis Dobermans Details
Conclusion For The "Best Doberman Breeders in Colorado"
If you want to add a Doberman puppy to your family, make sure you look out for reputable and ethical breeders. Insist on meeting the puppy's parents, examining the family history for genetic defects, illnesses, and disorders. If possible, visit the litter before you zero in on a puppy to take home. Finding a trustworthy breeder need not be an arduous task. So to make things easier for you, bookmark this list to help you find your new pet.
For more guides with mentions of the Doberman dog breed, you can check out:
Learn more about this breed by watching "Doberman 101: Why First Time Owners Fail" from Doberman Planet down below: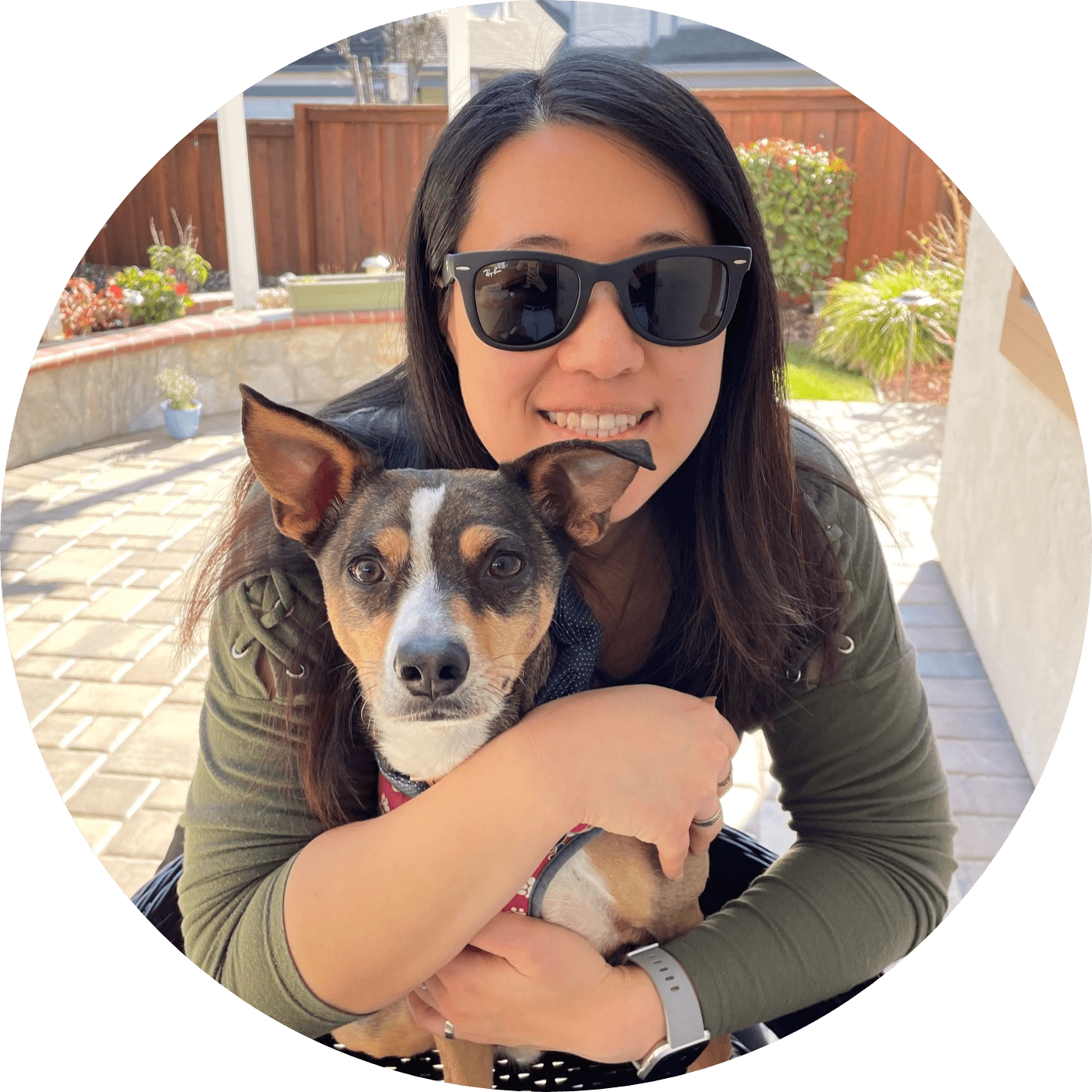 Dr. Sabrina Kong graduated from the Royal Veterinary College in England in 2016 and has been working at a small animal clinic in Northern California since then. She grew up in the Bay Area and got her bachelor's degree from Cal Poly San Luis Obispo. She also became a Certified Canine Rehabilitation Practitioner through a program at the University of Tennessee.
When she isn't in the clinic taking care of her four-legged patients, she enjoys traveling and trying new foods with her friends and her three-legged dog, Apollo. She adopted Apollo from her clinic when he was a puppy with numerous health issues. Dr. Kong truly cares about taking care of animals.