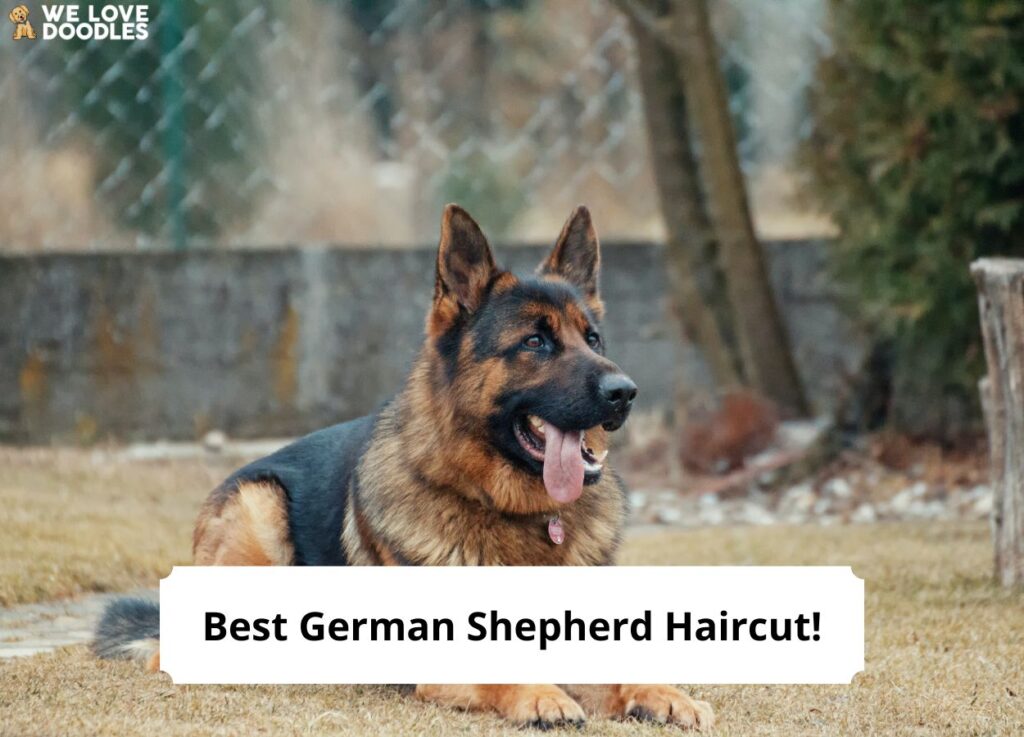 German Shepherds are special dogs, boasting remarkable intelligence, adaptability, loyalty, and guarding instincts. This unique character is complemented by stunning looks, which explains why the German Shepherd is top-ranking among the most popular dog breeds. The breed is a descendant of German herding dogs and has become a dog lover's dream globally.
The German Shepherd's medium and long double coat can be intimidating to many people, especially if you are a first-time owner. However, you can handle the grooming without hassle to keep your furry buddy beautiful and healthy.
Read on to learn all you need to know about German Shepherd haircuts and managing their coat and skin.
Before you scroll down this list of German Shepherd haircuts, check out: Why Is My German Shepherd Skinny? (2023) and German Shepherd Puppy Feeding Chart & Guide! (2023).
What Is the Best German Shepherd Hairstyle?
Unfortunately, there isn't much diversity in German Shepherd's haircuts. If you were anxious to show your friends your German Shepherd's haircut before and after, know that long-haired German Shepherds don't need a haircut. You need to ensure your fuzzy buddy feels good by properly grooming him and keeping his coat healthy. Therefore, your German Shepherd should maintain its natural look.
But if you need to trim your dog, get a pair of grooming scissors and make selective snips that will not impact the remainder of their beautiful coat.
If you give your dog's coat the attention it needs by brushing and cleaning it, it will certainly look stunning just the way it is. Remember to stay on the lookout for your German Shepherd's cues, and should you notice something is causing him stress, then it could be time to change your grooming approach.
Should You Cut Your German Shepherd's Coat During Summer?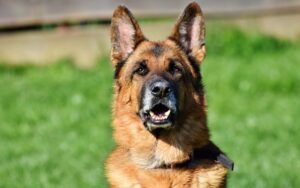 Unlike most long-haired dog breeds, a German Shepherd's summer haircut is not necessary. Shaving your dog doesn't keep it cool during summer.
Instead, you may end up making things worse for him. It removes its protective outer coat, leaving it vulnerable to harsh conditions.
So, before shaving your four-legged friend for summer, consider the following risks.
A Haircut Leaves Your Dog Hot in Summer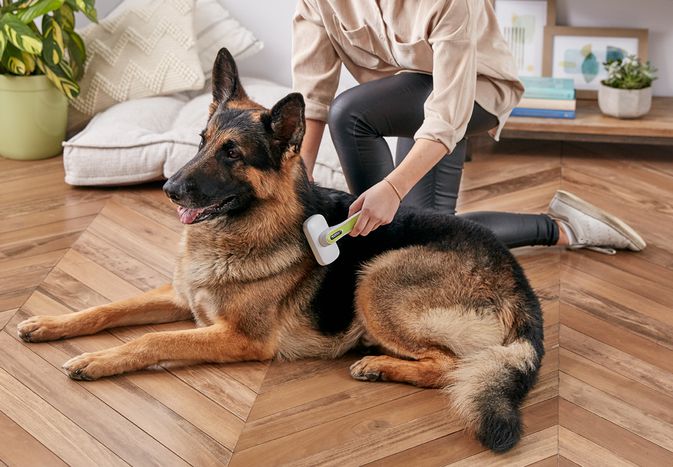 Various breeds have a double coat, which provides them with two coats to combat adverse temperature conditions. The long topcoat protects them from falling snow, ice, and water. The German Shepherd boasts a soft, silky undercoat near the skin to keep your canine companion warm and dry.
During summer, your fuzzy buddy's undercoat thins, and they shed their topcoat. Their residual undercoat will keep your dog cool by insulating their body temperature against the summer heat and allowing hair to circulate freely.
So, shaving puts your German Shepherd at risk of overheating. Instead, you can opt for other cooling solutions for your dog.
Shaving Exposes Your Dog to Sunburns and Skin Damage From UV Rays
Another significant danger for a German Shepherd during a summer haircut is the increased risk of sun damage. Shaving your dog exposes him to ultraviolet rays, damaging the skin. Also, your shaved dog can suffer from severe sunburns during summer, just like humans.
Sunburns increase the risk of skin irritation, which can result in scaling and dandruff. Remember, dandruff and scaling from irritated skin can persist even after your German Shepherd's coat has fully regrown.
Also, sunburns can cause hyperthermia and heat stroke if your shaved dog stays outside for lengthy periods.
Shaving Makes Your German Shepherd an Easy Target for Parasites
When you cut your dog's hair, they lose the natural protective coating that shields them from external parasites, such as mosquitoes and ticks. As a result, it becomes easy for external parasites to bite and attach to your furry buddy's skin.
These parasites can transmit parasitic diseases to your canine companion or cause irritation and itching.
Shaving Can Ruin the Texture and Aesthetic of Your Dog's Coat
When you shave your German Shepherd's coat, the lighter overcoat may not grow to its original length. So, the style and texture of your dog's coat will be inconsistent. Also, the regrowing hair may not be as thick, smooth, or attractive as the shaved hair, ruining your four-legged friend's style.
Alternatives to Shaving Your German Shepherd in Summer
You don't have to shave your German Shepherd when there are various safer and healthier alternatives to keep them cool during summer.
Here are six effective cooling solutions for your pooch during summer:
Limit Time Outside
Dogs don't typically recognize when they are overheating and will continue playing outside even when the temperatures are very high. There's nothing your fido enjoys, like playing with you, and even though you are standing under a shade, they will keep running around full blast out of the shade, getting hotter quicker than you may feel.
You can prevent this dangerous situation by limiting the time you and your furry buddy spend outside.
Keep Cool, Fresh Water Available at All Times
It is essential always to keep your fuzzy buddy hydrated during the scorching summer. Most German Shepherds enjoy playing and splashing in paddling pools, so you should consider providing one for your fido.
Ensure you have the pool and clean drinking water under a shade to keep your dog comfortable and cool. You can also add ice to the water dish to offer your canine companion soothing to cool them off.
Invest in a Cooling Mat
Cooling mats are common among avid German Shepherd owners, but if you don't have one consider buying them for your dog for the summer season.
The mat absorbs your fido's heat and disperses it effectively with its gel composition. Most dogs find the self-cooling mats comfortable to sleep on during the hotter summer months.
Give Your German Shepherd Refreshing Dog-safe Treats
Another cooling strategy that your German Shepherd will undoubtedly enjoy is dog-friendly cooling treats. Ice lollies and ice cream are the most popular dog-safe treats for refreshing your dog.
You may also try out other DIY dog-friendly recipes to provide your dog with various cooling treat alternatives. Remember to give the cooling treats in moderation to avoid excessive calories.
Consider Indoor Alternatives for Playtime
When temperatures are severe, it isn't easy to get your lively dog adequate exercise, but you can play several enjoyable indoor games that are safe for everyone. Hide and seek may be enjoyable for both children and dogs; have the child hide and the dog locate them.
Hide treats throughout the home and let your German Shepherd sniff them out to keep them active and engaged. This will control your dog's urge to go outside to play.
How Long Does It Take for German Shepherd Hair to Grow Back?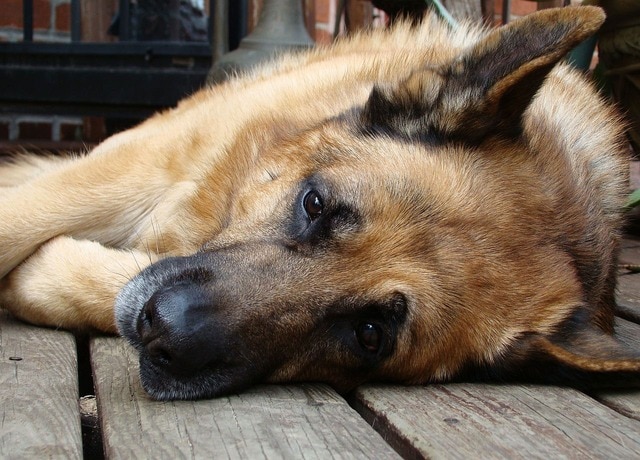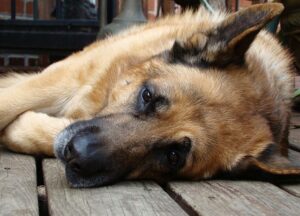 Unfortunately, specific circumstances will require you to give your German Shepherd a haircut. These very few instances when there may be a need to cut your dog's hair include:
Surgery: Your dog's coat may need to be cut off to make an incision for surgery. Since this dog breed is prone to hip and bone problems, surgery may be necessary to relieve symptoms. However, these cases necessitate shaving in localized areas.
Parasite Infestation: A significant infestation of external parasites may necessitate the removal of some of the dog's coat. In most circumstances, cleaning the dog with parasiticidal shampoo or topical treatment would be enough. Shaving the animal is an extreme approach, and only a skilled veterinarian can determine whether or not it's an acceptable therapy.
Your dog's coat will typically start regrowing in a week or so. But it depends on the region you shave in the first place.
If the area is irritated or has a similar problem, it would likely take longer for the hair to grow. The fur will probably not regrow for inflamed patches until the condition is remedied.
If your dog's skin is in perfect condition, the fur will take a few weeks to cover the shaved area. The time frame will vary depending on the area shaved, and it can take months for the patch to grow to match the surrounding coat.
It is expected that the fur will initially grow back quickly and then subsequently slow down. Once the shaved region is partially covered, the body will cease devoting resources to developing that fur. Don't panic if it takes up to a year for the hair to grow to its standard length.
Do German Shepherds Need to Visit a Groomer?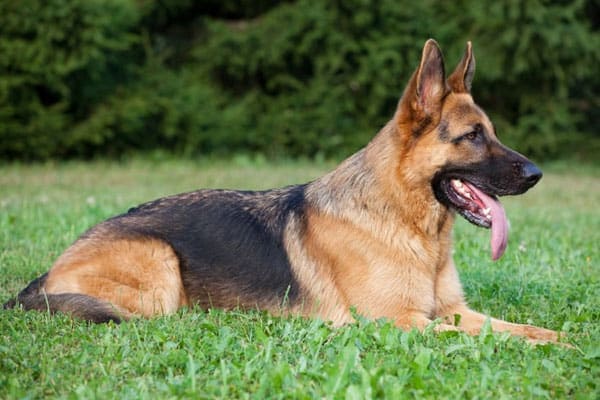 If you can handle your dog's grooming needs, you won't need to visit a groomer. German Shepherds don't require regular professional trimming and shaving, so you can manage most of their grooming needs.
These dogs also don't require frequent bathing, and it is only recommended if they are filthy. Remember, even if you use a highly hypoallergenic, gentle shampoo, you will risk exposing your German Shepherd's skin to dryness and irritation.
Nevertheless, you still need to keep up with your dog's grooming regimen. For instance, you must brush your fuzzy buddy twice weekly, but long-haired German Shepherds benefit from brushing more frequently.
We recommend brushing your dog's coat three to four times weekly for long-haired pooches. A groomer visit will be necessary if you don't keep up with your German Shepherd's grooming.
If you opt for groomer visits, you should take your canine companion regularly. Your German Shepherd gains the most from frequent, brief grooming sessions. Otherwise, the hair will build up, and the constant shading can be overwhelming for most dog owners.
Tips for Grooming Your German Shepherd
Taking care of your German Shepherd's grooming needs isn't difficult as long as you follow their specific approach.
Here are tips to make your grooming experience easy:
Regularly brushing your German Shepherd is necessary to combat excessive shedding.
Bathing your furry buddy once a month is adequate. You will leave your fido with dry, irritated skin if you overdo the bathing.
Don't forget to trim your dog's nails once a month. Although the nails typically wear down on their own, check for overgrown nails to keep your dog comfortable.
Remember to clean the pup's ears once a week with eardrops and examine for any signs of an infection.
Clean your dog's teeth with a specialized dog toothbrush and toothpaste at least once a week and check for any issues.
Have a consistent grooming schedule and pattern to keep your German Shepherd relaxed during grooming.
Frequently Asked Questions
Let's look at some frequently asked questions about shaving German Shepherds.
Do German Shepherds need a haircut?
No. Your German Shepherd's coat doesn't need a cut, as it is essential in protecting the dog.
Is it OK to trim a German Shepherd?
Yes. Trimming is a better alternative to shaving your German Shepherd's coat. Trim a few outlier hairs, not all over.
Do long-haired German Shepherds need to be groomed?
Yes. Like other German Shepherd coats, the long hair coat benefits from more frequent grooming, at least two to three times a week, to combat shedding and prevent it from becoming matted.
How should German Shepherds be groomed?
You should brush your German Shepherd at least two to three times weekly to remove loose and dead hair, keeping the coat soft and silky. Also, often check for overgrown nails and clean their teeth and ears.
How often should a German Shepherd be groomed?
You should groom your German Shepherd two to three times a week, but long-haired fidos will need more regular grooming, at least three to four times a week.
Can you keep a German Shepherd's hair short?
No. Shaving your German Shepherd's hair damages its coat and exposes them to potential health risks. If you fancy a short coat, consider getting a short-haired German Shepherd.
Conclusion for "Best German Shepherd Haircut"
While you may feel the need to pamper your German Shepherd, a haircut is a no-no. You should only opt for a German Shepherd haircut if it is medically required.
This dog breed features a double coat, meaning its fur is double-layered. If you tamper with these layers, the dog's hair won't keep them warm, cool, or dry.
For more guides similar to this list showing types of German Shepherd haircuts, check out:
If you find these German Shepherd haircuts interesting, learn more by watching "Grooming dogs | Grooming our German Shepherd" down below:
Garrett loves animals and is a huge advocate for all Doodle dog breeds. He owns his own Goldendoodle named Kona. In addition, he volunteers at the Humane Society of Silicon Valley, where he fosters dogs and helps animals. Garrett enjoys writing about Doodles and believes that dogs can teach humans more about how to live than humans can teach a dog.
Why Trust We Love Doodles?
At We Love Doodles, we're a team of writers, veterinarians, and puppy trainers that love dogs. Our team of qualified experts researches and provides reliable information on a wide range of dog topics. Our reviews are based on customer feedback, hands-on testing, and in-depth analysis. We are fully transparent and honest to our community of dog owners and future owners.