Is your German Shepherd skinny? This guide will provide you with a list of reasons your companion is slim and what you can do to help it. A healthy diet and regular exercise are vital components to keeping your dog happy and healthy throughout its life. These two ingredients for a healthy life are consistent across dog breeds, from the tiniest Chihuahua to the largest Mastiff. Some breeds of dogs require more food than others, depending on their size and overall metabolism. Some breeds may also require more activity and time outside than others to release their built-up energy and stay healthy mentally and physically.
If a dog does not have these two needs – diet and exercise – met regularly, they may fall victim to health conditions such as being underweight or overweight. These conditions further can lead to other problems in the body. Typically, dog owners can tend to be most concerned with ensuring their dog does not become overweight. The side effects of being overweight are relatively apparent, as also is the case with humans. However, an underweight dog can also lead to severe conditions that can be detrimental to their health in the long run.
German Shepherds have a standard size and weight that indicates a healthy range for these dogs to thrive. Whether you have a German Shepherd or are looking to add one to your family, knowing the size they should be can help you determine whether or not further action should be taken to support their health. If you find that they are too skinny, it could be due to various reasons you'll want to look into. And as a dog owner, their excessive skinniness could make you worried about the care you're providing your dog. To help you best take care of your German Shepherd now or in the future, our team will share some key reasons why your German Shepherd may be too skinny and steps you can take to support their overall health and well-being.
Before scrolling down this article "Why is My German Shepherd Skinny," these guides could help answer some questions: Can German Shepherd Eat Apples and Best Foods For a German Shepherd To Gain Weight.
How To Tell If Your German Shepherd is Too Skinny
Before needing to determine the cause of their apparent skinniness, it's important first to confirm that they are, in fact, underweight. Typically, it's pretty easy to see if your dog is malnourished or too skinny visually. Typically, the most direct indication is by seeing their ribs sharply outlined on their body. There should be a small amount of fat for a dog at a healthy weight that softens the ribcage area. For an underweight dog, their ribs will be much more noticeable.
While it's typical for their waist to slim out, the rest of their body should be strong and thick. The outline of their body should take on an hourglass shape. However, if they look to be more in a triangle shape with the most significant part of their body at the front, your German Shepherd may be too skinny. In severe cases of being underweight, your dog may also experience other side effects that can severely affect their overall health and well-being.
For example, an underweight German Shepherd can experience digestive issues, including both vomiting and diarrhea. They may also be tired often and not interested in things that once brought them joy. Additionally, the color of their dark coat may also begin to change. The dark black may transition to a duller color as the overall coat quality deteriorates. Suppose you notice any of these symptoms in your German Shepherd. In that case, it's essential to address their weight issues and any underlying causes that could be a contributing factor to their skinniness.
German Dog Food Recommendations: Best Dog Food For German Shepherds with Skin Allergies
Why Is My German Shepherd Skinny?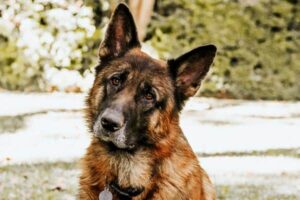 Once you've identified that your German Shepherd has a weight issue, it's essential to discover the underlying cause of why your dog has lost weight. These reasons can vary greatly, ranging from simple diet and nutrition to more complex medical issues like sicknesses.
1. Poor Diet
One of the most apparent reasons your German Shepherd may be skinny is poor nutrition and overall diet. The food they eat makes a big difference in the nutrients they receive and how well they can grow and stay strong and healthy. If your dog is either not getting fed often enough or isn't eating the right kind of food, their weight may suffer. Dogs usually require set meals throughout the day to depend on to meet their hunger and nutrition needs. While calorie requirements vary, they must complete their need for the number of calories they expend through exercise and everyday living. Their food should also be packed full of vitamins and nutrients to keep them full and support their overall health.
2. They Don't Like the Food
If you feed them consistent meals throughout the day but find that the stainless steel dog bowl of food is often untouched, your companion might just not like the food you're serving. While it's not all that common, your German Shepherd may be a picky eater. They may also have different eating habits, such as preferring a particular location or time of day. When their preferences aren't met, they may choose not to eat, even if they're hungry. This lack of nutritious meals can cause your dog to lose weight.
3. Disruption in their Environment
If you've recently moved or changed up the routine with your German Shepherd, they may not be up for eating right away when a German Shepherd is stressed and anxious, whether by internal or external causes, they may lose their appetite. They may be hungry at different times or prefer a different approach to mealtime. This stress and anxiousness can also lead to conditions like depression, so it's essential to identify this behavior in your German Shepherd early on.
4. Parasites
With regards to underlying medical conditions causing weight loss, parasites and worms can also be the culprit. Intestinal parasites can take advantage of the dog's nutrition they receive and cause them to lose weight fast. Intestinal concerns like vomiting or diarrhea also accompany parasites or worms. If you suspect parasites cause their weight loss, it's essential to connect with your veterinarian as soon as possible.
5. Dental Problems
Have you ever had a toothache and didn't feel like eating as a result? The same condition can be for your German Shepherd as well. If they have chipped a tooth or have other dental issues such as an ulcer or gum infection, they may be in pain when they eat. To help eliminate that pain, they may choose not to eat. While they may still be hungry, they may not want to be subject to the pain in their mouth that they know comes with eating.
6. Diabetes
Another medical condition that can bring on weight loss is diabetes. Just as is the case with humans, diabetes disrupts your metabolic patterns as it alters the ability to produce insulin. Without this insulin, they'll find alternative energy sources, such as turning to fat and proteins in their body, which helps keep them healthy and well. This can also be a common concern for German Shepherds losing weight and being too skinny. Other medical issues related to severe weight loss in dogs include cancer, liver disease, or kidney disease. If you suspect any of these conditions, it's essential to connect with your veterinarian immediately.
Is your German Shepherd's behavior off to you? Read "Reasons Why My Dog is Wobbly and Off-Balance."
How to Support the Health of your German Shepherd
In discovering opportunities best to serve your dog's overall health and well-being, you must know the underlying reason why your German Shepherd is so skinny. Then, you can discover a plan forward that either involves adapting their feeding habits and schedule or addresses the underlying medical concern that is ailing them. When it comes to their diet, ensure you are feeding them high-quality dog food packed full of nutrients they need to thrive.
You'll also want to confirm that the time and location they eat are aligned with their preferences. If they don't like a portion of particular dog food, try out a different brand or type of ingredients to see if that makes a difference. To help them gain weight, you can also choose dog food with a higher calorie count than others. Foods that are high in both fat and protein and not compromised by filler ingredients can help them get back to their average weight. Often, with improved nutrition, dogs can quickly recover from being too skinny.
German Shepherd Food Recommendations: Best Dog Food For a German Shepherd Lab Mix
Conclusion For "Why is My German Shepherd Skinny"
For more serious medical concerns, such as parasites, a trip to the veterinarian can be quite helpful. They can help provide guidance on the next steps in treating their condition and develop a plan for fattening up your German Shepherd so that they can get on to living their best life. A large part of caring for your German Shepherd is ensuring that they are at a healthy weight and receive the nutrition they need to stay active and healthy, both mentally and physically. If you've noticed that your dog is underweight, care for them by identifying the underlying issue and discovering opportunities to meet their needs better.
You can find more related and helpful guides from our team at WeLoveDoodles below:
To learn more about putting weight on your German Shepherd, watch "How To Put Weight on a Dog" from AnimalWised down below: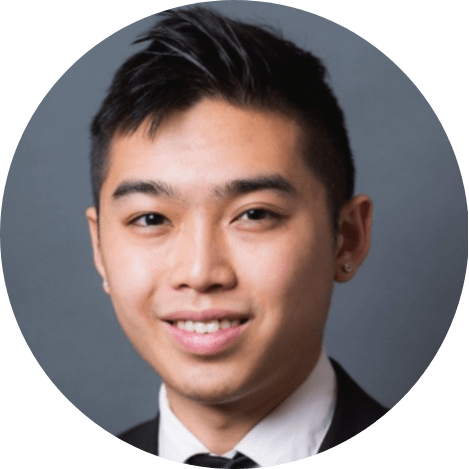 Andy is a full-time animal rescuer and owner of a toy doodle. When he's not saving dogs, Andy is one of our core writers and editors. He has been writing about dogs for over a decade. Andy joined our team because he believes that words are powerful tools that can change a dog's life for the better.
Why Trust We Love Doodles?
At We Love Doodles, we're a team of writers, veterinarians, and puppy trainers that love dogs. Our team of qualified experts researches and provides reliable information on a wide range of dog topics. Our reviews are based on customer feedback, hands-on testing, and in-depth analysis. We are fully transparent and honest to our community of dog owners and future owners.