If you're searching for Maltipoo breeders in Wisconsin, it's probably because you know that the pups are adorable little family dogs. They're gentle and patient, great with kids and seniors, and a relatively low-maintenance breed.
A cross between a Maltese and a Poodle, the Maltipoo takes on the best traits of each parent. They're largely hypoallergenic, highly intelligent and trainable, and oh-so-affectionate. Your dog will be a fun playmate and devoted to you, so get ready to adopt a lifetime companion!
We've put together a list of the top Maltipoo breeders in Wisconsin so you can begin your search with reputable and responsible breeders. Always do your own research to ensure you're not purchasing a dog from a puppy mill or a backyard breeder.
Before scrolling down this list of Maltipoo breeders in Wisconsin, check out these similar breeds: Best Poodle Breeders in Wisconsin and Best Cockapoo Breeders in Wisconsin.
Maltipoo Puppies For Sale in Wisconsin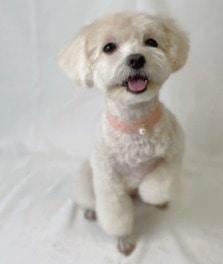 Finding a reputable breeder can be daunting. But, with the right information, you will land yourself a quality puppy from the best breeder near you. Check out this list of top Maltipoo breeders in Wisconsin.
Maltipoo Product Recommendations: Best Dog Food For a Maltipoo and Best Smelling Dog Shampoos.
1. PuppySpot's Maltipoos for Wisconsin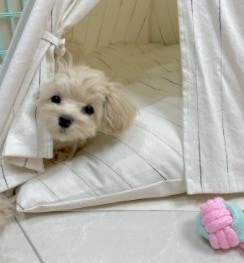 First on the list of Maltipoo breeders in Wisconsin isn't a single breeder but an entire marketplace. PuppySpot's marketplace is dedicated to numerous reputable breeders throughout the United States. You'll skip the hassle and waiting time by using this platform. PuppySpot earned a top ranking on our list of Maltipoo breeders in Wisconsin for various reasons:
a seamless, effortless checkout process
a large selection of happy, healthy dogs
no waiting list
an industry-leading 10-year health guarantee
USDA-approved airlines and ground transportation
no waiting list
We highly recommend checking out PuppySpot before going on your search for individual breeders yourself. Click on the link below to see whether it's for you or not.
PuppySpot Details
2. Simply Sweet Puppies
Simply Sweet Puppies is a business owned by a family of dog lovers who aim to provide adopters with a healthy and happy furry pal. This breeder also strives to make puppy adoption as pleasant as possible. They ensure that all potential owners are treated the way they would like to be treated. Although the puppies at Sweet Puppies do not live inside the breeders' home, their kids often bring them in to be loved and spoiled.
You will find Parti Yorkies, Yorkshire Terriers, Toy Poodles, Morkies, Cockapoos, Yorkiepoos, and Maltipoos in this kennel. All puppies here are vaccinated at the appropriate age and dewormed every two weeks.  This breeder also ensures that all puppies are vet checked, and their puppies come with a one-year limited health guarantee.
Simply SweetPuppies is licensed by the State of Wisconsin. They love their Maltipoos and believe that they are unique because of their non-shedding nature.
Simply Sweet Puppies Details
3. Ohpuppylove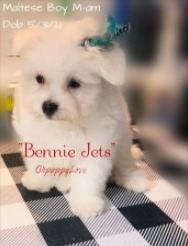 Ohpuppylove is next on our list of the top Maltipoo breeders in Wisconsin. They've been in business for over 30 years, and their dedication to the breed is apparent when you see these sweet puppies! Dogs born to this kennel have gone on to become therapy dogs and companions for people of all ages and abilities, and Ohpuppylove takes pride in the health of their dogs.
As you seek to buy a Maltipoo, be sure to check out the Ohpuppylove website. You'll find oodles of information regarding the care of your dog, from diet and grooming to health and vaccination information.
Be mindful that this breeder is quite wary of diseases brought into their kennel. If you've recently visited a shelter, vet, pet store, alternate breeder, or other similar facility you will be asked to steer clear of the facility. Puppies have not undergone their full course of vaccines at this early age, and these measures are to prevent the spread of disease.
Should you wish to visit and meet the dams, sires, or puppies, please get in touch with Ohpuppylove using the information listed.
Ohpuppylove Details
4. Wisconsin Puppy Patch
LeRoy Fhlug is the owner of Wisconsin Puppy Patch, and he's always been a self-proclaimed dog lover! He certainly found his niche when he began breeding Maltipoo puppies in Wisconsin, and the health and temperament of these puppies are testament to that.
Fhlug's puppies grow up in a clean, safe, and loving environment. Check with the Puppy Patch website to learn about the puppies that are available, and to begin the adoption process! You may be placed on a waiting list, and a deposit will be required to hold your dog. Contact the breeder for more information, or to learn more about the dams and sires used to produce these little dogs.
Wisconsin Puppy Patch Details
5. Foxwood Kennels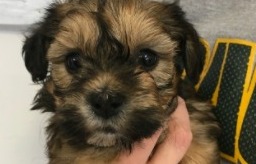 Located in De Pere, Foxwood Kennels is one of the best Maltipoo breeders in Wisconsin. They don't specialize in the Maltipoo breed, instead choosing to sell German Shepherds, Shih Tzus, and others. There are also several designer breeds in their repertoire, so check them out!
The Foxwoods website does not list prices; puppy pricing is set as puppies are born. Visit the site or call the breeder for information about available puppies, and to inquire about pricing. Dogs are vet-checked, vaccinated, and dewormed, and will come with a one-year health guarantee against certain illnesses.
Foxwood Kennels Details
6. Spring Green Pups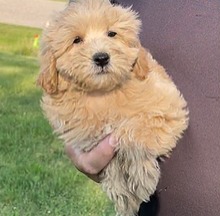 Spring Green Pups has a zero-tolerance policy against unethical breeders and puppy mills. They only deal with reputable breeders, as the health of their little fur babies is their top priority. The breeders in this kennel are dedicated, thorough, and particular in everything they do. They pride themselves in taking in rescue or surrendered dogs and giving them the homes they deserve. At Spring Green Pups, puppies come with a one-year health guarantee.
Before you go home with a puppy from this breeder, the team will ensure that your dog has gotten all initial puppy shots, de-parasite and dewormingtreatments. Spring Green also offers dog training advice and training for between $50 and $100 per hour.
Spring Green Pups is located an hour from Madison, but they're willing to deliver to a location near you for 40 cents per mile. Lifetime support is standard with every puppy, so ask the team any questions you may have, even after you bring him home! In addition, should you ever decide your dog isn't a good fit for your family, Spring Green will take the dog back to avoid shelter placement.
Spring Green Pups Details
7. Rene's Wonderful World of Teddy Bear Puppies
Rene's Wonderful World of Teddy Bear Puppies is one of the best when it comes to breeding quality dogs. They aim to produce high-quality puppies that are perfect for everyone. No matter your preference, you will find the puppy of your dreams in this kennel. They have a beautiful facility where they breed some of the healthiest dogs in the United States.
All their furry babies are raised inside the home and are well-socialized. Before you go home with any of them, they must be up to date with their vaccination shots and deworming. All puppies from this breeder come with a one-year health guarantee for congenital disabilities. If you are looking for a place to get a non-shedding small dog in Wisconsin, Rene's Wonderful World of Teddy Bear Puppies might be right for you. Feel free to contact them to kick off your puppy adoption.
Rene's Wonderful World of Teddy Bear Puppies
8. The Puppy Patch/Son-Rise Acres
Last on the list of the best Maltipoo breeders in Wisconsin is The Puppy Patch. The Puppy Patch breeds for genetics and temperament, and puppies are sent home to the most loving families. You'll be asked to interview with the team before you're permitted to bring a dog home. Please be honest when answering their questions to ensure the nest possible match.
Puppies at The Puppy Patch are fed premium food and will be vet-checked from nose to tail before going to their new homes. They're well-socialized, and they're ready to build a bond… with you! If you'd like to adopt from this breeder, please visit the website to determine availability and pricing of puppies.
Dogs, of course, are vaccinated and given de-wormer before going home with you. Your dog comes with lifetime support from the breeder. Ask about breeding rights and any applicable health guarantees.
The Puppy Patch Details
Conclusion For The "Best Maltipoo Breeders in Wisconsin"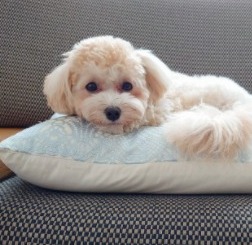 Maltipoos have become quite popular in the United States. Unfortunately, this popularity has caused a rise in unethical breeders whose sole aim is profit. But you can avoid falling into their hands by educating yourself. Our list of the top Maltipoo breeders in Wisconsin contains only breeders who adhere to strict ethical standards.
For more Maltipoo articles, you can check out:
Learn more about this breed by watching "What It's Really Like Having a Maltipoo Puppy" from ItsKayYvonne down below: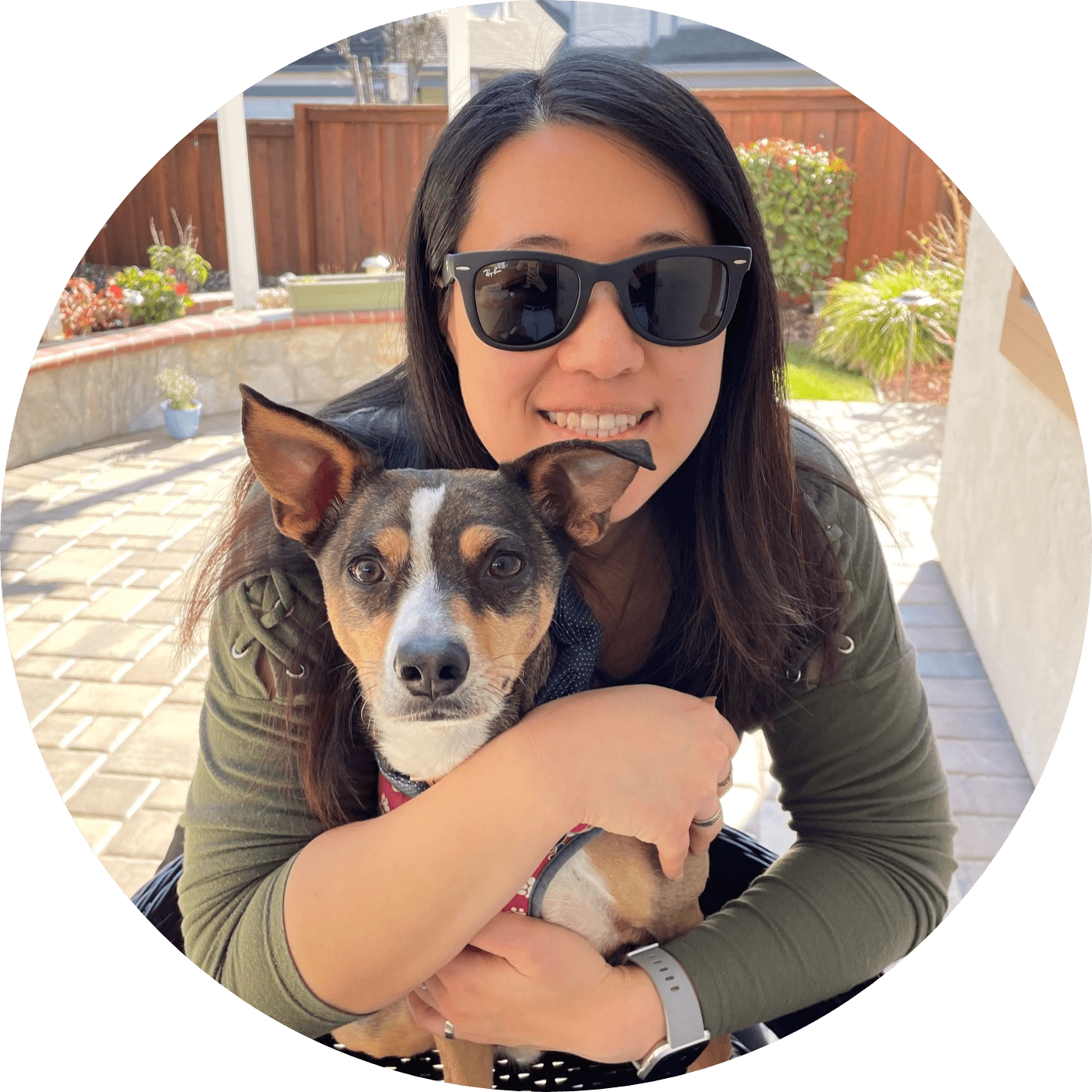 Dr. Sabrina Kong graduated from the Royal Veterinary College in England in 2016 and has been working at a small animal clinic in Northern California since then. She grew up in the Bay Area and got her bachelor's degree from Cal Poly San Luis Obispo. She also became a Certified Canine Rehabilitation Practitioner through a program at the University of Tennessee.
When she isn't in the clinic taking care of her four-legged patients, she enjoys traveling and trying new foods with her friends and her three-legged dog, Apollo. She adopted Apollo from her clinic when he was a puppy with numerous health issues. Dr. Kong truly cares about taking care of animals.