As a responsible pet owner, it is important to treat your pets for fleas and ticks. Fleas and Ticks can transmit diseases and cause discomfort to your dog. One of the most popular on the market today is K9 Advantix, however, you can't immediately touch your dog after application. You may be wondering how long after applying K9 Advantix can you touch your dog?
The remnants of K9 Advantix stay on your dog's skin for up to 48 hours. The company suggests you wait until the product is completely absorbed into their skin. Therefore, you should not touch your dog for at least 48 hours after applying the product.
This article gives an in-depth discussion of K9 Advantix and includes topics such as how long do you wait to touch your dog after applying for the topical flea and tick medicine. It also goes over topics such as whether K9 Advantix can harm you and why you should protect your pet from fleas and ticks.
Other articles you might like: How to Get Rid of Fleas on Dogs Naturally
What is K9 Advantix?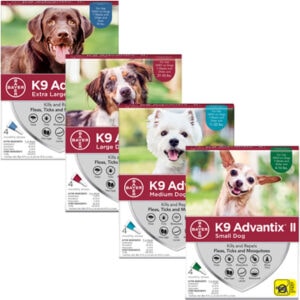 K9 Advantix is a topical flea and tick solution. This means it is a liquid that prevents fleas and ticks from infesting your dog and home. Fleas and ticks can cause an array of issues from itching to deadly diseases. So it is important you treat your dogs once a month. It also protects against mosquitoes that spread heartworm disease.
Related: Best Flea and Tick Collar for Dogs
How Long Do I Wait To Touch My Dog After Applying Advantix?
The K9 Advantix manufacturers suggest that you wait until the topical solution has completely dried on your dog's skin. This ensures that it has completely absorbed and works to the best of its ability to rid your dog of fleas and ticks. It typically takes around 48 hours or 2 days for the solution to completely absorb into your dog's skin. Therefore, you should wait around 48 hours after applying the product to touch, pet, or play with your dog.
Later on, we are going to discuss how to stimulate your dog while waiting for the K9 Advantix to dry. This is to ensure your dog still gets the proper exercise and love they deserve!
Reasons You Should Protect Your Pet From Fleas and Ticks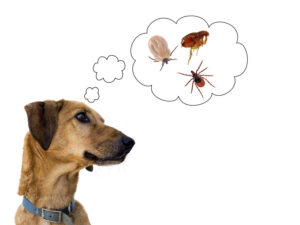 Although, it may be disappointing to not be able to pet your dog for 48 hours. This product works in their best interest. You may be wondering why you should protect your dog from fleas and ticks. There reasons you should protect your furry friend but the main one is a disease. Preventing fleas and ticks prevents transmittable diseases, especially ones that can harm both you and your pup.
More often than not, pets tend to be allergic to fleas. Their bites can cause allergy-related issues and make your dog itch. This itching is not only annoying for your dog but causes a lot of discomfort for them. Not only that, but if the infestation is great enough it can spread to your other pets, and even your household. Fleas can transmit a worm called a heartworm and this parasite is deadly to your dog. Treating your dog for fleas with K9 Advantix prevents this from happening.
Ticks can transmit diseases such as Rocky Mountain Spotted Fever or Lyme diseases. Both are deadly diseases to your dogs. Ticks can also transmit similar diseases to you, so it is best to prevent the issue altogether.
Can K9 Advantix Harm Me?
If you cannot touch K9 Advantix can it harm you? K9 Advantix can only harm you if it is ingested or gets in your eyes. If ingested contact poison control immediately and follow their instructions. If the topical solution gets in your eyes immediately rinse them out. K9 Advantix is not particularly harmful to the skin but you will want to wash it off if it gets on the skin,
The main reason you wait to touch your dog after applying the solution is so it can work to the full effect on your dog. It is also for your own safety as well because if you are allergic to the solution it can cause burns. Most people are not allergic to it, but it is still advised to wash it off your skin if you come in contact with it.
How Soon Can I Bathe My Dog After Applying K9 Advantix?
It is advised you bathe your dog and let them dry before applying the topical solution of K9 Advantix. This ensures your pet does not have any dirt or grime that is going to interfere with the solution working properly.
After applying, you have to wait for the solution to dry in order to bathe your dog again. As stated earlier, it takes roughly 48 hours for K9 Advantix to be fully absorbed into your dog's skin. Therefore, you should wait 48 hours to bathe your dog after applying the solution. The same amount of time you have to wait to touch your dog.
How to Apply K9 Advantix
The best way to apply K9 Advantix is by using the topical solution along their spine. After opening the tube, take off your dog's collar. Spread the hair around the area until there is skin showing and squeeze some of the solutions onto your dog's skin. Slowly move down the spine and repeat the process. Make sure you are applying it on their skin and not their fur because it will not absorb properly. If you get it on your skin, no need to worry, just go wash it off.
What Do I Do While I Wait for K9 Advantix to Dry
If you are a responsible pet owner then you are probably wondering what you can do with your dog while you wait for the solution to dry. Your dog still needs daily stimulation and exercise.
Try throwing the ball for them or playing games that do not involve you petting them! Playing with a ball not only exercises your dog but also works as a bonding moment for both you and your pup.
You can also work on training exercises. Improving the commands they already know is great mental stimulation for both you and your pet. Just make sure you do not touch them while you are training them! Commands such as sit, lie down, come, etc. are great to work on. Instead of rewarding your dog with petting reward them with treats. This is to ensure they get the praise they deserve all while you wait for the K9 Advantix to dry.
Conclusion
All in all, there are many precautions that need to be taken when administering K9 Advantix to your dog. One is that you need to wait 48 hours for it to completely absorb into your furry friend's skin. This is to ensure the topical solution works at full capacity and to prevent it from burning your own skin. Although not deadly, K9 Advantix can burn your skin if allergic, so it is best to wait the full 48 hours.
Not touching or playing with your dog for 48 hours can be disappointing and could lead you to not treat your dog. It is strongly advised you treat your dog because it can prevent diseases for both the dog and humans. It also prevents infestation throughout your house.
You should also check out:
Garrett loves animals and is a huge advocate for all Doodle dog breeds. He owns his own Goldendoodle named Kona. In addition, he volunteers at the Humane Society of Silicon Valley, where he fosters dogs and helps animals. Garrett enjoys writing about Doodles and believes that dogs can teach humans more about how to live than humans can teach a dog.
Why Trust We Love Doodles?
At We Love Doodles, we're a team of writers, veterinarians, and puppy trainers that love dogs. Our team of qualified experts researches and provides reliable information on a wide range of dog topics. Our reviews are based on customer feedback, hands-on testing, and in-depth analysis. We are fully transparent and honest to our community of dog owners and future owners.