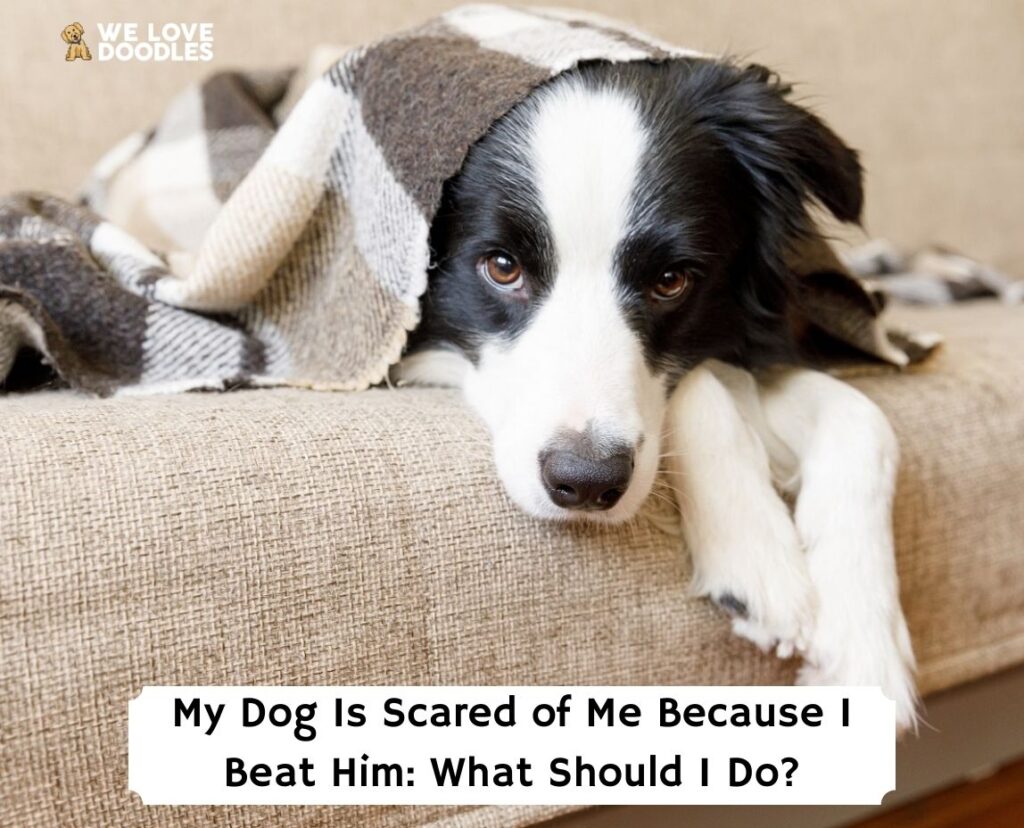 What should I do if my dog is scared of me because I beat him? If you hit your dog, there's a good chance it will get scared of you. You should never beat your dog, but if you're reading this, you may have already done so. If that's the case, you may wonder what to do next. You should take some important steps to make your dog trust you again.
Before you scroll down to a more in-depth answer to this question, "My Dog is Scared of Me Because I Beat Him – What Should I Do," you can check out these other dog-related guides from our team at We Love Doodles: Negative Reinforcement Dog Training Guide and Why is My Dog Scared All of a Sudden?
Do You Feel Bad Because You Beat Your Dog?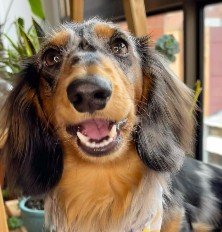 If you're Googling, "my dog is scared of me because I beat him," you're likely feeling guilty about it. Of course, changing the past is impossible, and you can't go back and undo what you've done.
However, it is critical to learn lessons from the past and take steps to ensure you don't commit those same mistakes. It's essential not to let your emotions get the best of you. Feeling guilty won't help your dog, especially if you freak out, lose your cool, and hit it again.
More Dog-Related Guides: What is Littermate Syndrome and What Do I Do If I Almost Killed My Dog With Fish Oil?
How Do You Think Your Dog Would Feel When You Hit It?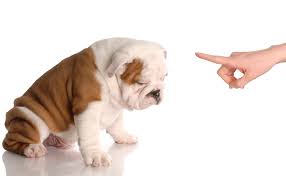 Dogs, like humans, feel pain when beaten. They have a nervous system just like we do. Some dogs may cry or yelp when someone hits them, while others may not. Nevertheless, even if your dog is quiet after being beaten, you can assume it is in pain. However, you have to worry about not just the physical pain.
Hitting a dog can inflict long-lasting emotional pain and damage. Your dog will probably feel sad and fearful after being physically punished. It may get traumatized and carry that trauma for a while. Your dog may even feel betrayed, and it may become depressed.
Every dog reacts differently when physical punishment is inflicted on them. Some act traumatized and cower in a corner, avoiding contact with humans. Others may even act aggressively, biting you when they never did before. However, know that it is a reaction to fear – your dog is trying to protect itself from experiencing that pain again.
More Dog-Related Guides: What is a Butter Dog Trend on TikTok and Why is My Dog So Cuddly All of a Sudden?
Signs That Your Dog is Scared of You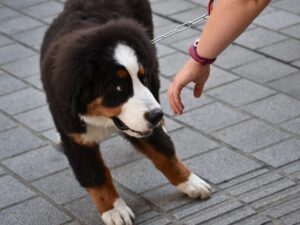 How can you tell if your dog is scared of you? While different animals exhibit fear differently, some physical signs may include flattened ears and tails tucked between the hind legs. However, there are also a lot of behavioral cues that scared dogs exhibit.
Here are some general red flags signs that may indicate that your puppy is terrified of you:
It cowers in a corner.
When you enter the room, it runs away or tries to hide.
It avoids eye contact with you.
When you try to feed it, it won't eat, even though it eats when others feed it.
It doesn't eat at all and seems to have no appetite.
Instead of being active, it stays put and acts depressed.
It becomes aggressive when you or other humans come near, growling, snarling, or biting.
These warning signs are especially problematic when they change from what you are used to. For example, if your dog is typically loving, playful, and active but suddenly becomes quiet, distant, and depressed, it may be traumatized. The same applies if it suddenly stops eating. If those behavioral changes happened after you hit it, you could assume the change has something to do with the beating.
More Dog-Related Guides: Why Does My Dog Keep Sniffing My Legs and Why Does My Dog Lick Me in the Morning?
What Do You Do If Your Dog is Terrified of You?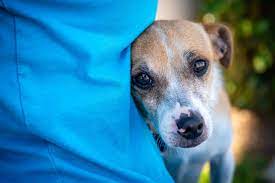 So, what should you do if you hit your dog and it now wants nothing to do with you? Be prepared for a process, but it's possible to earn your pet's trust back. Here is what you need to do.
1. You Should Try to Be Patient with Your Dog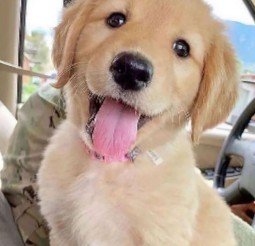 Above all, be patient with your dog. Some dogs are more sensitive than others; respect that. Don't try to rush the process or feel impatient that it isn't "getting over it." Your dog has feelings, too, just like humans do. To get past this unfortunate incident, you must let it come to you on its terms.
It's also critical to understand that if beating your dog was something you were doing continually, over a long period, it will take a lot longer for your dog to get back to normal and start trusting you. Dogs tend to be forgiving creatures.
If it was a one-time mistake, it might take as little as a few days for it to forget about what happened and start loving you again. However, if you beat it for a long time, it can take weeks, months, or even years until you can earn its trust again. Be in it for the long haul, and dedicate yourself to the process.
More Dog-Related Guides: Why Does My Dog Sit Alone in Another Room and Why Does My Dog Lick My Hair?
2. You Should Be Kind and Gain Your Dog's Trust Back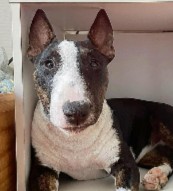 Loving-kindness is the only way to win your dog's heart back. If you weren't kind to your dog before, now is the time to start being the kind of owner it needs and deserves. Dogs need attention, and they need to know their owners love them.
They must have pets, hugs, exercise, and playtime. At the same time, you don't want to smother your dog. Remember, you must let it come to you at its own pace. Trying to compensate for your bad behavior by smothering your dog may backfire, even if it assuages your guilt. Instead, be kind – but don't try to force things.
More Dog-Related Guides: Why Won't My Dog Go on Grass and Why Does My Dog Cry When Carrying Toys?
3. You Should Give Your Dog Treats to Show Your Love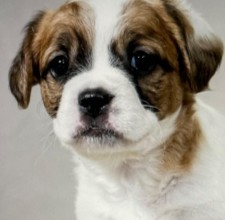 How can you get your dog to interact with you again if it recoils when you come near? A great strategy is to drop some treats when you pass by it. It doesn't require you to touch or pet your dog, which may be too much for your dog to handle at this point.
However, it will make your dog start considering you as a friend again. Consistency is key here – do this every day until your dog starts warming up to you again. Don't try to feed it directly – drop it nearby when you pass.
More Dog-Related Guides: Why Does My Dog Lick My Underwear and Why is My Dog Fixated on My Cat?
4. You Should Learn the Proper Ways of Training a Dog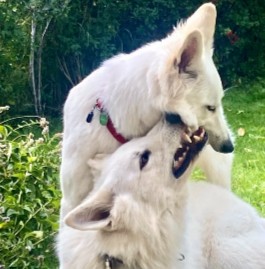 There are many types of dog breeds out there:
Poodles
Chihuahuas
Golden retrievers
Bulldogs
Pitbulls
Shiba Inus
And many others
The exact methods to train a dog can vary from one breed to another, so there are no hard and fast rules. The American Kennel Club has some excellent training resources for different breeds. In general, patience and positive reinforcement go a long way.
More Dog-Related Guides: Why Does My Dog Roll Around After Eating and Why Does My Dog's Ear Make a Crackling Noise?
5. You'll Act Better Around Your Dog with Proper Anger Management Techniques
Additionally, you may have anger control issues if you hit your dog. Many people have such issues; it's not something to be ashamed of. However, taking responsibility is crucial, admitting you may have a problem and working on resolving it.
Otherwise, you may hit your dog again, undoing all your work to regain its trust. You can learn about the basics of anger management here (from the American Psychological Association). However, you may also consider seeing a therapist who can help you.
More Dog-Related Guides: Reasons Why Your Dog's Head is Hot and Why is My Dog Eating Grass Frantically?
6. Bring Your Dog to a Veterinarian if You Believe It's Hurt
It's also a good idea to take your dog to the vet. You may have injured your dog when you hit it, depending on how many times you beat it, whether you slapped or punched it, and the strike's intensity. Some internal injuries may not be obvious from the outside.
More Dog-Related Guides: Why Pugs Are The Worst and Why Does My Dog Nudge Objects With His Nose?
FAQ: My Dog is Scared of Me Because I Beat Him
If you hit your dog out of anger, you're not alone. Here are answers to some common questions we see from pet owners.
What Should I Do If I Hurt My Dog Out of Anger?
If you hurt your dog because you were angry, the first step is to stop hitting it. Be kind to your dog, and give it treats. Be patient and loving, and work to earn its trust back.
What Should I Do If I Can't Stop Hitting My Dog?
If you can't stop hitting your dog, you should probably seek out the help of a therapist who can assist you. Until you get better, you may want to give your dog to a friend or family member who can take care of it. If you have no other options, you can put it up for adoption or give it to a shelter. The worst thing you can do is keep your dog if you know you won't be able to control yourself.
Will My Dog Forgive Me If I Yell At It?
If you only yelled at your dog without hitting it, it will most likely forgive you. Dogs are forgiving animals. Even if you hit your dog, it will probably forgive you quickly, as long as it was a one-time occurrence.
More Dog-Related Guides:
Conclusion For "My Dog is Scared of Me Because I Beat Him"
Everyone makes mistakes; we're only human. Instead of beating yourself up, think ahead and work on yourself so you never beat your dog again. Above all, have patience, both with your dog and yourself.
If you find this guide, "My Dog is Scared of Me Because I Beat Him – What Should I Do," helpful, you can check out these other dog-related guides from our team:
You can help your dog become less afraid of you by watching "My Dog is Scared of Me and 10 Things to Do About It" down below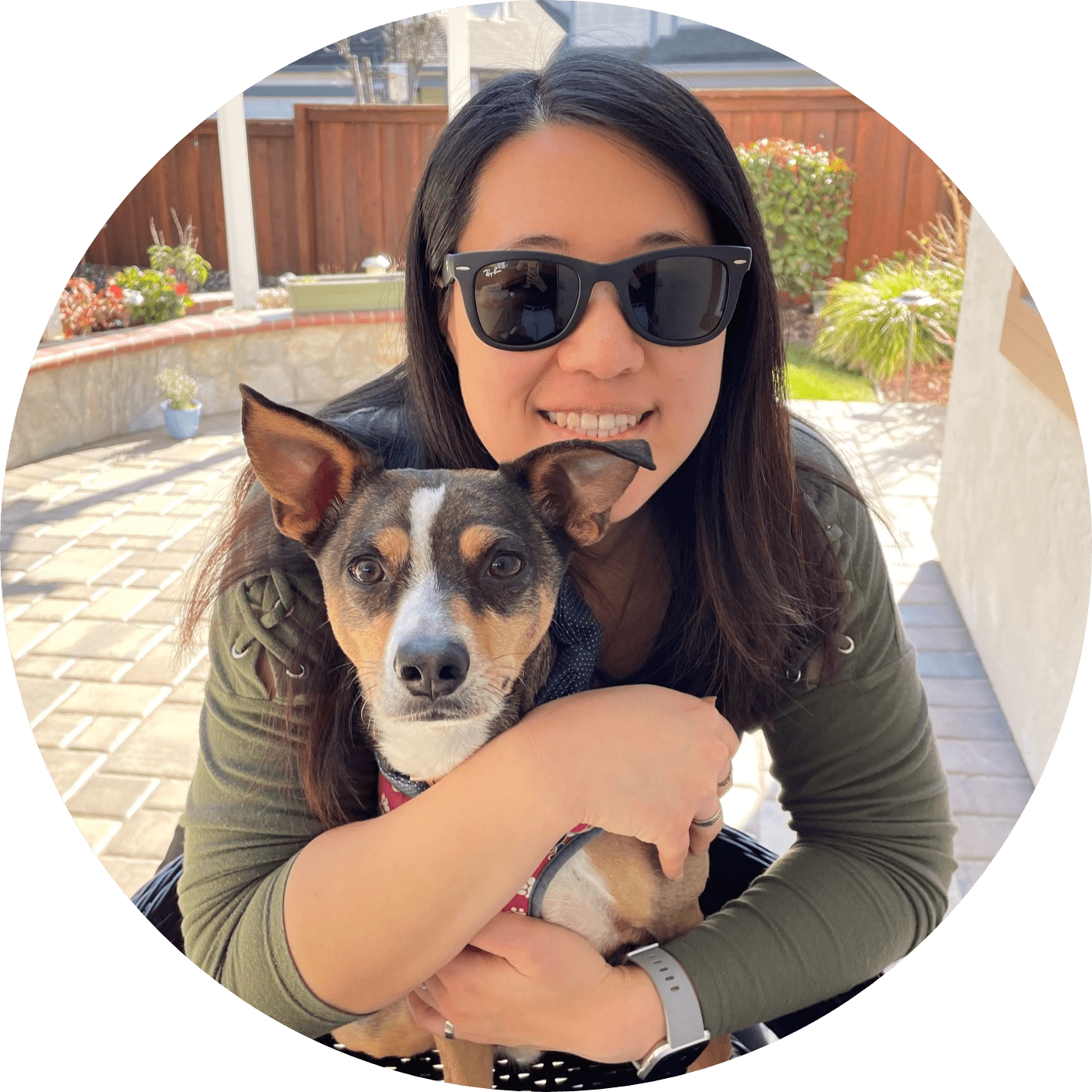 Dr. Sabrina Kong graduated from the Royal Veterinary College in England in 2016 and has been working at a small animal clinic in Northern California since then. She grew up in the Bay Area and got her bachelor's degree from Cal Poly San Luis Obispo. She also became a Certified Canine Rehabilitation Practitioner through a program at the University of Tennessee.
When she isn't in the clinic taking care of her four-legged patients, she enjoys traveling and trying new foods with her friends and her three-legged dog, Apollo. She adopted Apollo from her clinic when he was a puppy with numerous health issues. Dr. Kong truly cares about taking care of animals.