Some dog breeds or cross-breeds simply cannot catch a break due to popular opinion. Like the Chihuahua, the Chow Chow, or the Pit Bull, the Pug is a dog breed that people seemingly love to hate. But Pugs are actually lovable and playful dogs despite the rumors that swirl around them. With this in mind, what makes people ask why pugs are the worst?
Pugs are an ancient dog breed that unfortunately suffers from numerous genetic health conditions related to vision and breathing problems. Some people also find Pugs to be overly mischievous and disobedient, in addition to being difficult to train. Pugs, like any breed, inherit behaviors specific to their breed.
Although I adore Pugs, it is certainly worth taking an in-depth look as to why this lovable breed receives such an unfortunate reputation. In this guide, we will take a look at why Pugs are the worst based on years of owner complaints about this breed. This can be helpful to consider if you are looking into purchasing a Pug.
Other articles you might like: Dog Birthday Puns and Worst Dog Food Brands To Avoid.
Why are Pugs Bad?
Pugs are not bad dogs since no dog can ever be inherently "bad" or in some arbitrary way, less than some other breed of dog. Canines do carry centuries or years of genetic traits since their evolution, but for the most part, dogs are representative of their environment.
Any dog can be considered bad if they were not properly trained or has experienced abuse or neglect of some kind. With that out of the way, let's take a look at some of the traits of a Pug that have likely led to this reputation.
The Pug was first recorded in Ancient China around the year 400 BCE. It is originally thought that Pugs were bred to be companions or "lap dogs" for Chinese Emperors at this time. In fact, the Pug maintained an Imperial China favorite of reigning emperors until the abolition of the monarchy in 1912.
The "lap dog" reputation of the Pug immediately turns off anyone who favors more robust and hardworking dogs. This is not something a Pug can help with, and in fact, Pugs can be incredibly energetic dogs if properly exercised and allowed to play.
Some people also do not like small dogs, and others believe that the inbreeding that produced the Pug to its current state is inhumane due to the health problems that afflict them (more below).
Pugs are the worst when it comes to inherited health problems, and this has led some to believe that the breed should fall into extinction.
Why Do People Dislike Pugs So Much?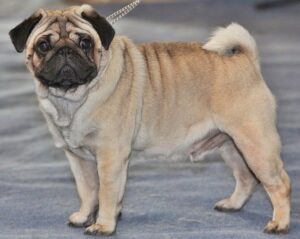 As mentioned, there are actually two sides to the story when it comes to the unpopularity of the Pug in some circles.
On one hand, Pugs do indeed suffer from a wide range of health problems. But on the other hand, the breed is also the victim of some unfair critiques.
Perhaps the largest critique some people have comes from a nickname known as "small dog syndrome." Pugs are toy dogs after all, and when not properly trained and socialized, smaller dogs can sometimes overcompensate for their small stature by acting aggressively.
This is also a lot of what makes people dislike Chihuahuas, Dachshunds, and practically any toy dog breed.
Pugs also have a tendency to be overly possessive breeds when it comes to their owners as well as their personal belongings such as bedding or toys. The dogs can freely snap at people and even children due to territorial aggression.
A lot of a Pug's possessiveness likely comes from their evolved breeding specifics. The breed was originally made to be a companion dog, and one that stays by a person's side at all times. So this is just a natural part of their behavioral evolution.
Due to some of their health problems, Pugs are also known to excessively snore, expel gas, and shed excessively, which can all be nuisances to potential dog owners who want a breed that is largely independent.
But a large majority of why people dislike Pugs or more accurately, steer clear of them, is due to the unfortunate health problems they carry.
Are Pugs Naturally Unhealthy Dogs?
Throughout their centuries of existence, Pugs have continuously been modified and bred to become smaller, to have more wrinkles in their face, to have large and bug-shaped eyes, to have smaller snouts, the list goes on and on.
This incessant modification is not good and is inhumane depending on how you view it.
Pugs are brachycephalic dog breeds. This trait is found in dogs that have flat faces and very short muzzles. Most brachycephalic dogs are small breeds, yet there are some larger breeds, such as the Boxer, that are also flat-faced and have short muzzles.
This condition is directly related to canine modification that reaches further and further away from a dog's natural wolf ancestors. Most brachycephalic dogs have trouble breathing at times, sleeping difficulties, and even digestive issues since their airways are small and compressed. But the Pug is one brachycephalic breed that suffers most from this condition.
Let's take a look at some of the health issues prevalent in Pugs.
Eye Problems
If you have ever seen a Pug, you already know they have wide and prominent eyes. Perhaps because of this, Pugs are prone to cataracts, glaucoma, and even blindness in their senior years.
Breathing Problems
Being a brachycephalic breed already brings with it occasional breathing difficulties, but a Pug has an even shorter muzzle and flatter face than other dogs in this class. Although their smushed face is their trademark and objectively cute, this can lead to a condition known as brachycephalic obstructive airway syndrome (BOAS).
This condition causes potentially fatal respiratory distress and typically requires a visit to an emergency veterinarian to clear a Pug's airways. This condition also leads to horrible discomfort for a Pug and can result from something as simple as going for a walk or playing around the house.
Joint, Bone, and Muscle Issues
Pugs are small and very anatomically compact dogs, but this common breeding trait has led to possible spinal deformities within this breed.
Additionally, Pugs can suffer from joint and muscle problems due to their tiny legs that have to support a larger torso and upper body.
Overheating
Due in part to their breathing difficulties, and also from their size, Pugs can become overheated much quicker than other breeds or cross-breeds. Since their airways can become easily restricted, Pugs can't breathe effectively to expel heat and cool off.
During the summer months, it is crucially important to avoid taking a Pug for a walk once the heat of the day sets in. Try and take your Pug for a 10-minute walk early in the morning or right before dusk when it is hot outside.
Thankfully, Pugs do not require much exercise, so it can be easy to avoid this particular health problem.
Are Pugs Always Misbehaved?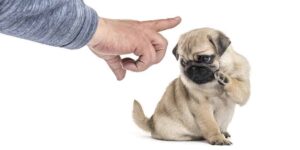 As mentioned, Pugs can act out and misbehave a great deal if they are not properly trained. But this is also another problem since Pugs are mysteriously difficult to train properly.
Pugs have a strong stubborn streak, and this can cause exhaustion in many Pug owners.
If a Pug is not adequately trained or socialized, you can expect this breed of dog to misbehave greatly during its younger years.
Although not a misbehavior since this is part of their breeding, Pugs are notoriously clingy dogs towards their owners. This can be a nightmare for a dog owner that does not like this behavior. This also causes rampant separation anxiety with this breed.
There are some genetic factors with Pug misbehavior, but like most dogs, training and socialization on the part of the owner are crucial to curb misbehavior.
Pugs also seem to hump a lot, but this is a common trait in many smaller breeds of dogs if other dogs are also in the home.
Is it Worth Getting a Pug?
Pugs are lovable and playful dogs. They are also incredibly loyal towards their owners, even if this level of loyalty can sometimes come off as clingy at times.
They are also adorable to look at, and if properly trained, can be wonderful dogs to own.
But it should be known beforehand that Pugs come with a wide array of health problems due to constant altering of their genetic makeup over the centuries.
If you are aware of this and find it to be something you can accept and handle, owning a Pug can be a worthwhile companionship for you. But this breed requires a great deal of patience and health and wellness checks over its lifetime.
Conclusion Why Pugs Are The Worst?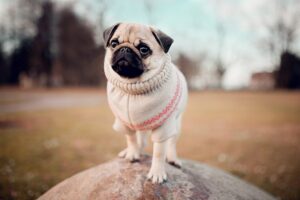 In conclusion, Pugs are the worst type of dog breed to own if you do not like clingy companion dogs. People consider Pugs bad to own since the breed is unfortunately afflicted with such a wide range of inherited health conditions.
Pugs can actually be playful and loyal dogs with proper training and socialization skills.
Other articles you would like:
Want other reasons why Pugs are bad? Check out the video below:
Garrett loves animals and is a huge advocate for all Doodle dog breeds. He owns his own Goldendoodle named Kona. In addition, he volunteers at the Humane Society of Silicon Valley, where he fosters dogs and helps animals. Garrett enjoys writing about Doodles and believes that dogs can teach humans more about how to live than humans can teach a dog.
Why Trust We Love Doodles?
At We Love Doodles, we're a team of writers, veterinarians, and puppy trainers that love dogs. Our team of qualified experts researches and provides reliable information on a wide range of dog topics. Our reviews are based on customer feedback, hands-on testing, and in-depth analysis. We are fully transparent and honest to our community of dog owners and future owners.