Some dog lovers can recognize a dog's breed with just a glance, but the Vietnamese Hmong dog is a different story! It's a relatively obscure breed that even the biggest dog fans may not recognize right away!
You know retrievers, terriers, poodles, and doodles. They all have unmistakable characteristics that make them easy to identify. But the Vietnamese Hmong dog isn't a popular housepet, and this pup's unique features make it stand out in a crowd!
Interested in learning more about the Vietnamese Hmong dog breed? Keep reading to find out more about its history, characteristics, and where to find it!
Before you scroll down and learn more about Vietnamese Hmong Dog, you should check out some of these recommendations from our team at We Love Doodles: 100 Best Coffee Names for Dogs and Best 100+ Hippie Dog Names With Meanings.
Vietnamese Hmong Dog Overview
Though the breed is ancient, the Hmong Dog recently gained popularity due to specific pets on social media. Internet influencers bring awareness to the breed and, as a result, more people become interested in owning one! However, the Hmong Dog is not easy to find and puppies often cost thousands of dollars to purchase (if they're even available at all). The Hmong Dog breed is called a "dog-cat mix" due to its facial features resembling both species.
When altered surgically, it is called the "Hmong Docked Tail Dog." Sometimes it can even look like a bear since their shorthaired puppies can have a round appearance similar to bear cubs. In Southeast Asia, dogs used to be considered a common meat source. Though it's less common in contemporary times, the idea of an elite pet seems at odds in an area where other dogs are slaughtered for food. The growing popularity of these specialty breeds may help permanently eradicate dog meat as a food source.
Vietnamese Hmong Dog Origins
Each region of the world has animals unique to its habitat. Some are wild creatures, while others have become domesticated over centuries. As a result, dogs can vary widely in temperament and appearance across the globe.
There are four native Vietnamese dogs that the country considers to be national treasures:
Hmong Dog
Lai Dog
Bac Ha Dog
Phu Quoc Ridgeback
These four are distinct, but they all originate in Vietnam. They sometimes export puppies to other regions, but for the most part, the breed stays within the country. The Hanoi Dog Show often features them as champions and as symbols of national pride. The Hmong Dog (pronounced "mong") is a type passed down from indigenous Vietnamese peoples. The consensus is that the breed originated from a cross between domestic dogs and wild wolves in the area.
Their rugged appearance shows a connection to their ancestry – still close in relation even though thousands of years of domestication set them apart in terms of behavior. Vietnam's northern region is mountainous and contains many native species of animals for human sustenance. The Hmong Dog breed began as a hunting partner, prized for its ability to travel long distances and track down prey. Eventually, it became a companion as well as a working dog.
According to the Vietnamese Kennel Association, the Hmong Dog is a unique breed. Each year in Vietnam, there is an annual festival to celebrate it, put on by the Vietnam Native Dog Club. The Hmong is one of the world's rarest dog breeds. It's hard to find one outside of Southeast Asia since Vietnam fiercely protects it precisely because of its rarity. It could take significant commitment in research, time, and money to get your hands on a Hmong dog.
Vietnamese Hmong Dog Appearance
Because of their history as hunting companions, the Hmong breed is extremely fit and could build significant muscle mass. They resemble pit bulls in size and shape since Hmong dogs are short and compact. The Hmong is a shorthaired breed with a white, brown, or black solid-colored coat. They have almond-shaped eyes, and their ears stand upright. Part of their appeal is the friendly, squishy-looking face that is practically begging to be petted.
They have a "smile" that makes them irresistible to dog lovers. The Hmong Dog is technically a medium-sized dog but can grow to an impressive bulk, reaching 35-55lbs at maturity but appearing much larger due to its strength. A genetic mutation could occasionally happen within a litter of puppies, causing stunted growth in some of them and making them look similar to Corgis. Some breeders and owners dock the tail and ears of the Hmong Dogs when they are puppies, believing that this gives them a more aggressive look. Breeders often list the pups as Hmong Docked Tail Dogs after the procedure. Hmongs have the intriguing appearance of looking like a cross between a dog and a cat
Their short hair, triangular ears, round face, and short muzzle trick some observers into thinking they are cats rather than dogs. The puppies are irresistibly cute, with a roly-poly look that belies their full-grown size. If they're not confused for cats, some might think they're bear cubs! Fuzzy and round, Hmong Dogs hold incredible strength under their adorable surface. The breed's power and aesthetic appeal blend attract civilians who want a unique pet.
Vietnamese Hmong Dog Temperament
Hmong Dogs are intelligent, fast learners who follow commands well. They are similar to German Shepherds in trainability and responsiveness. Their connection to their human is impressive to watch, and the breed can become inseparable from its owner once they have bonded. It's not surprising that the Hmong Dog makes an ideal work companion. Their ability to listen and desire to please make them excellent military animals. You can often find these dogs patrolling borders or sniffing out explosives.
Without a job to do, a Hmong Dog will become maladjusted and destructive, so it's essential to channel their energy and enthusiasm into a positive task, whether or not it's for official purposes. Sometimes all the dog needs is a ball to chase. This breed is courageous and confident, with natural exploring instincts. They want nothing more than to climb hills, hike mountains, and seek out adventure. Hmong Dogs are highly protective, supremely loyal to their owners, and guard their territory fiercely. Families with small children are not good candidates for Hmong dog owners. Neither are people who have never owned an active dog.
They may be frustrated with an animal with more energy and size than they bargained for. Due to their hunting genetics, the Dog has incredible stamina and often won't tire even after long play or work sessions. The Hmong Dog requires daily exercise and mental stimulation to work off its energy, so it will not be content to sit in a crate or relax on the couch. The Dog should have at least an hour of vigorous physical activity daily. Walks, obedience training, and swimming are all suitable types of exercise for a Hmong Dog.
Since Hmong Dogs are bred to hunt, they are not good around cats or other small animals. Their sense of smell is quite strong and makes them excellent trackers. They have potential as mousers, fowl hunting companions, and domestic deterrents of rodents and other pests. A Hmong Dog puppy is lovable, energetic, and highly trainable. They grow large quickly, so be prepared to handle their size needs. The puppy fur is softer and thicker than the adult coat it eventually matures into.
Where Do I Find a Vietnamese Hmong Dog?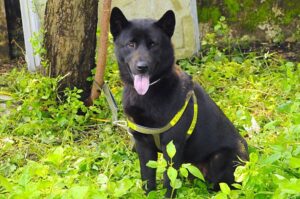 The AKC does not recognize the breed because it is not a Western dog, though, in their home country of Vietnam, they are valuable and revered as a national prize. To reiterate, the Hmong Dog is not the right pet for everyone. Despite their cutesy appearance, they are a strong and willful breed. This trait makes them difficult to control without thorough training. The breed can live as old as 20 years old because of its hardiness and willingness to work.
For the owner who has experience with large dogs and is willing to put the time in, a Hmong Dog can be a fantastic companion. It's even better if the owner is a hunter or engages in other vigorous outdoor activities. Owning a dog like this is a lifestyle and should be treated. Hmong dog prices are hefty due to their rarity. You can get one for an average of about $3,000, comparable to owning other specialized dog breeds. The catch is where to find one.
The breed is virtually impossible to track down outside of Vietnam. There are internet and social media forums dedicated to Hmong dogs, such as Reddit threads, where breeders and wishful owners can trade information. You could also connect with someone in Vietnam who will ship a dog to you via airmail. Of course, you could travel to Asia and pick up the Dog in person, but there are thousands of dollars worth of costs associated with this plan, even before considering the high price of the Dog itself. Do note that when traveling internationally with an animal, there are various regulations to follow if the Dog comes from a high-rabies zone.
The World's Most Popular Vietnamese Hmong Dog
Though visibility for the breed is not high, one Hmong Dog, in particular, has caught the public's attention. Dui, a Hmong who looks especially cat-like, went viral on Tiktok and Facebook in 2020 and still captures the hearts of dog lovers worldwide. The lovable pup is popular in Vietnam and other countries in Asia, where he gets thousands of views within hours of each post. His owners, Hai Anh and Tuan, upload videos of Dui from their home in Hanoi.
His silly antics and iconic "smile" put a grin on viewers' faces and raise awareness of this rare breed so others can get an up-close look at it in action. They say Dui is not full of Hmong but mixed with a dingo. They also suspect he may have the gene mutation that makes him shorter and rounder, like a Corgi. Thanks to his happy temperament, Dui has put the Hmong catdog on center stage for the world to enjoy.
Vietnamese Hmong Dog Controversy
Humans have consumed dog meat on and off throughout history. In modern times, it's frowned upon, and most places have banned or highly discouraged the practice. But in some cultures – especially in Southeast Asia – it's thought to bring good fortune. The dog meat trade accounts for more than 100,000 metric tons of consumed meat annually. The traditional belief is that one who consumes dog meat can enjoy a cool sensation during hot summer days.
Thankfully, leaders like South Korea are reforming these cultural beliefs through improved animal protection policies. However, Vietnam remains one location where cooking dogs is still commonplace. A handful of restaurants in Ho Chi Minh City include dogs on their menu. This puts elite dogs like the Hmong in a strange juxtaposition: it's a pricey, specialized breed in a culture where others find their way to dinner plates.
For the most part, the average Vietnamese citizen does not eat dog meat. It's limited to small groups of ethnic minorities and not served in most places – especially big cities. But the cultural connections remain strong, making the Hmong Dog an anomaly for its value in a place where some dogs don't get so lucky.
Conclusion For "Vietnamese Hmong Dog"
The Hmong Dog is a unique breed that is adorable, strong, and interesting. They are a point of pride in Vietnam and are rarely found outside the country. Due to their appearance, this type of Dog often gets confused with cats and even baby bears. Though the breed is difficult to track, the world keeps getting smaller due to globalization and improved travel. Thanks to social media, awareness of the breed keep advancing, and more people worldwide know about it.
Hmongs don't make great pets for everyone, but with a significant commitment of time, energy, and finances, anyone has the potential to enjoy a Hmong Dog as part of their household.
Other articles you would like:
Did you enjoy learning about the Vietnamese Hmong Dog? If so, we think you'll enjoy this video "Vietnam's Most Precious Dog" down below:
Garrett loves animals and is a huge advocate for all Doodle dog breeds. He owns his own Goldendoodle named Kona. In addition, he volunteers at the Humane Society of Silicon Valley, where he fosters dogs and helps animals. Garrett enjoys writing about Doodles and believes that dogs can teach humans more about how to live than humans can teach a dog.
Why Trust We Love Doodles?
At We Love Doodles, we're a team of writers, veterinarians, and puppy trainers that love dogs. Our team of qualified experts researches and provides reliable information on a wide range of dog topics. Our reviews are based on customer feedback, hands-on testing, and in-depth analysis. We are fully transparent and honest to our community of dog owners and future owners.