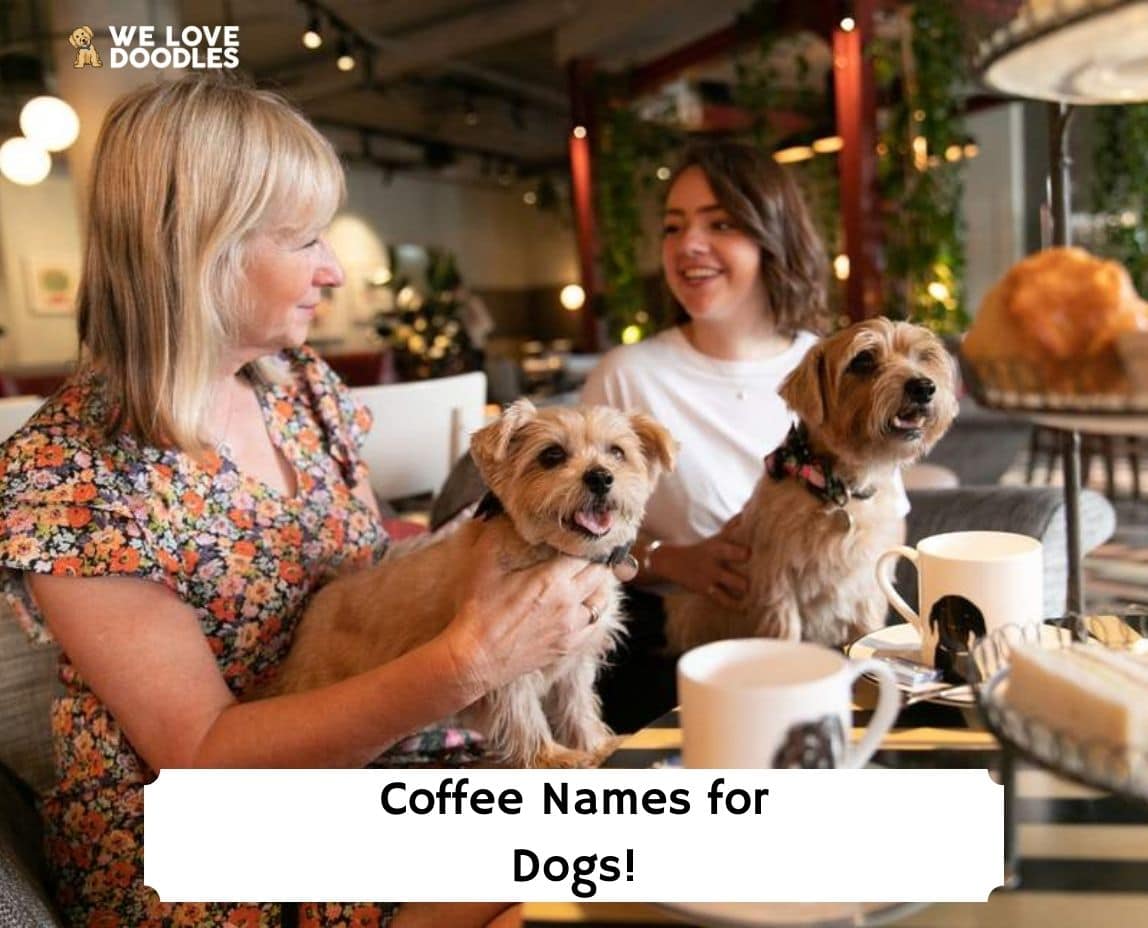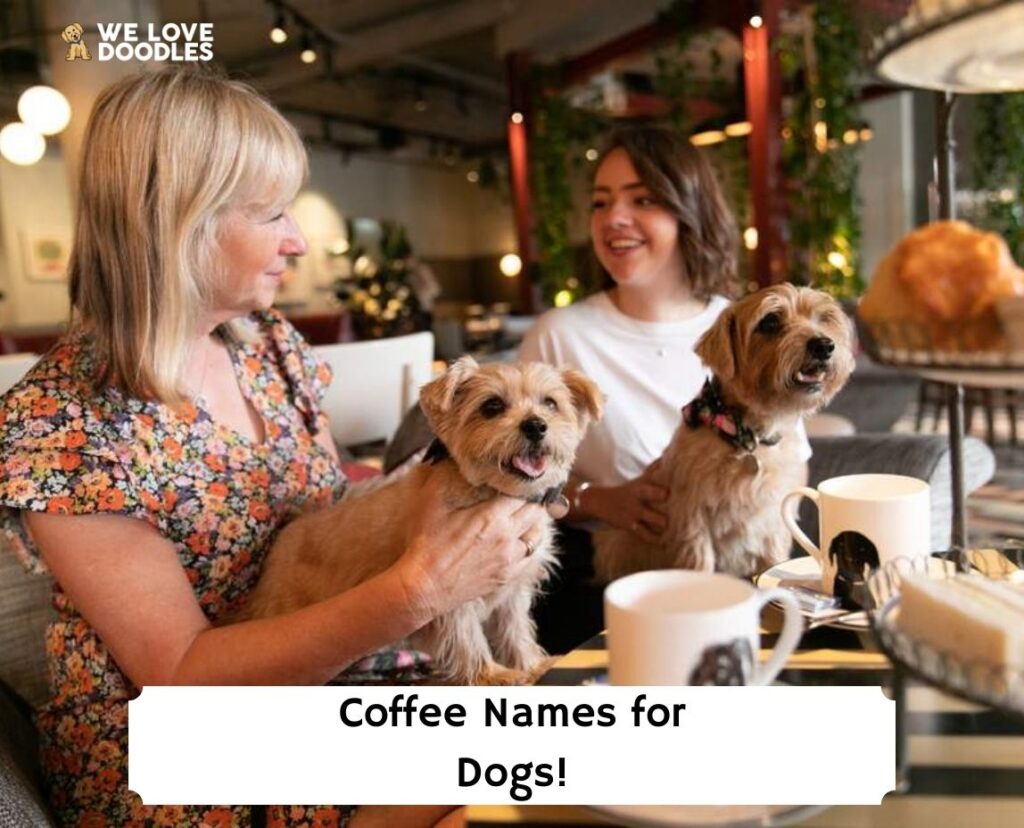 Do you love coffee so much that you would name your dog after it? Well then, this list of dog names for coffee lovers is perfect for you. We have a list of over 100 coffee-themed names to give to your newest addition to the family.
Whether your new puppy is perky or you're adopting an old dog that has fur resembling your favorite frappuccino, these names (broken into categories) are sure to combine your dog's looks and personality with your love of the caffeinated beverage.
Coffee Drink Names for Dogs
Why not name your dog after the drink itself? With so many coffee drinks to choose from, your options certainly aren't limited. Here are just a few we know you'll love.
Macchiato – For the most sophisticated of dogs.
Cappuccino – one part espresso, one part milk, one part foam, and all parts love.
Latte – You'll adore this name a-latte.
Espresso – For your speedy little puppy who has endless energy.
Mocha – Perfect for the dog with a chocolate-colored coat.
Americano – Great for black dogs or puppies that love simplicity.
Cortado – Have a Chiauhuaha? This Spanish-style coffee drink will provide the perfect moniker.
Doppi – Short for Doppio, this is a great name for smaller dogs.
Romano – Espresso Romano without the espresso, and a perfect Italian name for any puppy.
Affo – A sweet, creamy drink name for a sweet, cream-colored puppy.
Chai – Have a dog with a "spicy" personality? Give this name a "chai!"
Chatte – A cute abbreviation for a chai latte.
Icey – If your dog is too cool to handle, name them after an iced latte.
Black – This one's pretty self-explanatory when it comes to the drink and the dog color!
Red-eye – Drip combined with espresso. A strong drink for a strong dog.
Coffee Names for Girl Dogs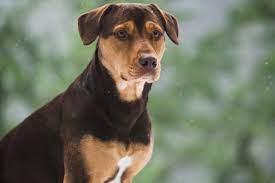 Not sure what to name your female dog? We've got you covered. Try these coffee components to find an elegant, feminine, graceful name.
Cream – A cute and classic name for a snuggly lady.
Sugar – Another classic to name your sweet girl.
Hazel – You'll go "nuts" over this one. Plus, it's a great old-fashioned name!
Aroma – Maybe your dog doesn't have coffee-scented fur, but this name sounds mysterious and seductive.
Vie – Vietnamese iced coffee, anyone?
Caramel – if you cara-lot about your dog, then you'll name her this one, especially if she has a caramel-colored coat.
Arabica – This is a perfect name if you have a "blended" mutt.
Sweet-sip – This might sound like an 80's rock band, but how cute is it for a small, girly puppy?
Honey – When your dog is as sweet as your favorite cappuccino, it's hard to go wrong with this equally-sugary name.
Maple – If you love maple coffee, this is another "sweet" twist on a classic.
Coco – Disney even made a movie about this one! It's a great coffee name and a pretty traditional dog name, too.
Lavender – Does your girl love rolling around in the flowers? Name her after a lavender latte.
Rose – A classic old-fashioned name that can also show off your love for rose lattes.
Nutella – If you have a nutty or chocolate-colored girl, she'll get plenty of attention with this name.
Beige – If your dog is the same color as your creamy morning cup of joe, this name works perfectly.
Vienna – This is another perfect "blend" name if you want to switch things up a bit.
Check out for more: Pixar Dog Names! and Best Minecraft Dog Names!
Coffee Names for Boy Dogs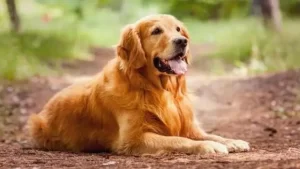 It's a boy! Hallelujah! Now, all that's left to do is to choose a fitting name for him. For a coffee-themed name fit for a cool canine, try some of the following.
Puya – It's the Puerto Rican way to order a black coffee with no sugar.
Joe – There's nothing like a morning cup of "Joe", and it's a pretty cute "person" name for your dog, too!
Java – No better way to express your love of coffee than by naming your dog after its other title.
Dolce – Italian for sweet, this is a perfect boy dog name for dogs with endearing demeanors.
Clover – The Clover coffee company approves of this one.
Filter – "Phil" for short.
Seattle – An institution of coffee and man's best friend.
Nitro – Yes, nitrogen coffee is a thing, and it's the perfect name for your little stinker or a black dog.
Drip – Is drip coffee your favorite? It can also be a unique and cute name for your puppy.
Brownie – Have a brown dog? This one speaks for itself!
Kopi – Kopi Lewak is an Indonesian coffee made by cats for dog – names.
Peanut butter – Yes, some people enjoy peanut butter lattes! We tend to think it's a cuter dog name than a coffee drink.
Smoker – Smoked coffee for your grayish hound.
Rich – For those who love rich, bold brews.
Pocillo – Another Puerto Rican-style name for your little shot of espresso.
Cute Coffee Names
Don't know what to name your adorable little puppy? While we won't discriminate against the big dogs, we think these names are darling for the little guys (but feel free to name large dogs these too).
Brewster – You know your dog would be a little barista if they could be!
Marshmallow – For a dog that brings sweet little moments to your day.
Milky – Do you have a cream-colored puppy? Give them a name to match your perfect morning cup.
Double-shot – This might sound like a supervillain name, but it's perfect for a pint-sized puppy with a lot of energy.
Vanilla – The flavor might be plain, but the name is adorable.
Peppermint – It doesn't get much sweeter than this!
Egg – Egg coffee – it's a weird thing, but a perfect name for a unique dog.
Robuster – "Buster" just wasn't robust enough!
Bean – An adorable name for an adorable little puppy.
Cinnamon – You can't go wrong with a classic.
Sipper – Have a little dog who wouldn't be able to take more than a few "sips" at a time? This name will stick!
Dunkle – You can showcase a bit of your German heritage with this one – it's a coffee lager!
Dulce – Dulce de leche – double the milk means double the fun for a name.
Ginger – The "root" of all spices and dog names.
Powder – Coffee powder is essential for some people, but it's just a really cute name for a white dog.
Nutmeg – This pairs well if you name your other dog Cinnamon!
Sprinkle – A few sprinkles on top of a coffee drink makes it special, and it's a sweet name for an adorable dog.
Caffeine – Naming your dog after your addiction is probably the best and worst thing you could do, but it'll always be a conversation starter!
Foam – Affectionately named after steamed milk foam.
Mixer – A perfectly sweet name for your favorite mutt.
Cold-brew – A chilly name for a winter-born dog who loves the summer.
Starbucks Coffee Names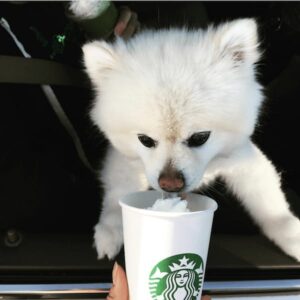 There isn't any other brand as synonymous with coffee as Starbucks, making the chain and its associated products ideal candidates for coffee names for dogs. Here are a few we think would suit any dog flawlessly.
Frappe – For your little grande frappuccino.
Pinkie – Based on the famously named "pink drink".
Mermaid – The iconic green mermaid of Starbucks is perfect for your swimming pool-loving dog.
Crunch – It's a special caramel crunch for a dog who loves to nibble.
Refresher – A refreshing name for a dog who makes you laugh.
Cakepop – A cute name for a small, sweet puppy.
Rush – Do you have a dog that's always on the move? This is an ideal choice.
Blender – Whether your dog is chasing its tail or is a mixed breed, this name fits the bill.
Whipped Cream – Perfect for white, fluffy puppies.
Veranda – Starbucks' famous blend for your not-so-famous dog.
Pike – It's the market where the first Starbucks came into existence, and a cute, unique name.
Starbucks – Don't worry, your dog won't get charged for trademark infringement.
Matcha – Starbucks' line of matcha flavored drinks can be perfect if you're obsessed with tea instead of espresso.
Misto – Caffè Misto would be best for a brown and white dog.
Pumpkin Spice – A signature fall beverage for a puppy who always messes up your leaf piles.
Barry – Does your dog love following you around while your make your morning brew? Maybe they're a barista in training!
Coffee Related Dog Names
Your best friend doesn't have to strictly be named after a coffee or a coffee flavor to be akin to coffee. If you're looking for something that reminds you of coffee but isn't so obvious, give these names a try.
Morning – The best time to enjoy a cup, and perfect for dogs who are early risers.
Bitter-sweet – Interchangeably describes your coffee and your dog.
Donut – The perfect coffee complement, and even better for a slightly chubby puppy.
Dunker – This name's a slam dunk, and can also be used for a bigger, heftier dog.
Bearclaw – This is great for your big, ferocious sweetheart (or your vicious little puppy).
Muffin – Is your dog chocolate or blueberry flavored?
Swirl – Perfect for a dog who loves running in circles or one that's two different colors.
Mug – For a dog small enough to fit in a "mug", or one with unique facial expressions.
Chocolate – We probably don't need to tell you how perfect this is for a chocolate lab.
Decaf – Ideal for dogs with a mellow mood.
Biscuit – Biscuits go great with coffee, and the name is perfect for beige or tan puppies.
Jelly – A perfect complement to Biscuit!
Coffee-cake – Great for a sweet, cinnamon-colored dog that loves to greet you in the morning.
Crepe – If your dog thinks he's a little fancy, but he's still sweet, this is the perfect moniker.
Macaroon – The French will love this one, and you'll love naming your sweet puppy after a tasty cookie!
Tiramisu – Tiramisu is sweet and creamy, and perfect for an Italian twist to your dog's name.
Cookie – This is a classic dog name, but it's also ideal if you love dunking a few cookies into your morning brew.
Good Wishes
We hope we were able to give you some ideas for delicious-sounding coffee names that you and your furry best friend will love. The truth is, there are countless coffee names for pets to consider. This list should get you started, so you can find the perfect way to describe your dog's looks and personality using your favorite drink as inspiration.
You will also like:
Garrett loves animals and is a huge advocate for all Doodle dog breeds. He owns his own Goldendoodle named Kona. In addition, he volunteers at the Humane Society of Silicon Valley, where he fosters dogs and helps animals. Garrett enjoys writing about Doodles and believes that dogs can teach humans more about how to live than humans can teach a dog.
Why Trust We Love Doodles?
At We Love Doodles, we're a team of writers, veterinarians, and puppy trainers that love dogs. Our team of qualified experts researches and provides reliable information on a wide range of dog topics. Our reviews are based on customer feedback, hands-on testing, and in-depth analysis. We are fully transparent and honest to our community of dog owners and future owners.