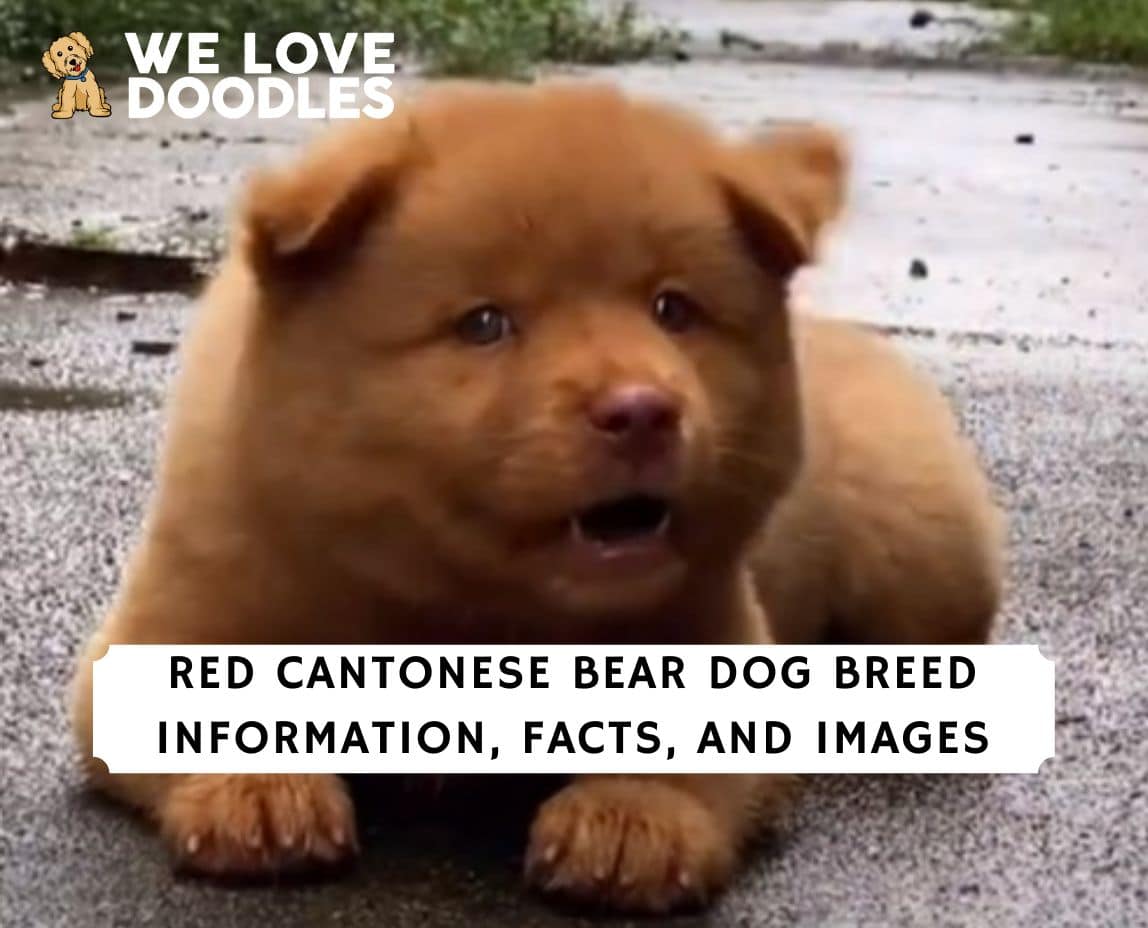 If you're wondering what a red Cantonese Bear Dog is, you're not alone! Our team at We Love Doodles compiled this guide to help teach you everything about the red Cantonese Bear Dog.
This rare breed of dog is a reddish-orange color, sometimes ranging to reddish-brown, and they have wide-set features such as large, smiling mouths and eyes that are further apart than many dog breeds. The breed resembles a bear more than the average canine does, giving it its name!
Before scrolling down this list of red Cantonese Bear Dog guides, you can check out these other dog breed guides from our team at We Love Doodles: Rottweiler Chihuahua Mix Dog Breed Guide and Boston Bulldog Dog Breed Guide.
Appearance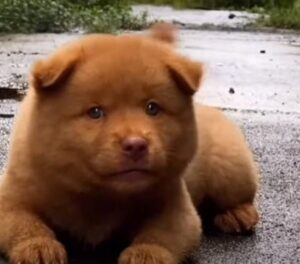 Red Cantonese Bear Dogs have short but fluffy coats, and their ears stand up, much like those of a Shiba Inu or a husky. Red Cantonese Bear Dogs are typically golden-eyed, and their nose and paw pigmentation is usually pink, although variations exist.
Cantonese Bear Dogs vary in color from a reddish-orange coat to a reddish-brown; they can come in black and cream, but the red coloring is currently the most popular.
The fluffy, brush-like tails of the Cantonese Bear Dog flop up over the back, and sometimes the straight ears will have a bit of a fold to them. As with any dog breed, especially relatively new breeds, there are variations in anatomy and physiology.
Size, Weight, Life Expectancy
As puppies, Cantonese Bear Dogs are small, but they will eventually grow up to be what most breeders consider midsize to large dogs. Other dog breeds this size include Labrador Retrievers, Huskies, German Shepherds, Chow-Chows, and Shar-Peis. Like Chow-Chows and Shar-Peis, the red Cantonese Bear Dog originated in China.
Red Cantonese Bear Dog adults stand about 30 to 32 inches at the shoulder. A Cantonese Bear Dog, when fully grown, can weigh anywhere from 70 to 85 pounds. Females are typically smaller and lighter than males, as with every dog breed. Because of their large size and average weight, red Cantonese Bear Dogs have a life expectancy of about 11 to 13 years.
This is very normal for large dogs; large dogs live about eight to ten years, while small dogs can live more than a decade, sometimes more than fifteen years! As a general rule, the larger the dog, the shorter its life expectancy. In a smaller dog, the heart does not have to work as hard to pump blood to the rest of the body as in a large dog, and this is the main reason large dogs' life expectancies are lower than those of small dogs.
The shorter life expectancy doesn't mean having a red Cantonese Bear Dog isn't worth every moment you spend with your best canine friend. It just means that you can expect to have them around for less time than if you were to get a smaller dog that doesn't happen to resemble an adorable red bear.
Related: Friendliest Dog Breeds with Images.
Raising a Red Cantonese Bear Dog
Because these dogs are popular and sought-after, you will likely be purchasing a puppy rather than an adult dog that has already formed its habits. Puppies are like Play-Doh, ready to be molded into the glorious red Cantonese Bear Dog they were born to be.
Cantonese Bear Dogs need a lot of socialization when young. They must learn how to interact with other dogs, humans, cats, and other animals as a puppy. Otherwise, they will develop undesirable behaviors such as aggression or shyness when faced with unfamiliar stimuli.
It's best to get your dog from a breeder with an excellent reputation for breeding healthy, sturdy puppies, and it's best to take your puppy home only after she's been able to grow up with her siblings and mother for at least three months.
Once you take your puppy home, he will need a lot of attention. Although red Cantonese Bear Dogs are amazing companions when raised and trained with lots of patience, love, and attention, if left to their own devices, they will behave like any dog without any discipline—unruly and hard to be around.
Before you add this adorable red bear to your family, make sure you understand what it means to be a dog owner. If you have plenty of experience raising and training dogs, these little red balls of fur will be an absolute joy to raise and watch grow up.
Temperament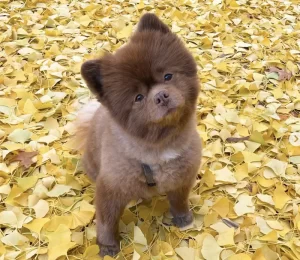 As with any dog, when properly trained, Cantonese Bear Dogs make for amazingly lovable, obedient companions. If you've never had a dog before, consider taking classes so you can learn how to train your canine friend—this can make raising a dog a pleasurable and rewarding experience rather than a frustrating and exhausting one.
These dogs are high-energy, much like Retrievers, Huskies, and Border Collies. You will need to take them on frequent walks. As a result, they are not suitable for small living quarters like apartments or tiny homes.
Cantonese Bear Dogs want to run, play, and explore, so they need an outlet to do these things. If you're also looking for motivation to get more active, this could be a great opportunity to expend more energy while bonding with your puppy.
When brought up well, red Cantonese Bear Dogs are sweet and great with people and other animals, just like most dog breeds. Their respectful behavior comes not from the breed but from the training and raising of the dog.
Where Do You Find a Cantonese Bear Dog For Sale?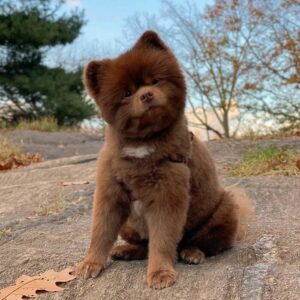 This breed is more popular in Asia, where it originated, simply because there are more red Cantonese Bear Dog breeders in China, Hong Kong, and surrounding areas than in the West. So, where should you look if you want to bring one of these lovely dogs home? Unfortunately, if you want to get a red Cantonese Bear Dog, you're almost certainly going to acquire a dog from a breeder rather than adopting this type of dog from a shelter.
If you're set on getting a red Cantonese Bear Dog, the best way to begin your search is by looking at breeders on Craigslist, Facebook Marketplace, or breed-specific websites with contact information for breeders. The Cantonese Bear Dog is an uncommon dog breed in the United States and the United Kingdom.
As a result, this type of dog is considered a niche breed. You may have to travel far from home to pick up your new puppy, so be prepared to make the trip out and back if you don't live close to a breeder specializing in red Cantonese Bear Dogs. That brings us to our next point—once you've done some internet detective work and discovered a red Cantonese Bear Dog breeder, you're not finished.
Remember to have a happy and healthy puppy and then a full-grown dog. You must ensure that the breeder you're checking out has a spotless reputation. Many purebred dogs or specific niche breeds of dogs come from what's known as puppy mills, where the breeders only care about making money, so they breed the female dogs as much as they possibly can to produce the largest number of puppies they can.
Puppy mills are neither good for the mother dog's health and quality of life nor the puppies'. Additionally, puppy mills sell their puppies off as quickly as possible with little regard for their health. Purchasing a puppy from a puppy mill could subject you to a dog with poor health and behavior due to a lack of proper vaccinations and early separation from its mother.
Red Cantonese Bear Dog Price
Now that we've discussed where to purchase a red Cantonese Bear Dog and find these reputable breeders, you're probably wondering how much you can expect to pay for one of these little red bears. According to most websites, the approximation is between $1,200 to $3,000 (which is a pretty penny but still cheaper than a Tibetan mastiff).
One reason for this high price point, even at the low end of the range, is because red Cantonese Bear Dogs are a rare breed in the Western world. Although their popularity is increasing, breeders take time to get established, and even then, they're likely to only pop up in affluent areas near larger cities. If you can track down and vet more than one breeder of red Cantonese Bear Dogs, you should compare price points.
If they are wildly different, that's a sign that one or both breeders are being dishonest with you about either the quality of their puppies or the fair market price for red Cantonese Bear Dogs. The best way to get a fair price is to check reviews of the breeders, see where they are located firsthand, and compare their prices to that of other breeders.
Overseas prices for these dogs are comparable, so you can even use those prices converted into United States dollars to see if you're getting a fair deal. One thing is for sure: if you're offered a price of only a few hundred dollars, it's probably too good to be true. These dogs are rare and inherently expensive, so expect to pay at least $1,000 for a red Cantonese Bear Dog puppy.
If you learned a lot about the red Cantonese Bear Dog from this guide, you could check out these other dog breed guides from our team at We Love Doodles:
You can learn more interesting things about the Cantonese Bear Dog by watching "Incredible Red Cantonese Bear Dog Looks Like Both a Dog and Cat" down below: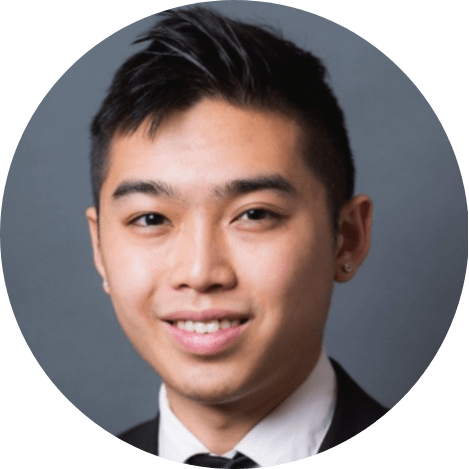 Andy is a full-time animal rescuer and owner of a toy doodle. When he's not saving dogs, Andy is one of our core writers and editors. He has been writing about dogs for over a decade. Andy joined our team because he believes that words are powerful tools that can change a dog's life for the better.
Why Trust We Love Doodles?
At We Love Doodles, we're a team of writers, veterinarians, and puppy trainers that love dogs. Our team of qualified experts researches and provides reliable information on a wide range of dog topics. Our reviews are based on customer feedback, hands-on testing, and in-depth analysis. We are fully transparent and honest to our community of dog owners and future owners.