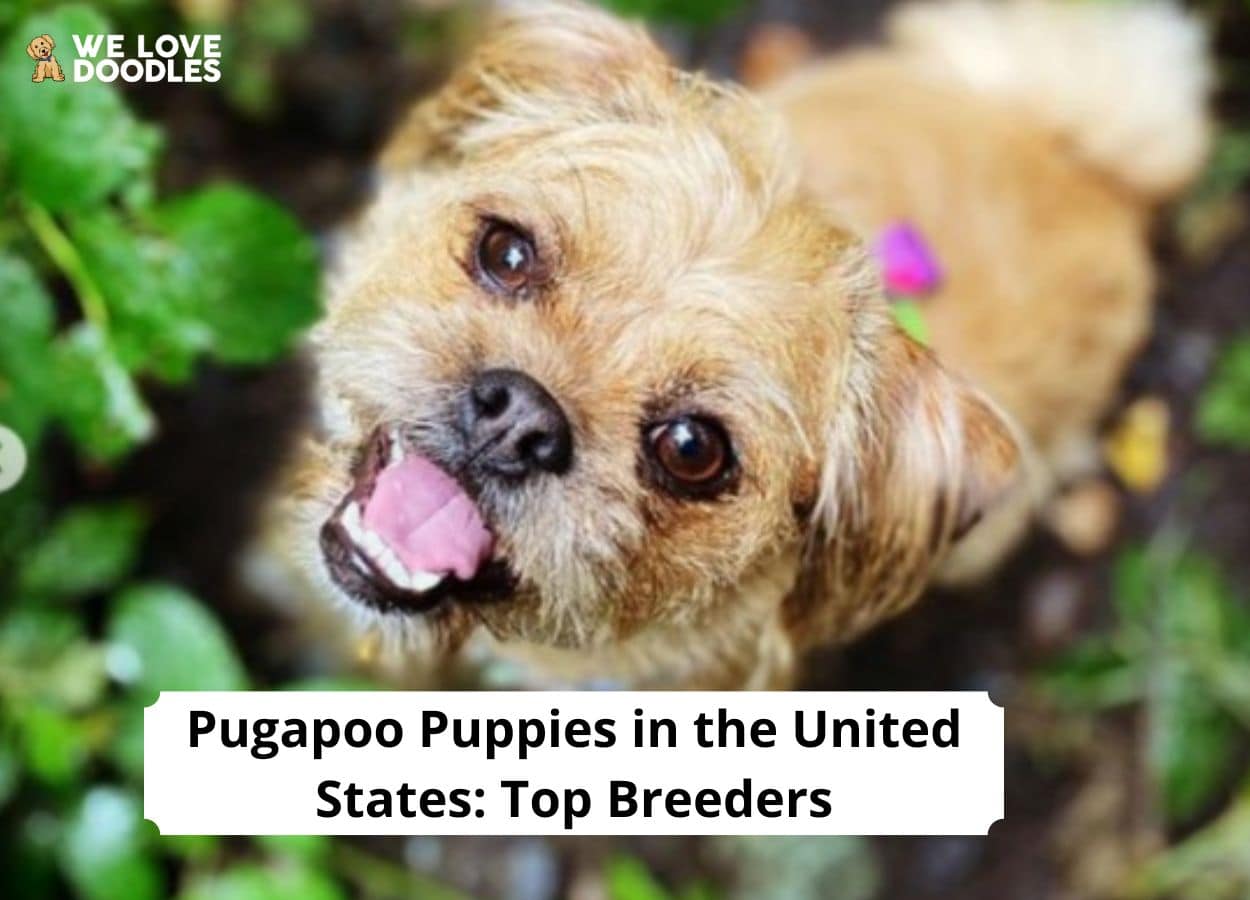 Here's what you need to know if you're searching for breeders with Pugapoo puppies in the United States for sale. Many dog lovers who prefer smaller breeds have dozens of choices for bringing home a new pet. However, if you do not know about hybrid Pugapoo puppies, it is a breed worth checking out before you make a final decision.
Before you scroll down this list of breeders with Pugapoo puppies in the United States for sale, you can check out these other breeder recommendations from our team at We Love Doodles: Havachon Puppies in the United States and Best Border Collie Breeders in the United States.
Pugapoo Breeders in the United States
The attraction of hybrid breeds to make designer dogs is becoming more common in many homes. One popular parent for dozens of mixes is the Poodle, lending its strong intelligence and obedience as an excellent companion to other breeds.
The Pugapoo may also go by other names, including Pugoodle or Pugapoodle. Breeders create them by combining a Pug with a miniature or Toy Poodle. Both of these parent breeds are lovable dogs that are ideal for any home.
The resulting Pugapoo puppies typically get their size characteristics from their parents but can grow between 8 and 15 inches tall and weigh approximately 10 to 30 pounds. Our team at We Love Doodles compiled this list of breeders with Pugapoo puppies in the United States to help you out on your journey.
Pugapoo Product Recommendations: Best Dog Bells For Potty Training and Best Onesies For Dogs.
Finding Pugapoo Puppies For Sale in the United States
As the popularity grows for Pugapoo puppies, so does the number of reputable breeders that offer this adorable, pint-sized companion. However, there may not be as many specialized breeders that only provide Pugapoos as other hybrid types, such as Goldendoodle breeders.
Therefore, extending your search to breeders that offer Pugs and Poodles may yield better results when searching for Pugapoo puppies for sale in your area. Alternatively, you may have some luck with breeders who offer purebred Pugs.
In addition, some reputable places may provide Pug crosses containing the Poodle mix, resulting in the hybrid you want. Here are some possible ways to find perfect Pugapoo puppies for sale in your area.
1. AmericanListed.com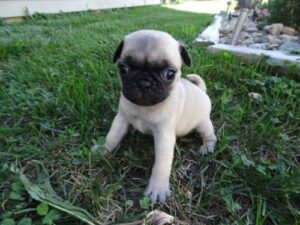 AmericanListed.com is a comprehensive platform where buyers and sellers can connect across the United States for various goods, including lovable pets, like Pugapoo puppies. A quick search for this hybrid breed results in dozens of classified ads with available dogs ready for their forever home.
Potential owners can narrow their search area if they prefer to choose a pet close to them or view all results across the United States. For long-distance ads, dog lovers might have the option to arrange for pickup or transportation with the breeder of their choice.
AmericanListed.com Details
2. CompAnimals Pet Rescue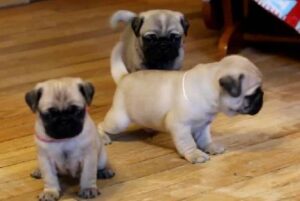 CompAnimals Pet Rescue started by rescuing, rehabilitating, and rehoming companion senior pets. Through the years, they have grown with help from its volunteers to rescue and rehome hundreds of cats and dogs, including Pugapoos.
They currently have Pugapoo puppies for sale that you can view on their Facebook page or website. All potential homes must fill out an application and undergo a screening process to find their new pet. All available dogs will have vaccinations and necessary medical care, spay, or neutering procedures before going to their new forever home.
CompAnimals Pet Rescue Details
3. Greenfield Puppies
Not all breeders will use the term Pugapoo and use a generic term of a Pug mix for dogs that combine more than one breed. Thankfully, Greenfield Puppies has Pugapoo puppies for sale under their Pug Mix category for you to find your new best friend.
Greenfield Puppies has helped match potential dog owners with reputable breeders in the Pennsylvania area and its surrounding regions since 2000. They invest in researching all breeders that advertise on the website to ensure they are following safe breeding practices and offer healthy animals.
Greenfield Puppies Details
4. Hollywood's Puppies
If you reside in Maine or nearby, Hollywood's Puppies can be a terrific place to find your next Pugapoo puppy. This registered kennel offers several small breed dogs, purebred, and mixes for anyone's liking. All their puppies are ready for rehoming after eight weeks old and come with vaccinations, veterinarian checks, and deworming. There are regular photos of available puppies on their Facebook page with more details about their personality and adoption process.
Hollywood's Puppies Details
5. Lancaster Puppies
This online community connects breeders to potential dog owners to find a perfect match. As a dog owner, it is up to you to research each breeder carefully to ensure the Pugapoo puppy comes to you in good health and as promised.
One regular member offering this hybrid breed is Judith Yoder in Kinsman, Ohio. You can best reach her by phoning (330) 876-0389 in the evenings regarding any available Pugapoo puppies she has available on the website.
Lancaster Puppies Details
6. Pugapoo Puppies @ Dogs by Debin
Dogs by Debin provides exceptional Pugapoo puppies and other surrendered and rescued breeds for potential dog owners in Kansas City, Missouri, or the surrounding areas. In addition, they maintain a specific Facebook group for Pugapoos from their agency where owners can connect for helpful information.
Dogs by Debin fosters, rehabilitates, and rehomes many dog breeds, including Pugapoos. All their adoptable animals come with a complete vet check, microchipping, vaccinations, spayed or neutered, and heartworm tested and treated if necessary.
Potential owners will need to fill out an application to match with a Pugapoo that fits into their lifestyle, as each dog has a behavioral assessment to help find the best pet possible. Unfortunately, you can only view dogs by appointment, so you need to email to schedule a meeting.
Pugapoo Puppies @ Dogs by Debin Details
7. Pug-a-Poo Farm
The Pug-a-Poo Farm sits within Sherman, Maine, and is a functioning breeding kennel for Pugs, mini Poodles, mini Dachshunds, and more, including Pugapoo puppies. They raise all the puppies inside the home to acclimate them to family life, with access to farm life outdoors. Potential dog owners can view pictures and videos of available dogs, connect with other dog parents and seek information and advice on raising their Pugapoo puppy.
Pug-a-Poo Farm Details
8. Pugapoo Nation
The dedicated private Facebook group, Pugapoo Nation, is a terrific place for anyone who loves Pugs, Poodles, and Pugapoos to connect. This resource is for anyone who wants to obtain a new Pugapoo dog, has one for a pet already, or is looking for information about their new Pugapoo puppy.
It can be an excellent place to start searching for your next Pugapoo puppy, as there are currently over 1,300 members in this group. They maintain a welcoming environment to ask questions, view photos, and explore further details about this hybrid breed.
Pugapoo Nation Details
9. Pug Puppies For Adoption and Rehoming
If you are searching for a community where Pugs and Pug mixes are a favorite, Facebook has some terrific groups and pages to explore. One of these pages is Pug Puppies for Adoption and Rehoming. It is a private Facebook group, so you must join using a profile to see and interact with the page.
Tiffany Malex is a long-time Pug breeder and maintains this page as a resource for anyone interested in Pugs and Pug mixes like a Pugapoo. This community page makes searching for a local breeder for your new best friend more straightforward as it brings together individuals of similar interests.
Pug Puppies For Adoption and Rehoming Details
10. Puppies.com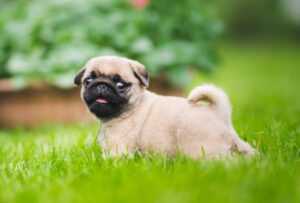 Another online pet platform that showcases classified ads is Puppies.com. Here, you can enter the Pugapoo term and view all available dogs by city, state, or location. While there is no guarantee that there will be a loveable Pugapoo listed when you search for one, it can be beneficial to check often for any new postings.
One long-time breeder, 3XLKennels in Russellville, KY, has available Pugapoo puppies ready for their new forever homes. You can reach them by calling ​​270-847-9665. Their Pugapoo puppies come with vaccinations, vet checks, current health records, and deworming.
Puppies.com Details
11. PuppySpot's Pugapoos For The United States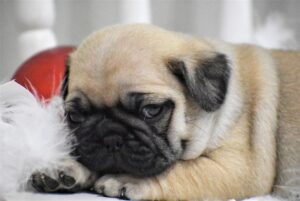 Another excellent online resource for finding Pug and Pug mix puppies is PuppySpot. This platform allows you to select specific breeds, like the Pug and Poodle, to search for hybrid species like the Pugapoo. Users can also narrow down characteristics, such as male or female, color, and age.
PuppySpot includes vetted breeders that go through a rigorous screening process in partnership with USDA before they can post available dogs on the website. In addition, animals on the platform come with a 10-year puppy health commitment and use a private travel network to ensure any animal transportation is done safely and comfortably.
PuppySpot Details
Alternative Choices For Possible Pugapoo Mixes
Although there is no guarantee that you will find Pugapoo puppies for sale with these breeders or rescue agencies, exploring all the options may make it possible to find the perfect pet you want for your home.
Some reputable breeders may experiment with hybrid litters, while rescue agencies take in surrendered, unclaimed, or abandoned animals across the United States. Unfortunately, many purebred and designer dogs end up in shelters and rescue agencies for various reasons.
Here are some Pug breeders and rescue centers that specialize in these smaller breeds:
Adopting a pet from a rescue organization or reputable breeder will typically come with a complete veterinarian check and up-to-date vaccinations, while some may include microchipping. Responsible dog owners should take the time to research each provider and see what the requirements are for adopting a Pug mix and what to expect with their new dog.
Some Pugapoos may require customized diet plans, are better suited in homes without other animals, or have extenuating circumstances. Therefore, getting as much information as possible about an adoptable dog is best before making your final choice.
Conclusion For "Pugapoo Puppies in the United States"
Finding your next best friend will be a worthwhile journey. But, if you want a pint-sized buddy that is fun-loving, intelligent, and a low-shedder, the Pugapoo could be an ideal fit for your home. This hybrid dog breed is an excellent choice for a companion for seniors, families with children, or individuals who want a pet to take along with them on adventures.
Although the choices for specific Pugapoo breeders in the United States are not as common as other breeds, many Pug and Poodle breeders offer hybrids, including Pugapoos. Therefore, it will be beneficial to check out breeders of these popular purebred dogs and rescue agencies in your area that cater to Pugs and Pug mixes.
For more recommendations similar to this list of breeders with Pugapoo puppies for sale in the United States, you can check out:
Before you scroll down this list of breeders with Pugapoo puppies for sale in the United States, you can learn more about this dog breed by watching "Pugapoo Dog Breed Information" down below: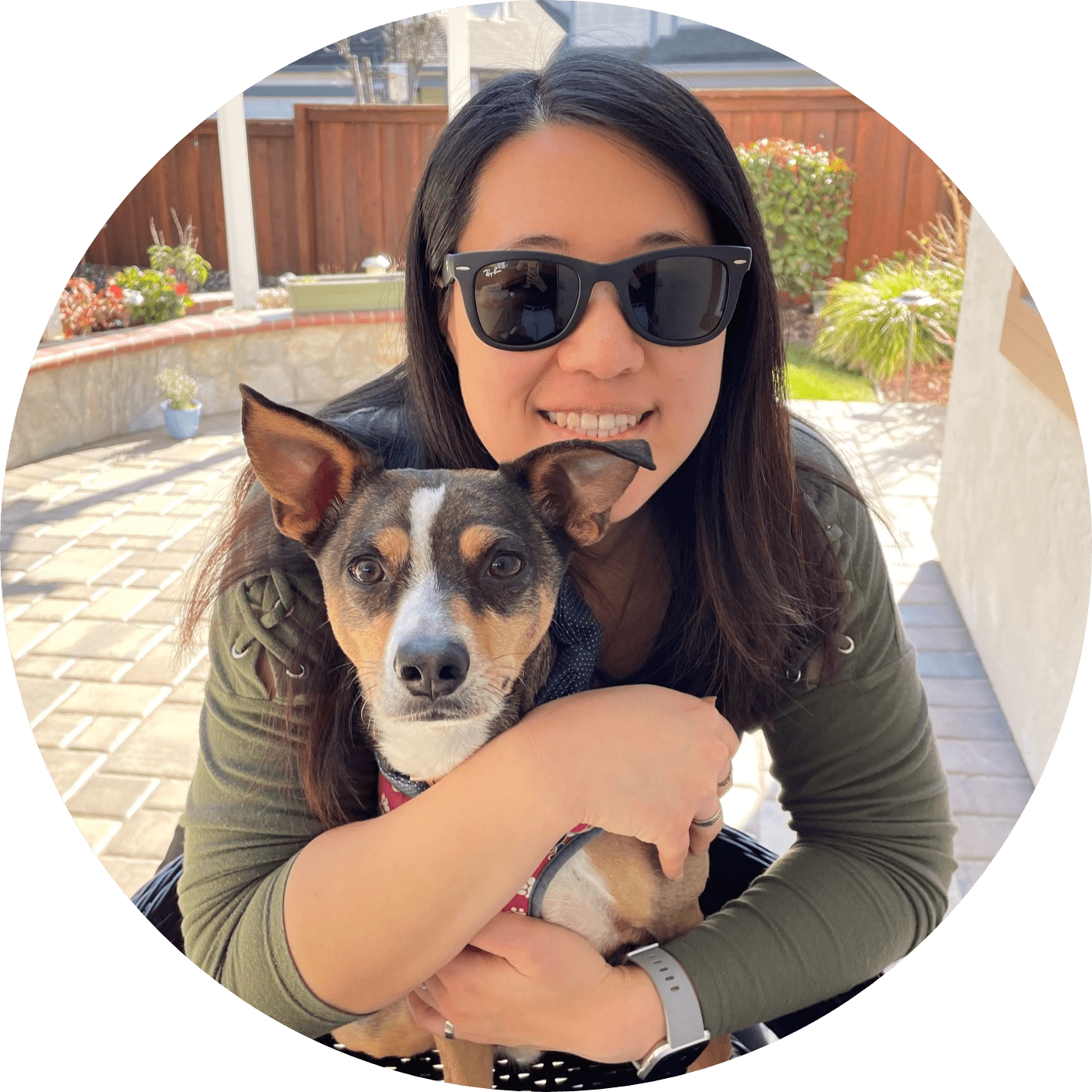 Dr. Sabrina Kong graduated from the Royal Veterinary College in England in 2016 and has been working at a small animal clinic in Northern California since then. She grew up in the Bay Area and got her bachelor's degree from Cal Poly San Luis Obispo. She also became a Certified Canine Rehabilitation Practitioner through a program at the University of Tennessee.
When she isn't in the clinic taking care of her four-legged patients, she enjoys traveling and trying new foods with her friends and her three-legged dog, Apollo. She adopted Apollo from her clinic when he was a puppy with numerous health issues. Dr. Kong truly cares about taking care of animals.