Here's what you need to know if you're searching for the best Dachshund breeders in Kentucky. The Dachshund comes in various sizes, coats, and colors. Dachshunds are divided into Standard Dachshunds (the largest) and Miniature Dachshunds, as well as "Tweener" Dachshunds (a non-official term for individuals that fall somewhere between the Standard and Mini sizes).
Dachshunds come in three varieties: shorthaired (smooth), longhaired, and wirehaired. Many colors and patterns are possible, but reddish-brown and black are the most common. Dachshunds are curious, lively, charming, and brave dogs eager to participate.
Before scrolling down this list of Dachshund breeders in Kentucky, you can check out these other recommendations from our team at We Love Doodles: 
Dachshund Puppies For Sale in Kentucky
Dachshund breeders can be challenging to find. However, trustworthy breeders care for their dogs. The following article highlights the best Dachshund breeders in Kentucky.
Dachshund Product Recommendations: Best Dog Cologne That Groomers Use and Best Medicated Dog Shampoos.
1. PuppySpot's Dachshunds For Kentucky
PuppySpot is easy to browse and connect with the perfect puppy, providing all the information you need. They guarantee no puppy mills or scammers, with over 200,000 puppies sold and 10,000 verified 5-star reviews. They have partnerships with the American Humane Society and the AKC, and their business received an A+ from Better Business Bureau, so you're guaranteed the best.
Every breeder is subject to the strictest screening process in the country, with over 100 criteria that fewer than 10% of applicants pass. They also provide a 10-year health warranty for all dogs and a nose-to-tail health check. PuppySpot can deliver anywhere in the United States via their airline, and there are no waitlists.
PuppySpot Details
2. Malapelli's Minions Miniature Dachshunds
Malapelli's Minions' adult dogs are registered with the American Kennel Club. They carefully plan their litters, emphasizing health and temperament to produce quality Miniature Dachshund puppies.
Their breeding dogs are faithful members of the family. Puppies learn the importance of manners and proper behavior much faster from older dogs than from humans. Additionally, they learn how to behave with humans, children, and cats and potty training (using potty pads).
Until they go to their forever homes, puppies are handled and spoiled daily.
All of their breeding dogs live in the house. They go outside only to potty and play.
They give birth and raise their puppies indoors.
Only a few litters are born each year.
Each of their puppies is vet checked, vaccinated, and dewormed before going to their new homes. In addition, the breeder offers lifetime support and welcome questions.
Malapelli's Minions Miniature Dachshunds Details
3. Delaune's Dachshunds
Delaune's Dachshunds is located in Gilbertsville, Kentucky, convenient to many areas. For instance, Paducah is about 25 miles away. They have been breeding Dachshunds for 20 years. Puppies are raised at home and given lots of attention and daily handling. Before leaving the house, all puppies are dewormed 2-3 times and given all age-appropriate vaccinations.
To hold the puppy of your choice, a deposit is required. A deposit of one-third (1/3) of the puppy's purchase price is required. You must make full payment by the time your dachshund is six weeks old. Be sure to pick up your puppy by the time they are eight weeks old, or you will be charged $40 per week for boarding.
Delaune's Dachshunds Details
4. PriMar Miniature Longhaired Dachshunds
Rebecca is the owner and breeder of PriMar Miniature Longhaired Dachshunds. She is currently based in Lexington, Kentucky. Her breeding program is limited; she is only interested in producing show dogs of excellent health, conformation, and temperament. Therefore, her breeding plans are based on extensive observation and research of dogs & pedigrees, all while following her vision.
She hopes to produce another show dog that will live in her house with her other dogs, who will sleep in her bed every night. Additionally, she hopes to make others happy by providing high-quality pets. PriMar treats its dogs as pets first and foremost. Each of them has free reign of the house, and they always go on adventures together!
PriMar Miniature Longhaired Dachshunds Details
5. Heart 2 Heart Puppies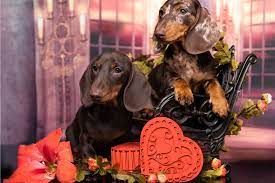 Heart 2 Heart Puppies, located in Hawesville, Kentucky, was founded by Emma and Robert Mast in 2004. Their home is set out in the country of the beautiful Bluegrass State. Their small farm is full of amazing creatures, including the breeder's Dachshunds and their beautiful horses.
Robert grew up with a Dachshund, so the couple just had to get a few when they got married. Today, the couple has two sons and they enjoy playing with all their dogs and keeping them happy and socialized. The couple selectively breeds for health and temperament.
Dachshunds receive vaccinations and dewormings, plus genetic testing from PawPrint Genetics. Also noteworthy, in 2018, Emma received a new heart from a generous organ donor after living with cardiomyopathy since 2007. Their name and logo were inspired by what they call "the greatest hero they never knew."
Heart 2 Heart Puppies Details
6. Kentucky Dachshund Rescue
Last on the list of the best Dachshund breeders in Kentucky is "Kentucky Dachshund Rescue." By providing food, medical care, love, and time, Kentucky Dachshund Rescue saves Dachshunds and other small breeds from euthanasia. In Kentucky and the surrounding areas, animal welfare is under attack.
Animal shelters are underfunded or nonexistent. Despite providing their animals with minimal to downright dangerous conditions, puppy mills sell them for top dollar prices. A family may experience life events that require them to surrender their dog, or a good samaritan may find a stray in the neighborhood but cannot keep it for long. Regardless of the situation, KDR is there to help.
The dogs under KDR's care receive individualized attention and love. Through the foster system, dogs are socialized with other animals and with humans, allowing the pups to become accustomed to a home environment. Instead of sleeping on a cement floor in a shelter, dogs sleep in a warm bed, burrowed under blankets. During KDR vetting, all dogs are brought up-to-date on vaccinations, receive immediate medical attention if necessary, and are allowed to begin to heal. 
Kentucky Dachshund Rescue Details
Dachshund Puppies in Kentucky
Dachshunds are highly energetic and full of life. In addition to taking walks and playing outside with other dogs, they enjoy hunting and digging. Besides being active outdoors, they are also active inside the house, and they can live in small apartments as long as they get moderate daily exercise.
A half-mile walk (about 10 minutes) each day is about right to meet your pup's exercise requirements. Sometimes, when time is limited, a game of fetch will suffice. Dachshunds shouldn't live outdoors or in kennels; plan to allow your Doxie to live indoors with you. Dachshund back injuries from jumping on and off furniture  is a problem with the breed, so get them a ramp or steps if you want them to climb up on your bed or sofa.
When you hold a Dachshund, always be careful to support its rear and chest. Dachshunds can learn quickly if you keep them motivated. To hold their attention and keep training sessions short, use positive reinforcements like food rewards or their favorite toy. If the same exercise is repeated repeatedly, the Dachshund will become bored, so make obedience training fun and interesting!
How to Choose a Dachshund Breeder in Kentucky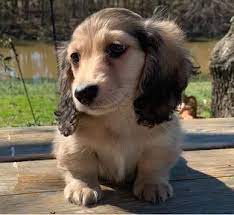 Choosing a responsible breeder and doing your research is the best way to ensure a healthy, happy puppy. You can use these top tips to choose a responsible puppy breeder and get your new pet off to a successful start.
As a private seller, they will be happy for you to visit the puppies several times. It is ideal to take home puppies no earlier than 8-9 weeks after seeing them at 3-4 weeks old.
When possible, a reputable breeder will show you the mother and father of the puppies. Meeting the parents helps because it gives you the chance to assess the temperament and health of the mother. In addition, you should be able to see the puppies interacting with their mother.
Breeders committed to providing quality dogs will send you regular updates and answer your questions over email, phone, and later in the process, in person. Additionally, they'll want to ensure you're a good match for the puppy. Applications are standard, and you should strive to fill them out as completely and honestly as possible.
Where Do You Find a Dachshund Breeder in Kentucky?
Dachshund Club of America (DCA) member breeders offer puppies and adults to families interested in adding a Dachshund to their home. In addition, a number of their members participate in the AKC Breeder of Merit Program. Breeders of Merit adhere to very strict guidelines, and kennels are inspected in person by the American Kennel Club.
DCA has a Breeders Directory, which lists breeders by state whose puppies or adult dogs may be available. If you cannot locate a Dachshund through the Directory, you should contact a club in your area.
Related: Best Dog Car Seats For Dachshunds.
Conclusion For The "Best Dachshund Breeders in Kentucky"
You may find it challenging to choose the right breeder for your brand new Dachshund puppy may find it challenging. When selecting a Dachshund breeder, there is a lot to consider. Our goal is to make your decision a little easier by providing a list of the top Dachshund breeders in Kentucky. There are many excellent breeders to choose from.
For more guides similar to this list of Dachshund breeders in Kentucky, you can check out:
Before you bring home a Dachshund puppy from a breeder in Kentucky, you can learn more about this dog breed by watching "10 Things Only Dachshund Dog Owners Understand" down below: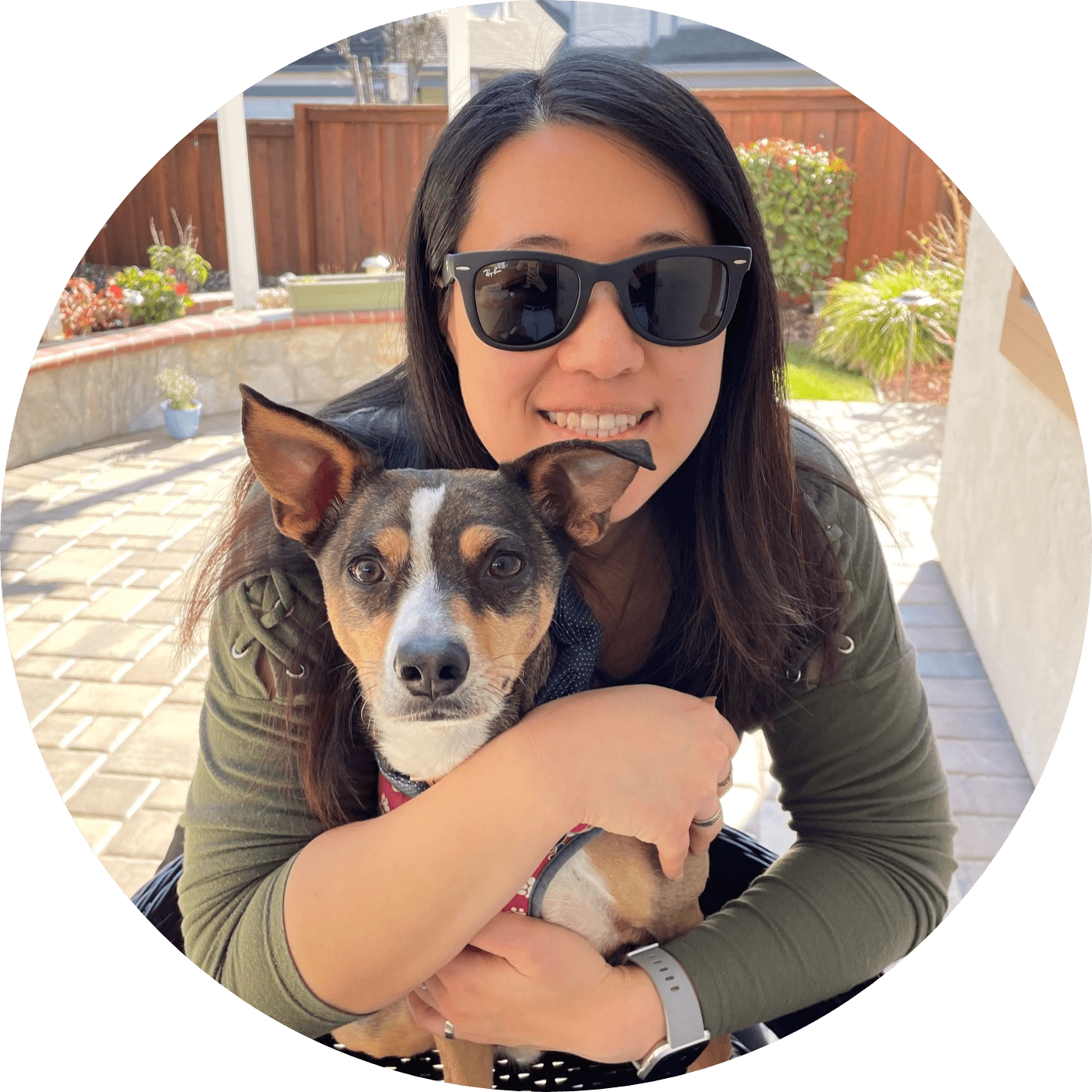 Dr. Sabrina Kong graduated from the Royal Veterinary College in England in 2016 and has been working at a small animal clinic in Northern California since then. She grew up in the Bay Area and got her bachelor's degree from Cal Poly San Luis Obispo. She also became a Certified Canine Rehabilitation Practitioner through a program at the University of Tennessee.
When she isn't in the clinic taking care of her four-legged patients, she enjoys traveling and trying new foods with her friends and her three-legged dog, Apollo. She adopted Apollo from her clinic when he was a puppy with numerous health issues. Dr. Kong truly cares about taking care of animals.