Looking for Pug puppies for sale in Massachusetts? We have a list of reputable Pug breeders in Massachusetts.
Finding a reputable breeder of any dog breed can be an uphill task, especially if you're looking for a Pug breeder in the bay state. There are few reputable Pug breeders in Massachusetts which also makes it a bit harder. We did see tons of backyard breeders and puppy mills on Facebook though selling their puppies in the state.
With that being said we've compiled a list of the best Pug breeders in Massachusetts for you. We have also included a few more breeders from neighboring states who deliver to the bay states so you have the best of both worlds.
Check out these other breeders in the state: Corgi Breeders in Massachusetts and French Bulldog Breeders in Massachusetts.
1. PUG PUPPY MASSACHUSETTS
Pug Puppy is owned and run by a family of passionate Pug breeders in Boston, Massachusetts, led by Renee. These Pug breeders are keen on the health and wellbeing of their puppies and go the extra mile to ensure their puppies are safe, healthy, and loved.
Renee and her team raise all the dogs indoors in a family environment, where the Pug puppies are prepared for life with you. The Pugs have plenty of space to play, roam around, and play catch with Renee's family.
Pugs puppies from this breeder come in two main colors: fawn and black. Their Chinese Pug puppies for sale in Massachusetts are also AKC registered.
Before coming home to you, Renee and her team ensure that each Pug puppy is going to a loving home. This means you may need to answer some tough questions before you can get on the waiting list for one of these lovely puppies.
Their Pug puppies in Massachusetts are vaccinated, dewormed, puppy pad trained, and have their dew claws removed before coming home to you. They also come with a puppy package containing toys to get them started with you.
A Pug puppy from this breeder will cost you $2,500.
PUG PUPPY CONTACT DETAILS:
LOCATION: North Boston, Massachusetts
WEBSITE: Pug Puppy
PHONE NUMBER: (781) 231-6895
EMAIL ADDRESS: renee@Pug-puppy.com
2. GIFFORD PUGS MASSACHUSETTS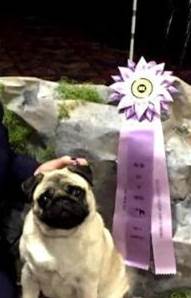 Gifford Pugs may be the breeder for you if you're searching for Pugs from a family-oriented Pug breeding program.
The Chicopee-based breeder believes that Pugs puppies should be raised in a household setting with no kenneling.
All of the adult dogs and Pug puppies in Massachusetts are raised indoors, where they have a lot of fun and receive a lot of affection.
The east coast breeder not only raises the puppies but also handles Pugs in UKC and AKC conformation shows. You can check out the numerous awards the Pugs have won on their website.
This breeder's Pug puppies for sale in Massachusetts are all AKC registered and come with a two-year health guarantee. Before each Pug goes home, the breeder ensures that it has received a clean bill of health.
Although the breeder has not shared the Pug prices on the website, you can expect a Pug puppy for sale from them to cost between $2500 and $3500.
GIFFORD PUGS CONTACT DETAILS:
LOCATION: Chicopee, Massachusetts
EMAIL ADDRESS: giffo843@verizon.net
3. WILLOW DOVE PUPPIES
Willow Dove Puppies is a small in-home breeding program run by Laurinda Williams. While they aren't a Pug breeder in Massachusetts, they are close by in New York.
Laurinda believes that every pedigree puppy born today is a gift from the past, from the excited tail wags to the sweet sloppy kisses. The Pugs' history, lineage, and traits we all adore are the result of passion and dedication from breeders over the centuries.
With that being said, this breeder's breeding Pugs come from European champion lines. These types of Pugs, according to Laurinda, are the world's healthiest and most gorgeous dogs. It was a no brainer to bring them home to America after finding a breeder who shared Laurinda's values
Laurinda's Pug breeding program is hinged on using a step-by-step puppy raising method. This program begins long before the puppies are born as it requires the parents to have excellent health and nutrition.
The Pugs are fed high-quality meals such as home-cooked fresh meat, vegetables, and much more. The puppy raising process, on the other hand, involves extensive socialization, potty training, and mental stimulation.
Although the breeder has not shared the Pug prices on the website, you can expect a Pug puppy to cost between $2500 and $4500.
WILLOW DOVE PUPPIES CONTACT DETAILS:
LOCATION: Coram, Long Island, New York. Roughly 3 hours from Boston, Massachusetts.
WEBSITE: Willow Dove Puppies
EMAIL ADDRESS: willowdovepugs@gmail.com
4. SIENNA ROSE PUGS
Finding a Pug breeder that is right for you can be challenging but a wonderful experience. This is a challenge Roseann Flagiello, the owner of Siena Rose Pugs, knows all too well.
Roseann was born and raised around dogs all her childhood. In fact, dogs are part and parcel of the joyous moments she recalls from her childhood.
She remembers her first Pug being a rescue and although he was shaken up, he was her first Pug love and the two were inseparable.
This is why the New Jersey breeder goes the extra mile to ensure you can get the best out of your Pug. She breeds Pugs for health, temperament, beauty, personality, and showmanship.
Roseann is keen on the Pug puppies' health and ensures that they all have a clean bill of health before going to their forever homes.
All the Pug puppies are seen by a licensed vet and have their eyes, heart, and knees checked. They are also vaccinated and dewormed according to their age.
Unlike many breeders, Roseann recommends all her new families come every week to connect with their chosen Pug puppies. The breeder believes that doing so helps the puppies get tons of socialization and an easier time adjusting to their new home.
All Pug puppies come with a 6-year health guarantee which covers liver shunt, PDE, and heart disease among others. New forever families also get lifetime access to Roseann's knowledge, expertise, and support.
You can expect to pay $3,300 to $4,000 for a Pug puppy from this breeder. They aren't a Pug breeder located in Massachusetts, but they are close by in New Jersey.
SIENNA ROSE PUGS CONTACT DETAILS:
5. REESE'S PRECIOUS PUGS
Randall Reese owns and runs Reese's Precious Pugs, a small breeder so small that we found them on Facebook.
Reese takes pride in breeding and raising these precious Pug puppies. They thoroughly vet all of their forever homes to ensure that their puppies go to the greatest possible families. They work with each new forever family to transition their new addition to the family well.
Their Pug puppies are home-raised. They take great effort in socializing the Pugs so that they can quickly adjust to their new life.
Reese and his team are committed to providing a great experience for their buyers and their Pug puppies with a positive experience, which includes adhering to safe breeding, training, and rehoming methods.
This breeder's Pug puppies come with a one-year health guarantee and cost between $1,100 and $3,000.
REESE'S PRECIOUS PUGS CONTACT DETAILS:
LOCATION: Georgia
FACEBOOK PAGE: Reese's Precious Pugs
PHONE NUMBER: (706) 466-5324
EMAIL ADDRESS: crreese1987@gmail.com
6. MOUNTAIN WOODS SAINTS & PUGS
Mountain Woods Saints & Pugs, situated in Alabama, is owned and bred by Lynsey Hamilton.
Lynsey has been showing and breeding dogs for almost a decade. She has 9 champions and vows to only continue breeding according to the breed standard. Lynsey firmly believes that breed improvement can only happen if breeders are intentional.
The breeder ensures that the Pug puppies are properly socialized and kept in the home with their mother until they are old enough to be outside in their pea gravel. The breeder and her team say they put the needs of all their Pugs first.
Before they leave their kennels, all Pug puppies receive all essential vaccines and are dewormed. At their kennels, there are doggy doors so the Pug puppies can go out.
The breeder is keen to provide them with a good start in life so they become healthy and wonderful Pugs who will be a blessing to you and your family for many years.
They also provide a one-year health guarantee on all of their Pug puppies, which covers any life-threatening diseases.
Because of how quickly this breed grows, the breeder does not offer hip or elbow insurance, but she does ensure that the Pug parents undergo comprehensive health testing.
This breeder's Pugs range in price from $3250 to $3850.
MOUNTAIN WOODS SAINTS & PUGS CONTACT DETAILS:
7. LOCKLAN KENNEL
Virginia-based Locklan Kennel is owned and run by Margaret Lockwood.
Margaret has always loved Pugs and was excited to finally get into breeding, her long-life passion. Throughout the years, Margaret has remained a dedicated Pug breeder who focuses heavily on temperament and the emotional and physical well-being of her puppies.
The breeder is focused on producing Pug puppies that will excel in their chosen field, whether it is life as a loving companion or show champion dog.
She does not breed her Pugs until they are fully healthy and capable of producing outstanding breed representations.
When it comes to breeding, socializing, and teaching her Pug puppies, Margaret is committed to always following proper rules.
Margaret offers a health guarantee but she hasn't shared any specifics on the duration and what the guarantee covers.
Pug puppies go home at 12 weeks of age and cost between $2000 and $4000.
LOCKLAN KENNEL CONTACT DETAILS:
LOCATION: Tidewater, Virginia
FACEBOOK PAGE: https://facebook.com/Locklannorfolks/
EMAIL ADDRESS: norfolkter@aol.com
Conclusion for Pug Puppies in Massachusetts
Pug puppies are a wonderful addition to any individual or family's life. We hope we helped you in your search for a reputable Pug breeder in Massachusetts or a nearby state. Remember, before you purchase a Pug puppy for sale in Massachusetts to ask the breeder several questions. Asking for any health checks, health warranties, certifications, and conformations to the breed standard. Additionally, before you put your deposit down on a Pug puppy, make sure that you see the parent dog's beforehand. There are many Pug scams going around where a breeder will take the deposit for a puppy and never repay it. All the best!
Other articles you would like:
Garrett loves animals and is a huge advocate for all Doodle dog breeds. He owns his own Goldendoodle named Kona. In addition, he volunteers at the Humane Society of Silicon Valley, where he fosters dogs and helps animals. Garrett enjoys writing about Doodles and believes that dogs can teach humans more about how to live than humans can teach a dog.
Why Trust We Love Doodles?
At We Love Doodles, we're a team of writers, veterinarians, and puppy trainers that love dogs. Our team of qualified experts researches and provides reliable information on a wide range of dog topics. Our reviews are based on customer feedback, hands-on testing, and in-depth analysis. We are fully transparent and honest to our community of dog owners and future owners.