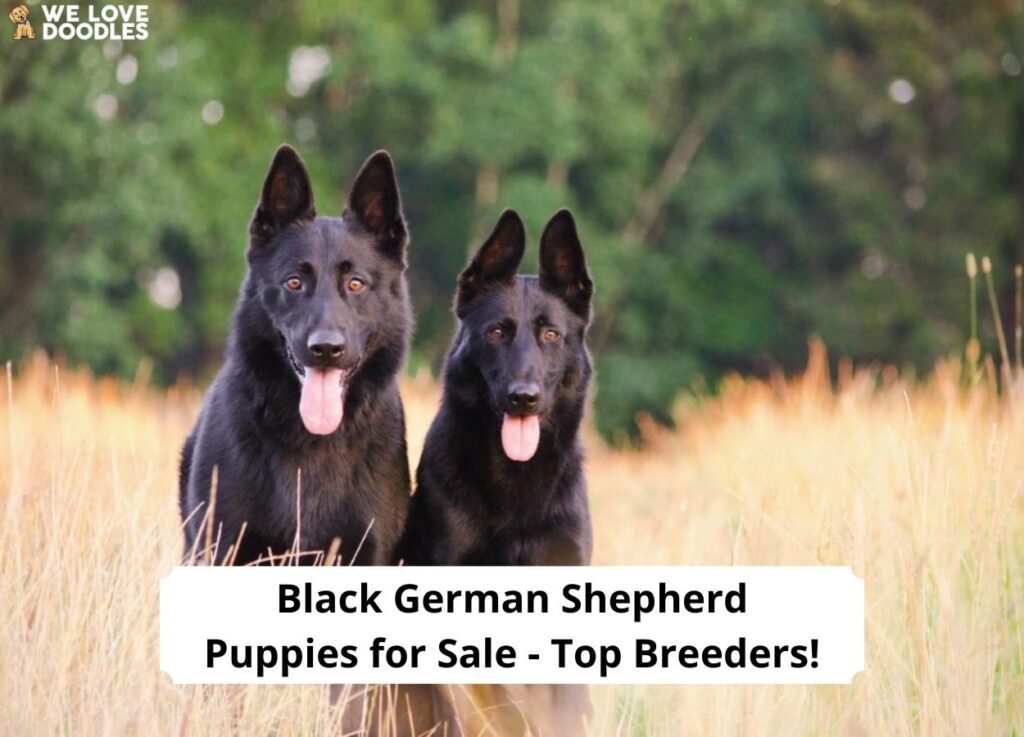 If you're looking for Black German Shepherd puppies for sale, we're here to guide you.
German Shepherd is an evergreen breed in the United States. Every year, GSDs land on the American Kennel Club's most popular dog breed list because of their inherent intelligence, loyalty, ability to learn, courage, and willingness to protect their loved ones.
Given their popularity, it's no wonder that there are many reliable German Shepherd breeders. Despite being more expensive than many other dog breeds, they remain a highly sought-after dog in the US.
German Shepherds come in many colors, including black, white, blue, liver, sable, and gray. GSDs can also be bi-colored, most commonly black and silver, red and black, black and cream, and black and tan.
The only difference between German Shepherds of different colors is exactly that — the color of their coat. Everything else — temperament, health, and personality — are the same across all colors.
The most prevalent colors in a German Shephard are black and sable, so you'll easily find many black German Shepherd breeders across the US. Let's have a look at some of the most reliable ones.
Before scrolling down this list of breeders with black German Shepherd puppies for sale in the United States, check out these articles: Best Brush for a German Shepherd! (2023) and Why Is My German Shepherd Skinny? (2023).
1. Von Der Otto German Shepherds
You can get the highest quality German Shepherds with pure bloodlines from Von der Otto. This family-owned breeder is located in Rockwell, Texas, near Dallas, Austin, and Fort Worth.
The breeders at Von der Otto raise their dogs as protectors. Since this is a family business, they believe they have a personal touch in breeding and raising German Shepherds, which other kennels might lack.
Von der Otto breeders are experienced German Shepherd breeders and know the difference between the work and show lines. The husband and wife who run this business have worked in the police department; they understand how working GSDs behave and how to breed dogs who conform to the standard.
Work-line German Shepherds are highly energetic and always need a job, which is why they're more suited to law enforcement than family life. Show-line German Shepherds are better as pets due to natural patience, protectiveness, and obedience.
At Von der Otto, dogs receive a safe, healthy, homey environment for playing, relaxing, and breeding. When the females are pregnant, they stay in the house and relax on the couch. Until the puppies are six weeks old, they stay inside with the mother and receive plenty of love, care, and attention.
Once the puppies start walking, they can run around the house and socialize during the first eight weeks. During this time, the puppies bond with their new owners and learn to behave around noises, children, and pets.
The dogs are well-trained and know when to care for their fellow mates. The owners put a lot of emphasis on creating a healthy environment for all of them to grow together.
Usually, they only have two litters at a time, so if you're interested, check out their website and apply as soon as possible to get the best black German Shepherd puppies for sale.
Von Der Otto German Shepherds Details:
2. Von Den Oher Tannen
Von den Oher Tannen breeders moved to Georgia from Germany in 1991, and this kennel was a way to keep their roots alive. The kennel's name comes from a small forest near where the owners grew up.
The owner has a special place in her heart for German Shepherds. She only began this breeding business when she knew she had time to train and raise puppies while playing, showing, and competing with them.
The dogs exercise and play outside all day, but at night they all gather in the house and eat in the kitchen. The puppies are born in the house and stay indoors until they're old enough to meet the pack and play outside.
This is a small kennel with only a few litters every year. The breeder believes they have the best German Shepherds in North America because they don't compromise their health and quality.
Oher Tannen breeders follow SV standards, which means they fulfill requirements such as obedience, hip and elbow certification, endurance, breed survey by a German judge, accurate titles for males and females, and much more.
They have puppies imported from Germany and US-bred dogs with limited AKC registration. However, they don't give breeding rights to the new owner automatically.
Their knowledge and understanding of the breed make them reliable when importing German Shepherd dogs from Germany. With their longstanding connections, they can find successful breeders and organizations who have well-tempered family dogs ready to fly to the US.
The dogs come with veterinarian-issued health certificates, and puppies younger than a year have their parents' hip and elbow ratings to ensure they are in total health. They also offer lifelong support to their clients when it comes to assisting with the dog's acclimation to a new home.
Von Den Oher Tannen Details:
3. Vom Ragnar
Vom Ragnar is a small operation led by Natalya Babenko, which produces a few excellent litters every year. They breed healthy black German Shepherds for sale with good temperament and character.
The breeding is done according to the SV German standards, and all dogs are show-line German Shepherds. They are also available in colors other than solid black, such as red and black and red and sable.
The dogs at Vom Ragnar live in the house and socialize in this homey environment with other pets and children. The owner, Natalya, has had a deep love for this breed since her childhood. She is dedicated, full time, to this breeding operation and gives attention to the little details regarding providing a nurturing environment for the puppies.
Vom Ragnar truly cares about the well-being and welfare of the dogs and doesn't want any of them to end up unwanted. They take extraordinary measures to ensure that the family who wants to adopt clarifies their needs and requirements to find a perfect match for them.
Moreover, clients must reserve their puppy one year in advance. The puppies' characteristics can be determined before birth by assessing the parents, and the breeder shortlists potential adopters based on this assessment.
If you choose to reserve from a current litter, you can enjoy the puppy's weekly photos and video content for up to four weeks. Then, once your dog is eight weeks old, you can go and pick him up from Harvard, Illinois.
The puppies have up-to-date shots of age-appropriate vaccines such as Distemper, Corona, and Bordetella. You will also receive a wellness check and health booklet with medical records from a licensed vet.
Your puppy will also have a health warranty with a strict contract to get them neutered or spayed when they turn fifteen months old. The price of the puppies is $1,000 to $1,500 or higher at times.
The kennel is not open to visitors since it's their home and they have pregnant females who shouldn't be disturbed. They believe in providing females with a safe and calm environment when carrying puppies. However, they do offer phone interviews and virtual tours.
All Vom Ragnar puppies receive unconditional love and ultimate fun at the 40 acres of land they play on.
Vom Ragner Details:
4. Mittelwest German Shepherds
Mittelwest Kennels is a well-known German Shepherd breeder offering some of the most sought-after black German Shepherd puppies for sale. They have registered German Shepherd litters with high-quality pedigrees and healthy bloodlines. Their goal is to produce the best show-line German Shepherd dogs worldwide.
Breeders at Mittelwest Kennels understand the need to be cautious and responsible when breeding and follow American Kennel Club and SV guidelines. They raise their puppies as family dogs who are good with children and quickly adapt to different living situations and environments. They have German Shepherds in two different colors: rich black and red.
Their German Shepherd puppies have great temperaments with courageous, attentive, and confident personalities. They train efficiently and are always willing to please their owners.
The parents of the puppies are x-rayed for clear hips and elbows by the OFA or the SV. They claim that their puppies have a high level of intelligence and mental soundness, which makes them excellent work dogs too.
The dogs are raised and socialized at home and shipped worldwide. The photos and videos of the pedigrees and puppies are available on their website, and they also give health warranty for their dogs. So, you should contact them soon to get your hands on some of the best black German Shepherds for sale.
Mittelwest German Shepherds Details:
More Information About German Shepherd Dogs
Originating from Germany, just as the name suggests, the German Shepherd dog breed stands out due to its strength, endurance, and intelligence. Many families want to bring one home because their protective nature makes them good with children, and their keenness to please makes them excellent family pets.
They're medium-sized dogs who require comparatively low maintenance, but they should still get ample exercise and different daily jobs. As a result, they're a good choice for novice owners, singles, and families.
In addition, a German Shepherd puppy can be a great companion to those who enjoy an active lifestyle due to their body strength and inherent curiosity.
Frequently Asked Questions
How much is a black German Shepherd puppy?
Since this coat isn't as common, expect to pay anywhere from $800 to $2,000 for a healthy black German Shepherd puppy from a reliable breeder. Remember to check your local shelters first! Retired, abused, and otherwise surrendered GSD dogs and puppies may be available for a fraction of that cost!
Are black German Shepherds rare?
While selective breeding plays a significant part, black German Shepherds can still be hard to find. It's estimated that less than 7% of German Shepherds puppies are black.
What dog gets confused for a German Shepherd?
At a glance, it's easy to see why someone might mix up a German Shepherd with a Belgian Malinois — they share similar colors.
Conclusion for "Black German Shepherd Puppies for Sale – Top Breeders"
If you want to adopt a black German Shepherd puppy, start by learning as much as possible about the breed. Do your research thoroughly to conclude whether this dog breed is a perfect match for your family.
The next step is researching the breeder, which is where this article comes in handy.
There are many breeders providing German Shepherds in the United States, but not all are trustworthy. Ask them relevant questions and seek their dogs' health certificates to ensure they're honest breeders.
If you find the perfect black German Shepherd puppies for sale, check the breeder, learn about the dogs' bloodline, and see if they have all the relevant health certificates. Hopefully, you'll bring home a lovely, loyal furry friend soon.
For more guides similar to this list of breeders with black German Shepherd puppies for sale in the United States, you can check out:
Before you bring home a black German Shepherd companion from a breeder in the United States, you can learn more about this dog breed by watching the "Black German Shepherd: Everything You Need To Know" down below:
Garrett loves animals and is a huge advocate for all Doodle dog breeds. He owns his own Goldendoodle named Kona. In addition, he volunteers at the Humane Society of Silicon Valley, where he fosters dogs and helps animals. Garrett enjoys writing about Doodles and believes that dogs can teach humans more about how to live than humans can teach a dog.
Why Trust We Love Doodles?
At We Love Doodles, we're a team of writers, veterinarians, and puppy trainers that love dogs. Our team of qualified experts researches and provides reliable information on a wide range of dog topics. Our reviews are based on customer feedback, hands-on testing, and in-depth analysis. We are fully transparent and honest to our community of dog owners and future owners.