Toy or Miniature Poodles are combined with another small breed to create small Poodle mixes. Many breeders aim to create a little package that combines an attractive appearance and a well-liked personality. Because of their low shedding and fluffy coats, small Poodle mixes are quite popular. However, first-generation mixes often lack the Poodle's coat characteristics.
Some of the most popular small Poodle mixes that we will discuss in this article are:
Cockapoo
Maltipoo
Miniature Labradoodle
Corgipoo
Doxipoo
Springerdoodle
Yorkipoo
Westiepoo
Whoodle
Shih Poo
Pugapoo
Pomapoo
Mini Goldendoodle
Before scrolling down this list of small Poodle mix guide, check out: 10 Best Hypoallergenic Dog Mixes! (2023) and 8 Best Poodle Mixes! (2023).
13 Most Popular Small Poodle Mixes
In this guide, we'll get to know the most popular small Poodle mixes and examine their advantages and disadvantages. We'll discover the breed characteristics of each Mini Doodle hybrid and distinguish fact from fantasy, giving you the scoop on grooming, coats, colors, quirks, personalities, longevity, etc.
1. Cockapoo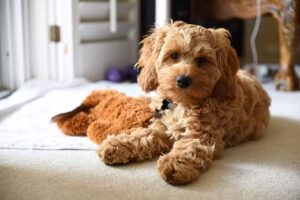 Cockapoos are a hybrid between a Cocker Spaniel and a Miniature, Toy, or Standard Poodle. To differentiate this mix from the usual size mix, some people may also refer to it as a Miniature Cockapoo. Cockapoos are often friendly, sharp little guys.
Rarely do they inherit a bad disposition. Socialization is still essential to fostering their wonderful temperament, though. Additionally, because of how energetic this breed is, it won't be suitable for homes that can't offer the appropriate amount of physical and mental stimulation.
When a Miniature or Toy Poodle is involved in the cross, you get a curly-coated ball of absolute cuteness that can weigh anywhere between six pounds and 18 pounds. Poodles rarely shed much. The Cocker Spaniel, however, sheds a lot. In light of this, this cross may shed rather heavily, seasonally, or barely at all depending on what type of coat they have.
Cockapoos may inherit a variety of health issues including intervertebral disc disease, hip dysplasia, patellar luxation, cancer, and heart and blood diseases. These popular small Poodle mixes have a lifespan of 12 to 15 years. Make sure your puppy's parents have undergone breed-specific health testing to prevent health issues from being inherited from either parent.
2. Maltipoo
The Maltese and a Miniature or Toy Poodle were crossed to create the adorable Maltipoo. These dogs are affectionate and make excellent companions. However, this leaves them less than thrilled about their alone time, and they might even express it verbally!
They are not suitable for households with really young children who could accidentally harm them during play, but they will thrive in homes that can provide them with constant attention.
Maltipoos can weigh anywhere between five and 15 pounds, depending upon whether the parent Poodle is Toy or Miniature. The Maltipoo doesn't shed a lot of hair. However, in order to prevent matting, all coat types require weekly brushing and monthly visits to the groomer.
Maltipoos may inherit health issues that are common in their parent breeds. These include white dog shaker syndrome, necrotizing meningoencephalitis, mitral valve prolapse, and epilepsy. They may also experience joint and eyesight issues — both common conditions in other popular small Poodle mixes.
They often survive for 10 to 15 years and reach the age of 12 or older. Poodles and Maltese are both wonderful small dogs, and their hybrids make wonderful companions. You may also want to look into the other Maltese hybrids that are now gaining popularity.
3. Miniature Labradoodle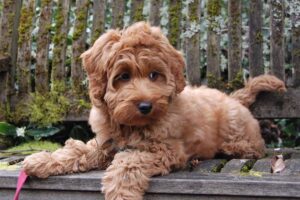 A Miniature Labradoodle is a mix of a Labrador Retriever and a Miniature Poodle. These Miniature Poodle hybrids are related to the extremely loved Labradoodle, which is a Standard Poodle and Labrador Retriever mix.
Labradors typically like meeting new people. Miniature Poodles, however, can be timid. Therefore, based on the genes it inherits, this hybrid may have a different personality. Additionally, how thoroughly you socialize the puppy also influences its socialization patterns.
Miniature Labradoodles don't always stay tiny. This hybrid breed may range in size from that of a Miniature Poodle to that of a full-sized Labrador, or it may fall somewhere in between.
Additionally, you should prepare for either a double coat with high shedding and straight hair (similar to the Labrador's) or a thickly curled coat that sheds little (similar to the Poodle's), or a hybrid of the two. To avoid matting, a curled coat needs regular grooming appointments for trims.
Hip dysplasia, eyesight issues, and any other abnormalities that are present in Poodles can all be included in commonly inherited health issues. Bloat and joint problems are major worries. Labradors are often overweight and frequently get arthritis. Therefore, if you opt for this breed, be sure to keep a close eye on your dog's weight. The average lifespan of a Miniature Labradoodle is 12 to 14 years.
4. Corgipoo
The Pembroke Welsh Corgi or Cardigan Welsh Corgi is crossed with a Miniature or Toy Poodle to create the Corgipoo. The kind of dog you receive will vary depending on the parents that were involved, but generally speaking, this little Poodle mix is lively, bright, and loving.
Additionally, they could have a strong urge to herd, especially young children or other animals. Therefore, homes with older kids are frequently better suited for this tiny Poodle mix.
The taller legs of the Poodle parent may be inherited by some Corgipoos, while others will have shorter legs. It's possible that their coats will vary in the same way. If they get the Corgi's coat, they will receive a thick double coat that can be any color and will shed yearly. This mixture will typically look like a fox, especially if they inherit a red coat.
Because of its Corgi parent, the Corgipoo is susceptible to canine degenerative myelopathy. This spinal condition has the potential to cause paralysis. Von Willebrand's disease, PRA, hip dysplasia, and other issues are also frequent. The average lifespan of this Miniature Poodle mix is 12 years.
5. Mini Goldendoodle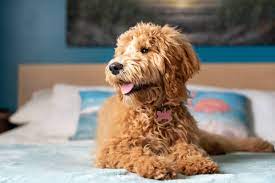 Miniature Goldendoodles are a cross between a Golden Retriever and a Toy or Miniature Poodle. Despite being smaller than the typical Goldendoodle mix, they will nonetheless have the same charming personality.
This means that despite their relatively small size, they will be outgoing, social, and active. The ideal homes will have enough time available every day for training, exercise, and fun. Mini Goldendoodles can grow anxious and even destructive if left alone.
Miniature Goldendoodles often weigh around 26 and 35 pounds and stand approximately 14 and 17 inches tall. The most common colors are golden, however, because of the Poodle's influence, this cross can have a wide range of colors and designs. Their coat's degree of curl can also differ. As a result, each dog will have different shedding needs and grooming requirements.
Cancer is a significant health risk for Miniature Goldendoodles. Further potential complications can include dysplasia of the hip and elbow, bloat, and different eye, and joint problems. Most of these medical issues are identifiable. So, pick a reputed breeder who only crosses healthy parents. The Miniature Goldendoodle will often live for 12 to 15 years.
6. Doxipoo
Among the popular small Poodle mixes, the Doxipoo is on the more popular side. It crosses the short Dachshund with a Mini or Toy Poodle. The majority of the time, this mix will be determined, independent, intellectual, and loyal.
Considering this, the breed may not be a good fit for a new owner. It will probably grow very close to its family; however, this could result in aggressive guarding. Socialization and training are essential from a young age if you give this adorable breed a home.
The puppy's appearance will be controlled by the genes that they receive from either parent. But this mixture has a tendency to be on the shorter side. They'll also probably have long, pointed snouts and floppy ears. The type of Doxie you use will have a significant impact on the variation in their coat. They can also come in long-haired or wire-haired varieties.
Unfortunately, the involvement of the Dachshund poses some major health risks, including a higher occurrence of intervertebral disc disease. Therefore, this mix must be stopped from climbing up and down high places. Dog ramps will usually be helpful for this breed. They will also be susceptible to the same health issues as both parent breeds. Nevertheless, they typically live past their teens.
7. Springerdoodle
The Springerdoodle is a cross between a Springer Spaniel and a Toy or Miniature Poodle. This breed is typically incredibly loving toward their family and has lots of energy.
Positive reinforcement training, which is a terrific approach to provide them with some crucial mental stimulation, will go well with them. Keep in mind, though, that they might have strong natural tendencies, such as the urge to chase other animals and persistent barking.
This dog has the appearance of a real, live teddy bear. Although the degree of its curl varies from dog to dog, they frequently have a tiny curl on their coat. The Springerdoodle can be found in practically any shade of color! However, selecting two parents with comparable coats might help you predict what color your dog will be.
The Springerdoodle must undergo health testing, just like all other popular small Poodle mixes, to guarantee that you are getting the healthiest puppy possible. This is one of the most popular mixes. But this also makes it more crucial to look for a trustworthy breeder and stay away from puppy farms. This will raise the likelihood that your puppy will live a long and healthy life, typically into their teens.
8. Yorkipoo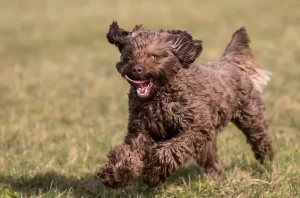 This is possibly one of the most popular Miniature Poodle hybrids. Yorkipoos are a mix between Yorkshire Terriers and Poodles. The time they share with their people is something they appreciate, and they'll do anything to earn your attention.
Some Yorkipoos, though, could get a touch too close to their family. They could show impulses toward guarding. With these breeds of dogs, appropriate socialization cannot be emphasized enough. Due to their high levels of energy, this hybrid also needs quick exercises throughout the day.
Yorkipoos can weigh as little as four pounds or as much as 15 pounds, based on the sizes of their parents. A Yorkipoo may receive the velvety and smooth coat of its Yorkshire Terrier parent, the tight curls of its Poodle parent, or some mixture of the two.
Any color that is acceptable for Poodles and Terriers may be chosen for their coat. To get rid of matting, regular brushing will also be necessary. Like Poodles, Yorkipoos might shed less or only during certain times of the year. The good news is that consistent grooming can reduce any shedding.
Legg-Perthes disease, hip dysplasia, and other joint issues may be more common with this mixture. Other neurological and eyesight issues include Addison's disease, epilepsy, bloat, hepatitis, collapsed trachea, and others. Their typical lifespan is 10 to 18 years.
9. Westiepoo
West Highland White Terriers, usually referred to as "Westies," and Miniature Poodles are the parents of the Westiepoo. Some Westiepoos form tight relationships with one or more family members because of their Poodle lineage. They may become suspicious of strangers as a result.
To stop yippy or nippy behavior, greater socialization with humans and animals from an early age will be necessary. Some Westiepoos may also have a high prey drive owing to their Terrier heritage. Due to this, they might not be suitable for households with cats or other small animals.
This mix is on the larger side compared to other Mini Poodle mixes. When fully mature, it weighs between 20 and 30 pounds. Poodles and Westies both have long, curly coats. To keep everything tidy and trimmed up, a Westipoo will need daily to weekly brushing and monthly visits to the groomer.
Regular baths help keep the Westie's white coat looking clean if they have it. With this mix, you will not need to worry about excessive shedding.
Healthwise, Westiepoos have been connected with bloat and Addison's illness. They might also have atopic dermatitis and be prone to itchy skin. They typically have a lifespan of 10 to 18 years, with an average age of 13 or 14.
10. Whoodle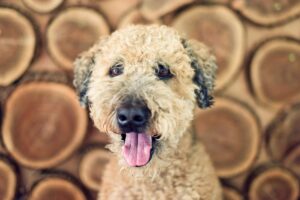 A Whoodle is a cross between a Soft Coated Wheaten Terrier and a Miniature Poodle. This mix may not be suitable for homes with other pets or with very young children due to its intense prey drive. Socialization can lessen this, but it won't completely eradicate it. Though, aside from this, a Whoodle will be fun, loving, and vivacious. They might be a fantastic option for a busy house.
Depending on the features this mix inherits, the size will differ. Wheaten Terriers are strong, medium-sized dogs. Therefore, if it resembles this parent, your mix may grow to be 20 inches tall and weigh up to 50 pounds. Although a mini version will typically be smaller than this, owners should be ready for any scenario. The coat and color may also change.
A Miniature Whoodle can typically live into its teen years. However, they will be susceptible to the same health problems as their parents, just like any mixed breed. This may include Addison's disease, thyroid disorders, joint problems, protein-losing nephropathy, protein-losing enteropathy, and more. To reduce the likelihood of receiving a puppy with these inherited issues, choose a reputable breeder.
11. Shih Poo
The Shih Poo is the offspring of a Shih Tzu and a Miniature or Toy Poodle. This mix, which usually prefers to cuddle, has to run around a little bit every day to meet its energy needs. A Shih Poo may acquire a tendency for barking as well as a disposition to become possessive of its owner or family.
They could become irritable if they become weary of being cared for. Socialization and maintenance of these canines in the right setting are ideal with these characteristics in mind.
Shih Poos can weigh between four and 16 pounds. Whether a Toy or Miniature Poodle was bred with a Shih Tzu parent determines how small they will remain through their adulthood. A Shih Poo may receive either the tight curls of their Poodle parent or the smooth, straight, or wavy coat of their Shih Tzu parent. A Shih Tzu's coat is typically multicolored, while a Poodle's coat is typically solid.
Regular brushing and grooming appointments help keep your dog's coat clear of mats and out of his or her eyes. and is simpler to keep up at home. However, neither Poodles nor Shih Tzus shed a lot, so you won't have to deal with the extra dog hair around the house.
Eye issues, brachycephalic syndrome, joint disorders, kidney problems, Cushing's disease, bladder stones, and skin cancers may be prevalent in this mix. The lifespan of a Shih Poo is between 10 and 15 years.
12. Pugapoo/Pugadoodle
The Pugadoodle is another name for the Pugapoo. This hybrid breed crosses a Pug with a Miniature or Toy Poodle. Traditionally, both parent breeds were intended to be lap dogs. And the character of this mix reflects that! It will be content to spend its entire day with you, especially unwinding on the couch. Many owners have also noted that this mix is affectionate, playful, and cheeky.
Although each dog's appearance can differ, a Pugapoo will typically be petite. They can weigh between 14 and 18 pounds and reach heights of 10 to 12 inches. Additionally, it's typical for Pugapoo dogs to inherit the parent Pug's small muzzle. Given how many owners adore the gorgeous baby-like face, this is a common feature. But it also comes with a host of excruciating, lifelong health issues.
This includes having trouble breathing and eating, having exposed and sensitive eyes, crowded teeth and more dental problems, and heatstroke. Additionally, if these dogs get the corkscrew tail of the Pug, they may also have spinal problems.
In order to try and avoid these problems, it is advisable to choose a puppy with a longer nose if you have the option. Or you can think about saving an older version of this mix because it can live into its teens.
13. Pomapoo
The Pomapoo is a hybrid breed made up of Toy Poodles and Pomeranians. Pomeranians and Toy Poodles are similar in that they are devoted to their family and form strong relationships with just one person. They could show impulses toward guarding.
With this behavior, proper socialization can be helpful. When they grow weary of being handled or played with, Pomapoos may also become irritable or aggressive. It follows that a family with young children — who might not realize when enough is enough — would not be a good match for this mixture.
When fully developed, this little hybrid weighs about three to nine pounds. Therefore, they don't require a lot of exercise. Each day, about an hour of playtime, brief strolls, or a mixture of both should be more than enough.
The thick double coat of the Pomeranian and the thick, curly coat of the Toy Poodle are combined in this crossbreed. A Pomapoo requires monthly trips to the groomer in addition to daily grooming with a slicker or pin brush. In addition, Pomeranians shed according to the seasons, so a Pomapoo might too. However, if their coat is more akin to a poodle's, they might just shed a little.
Progressive retinal atrophy (PRA), cataracts, and hypothyroidism are health concerns to be aware of in Pomapoos. Moreover, Addison's disease, seizures, tooth crowding issues, tracheal collapse, and joint issues are also likely to occur. Most of them live to be at least 12 years old and typically have lifespans of 10 to 18 years.
Frequently Asked Questions
What is the calmest Poodle mix?
Owing to its kind and affectionate heritage, the Bernedoodle is perhaps the calmest Poodle mix.
What type of Poodles stays small?
Miniature and Toy Poodles, standing over 15 and 10 inches respectively, stay small throughout their lives even into adulthood.
Why are Poodle mixes so expensive?
The Poodle mix is created by crossing two breeds and getting the best of both. Their adorable appearance and active, playful nature are the reasons why they are some of the most expensive dogs.
Conclusion for "Most Popular Small Poodle Mixes"
Small Poodle mixes are some of the most popular breeds owing to their size and adorable, shaggy look. They vary greatly in their appearance and personalities. As such, it is important to read up on the different Poodle mixes to decide which one would be best for your home!
For even more Poodle mix guides, you can check out:
Learn more about cute Poodle mixes by watching "15 Poodle Mix Breeds That Will Melt Your Heart" down below:
Garrett loves animals and is a huge advocate for all Doodle dog breeds. He owns his own Goldendoodle named Kona. In addition, he volunteers at the Humane Society of Silicon Valley, where he fosters dogs and helps animals. Garrett enjoys writing about Doodles and believes that dogs can teach humans more about how to live than humans can teach a dog.
Why Trust We Love Doodles?
At We Love Doodles, we're a team of writers, veterinarians, and puppy trainers that love dogs. Our team of qualified experts researches and provides reliable information on a wide range of dog topics. Our reviews are based on customer feedback, hands-on testing, and in-depth analysis. We are fully transparent and honest to our community of dog owners and future owners.