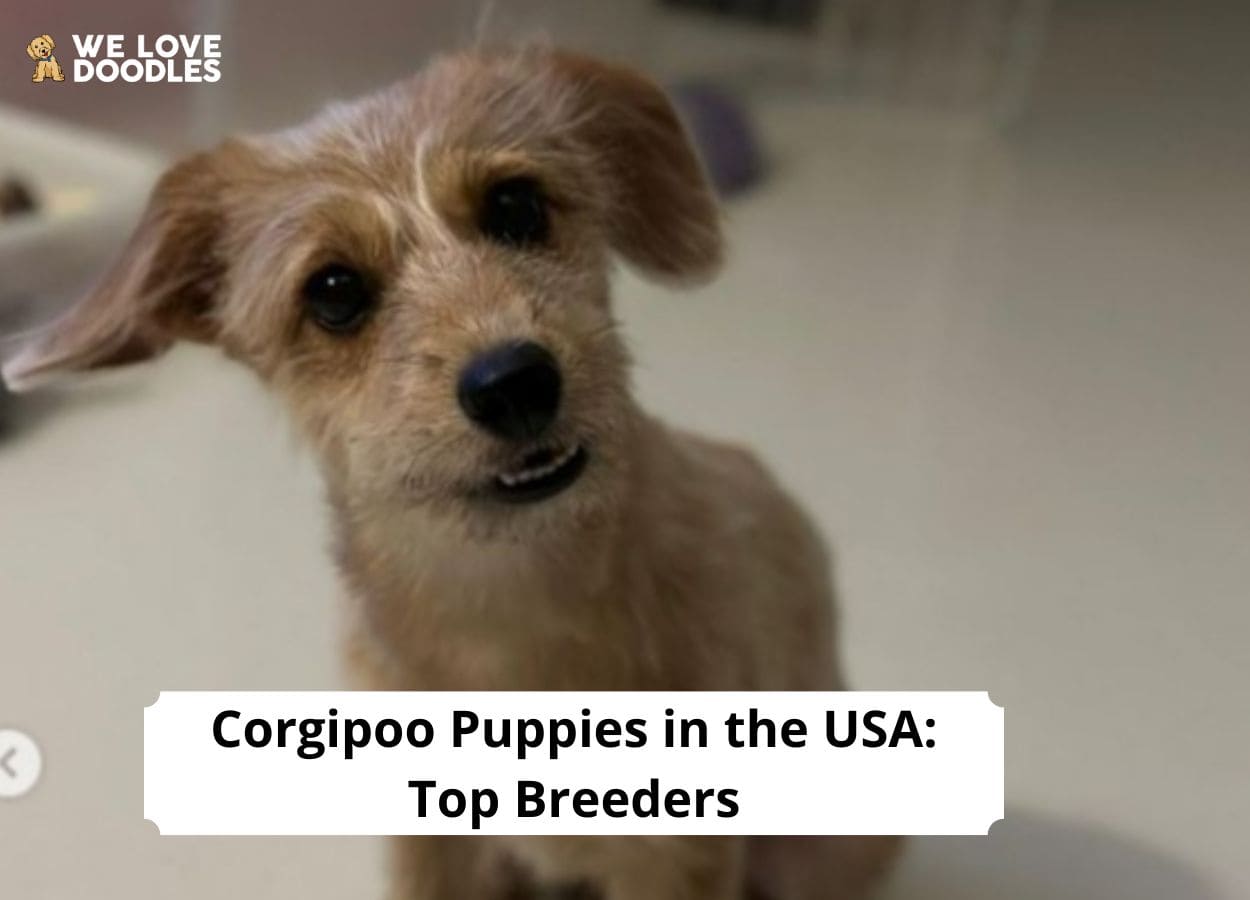 Here's what you should know if you're searching for Corgipoo puppies for sale in the United States. What happens when you cross the popular Corgi breed with the beloved Poodle? You get a Corgipoo! Also known as Corgi doodles, these little dogs are playful, great with children, and relatively hypoallergenic puppies.
Whether you're a senior looking for companionship or a family with small children who want a furry friend, a Corgipoo may be a good option. Because the Corgipoo is a fairly new breed – they were first deliberately bred in the United States in the 1980s – it may be difficult to find a reputable breeder.
For that reason, we've compiled a list of places you can find Corgipoo puppies in the United States. These top breeders will provide you with a quality, healthy puppy that will be a loving member of your household for years to come.
Before you scroll down this list of breeders with Corgipoo puppies for sale in the United States, you can check out these other dog breeder recommendations from our team at We Love Doodles: Pomapoo Puppies in the United States For Sale and Jackapoo Puppies in the United States For Sale.
Best Corgipoo Breeders in the United States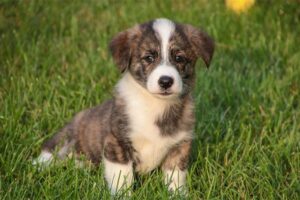 Our team at We Love Doodles created and compiled this list of the best breeders with Corgipoo puppies for sale in the United States for you to check out.
Corgipoo Product Recommendations: Best Flea and Tick Collars For Dogs and Best Onesies For Dogs.
1. Oswald Vineyard
The first litters of Corgipoo puppies come from an unexpected place – a family-owned vineyard in west Texas. This winemaker breeds Corgi doodles as a side business, but you can be sure your puppy will be given all the care and attention that a typical breeder would provide.
Puppies are born in the family home, and only one or two litters will be produced yearly. You'll need to contact Oswald Vineyard to express interest in adopting a dog. In conversations, you and the breeder will discuss health guarantees and Corgipoo pricing. There is a waiting list, so ask the breeder about the required deposit to hold your place.
Your puppy will come with current vet records; they will be vaccinated and dewormed as appropriate to their age. If you live in western Texas, set an appointment to visit the Oswalds and their dogs at the family vineyard to view the conditions in which your puppy is brought up.
Oswald Vineyard Details
2. Back Road Soul Puppies
Back Road Soul Puppies is next on our list of the top Corgipoo breeders in the United States. They're located in Iowa, and your puppy will be raised in luxury. The kennel team has a two-story, heated facility where puppies are born and where they will spend their first weeks.
Dog mamas are housed in the upstairs level, and when puppies are born, they're moved downstairs when they're ready. There, they'll have access to food, water, and a doggy door that allows them to run, play, and learn outdoors. Dogs are thoroughly vet-checked, vaccinated, dewormed, and well-socialized during their stay at Back Road Soul Puppies.
If you don't live in Iowa, you can contact the breeder about air shipment of your dog – the shipping rate begins at $350 and is in addition to the adoption fee. To find an available Corgipoo, you'll search for your breed and select the dog you're interested in. In most cases, you'll be required to place a $300 deposit, and in most cases, you can expect to pay a total of $2,500 to $3,000 for your dog.
The balance is due three days before you pick up your dog. Unique to this breeder is that they provide references directly on their site. Feel free to call any of the adoptive families listed on the Back Road Soul Puppies website to learn more about others' experiences adopting dogs from this kennel.
Back Road Soul Puppies Details
3. STR Just Doodle It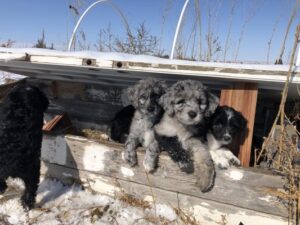 STR Just Doodle It is a breeder of Aussiedoodles and Corgipoos based in Colorado. This family-run business is home to a family with six children, so you can be certain your puppy will have plenty of playmates in their formative weeks.
Once you place a deposit, you can set an appointment to visit the farm and see the conditions under which your puppy was raised. If you don't live near Colorado, you can arrange for air shipping for your dog.
This will cost between $450 and $600 and includes everything from crate to flight. The travel fee is added to the adoption fee, including vet records, microchipping, and a two-year health guarantee. Breeding rights are available for an additional fee for some dogs.
On occasion, STR Just Doodle It offers adult dogs and trained puppies. This might be a good option if you don't think the new puppy stage fits your lifestyle. Check the available dogs on the website or contact the breeders for more information about upcoming dogs.
STR Just Doodle It Details
4. Greenfield Puppies
Greenfield Puppies is next on our list of the top Corgipoo breeders in the United States. This kennel does not specialize in Corgipoos but offers a variety of purebred and designer small dog breeds. You can search for your next pet simply by selecting "Corgipoos" from the list of available breeds.
Most puppies are located in Pennsylvania, where Greenfield Puppies is based. However, the team will help you arrange the shipment of puppies if the kennel is not convenient for you. Once you find a puppy you like at a price point that works for you, contact the kennel to learn how to make this happen.
Puppies will vary in price depending on the breeder. You can expect to pay anywhere between $300 and over $1,000 for your dog. This, as well as pedigree and health information, is listed under your puppy's biography, which is found when you click through the pet's picture.
Your dog will be nose-to-tail vet-checked and current on all age-appropriate vaccinations and wormers. It's important to note that the Greenfield team may have visited not all breeders recently. If possible, visit your breeder in person or conduct a video interview to view the conditions of the breeder's location before you exchange money.
Greenfield Puppies Details
5. Shady Oak Doodles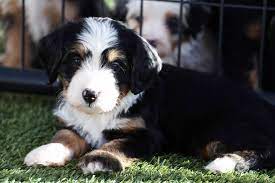 Shady Oak Doodles is a breeder specializing in Bernedoodles, Aussiedoodles, and Corgipoos. They're located in California and offer delivery to other parts of the United States. Contact the kennel before placing a deposit to determine whether this is an option for you.
A flight nanny is enlisted to travel in the cabin with your puppy – dogs are never shipped cargo. You'll need to fill out an application before you're permitted to place a deposit on a dog. Let the Shady Oak Doodles team know about your puppy preferences and your experience with dogs.
They'll also ask about your home and your family members so that a good match can be made. You'll receive vet records on Gotcha Day, and your dog will receive a one-year health guarantee against genetic defects.
The price of your puppy will vary based on its characteristics but note that this kennel's adoption fees are significantly higher than others on our list of the top Corgipoo breeders. A deposit is required, which will be deducted from the total cost of your dog.
Shady Oak Doodles Details
6. Lancaster Puppies
Lancaster Puppies is an east coast organization that facilitates matches between humans, Corgipoos, and other breeds. They offer the opportunity for reputable breeders to list puppies for sale, so you must remain in communication with your breeder.
When possible, visit the location before exchanging money or arrange a Zoom or video conferencing chat with your breeder. To find a puppy on Lancaster Puppies, you'll search by breed.
Once you find a Corgipoo you adore, click on its picture to read more information about the puppy, the breeder, and its policies. The deposit amount, if any, will be given, and the breeder's contact information will also be listed.
Not all breeders will offer to ship, so you may have to find a Corgipoo close to you. You can contact Lancaster Puppies; the team can provide information about flight nannies and other transport services that will help bring your puppy home to you.
All puppies sold in Pennsylvania come with a 30-day health guarantee by law. You'll need to speak with the breeder directly about breeding rights and additional guarantees. Be certain you receive a copy of your dog's vet records.
Lancaster Puppies Details
7. Mountain High Doodles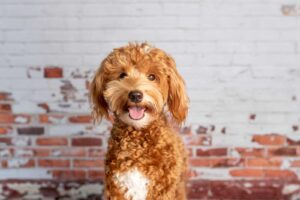 Next on our list of the top breeders of Corgi doodle puppies in the United States is Mountain High Doodles. Mountain High Doodles is run by a retired couple "living the dream" of owning horses and breeding quality, healthy dogs. They're located in Virginia and may be able to offer shipping or delivery options, particularly if you live within a relatively close radius.
The price of your Corgipoo will vary based on color, sex, and other characteristics. Mountain High Doodles is selective in the families they choose to adopt their babies, so you'll be asked to "interview" with the team before placing a deposit. You can be sure that your Corgipoo will be raised with plenty of opportunities to learn and explore the family property before joining your household.
Information about available puppies is posted on the Mountain High Doodles Facebook page. You can contact the kennel or access photos of past puppies and litters from that site. Your dog will come to you current on vaccinations, wormers, and vet checks. Ask the kennel team for information about breeding rights for your dog.
Mountain High Doodles Details
8. Infinity Pups
Infinity Pups is the last Corgipoo breeder on our list. They're a family-owned kennel that breeds their litter, but they also act as a broker, connecting responsible breeders with families wishing to adopt healthy puppies from reputable sources. The final decision is whether you'd like to connect with a breeder.
Visit in person, if possible, and ask plenty of questions. Get to know your breeder before you exchange money. You'll need to use the search bar to find your dog on Infinity Pups. Type in "Corgipoo," and you'll be given a list of puppies available for adoption.
Click the picture of the dog you're interested in, and you'll be given further information. The price of the dog, the breeder's contact info, the shipping options, and health guarantee information will be outlined for you.
Contact the breeder for full details of your dog's veterinary visits and information about breeding rights. If you're local to the breeder, schedule a meet-and-greet with your dog, and discuss travel arrangements with the kennel before you place a deposit.
Infinity Pups Details
Frequently Asked Questions
If you're considering adding a Corgipoo to your family, you'l need to learn more about the dog breed. Here are some of the most frequently asked questions that have been posed by our We Love Doodles readers.
Is the Corgipoo hypoallergenic?
No dog is completely hypoallergenic, but because of his Poodle bloodlines, the Corgipoo is as close as it gets! Those who suffer from allergies may find that their Corgipoo will not "set off" their allergies like some other breeds well.
In many instances, a breeder will help you conduct an allergy test prior to purchasing a dog. You'll send a t-shirt or other item to the breeder, who will expose the material to a dog. The item will be shipped back to you to help you determine whether you have an allergic reaction. This is usually offered for an additional fee.
Is the Corgipoo a good family dog?
Yes! Corgipoos make excellent family pets. They're extremely smart and trainable, and they tend to be gentle with children and with seniors. Your pup will love the company of his human companions and you may find that he or she has imprinted on a member of your family.
If you're the lucky recipient of your pup's attention, you'll find that your Corgipoo will follow you around everywhere! This usually happens when you're the one to walk, feed, and give attention to your dog. By dividing the pet care responsibilities, your pup will likely give you just a little more space.
Does a Corigipoo shed?
Corgipoos are extremely low-shedding dogs. While you may find the occasional hair on your black shirt or your furniture, you won't need to vacuum daily or use a lint roller each morning like you would with other dog breeds.
Keep in mind, however, that frequently grooming your Corgi doodle will be necessary. Their hair is prone to matting and tangles, which can get a bit out of hand if you don't mitigate them early. Use a quality shampoo and conditioner to keep your dog's tangles in check, and bring him to the groomer regularly for other maintenance.
Conclusion For "Corgipoo Puppies in the United States"
Corgipoos are the sweet, smart offspring of Poodles and Corgis. They're highly trainable, and while they're energetic dogs, their smaller size makes them suitable for indoor living.
American families wishing to bring a Corgipoo into their home will love our list of the top Corgipoo breeders in the United States. These breeders are responsible and will care for the health and well-being of your dog in the critical weeks leading up to adoption.
For more guides similar to this list of breeders with Corgipoo puppies in the United States for sale, you can check out these other dog breeder recommendations from our team:
Before you introduce a Corgipoo companion into your home in the United States, you can learn more about this dog breed by watching the "Corgipoo Dog Breed Information – The Powerhouse of the Poodle Mix World" down below: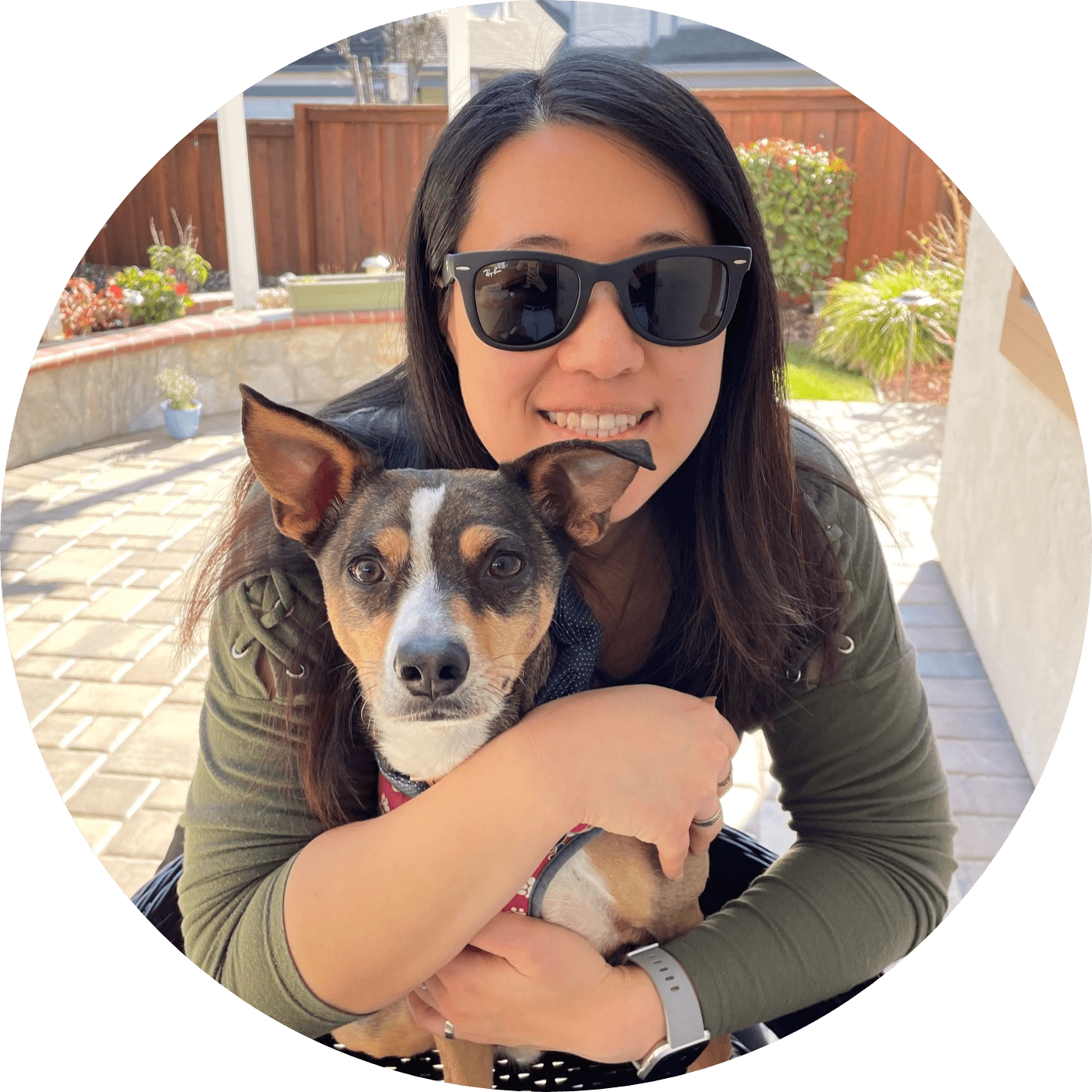 Dr. Sabrina Kong graduated from the Royal Veterinary College in England in 2016 and has been working at a small animal clinic in Northern California since then. She grew up in the Bay Area and got her bachelor's degree from Cal Poly San Luis Obispo. She also became a Certified Canine Rehabilitation Practitioner through a program at the University of Tennessee.
When she isn't in the clinic taking care of her four-legged patients, she enjoys traveling and trying new foods with her friends and her three-legged dog, Apollo. She adopted Apollo from her clinic when he was a puppy with numerous health issues. Dr. Kong truly cares about taking care of animals.