What exactly is a Golden Whoodle? If you're curious about this breed, here's what you need to know. Perhaps more than any other type of Doodle, the Goldendoodle is one of the most celebrated. Likewise, the Whoodle wins high marks from Doodle's parents thanks to its behavior and playfulness.
The most natural thing to do would be to breed these two standout Doodle types, which led to the Golden Whoodle. So, what is a Golden Whoodle? The Golden Whoodle is a Doodle breed with the Goldendoodle and Whoodle as its parents. Golden Whoodles combine traits indicative of their parent breeds, but there are many variations in color and appearance.
Most Golden Whoodles are gold-colored, but not always. The Doodle industry is always evolving, with new crossbreeds emerging each year. With this in mind, some Doodle breeds get lost, and the Whoodle is one of those mysterious hybrids. This guide will dive deeply into all there is to know about the elusive and lovable Golden Whoodle.
Before you scroll down this Golden Whoodle guide, you can check out these other Doodle breeds covered by our team at We Love Doodles: What is the Best Doodle Breed and Best Large Doodle Breeds.
An Overview of the Golden Whoodle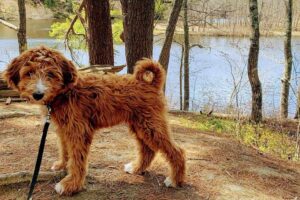 The Golden Whoodle combines the best traits of Goldendoodle and the Whoodle. Both dog breeds display copious amounts of affection, feisty energy, intelligence, and highly adaptive social skills. Golden Whoodles are typically gold-colored, which is where they get their name. But sometimes, the color can range from light brown to cream-colored.
It can sometimes be hard to tell a Whoodle apart from a Goldendoodle or a Whoodle; they all look very similar. But Golden Whoodles tend to take on the facial features of the Whoodle, while their size and coat tend to come from the Goldendoodle. Let's take a closer look at their parents to better understand what a Golden Whoodle is and how they act.
Goldendoodle Traits
Next to the Cavapoo, the Goldendoodle is one of the signature crossbreeds in the ever-expanding Doodle industry. Goldendoodles range in size from 56 to 66 centimeters for females and males, respectively. Goldendoodles are one of the larger crossbreeds in the Doodle industry, but this can be reduced if a Poodle parent is miniature. Goldendoodles are friendly, incredibly gentle, well-behaved, and highly energetic well into their senior years.
In terms of appearance, the Goldendoodle is almost always gold-colored, a direct inheritance from its Golden retriever parent. Goldendoodles are also well-known for being excellent around other dogs and cats. This crossbreed Doodle is also very calm during the quiet time but can easily become rambunctious if its owner wishes to play.
Learn More About Goldendoodles: Apricot vs. Red Goldendoodle and What Makes an Ugly Goldendoodle?
Whoodle Traits
The Whoodle is an energetic hybrid between a Poodle and a Soft-Coated Wheaten Terrier. Whoodles are known for their lovable temperament, cute, playful eyes, and mannerisms. They also have large paws that they love to drape around their owners for lick and kisses. The Whoodle inherits a Poodle's curly coat, which makes their coat hypoallergenic and easy to maintain.
Their natural intelligence and lovable demeanor were some of the first Whoodle breeder's original intentions in mid-twentieth century America. A Whoodle is typically between 15 to 20 inches in height but can be smaller if the original Poodle parent was a miniature.
The Whoodle is full of energy but can adapt to its owner's overall lifestyle. The Whoodle's most well-known personality trait is its affectionate demeanor. Whoodles are sweet, generally not easily aggravated, and love to be near their owners as much as possible.
Related: Friendliest Dog Breeds with Images.
Golden Whoodle Appearance and Behavior
The Golden Whoodle favors both of its parents, but you will likely notice that its face strongly resembles its Whoodle parent. A Golden Whoodle's snout is a bit longer than a Goldendoodle which tends to have a shorter and more compact snout.
A Golden Whoodle's coat is hypoallergenic, thanks to the strong Poodle lineage from both dog parents. This crossbreed's coat will be equal parts wavy with straight ends around the paws and along the ears. Whoodles are very friendly and loving Doodle types.
Related: Dog Breeds That Look Like Fried Chicken.
Golden Whoodle Appearance
One of the biggest points of confusion with the Golden Whoodle is its coat color. Some say that a Golden Whoodle will most commonly resemble the coat color of the Whoodle parent, but gold-colored is most likely more common since this crossbreed derives its name from this color.
But the same thing also applies to Goldendoodles in terms of color. The term Golden caught on since Golden retrievers are almost always gold-colored. But multiple colors are possible, and the same applies to the Whoodle.
A Golden Whoodle's coat will need special care, a requirement of most Doodle crossbreeders. Make sure you brush and dematt your Whoodle's coat daily, and take your dog to a groomer every two months.
Related: Can Goldendoodles Be Black?
Golden Whoodle Behavior
The Goldendoodle and Whoodle are nearly evenly-tied in terms of energy and playfulness. A Golden Whoodle will likely maintain an even amount of energy and playfulness. A Golden Whoodle benefits from plenty of activity and exercises each day.
Whoodles tend to require a bit more activity and energy release than a versatile Goldendoodle, which can gear its life around the activity levels of its owner. It is unclear which traits a Whoodle tends to inherit, so it could truly be either of them.
Training a Golden Whoodle can also be the flip of a coin. Whoodles are sometimes a bit harder to mold regarding required responses and activities. In comparison, a Goldendoodle is fairly easy to train across the board. Therefore, a Golden Whoodle could display either of these traits but are mostly easy to train, which is standard for all Doodles.
Related: How to Stop a Goldendoodle From Biting.
How to Care For a Golden Whoodle
Whoodles do not inherit many health concerns, thanks to the overall good health that comes with a Goldendoodle and Whoodle. Whoodles are prone to allergy flare-ups, so this is something to be on the lookout for during the spring and perhaps early autumn.
Goldendoodle and the Whoodle are also prone to various eye issues throughout their lives, compounding to a probable degree in the Golden Whoodle. Hip dysplasia is also a concern in both dog parents of the Whoodle, whether it's Golden-colored or not. So this is certainly something to watch for once a Golden Whoodle enters its senior years.
Golden Whoodles typically live between 12 to 15 years if well cared for. Golden Whoodles are hypoallergenic, so shedding is generally not a concern. Always make sure to keep a Whoodle's Golden coat clean and dematted. If your Whoodle needs more attention and exercise than you planned, this is most likely a strongly inherited trait from its Whoodle parent.
Related: Best Puppy Potty Training Sprays.
Conclusion For "What Is a Golden Whoodle"
Golden Whoodles are sometimes hard-to-find. But this crossbreed is highly affectionate, possesses the attractive traits of both the Goldendoodle and Whoodle, and is well-behaved. Whoodles look more like them, which is a detail to remember. We hope this guide has helped bring more attention to this lovely, sometimes overlooked, Doodle crossbreed.
For more information and guides related to the Golden Whoodle, you can check out:
You can learn more about the Golden Whoodle by watching the "Whoodle Dog Breed Information" down below: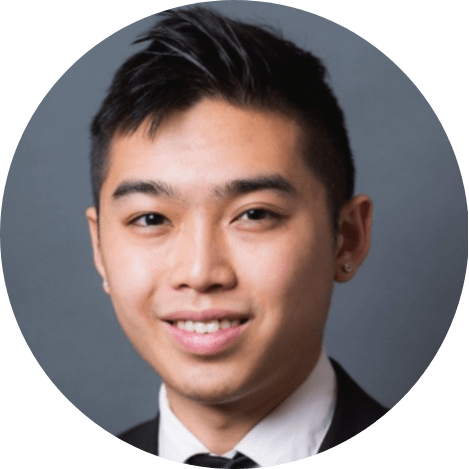 Andy is a full-time animal rescuer and owner of a toy doodle. When he's not saving dogs, Andy is one of our core writers and editors. He has been writing about dogs for over a decade. Andy joined our team because he believes that words are powerful tools that can change a dog's life for the better.
Why Trust We Love Doodles?
At We Love Doodles, we're a team of writers, veterinarians, and puppy trainers that love dogs. Our team of qualified experts researches and provides reliable information on a wide range of dog topics. Our reviews are based on customer feedback, hands-on testing, and in-depth analysis. We are fully transparent and honest to our community of dog owners and future owners.