This guide will teach you the differences between a Whoodle vs. Goldendoodle. If you're familiar with the Doodle breed of dogs, then you likely know that there are more and more Doodle choices. Pretty much every Doodle ever bred has been a great animal. Originally, we had the labradoodle and then the Goldendoodle.
They were the originals. Of course, now there are many different choices, including the Whoodle. So, what is the difference between the Goldendoodle and the Whoodle? We've got you covered with all of the details that you need. Take a look at this guide for Whoodle vs. Goldendoodle.
Before scrolling down this dog breed comparison guide between the Whoodle vs. Goldendoodle, you can check out these other similar content from our team at We Love Doodles: Sheepadoodle vs. Goldendoodle Dog Breed Comparison and Goldendoodle vs. Mini Goldendoodle Dog Size Comparison.
Whoodle
The Whoodle is bred from the Poodle and the Wheaten Terrier. These terriers are slightly smaller dogs, and they are incredibly soft. The combination creates the Whoodle, and you end up with a soft and beautiful dog. Whoodles are known to be great farm dogs. They love to run, particularly with that terrier blood in them.
They are also herding dogs, so you may see some of those characteristics if you bring one into your family. With that in mind, you will find that Whoodles are still very smart while also being silly and playful. Whoodles make great companion dogs and do well where they can run and play and be silly. They are certainly tricksters; you will see that in their personalities quite a bit.
Size, Color, and Coat
The Whoodle is quite a bit smaller than a Goldendoodle. They are close to only half the size of a Goldendoodle by comparison. Whoodles will grow to somewhere between 11-20 inches in height, and their weight will be in the 30–45-pound range. They are small to medium dogs, whereas the Goldendoodle is medium to large.
You will find Whoodles in different colors. It's possible even to find some dual-colored coats. You will find the most common colors: brown, grey, black, red, or cream. However, that doesn't mean there aren't other color combinations. While calling this dog the Whoodle, some people refer to them as Wheatenpoo.
Just like the Goldendoodle, they are hypoallergenic dogs with minimal shedding. They have long, beautiful coats. Their hair tends to be less curly and wavier. It's a medium length, and it's o so silky. This might be one of the softest dogs you ever get to pet. Wheaten Terriers are known for their very soft coats and share this trait in the hybrid Whoodle.
Related: Are Whoodles Hypoallergenic?
Temperaments
The Whoodle is an affectionate dog. They are happy to do pretty much all the time. They are also very brave and very curious. They love to explore and play. You will find that they are social and sweet, but they also have some herding natures in them.
This means they can be protective and territorial because it's just part of their nature. Overall, you will find Whoodles to be playful and sweet. They are silly and fun, and they love to run and play. They are great for new pet owners, multiple pet homes, and kids.
Training & Exercise
Whoodles are very easy to train. They learn quickly, and they aim to please. They are outgoing and brave, so you can get them to cooperate with any of your crazy plans. Your Whoodle will be your best adventure buddy if given a proper chance.
These dogs are very active, which is the detail you need to ensure you are prepared for. They love to run and play. They do best in homes where they can go outside and play. If you have land or other outdoor animals, this is ideal for the Whoodle.
That being said, they can still be happy without lunch. Just be sure to give your Whoodle plenty of attention and exercise time. Plan on letting a Whoodle spend at least 90 minutes of daily physical activity. If you like to run or walk, take your dog with you. It's a great way to burn some energy.
Life & Health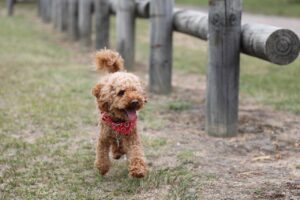 Whoodles are overall healthy dogs. You can make sure yours is genetically tested for known issues. Most reliable breeders will have testing completed anyways. Being small dogs, they are much healthier than many other small breeds. However, there are some potential health concerns to be aware of.
Where many Doodles tend to suffer from different types of dysplasia, that won't be as much of an issue here. You are more likely to deal with things like eye infections, dental problems, and maybe kidney problems. Proactive health and a good diet will benefit any of these things.
A Whoodle has an average lifespan of about 12 years. Proper grooming will be beneficial to avoiding health challenges as well. While they are not heavy shedders, you still need to plan to brush them. It's recommended that you brush at least twice a week. This is because they have long hair, which could easily become tangled or matted.
Related: What is a Doodle Dog?
Goldendoodles
Just like the Whoodle, a Goldendoodle is also a hybrid dog. Goldendoodles were one of the original Doodle hybrids. They come from the mixture of a Poodle and a Golden Retriever. Their sizes can vary since there are different sizes of Poodles, but standard Goldendoodles are large dogs.
You will find that there are mini and toy Goldendoodles out there as well. The Goldendoodle is a designer breed. They are gorgeous dogs, and they have some awesome personalities as well. This breed has been around since about 1990. Despite their long, luscious locks, they are popular Doodle breeds because they tend to be easygoing and hypoallergenic.
Related: Toy Goldendoodle Puppies For Sale in the United States.
Size, Color, & Coat
The Goldendoodle is about twice the size of a standard Whoodle. Most Goldendoodles will grow to be about 24 inches tall. Their weight can range quite a bit since there are different size categories. However, a standard Goldendoodle will weigh about 50-90 pounds. Considering all sizes, you will find that they can range from 15-90 pounds, which is quite a range.
Knowing the size of the parents used for breeding will help you know how large your Goldendoodle might be. They tend to be similar in size to their parents. Also, knowing whether you are getting a standard Goldendoodle or another size could be beneficial. The colors of the coats can vary quite a bit as well.
There are several different colors for Poodles. While the Golden Retriever is almost always golden brown, the Poodle could be any color. Gold, black, yellow, cream, or red are the most common Goldendoodle colors. You might also find some Goldendoodles with dual-colored coats, which are just as pretty.
The texture of their coat can also vary. You might have a combination of long, wavy, and curly. Their coats are harder to predict, but you usually get a long coat with curl or wave. The grooming practices will be important. Goldendoodles are also hypoallergenic dogs, a great quality that makes them popular.
Related: Standard Goldendoodle Information, Facts, and Images.
Temperaments
Goldendoodles are the more easygoing breed when compared to Whoodles. They don't need as much activity. They also aren't typically territorial, although they will protect their loved ones. They are loving and affectionate and will truly follow you to the ends of the earth if you let them.
Goldendoodles are also very social. They love to play and interact, and they will make friends with just about anyone. This includes kiddos, adults, and any other animals too. They are friendly and social. They are loyal and affectionate. They make wonderful companions.
With that in mind, they are so intelligent that they need mental stimulation. They are most likely to get in trouble when they have time to get bored. Find dog toys that puzzle or challenge them, and make sure you change what they regularly do so they don't get overly bored.
Training & Exercise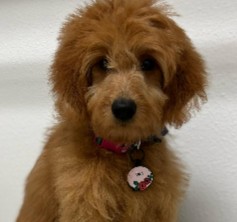 Your Goldendoodle will be very easy to train. They are very intelligent dogs and want you always to be happy with them. This makes them pretty easy to train overall. Both the Whoodle and the Goldendoodle are easy to train. However, Whoodles sometimes have a stubborn streak, which might make the Goldendoodle slightly easier to train.
At the same time, Goldendoodles can be independent, and sometimes you see that in training. Regarding training, it's best to take a positive reinforcement approach. They don't like anger or yelling. It scares them, so they tend to act out more because they are frightened. Both sides will end up frustrated, and no training will occur.
They respond well to cheering and happiness, so use that direction for training. As far as exercise, the Goldendoodle is a pretty active dog. They need devoted attention time, and they will need physical activity. You should plan on about 60-90 minutes of physical activity. This can be time spent walking, playing, or hanging out outside. They can play in the yard by themselves and will play and have fun.
Related: How to Train a Goldendoodle.
Life & Health
Goldendoodles are overall healthy dogs as well. They do have some of the common Doodle ailments that people worry about. If you are mindful of this when choosing your Doodle, it can help. Being proactive with their health and care will also make a major difference. Goldendoodles typically live an average of about 12 years.
This can vary, but they will live long lives with proper care and health. Many of their health ailments are treatable by simply being aware. For example, Goldendoodles can have skin diseases and allergies. It would be best if you were mindful not to bathe them over as this could irritate their skin. When bathed, use shampoos that won't irritate their skin. Having the right diet can also make a difference in their skin.
The other most common health concerns are hip dysplasia and eye problems. Goldendoodles tend to be susceptible to both of these issues. Regarding grooming, plan to brush your Goldendoodle every day or two. They are hypoallergenic, but their hair is long and probably curly, so you must take care of the coat to prevent tangles and matting.
Related: Mini Goldendoodle Life Span Guide.
Conclusion For "Whoodle vs. Goldendoodle"
When comparing a Whoodle vs. Goldendoodle, they are incredibly different dog breeds. While they have some similarities, they are not nearly comparable to some of the other Doodle breeds. Whoodles are smaller and tend to be more energetic and protective. Goldendoodles are large dogs but very easygoing and extremely loyal to their owners.
Both breeds are very smart and pretty easy to train. The biggest differences are the slight alterations in personality and their activity needs. That being said, both the Whoodle and the Goldendoodle are awesome breeds with a lot to offer to families.
If you find this dog breed comparison guide, "Whoodle vs. Goldendoodle," you can check out these other articles from our team at We Love Doodles:
There are many differences between a Whoodle vs. Goldendoodle, but did you know – there are many other Poodle mixes you can check out? You can learn more about these Poodle mixes by watching "15 Poodle Mix Breeds That Will Melt Your  Heart" down below: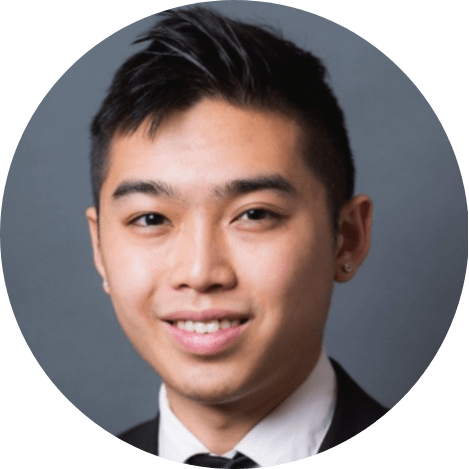 Andy is a full-time animal rescuer and owner of a toy doodle. When he's not saving dogs, Andy is one of our core writers and editors. He has been writing about dogs for over a decade. Andy joined our team because he believes that words are powerful tools that can change a dog's life for the better.
Why Trust We Love Doodles?
At We Love Doodles, we're a team of writers, veterinarians, and puppy trainers that love dogs. Our team of qualified experts researches and provides reliable information on a wide range of dog topics. Our reviews are based on customer feedback, hands-on testing, and in-depth analysis. We are fully transparent and honest to our community of dog owners and future owners.