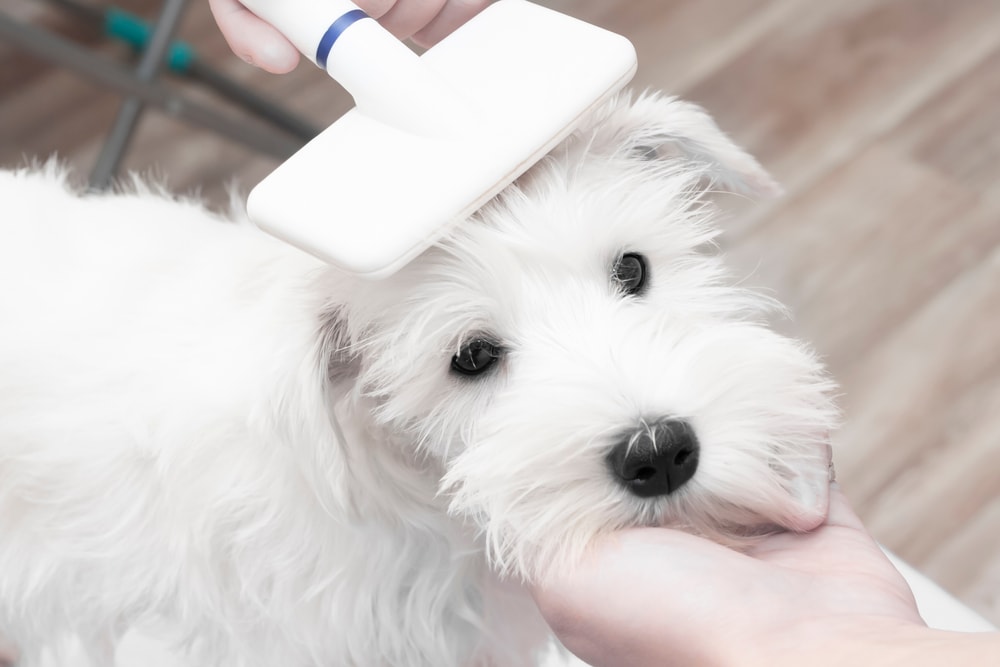 A slicker brush for dogs is one of the most common brushes to use to ensure that your dog is groomed sufficiently at all times. This type of brush is usually rectangular in shape, although a few feature a more circular shape. 
The bristles are commonly made from fine metal wire with small gaps between each one. These bristles will be quite short, although some of the bristles might be longer than others to reach the deeper layers of fur. 
Slicker brushes tend to be most commonly used on dogs with medium to long-haired dogs to prevent any tangles from turning into matted hair. Matted hair can cause a lot of discomfort to your pooch and even lead to nasty infections. 
This type of brush can reach right to the skin and find any tangles that another brush might miss. The flexible handle also makes it easier for you to use while grooming your dog so that you don't get bad hand cramps. 
Slicker brushes are used on a great variety of dogs, such as Doodles, Cocker Spaniels, Golden Retrievers, Yorkshire Terriers, St. Bernards, and many more. Long-haired dogs are more susceptible to matted hair and therefore can benefit the most from a slicker brush. 
Not every owner likes to use slicker brushes on their dogs as they think that they'll hurt the dog. However, as long as you're gentle and groom them slowly, you shouldn't harm them. Untreated matted hair can leave your dog in more pain than a slicker brush could. 
The slicker brush we recommend:
What is the difference between a slicker brush and a pin brush?
We've just described a slicker brush above, but what is a pin brush and how does it differ from the former type? Pin brushes are commonly used as well, and they'll have an oval shape with lots of flexible bristles dotted all over the brush head. 
These bristles will also be made from metal wire, although they will have plastic caps on top of them to prevent the wire from harming your dog's skin. The exposed wire might scratch their skin if too much pressure is applied to the brush. 
While the plastic pins seem to be a good idea for a dog brush, they actually make a pin brush much less effective than a slicker brush. They might pick some hair up from your dog's coat, but they will also leave lots of it behind.
They might also loosen the hair up without picking it up, leaving lots of loose hair on your dog ready to be dropped all over your home and furniture. 
Slicker brushes have much more compact bristles that will pick up more hair and wick it all away from your dog's coat.
Slicker brushes are better used before the grooming process to get all of the old hair away from the coat, while a pin brush should be used after the grooming is finished to leave the coat looking shiny and finished. 
Related Article: Best Brush for Long Hair Dog and Best Slicker Brush for Dogs
What should I look for in a slicker brush?
When looking for your perfect slicker brush, you should consider a number of things before committing to the purchase of one. Below we have listed a number of things that you should look for with your new slicker brush. 
1. The bristles
The bristles of your slicker brush are incredibly important, so you should focus on these before purchasing one brush. For starters, the wire needs to be durable and flexible so that it can work its way through your dog's coat without scratching them. 
Make sure that these bristles are also close together so that they can find as many tangles as possible. Using a slicker brush with bristles too far apart will mean that more matts will pass by undetected and possibly cause more discomfort to your pooch.
High-quality slicker bristles should also be angled so that they don't poke your dog when the brush is reintroduced to their skin time and time again. The best slicker brushes will have angled bristles, so look for these when choosing the best option for you. 
2. Size
Slicker brushes are used for dogs with long to medium coats, but these can be both small and large dogs. If you try to brush a large dog with a small brush, you'll have to spend much longer on the task than if you were to have opted for the right size of brush. 
Likewise, trying to brush a small dog with a large brush might cause you to miss those hard-to-reach areas such as behind the ears and over their legs. Depending on the size of your dog, get the right size of brush because it will make grooming easier.
3. Brush head shape
We mentioned earlier that some slicker brushes come with a rectangular brush head while others come with an oval alternative. The former can be used all over the body to create an even brush, while the latter sometimes works better to fit the contours of your dog's body and face. 
When searching the market, you'll most likely see lots of rectangular brushes and not many oval ones. However, the option you go for will depend on your personal preference and whichever you find works the best. 
Related Article: Best Brush for a Goldendoodle
When should you not use a slicker brush?
You shouldn't use a slicker brush on dogs with shorter hair because the wire bristles can easily be pushed too far into the skin and irritate it. The wire bristles of a slicker brush are short and designed to be stopped by the thick amount of hair on your dog's skin, preventing the wire bristles from being pushed too deeply into the skin. 
So, while a slicker brush is excellent for long and medium-haired dogs, they are not designed for those with short hair. The lack of cushioning will make it very easy for you to be able to scratch your dog's skin while brushing them.
Plus, short-haired dogs don't tend to get tangles or matted fur, so a slicker brush would be rather redundant to use on them. 
Other articles you would like:
Garrett loves animals and is a huge advocate for all Doodle dog breeds. He owns his own Goldendoodle named Kona. In addition, he volunteers at the Humane Society of Silicon Valley, where he fosters dogs and helps animals. Garrett enjoys writing about Doodles and believes that dogs can teach humans more about how to live than humans can teach a dog.
Why Trust We Love Doodles?
At We Love Doodles, we're a team of writers, veterinarians, and puppy trainers that love dogs. Our team of qualified experts researches and provides reliable information on a wide range of dog topics. Our reviews are based on customer feedback, hands-on testing, and in-depth analysis. We are fully transparent and honest to our community of dog owners and future owners.