Genetics play a massive role in how much Yorkie Poos shed, which means that shedding can vary from dog to dog.
Poodle mixes have been steadily growing in popularity in recent years. This spike is primarily due to their hypoallergenic hair types. However, many of these mixed Poodle breeds are fantastic family pets due to their friendly and playful nature.
Similarly, the Yorkie Poo owes its popularity boost mainly to its low-shedding or non-shedding nature. Let's take a deeper look into the shedding patterns of the Yorkie Poo and what factors come into play.
Before scrolling down this guide "Do Yorkie Poos Shed," check out: Are Yorkie Poos Hypoallergenic? (2023) and How Long Do Yorkie Poos Live? (2023).
What Is a Yorkie Poo?
First, you may be wondering what the Yorkie Poo mixed breed is. The Yorkie Poo is a mix between a Poodle and a Yorkshire Terrier. Because of its Poodle genes, the Yorkie Poo tends to be a very low-shedding or "hypoallergenic" dog breed.
These tiny cuties are great to have for family pets, especially if you or someone in the house is prone to animal allergies. Yorkie Poo, and other Poodle mixes, are not high allergy-inducing pets because they have hair similar to ours, which means they do not shed the same way dogs with fur do. Instead, the Yorkie Poo's coat grows at a consistent rate all year long.
So, Do Yorkie Poos Shed?
Technically, yes. However, the amount in which your Yorkie Poo sheds will mostly depend on its genetic makeup. A Yorkie Poo that inherits more Poodle genes will shed hair significantly less than one that inherits more Yorkshire Terrier genes.
Additionally, since the Yorkie Poo does not have fur, its hair grows consistently all year round. Some Yorkie Poos will shed more frequently during the warm months. Seasonal shedding can also vary from dog to dog, depending on the genetic makeup. You'll likely see the most discarded hair and skin cells for your Yorkie Poo come out while grooming, which you can have done professionally.
What Does Hypoallergenic Mean?
Hypoallergenic is a term used to describe products such as cosmetics, clothes, and other materials that do not trigger allergic reactions in those with allergies. People have recently adopted to describe specially bred pets, as well.
Allergies with pets come from the dander inside their dead skin cells or saliva. As such, no pet can be truly hypoallergenic. However, several Poodle mixed breeds shed significantly less than dogs that are not considered hypoallergenic, which makes them fantastic additions to homes with pet dander allergies.
Are Yorkie Poos Considered Hypoallergenic?
Yes, Yorkie Poos are hypoallergenic. Thanks to the Poodle genes mixed into the gene pool, Yorkie Poos are considered low-shedding or non-shedding dogs. The specific mixture of genes varies from dog to dog, so your pup may shed more or less than other Yorkie Poos.
The Yorkie Poo's low-shedding ability is due to the curly nature of the Poodle genes. Most discarded hair and skin cells will get matted within your dog's coat. Yorkie Poos, and other Poodle mixes, require maintaining a regular grooming schedule to prevent excess build-up.
Fortunately, even for those Yorkie Poo pups with more Yorkshire Terrier genes, these pups have hair instead of fur. You may see a few stray hairs around the house, but you should not see any masses or furballs.
Remember that no dog is truly hypoallergenic because proteins found in the dog's saliva can still cause allergic reactions in some people. However, most people with pet dander allergies should experience reduced allergic reactions with dog breeds labeled hypoallergenic, like the Yorkie Poo.
Why Is My Yorkie Poo Shedding?
Many people believe that Yorkie Poos don't shed at all, which could cause alarm should you find that your dog does shed. Remember that every animal sheds its dead cells, including us! However, if you notice that your Yorkie Poo is shedding in excess, you may want to bring your pup in for a check-up.
Pay close attention to your dog's behavior and habits. Several things could cause your pup to shed excessively, such as heat, underlying medical concerns, skin irritations, and stress.
Let's take a closer look at some of these causes.
Temperature
Although some Yorkie Poos don't regularly shed seasonally, the seasons can still influence their shedding habits. For instance, you may notice your pup shedding more in the summer after being in the sun for a long time.
Many animals shed their thick coats for temperature regulations. Dogs are no different. Additionally, seasonal temperature changes can bring forth allergies in dogs just as they can in people.
Be sure to keep up with your dog's regular grooming schedule during the warmer months to avoid overheating, which can cause excess shedding. Additionally, you'll need to keep your dog well-hydrated when playing in the sun for long periods. Dehydration can cause your dog to shed excessively.
Medical Conditions
Another cause for excess shedding could be an underlying health concern. Things like parasites, pregnancy or hormonal changes, and other illnesses like Cushing's disease can cause your dog to shed more during certain times.
Bring your pup to the veterinarian for a check-up at least every six to 12 months to be sure there's no reason for concern. Additionally, watch for any signs of illness like lethargy, vomiting, diarrhea, and lack of appetite. If your dog begins displaying symptoms, it could indicate a significant health concern.
Fleas or Ticks
Fleas and ticks can be another cause of skin irritations and even infections. Fleas and ticks often carry viruses and bacteria, such as Lyme disease. Dogs are sensitive to catching some of these viruses and diseases from fleas and ticks.
Check your dog's coat thoroughly every time you brush to catch any parasites and treat them as quickly as possible. Look for red patches, hard bumps, or tiny bugs in your dog's hair. Bring your dog to a veterinarian to identify the cause and administer treatment.
Skin Irritants or Infections
Dogs can develop allergies to soaps and fragrances just like people can. You should check your dog's skin for rashes or bumps that could indicate an allergic reaction to something. If your dog begins developing rashes or sores on its skin, you should bring them to a veterinarian to ensure there are no underlying causes for the outbreak.
Check for skin irritants regularly in their grooming routine to prevent massive outbreaks of rashes or sores. If you notice your dog biting or scratching at its skin more frequently, you may want to inspect its skin and wash the area with mild soap.
Emotional Distress
Yorkie Poos are sensitive to stressors and emotional disruptions like many small dogs, which means they can experience anxiety. Some dogs grow very attached to their owners, causing distress when left alone.
This stress and anxiety can cause your dog to shed more frequently. Additionally, some dogs can develop bad habits, such as biting their skin or hair. These behaviors can cause skin irritations and open sores, which can cause even more shedding.
Separation anxiety can harm your dog's overall health, not just their shedding habits. You should consult a veterinarian if you notice your dog displaying signs of emotional distress. Some of these signs include:
Random episodes of aggression
Destruction of property
Panting
Drooling
Excessive barking
Lethargy
Pacing
Urinating or defecating inside the home
Chewing or clawing on doors
Chewing or clawing on themselves, or
General restlessness
How to Stop Excess Shedding
There are several ways you can help reduce the amount of shedding from your dog.
You'll want to ensure that your dog is not experiencing any underlying health conditions or skin rashes. Keeping up with your dog's regular veterinarian check-ups is crucial to not only their overall health but also to their shedding habits.
Another effortless way to reduce the amount of excess shedding your dog does is by maintaining a regular grooming schedule. Grooming should include brushing, bathing, and trimming the hair and nails.
Grooming
Yorkie Poos can have thick coats of hair in all textures, including straight, wavy, and curly. Your grooming schedule should be specific to the hair texture your dog has. For instance, if your Yorkie Poo has super curly hair, you should perform daily brushings using a good deshedder and a slicker brush.
Additionally, you should trim your dog's hair regularly, every four to six weeks. You can do this yourself at home or take your dog to a professional dog groomer instead. Professional grooms can consist of bathing, trimming hair, trimming nails, and de-shedding.
If your Yorkie Poo is one with straight hair, you can push the grooming to every six to eight weeks for trims. However, continue brushing your pup daily and de-shed at least once a week to prevent the build-up of dander.
Bathing
Another crucial step involved in reducing the spread of dander is bathing. Including bathing in your dog's grooming routine can drastically cut down the amount of hair and dander your dog sheds.
Bathing your dog every two to four weeks can help remove the excess hair and dander stuck in their coats. Removing the excess dander can prevent skin reactions, itching, and sores, which can cause more shedding. Bathing regularly also provides a fantastic bonding experience for you and your pup.
Although bathing is crucial to prevent dander build-up, be mindful about overbathing. Overbathing can dry out the skin and result in sores or rashes. These irritations can lead to excessive shedding and other health concerns for your Yorkie Poo.
Check for Irritations
Remember to take a moment before bathing to give your Yorkie Poo a little inspection. Carefully comb or brush your dog's hair, checking for bumps, bruises, sores, or other irritations. If you notice any abrasions on your dog's skin, wash their hair with mild soap and bring them to the veterinarian as soon as possible.
Additionally, be mindful of the soaps and shampoos you use to bathe your dog. Dogs can have skin reactions and allergies, just like people do. It's best to stick to shampoos that are all-natural and dog friendly. If your dog's skin reacts to a specific shampoo, you should immediately stop using that brand and rinse the remaining soap out of your dog's coat.
Frequently Asked Questions
How much do Yorkie Poos shed?
Yorkie Poos are one of the least-shedding breeds, so if you're worried, don't be.
Do Yorkie Poos have hair or fur?
Yorkie Poos can have thick coats of hair in different textures like straight, wavy, and curly.
Do Yorkie Poos like to cuddle?
Yorkie Poos are affectionate dogs who enjoy being close to their owners.
Conclusion for "Do Yorkie Poos Shed?"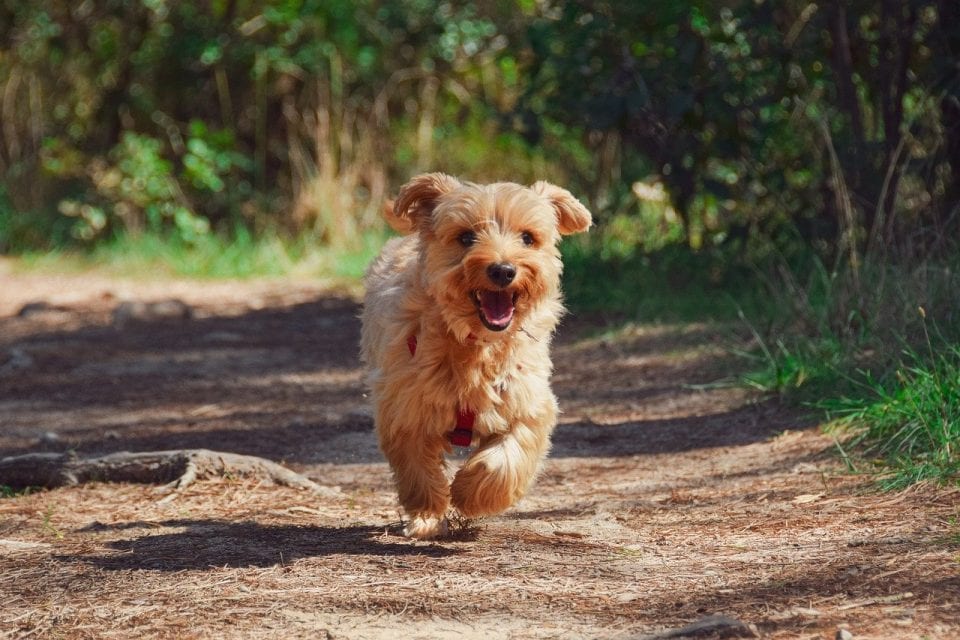 In a word, yes.
However, Yorkie Poos do not shed the same as other dogs. A Yorkie Poo's shedding habit will rely heavily on the individual dog's genetics. Yorkie Poos are adorable, friendly, and loving pups! They are a fantastic choice for a small family dog, especially if your home has anyone with pet allergies.
Pet parents with allergies should try to adopt a dog that has more Poodle genes if they want to avoid excess shedding. Additionally, you'll want to maintain proper grooming schedules for all your dogs to reduce the overall amount of excess dander in your home.
If you find this guide, "Do Yorkie Poos Shed," helpful, check out:
Learn more about this breed by watching "7 Reasons You Should NOT Get A Yorkipoo" down below:
Garrett loves animals and is a huge advocate for all Doodle dog breeds. He owns his own Goldendoodle named Kona. In addition, he volunteers at the Humane Society of Silicon Valley, where he fosters dogs and helps animals. Garrett enjoys writing about Doodles and believes that dogs can teach humans more about how to live than humans can teach a dog.
Why Trust We Love Doodles?
At We Love Doodles, we're a team of writers, veterinarians, and puppy trainers that love dogs. Our team of qualified experts researches and provides reliable information on a wide range of dog topics. Our reviews are based on customer feedback, hands-on testing, and in-depth analysis. We are fully transparent and honest to our community of dog owners and future owners.