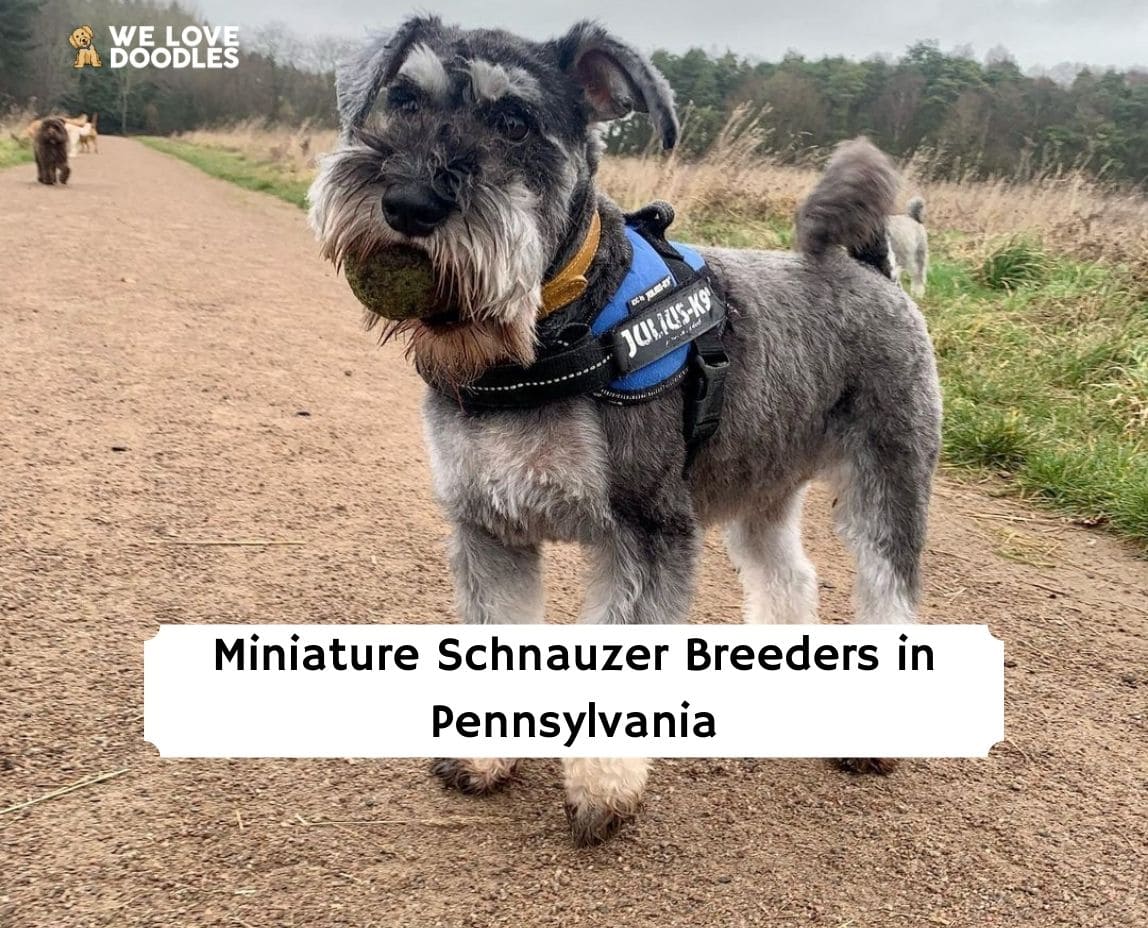 The Miniature Schnauzer dog breed has it all in one tiny package: wit, loyalty, an extroverted temperament, humor, and a personality that's twice as big as its body. Their huge mustaches and boundless enthusiasm will make you laugh every day.
Even when you go to the bathroom, you'll never be alone when you have a Miniature Schnauzer in the house. Nothing is boring about these puppies, whether they're bouncing around ahead of you or curled up on your lap snoozing. Make sure you can keep up with their high energy by exercising them regularly!
Since Mini Schnauzer puppies have become popular Pennsyvlania, you want to find a reputable breeder. When researching dog breeders, we saw tons of puppy mills and websites that looked like scams. Remember to always contact a breeder, ask for references, verify health checks, and request to see the parent puppies before putting down a deposit.
With that being said, here are the best Schnauzer breeders in Pennsylvania that we could find.
Other articles you would like: Vizsla Breeders in Pennsyvlania and Jack Russell Terrier Breeders in Pennsylvania.
Mildenhall's Miniature Schnauzers is an ethical dog breeder that raises exceptional quality puppies. They truly love their dogs and can't wait to share their passion for Miniature Schnauzers. These breeders enjoy every step of the breeding process, from studying pedigrees to raising their puppies and placing them in great homes.
Mildenhall's Miniature Schnauzers prides itself on breeding only healthy and hardy Miniature Schnauzers. Clients are very important to them throughout and after the adoption process. When you buy one of their puppies for sale, they want you to be completely satisfied with it. Adopting a puppy is an exciting experience. You can rely on them to provide your family with a beautiful, top-quality pet.
Mildenhalls Miniature Schnauzers Breeder Details:
2. Whistle Hill Puppies Pennsylvania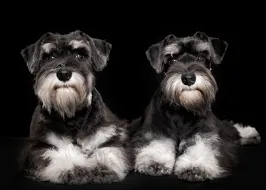 In addition to Miniature Schnauzers, Pomskies, and Cavapoos, Whistle Hill Puppies also breeds Miniature Bernedoodles. Until they become a part of your family, they consider their puppies to be part of their family. They breed only high-quality Mini Schnauzer puppies in Pennsyvlania. As a result, their puppies are healthy, happy, and safe. The American Canine Association recognizes them as a five-star breeder, and it shows in every happy puppy and owner.
Their puppies receive vaccinations, parasite prevention, and parasite control. Each puppy comes with a registration certificate, written health certification from the vet, along with a blanket and six weeks of puppy food. Whether you are looking for a dog for yourself or a family member, Whistle Hill Puppies is here to help!
Whistle Hill Puppies Breeder Details:
3. Shazzam Of Oz Kennels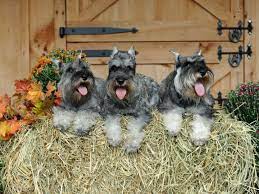 A long time ago in a country very far away, a story began. Tatiana Myers is an artist, a former nurse, a former biologist, and a Russian scientist. She was always passionate about dogs, and they were the main reason she moved to the United States.
She considers Schnauzers to be a part of her family and would not want it any other way. Her husband, Jim, her sister, Irina, and her lovely daughter Veronika all help out at the kennel.
Located in Central Pennsylvania, they breed quality Schnauzers at their home. Besides being members of the American Miniature Schnauzer Club, they are also AKC Breeder of Merit participants. Tatiana has been working with Miniature Schnauzers for over 30 years. Her dogs are bred to meet the AMSC breed standard. In addition to OFA testing, they also perform genetic testing on their dogs in Pennsyvlania.
Shazzam Of Oz Kennels Breeder Details:
4. Wags Life Miniature Schnauzers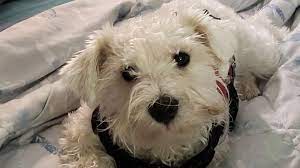 Wags Life is a family-owned and operated Miniature Schnauzer breeder based in Harrisburg, Pennsylvania. Their AKC registered parent dogs are beloved family pets and an important part of their household. They thoroughly enjoy this dog breed with their playfulness and a unique personality that is bigger than they are! There is nothing better than to be greeted at the door by your adoring little fur baby!
They aim to provide a well-rounded, healthy, social puppy that's ready for adoption by a loving family. In the first eight weeks of a puppy's life, he is exposed to a variety of sights and sounds. They will have their tails docked, their dew claws removed, receive their 1st shots and worming, and go through a health check with a veterinarian before they are adopted into new homes. Their Schnauzer puppies for sale in Pennsylvania come in various colors, making it difficult to choose our favorites!
Wags Life Miniature Schnauzers Breeder Details:
5. Gettysburg Miniature Schnauzers Pennsyvlania
Breeders at Gettysburg Miniature Schnauzers breed only health-screened and genetically sound championship dogs. The price of their puppies is higher than you'd pay in a pet store, but that's because they breed selectively.
Females are examined for hereditary eye diseases free of hereditary complications during the previous year, as well as tested for Myotonia Congenita, Brucellosis, and NDR for MAC.
A Miniature Schnauzer puppy may be returned for a refund if a serious genetic issue is discovered within 5 years of purchase.
Before receiving ACK registration certification from the seller, puppies sold as pets must be spayed/neutered within one year of purchase.
Your mini Schnauzer puppy for sale in Pennsyvlania will receive their first two puppy vaccinations. Within two to three weeks, you should take your new puppies to your veterinarian for their next puppy shots or vaccinations that your vet may recommend.
Gettysburg Miniature Schnauzers Breeder Details:
Miniature Schnauzer Puppies in Pennsylvania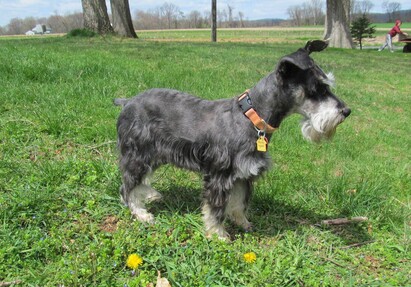 A Miniature Schnauzer is a sociable, playful dog inside the house. They will play with toys and follow you around the house. Even though he loves playing in the yard, he will do fine without one if he gets a long walk every day. Remember, a tired Miniature Schnauzer is a good puppy!
Keeping your Schnauzer in a crate prevents your puppy from having accidents in the house or getting into things he shouldn't. He can also rest in his crate. Your Miniature Schnauzer will be more likely to accept confinement if he is boarded or hospitalized if he is crate trained at a young age.
However, you should never confine your dog to a crate all day. Unless it is sleeping at night, they shouldn't spend more than a few hours at a time in the crate.
How to Choose a Miniature Schnauzer breeder in Pennsylvania?
Buying from a breeder means taking your time and choosing a reputable one. It takes time to find a breeder who can be trusted. Which breeders can be trusted? Here are some tips.
1. Make sure your pet is in good health
Ideally, pets should be energetic and happy. Clean and plump are preferable to skinny and weak animals. Before you buy them, have your veterinarian examine them. At the time of the vet check, they will be microchipped and first vaccinated. They will also be treated for fleas and intestinal worms.
2. Ask to see both parents
If you have chosen a good breeder, you should meet the parents of your new pet. Most fathers live far from their children, sometimes even overseas. For more information about the sire, ask for his contact information.
Parents pass on their personalities to their children. Choose wisely!
3. Visit the home environment.
It's important to check the environment where the puppy grows up. It's easy to say that a puppy is clean and that they live in a loving home. If a breeder asks you to meet somewhere else, you should not hesitate to walk away, as this is a major red flag.
Where do you find a Miniature Schnauzer Puppy?
If you are familiar with or can meet the breeder you are considering, they can provide you with a great deal of information. When you find a breeder and begin the vetting process, ask for references from previous owners of mini Schnauzer puppies from previous litters. Contact these owners and find out how their experience was with their puppy. They will be able to provide you with invaluable information.
Google can also be used to find a breeder. Find out more about how their puppies look by visiting their website. Check their Facebook page, Instagram, or wherever they post reviews or comments from puppy owners.
Call the prospective breeder. You should not be concerned if a breeder doesn't respond right away. Most breeders are full-time workers who raise puppies as a hobby or part-time job. Make sure they know their stuff.
Conclusion for Miniature Schnauzer Breeders in Pennsylvania
Though we have broken down each breeder's most important points, we highly recommend speaking with and visiting each of these Miniature Schnauzer breeders in Pennsylvania before choosing.
Take a look at their websites, but don't stop there. Take a look at their Instagram accounts and read any comments they may have. View the reviews they have on their Facebook page. Consult their veterinarian and previous adopters if you can.
When you adopt a Miniature Schnauzer puppy, you have a time commitment, as well as a financial commitment. Make sure you do some research before embarking on this rewarding journey!
Other articles you would like:
Garrett loves animals and is a huge advocate for all Doodle dog breeds. He owns his own Goldendoodle named Kona. In addition, he volunteers at the Humane Society of Silicon Valley, where he fosters dogs and helps animals. Garrett enjoys writing about Doodles and believes that dogs can teach humans more about how to live than humans can teach a dog.
Why Trust We Love Doodles?
At We Love Doodles, we're a team of writers, veterinarians, and puppy trainers that love dogs. Our team of qualified experts researches and provides reliable information on a wide range of dog topics. Our reviews are based on customer feedback, hands-on testing, and in-depth analysis. We are fully transparent and honest to our community of dog owners and future owners.