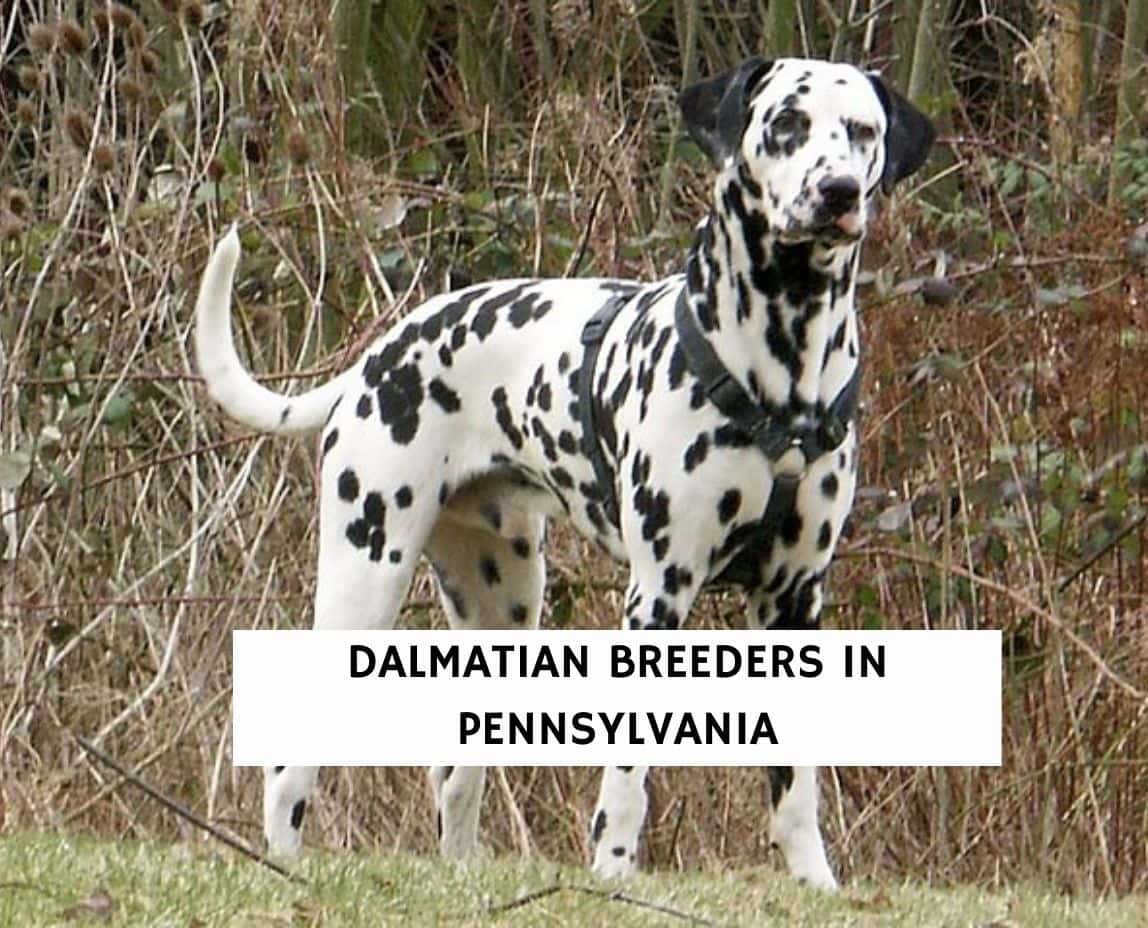 Here's what you need to know if you're searching for the best Dalmatian breeders in Pennsylvania. Dalmatians rank 51 out of 195 on the AKC popularity charts.
They are rising in popularity but still are not the most common dog thought of when families begin their initial search for a furry, four-legged family member.
Before scrolling down this list of Dalmatian breeders in Pennsylvania, check out these breeder recommendations: Best Jack Russell Terrier Breeders in Pennsylvania and Best Sheltie Breeders in Pennsylvania.
Dalmatian Breed Info
From a mile away, anyone could easily pick out a Dalmatian due to their floppy ears, slender build, and infamous sleek, short-haired white coats speckled with brown or white spots all over.
This breed is considered more of a fad dog, which means they get more facetime and recognition when cast in movies or portrayed as the mascot of fire departments and such.
The Dalmatian's history is quite fuzzy since there is no solid, clear evidence pinpointing the start of their existence. These black and white spotted canines are thought to have descended from the 1800's pointer from Dalmatia along the Austrian coast.
Their main jobs were that of "coach dog," They were charged with the safety of carriages, their cargo, and the horses that pulled them from threats of other dogs and highwaymen.
Characteristics such as agility, speed, watchfulness, and endurance allowed Dalmatians to be the top choice for "coach dogs." Alerting their passengers of any danger as well as having the size to scare off danger was what made them so valuable to merchants and nobles on their travels.
In height at withers, they can get up to around 23 inches tall, with the weight coming in between 45-60 lbs depending on gender and weighing up to 60 lbs.
Due to Dalmatians gaining popularity through movies, many backyard breeders popped up and carelessly overbred this group, thus creating poor bloodlines with health issues.
Since these dogs also did not "act" like the dogs in the movies, the results were families giving up the dogs to rescue. Dalmatians possess an abundant amount of energy, which makes them suitable for homes with small children.
They are watchful, not aggressive, yet their energy levels require lots of social interaction, attention, and at least 40 minutes of exercise per day. Dalmatians have faithful, devoted, fun-loving personalities that make them wonderful companions for families with older children or no children.
At the very start of life, dalmatians are born pure white. However, at several weeks old, their spots will begin to alter their appearance to turn them into the Dalmatian we are familiar with.
Dalmatian Puppies For Sale in Pennsylvania
Depending on where you are located, the excellence of the breeder you buy a puppy through will determine how much a puppy is priced at.
Be prepared to spend between $800 to $2,500 with a reputable breeder. Below you will find the results of our search we began for you for Dalmatian Breeders in Pennsylvania.
Dalmatian Product Recommendations: Strongest Shock Collars For Dogs and Best Muscle Growth Supplements For Dogs.
1. PuppySpot's Dalmatians For Pennsylvania
Since you're searching for Dalmatian breeders in Pennsylvania, we highly recommend using PuppySpot. PuppySpot is a reputable platform where you can browse available Dalmatian puppies straight from your home in Pennsylvania.
Your Dalmatian puppy will be safely shipped to your home wherever you are in Pennsylvania, and you can rest assured knowing that these breeders are strictly screened. Before you continue on your search for a Dalmatian puppy for sale in Pennsylvania, check out the link below.
PuppySpot Details
2. Chalet Dalmatians
Chalet Dalmatians is a family-owned breeding operation led by the mother-daughter team, Elaine and Paris Dizak. The focus on breeding LUA Dalmatians, with testing done on parents for genetic health markers, is Dizak's top priority.
Dalmatians carried a mutation that altered how their bodies processed uric acid, which, in turn, made them susceptible to uric acid crystals forming in the bladder that could quickly turn to stones if not enough water was taken into the dog's system.
Through researchers crossbreeding a Dalmatian with a Pointer, the healthy LUA gene that eliminates the formation of stones was placed back into the Dalmation bloodline.
These LUA Dalmatians are the standard that Chalet Dalmatians base their breeding program upon. Puppies are raised in their home, so Puppy Culture can be practiced, which begins to positively shape the puppy's behaviors carried with them into adulthood.
Chalet's puppies are all priced at $2,500, and they do not take reservations or waitlists as they wish to place each dog with the perfect fit of new families.
They give to all new owners. They require dogs to go through basic obedience classes, have regular vet checks, be fed correctly with proper living conditions, and take the puppy back no matter the circumstance if the new owners can no longer keep the puppy. Fill out their Puppy Questionnaire to begin your journey of becoming a new Dalmatian owner with Chalet Dalmatians.
Chalet Dalmatians Details
3. Destination Dalmatian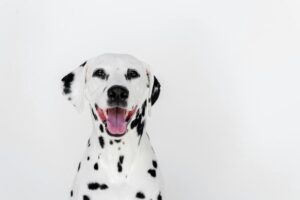 In Dillsburg, PA, breeder Alicia Longenecker raises standard black & white and Liver & white AKC & CKC Dalmatians. Through her family hobby breeding program, puppies are raised as part of the family, not in kennels.
The dogs have a specified "dog" room in the house that is puppy proofed, sanitized daily, and provides the puppy and dogs a comfortable, happy existence from the very start of life.
When litters are born, Ms. Longenecker takes time off from her job to give full attention to the socialization of the puppies. In addition, much thought is put into what the puppies eat and drink to grow as healthy as possible.
You can view what food brands are fed on the Destination Dalmation website. Puppies will be puppy pad trained and crate trained so that their transition to new homes will be as easy and stress-free as possible. You must be approved through the filling out of an application online.
Once approved, a non-refundable deposit of $300 is required. Prices for Destination Dalmation puppies range anywhere from $900 to $2,200. Factors such as gender, registration, and breeding rights will determine the price paid for each dog.
Annual contact with the breeder is required along with expectations to register the dog, the providing of humane living conditions, and other requirements written out in the contract that can be viewed on the website.
Delivery can also be requested, and the puppies will be loaded into the breeder's 2004 Bluebird Shortbus. The delivery charge is $1.25/mile. Contact the breeder for quotes and questions.
Destination Dalmatian Details
4. Daystar Dalmatians
In 1998, Denise & Joseph Rohrbaugh welcomed their first litter of LUA (Low Uric Acid) of Dalmations to their breeding program in York, Pennsylvania.
As members of the Dalmatian Club of America, the number one goal of this small town family breeder was to breed a dog that abides by the guidelines of the Dalmatian Breed Standards.
Daystar Dalmatians have won Champion and Grandchampion standings in many competitions, which speaks to their successful breedings of quality Dalmatians characteristics.
Please take a look at their Facebook page for up-to-date pictures of puppies, their grown dogs, as well as their previous dogs that have moved on to other families.
Contact the breeders for more information on when the next litter is expected, the cost of purchasing a puppy, and the process by which to get on their waitlist.
Daystar Dalmatians Details
5. Roxy's Dalmatians
With the support and knowledge of breeder Roxanne Macneal, you are sure to receive an AKC & ACA LUA Dalmatian puppy that boasts a lovely temperament and the highest Dalmatian qualities.
Roxy's Dalmatians Facebook page will give you insight, through reviews, into the caliber of dog that is bred through Roxanne's breeding program.
Numerous satisfied families, who are now a part of Roxy's Dalmatians family network, rave about the perfection found in the dogs they have purchased from Roxanne, as well as the professionalism and expertise she has brought to the table to assist them in selecting the perfect fit for their families.
Contact Roxanne MacNeal directly to apply and discuss any questions you may have. Dalmatian puppies from Roxy's will cost $2,120 with a $500 non-refundable deposit.
Roxy's Dalmatians Details
6. McDottie Dalmatians
Last on the list of Dalmatian breeders in Pennsylvania is "McDottie Dalmatians." Back in 1990, the story of Jennifer McLaughlin, AKC Breeder of Merit, and her McDottie Dalmatians Kennel began.
Now, with eight generations backing her Dalmatian Family, she continues to specialize in top bred, show champion dogs that have placed high in rank for agility and obedience categories while also having gone on to be therapy dogs and even simply the perfect family mate.
Through Jennifer's breeding program, socialization has taught the puppies to become fine-standing members of society. However, they have, in return, taught her family the importance of patience, perseverance, and sportsmanship.
Jennifer also comes with a wealth of knowledge in health and pedigrees of Dalmatians, along with being a teacher to the Deaf, which she connects to her Dalmatian world since this breed tends to have hearing issues as a health concern.
Take time to read over McDottie Dalmatians' extensive website full of champion pedigrees and, when ready, contact Jennifer for further information on future litters, pricing, and application processes. Stud services are available pending approval from the breeder.
McDottie Dalmatian Details
Conclusion For The "Best Dalmatian Breeders in Pennsylvania"
It is always a wise choice to research the breed of dog you are interested in to be informed on the health, temperament, and personality issues of each specific dog breed.
Just because you see dogs in movies does not mean that is the right breed for your living situation. Dogs in movies are trained to act the way they do on screen.
Expecting each dog to act in that same manner and then surrendering them because they fail to live up to false standards is not the way to add an animal to your family environment.
Research your breeders, visit their facilities, and get to know the breeding parents and the temperaments that are bred for. This will give you insight into how your puppy will behave when you bring them home with you.
Puppy training is strongly encouraged, even by breeders themselves, to mold a model canine citizen. However, it takes time and effort to support your puppy growing into the dog you wish them to be.
Be prepared to know how much time and effort you will need to give to your new puppy before leaping into dog ownership because it is at least a decade-long relationship you will be entering into.
For more guides similar to this list of Dalmatian breeders in Pennsylvania, you can check out:
You can learn more about the Dalmatian dog breed by watching "Dalmatian – Top 10 Facts" down below: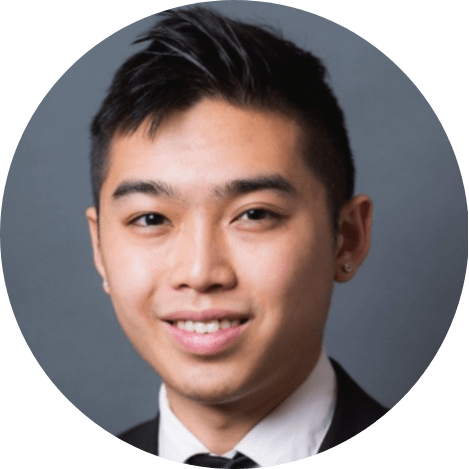 Andy is a full-time animal rescuer and owner of a toy doodle. When he's not saving dogs, Andy is one of our core writers and editors. He has been writing about dogs for over a decade. Andy joined our team because he believes that words are powerful tools that can change a dog's life for the better.
Why Trust We Love Doodles?
At We Love Doodles, we're a team of writers, veterinarians, and puppy trainers that love dogs. Our team of qualified experts researches and provides reliable information on a wide range of dog topics. Our reviews are based on customer feedback, hands-on testing, and in-depth analysis. We are fully transparent and honest to our community of dog owners and future owners.