The Miniature Schnauzer is a hypoallergenic dog that fits in well with families of all types. They're easily trained and love to accompany you on your adventures around town or across the country. These puppies have relatively long lifespans, with the average dog living to be between twelve and fifteen years!
The mild climate of North Carolina is amenable to Miniature Schnauzer care; even with a double coat, the dogs can tolerate reasonably warm or cold temperatures. Because they only shed minimally, the dogs make good indoor pets; all the better to keep your puppy in that Tar Heel air conditioning. 
If you live in North Carolina and are interested in adopting a Miniature Schnauzer, you have many options! We've compiled a list of the best Miniature Schnauzer breeders in North Carolina, with the goal of directing families away from harmful puppy mills. Do your research and interview prospective breeders before you adopt to ensure they're giving your puppy the proper care in the first weeks of his or her life. 
Before scrolling down, check out these recommendations for your dog: 12 Best Miniature Schnauzer Breeders in the USA!

Graham, North Carolina is home to one of the best Miniature Schnauzer breeders in the state. Located a convenient drive from Greensboro and Durham, the family-run business is an in-home hobby breeder. That means that your Schnauzer puppy won't be AKC registered, but will be well-socialized and well cared for in the weeks before he or she comes home with you. 
At the time of pickup, your dog will be fully up to date on vaccinations as well as dewormed. He or she will have a one-year health guarantee given your cooperation with the contract; your dog must be seen by a vet within 72 hours, and certain brands of food may be required for your puppy. 
To adopt a Miniature Schnauzer puppy through Smithland Schnauzers, first, visit the website to view available dogs. Next, contact the breeder for an application. Once approved, you will pay a deposit for your puppy; all but $100 of that deposit is refundable should you decide a Miniature Schnauzer is not a good fit for your family, 
Miniature Schnauzer Puppy Information:
Miniature Schnauzer Breeder Information:
Next on our list of the best Miniature Schnauzer breeders in North Carolina is Barrel Creek Kennel. This kennel is located in Middlesex, North Carolina, just a short drive from Rocky Mount and a slight detour on the way home from your summer beach trip. 
Barrel Creek Kennel specializes in both Miniature Schnauzer and Rat Terrier puppies; all puppies regardless of the breed are raised in-home and socialized to be great with children, other pets, and families of all types and sizes. Your Miniature Schnauzer puppy for sale in North Carolina will be vaccinated and wormed at the time of pickup, and you'll receive paperwork from the Universal Kennel Club International verifying their pedigree. Be sure you verify with the kennel the terms of your health guarantee. 
The price of your puppy will vary depending upon breed, sex, and availability. Contact Barrel Creek Kennel for a quote via their website's contact form. You can also view available puppies on the team's website; be sure to place a deposit on the puppy you find most irresistible. 
Miniature Schnauzer Puppy Information:
UKCI Miniature Schnauzers

UKCI Rat Terriers
Miniature Schnauzer Breeder Information:
Location: Middlesex, North Carolina
Telephone: 252-292-2272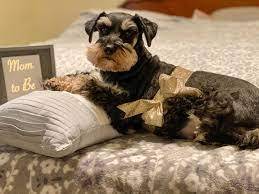 Knightingale Farms is another of the best Miniature Schnauzer breeders in North Carolina. This small farm is situated in Jamestown, North Carolina, and features Teacup, Toy and Miniature Schnauzer puppies for adoption. The team of breeders currently houses several sires and dams, and litters are produced several times each year. 
Knightingale Farms does not allow visits to the facility unless you are paying a deposit or picking up your dog. If bonding with your puppy before pickup is important to you, you may do better to choose a different breeder. 
Each puppy adopted from Knightingale Schnauzers comes with a five-day health guarantee. This guarantee is extended up to two years, however, if it's found that your Miniature Schnauzer puppy was born with a genetic or birth defect. In this case, the puppy will be replaced. We strongly recommend that you familiarize yourself with the "conditions" of this breeder's health guarantee, as there are quite a few instances not covered. 
The amount of your deposit will depend upon your interest in a puppy. For $100, you can secure yourself a place on the waiting list. For $400, you will hold a specific puppy, You may also make a Full Hold deposit for $750. The price for Miniature Schnauzers from Knightingale Schnauzers is based on color and will range between $1,595 and $1,995. There is an additional charge for blue eyes. 
Miniature Schnauzer Puppy Information:
Miniature Schnauzers

Giant Schnoodles

Mini Schnoodles

Schnese

Toy and Mini Poodles

Teacup Schnauzers
Miniature Schnauzer Breeder Information:
Happily Ever After Schnauzers is a great breeder option if you live nearby North Carolina but will need to have your puppy delivered to you. Based in Mocksville, North Carolina, this breeder raises Miniature Schnauzers, but the team also produces Schnoodles, Schnese, and Teacup Schnauzers. Feel free to take a look at the photos of available puppies on the Happily Ever After website. 
Each puppy raised by Happily Ever After will undergo appropriate medical care while at the home of the breeder. That means that when you bring your puppy home, he or she will have all shots, a clear fecal test, dew claws removed and tail docked. Your Miniature Schnauzer puppy comes with a three-year health guarantee, provided you adhere to the terms of the adoption contract. Furthermore, you may request that your puppy be microchipped for a small additional fee. 
Pricing for your North Carolina Miniature Schnauzer will vary depending upon the color of the dog. You can expect to pay between $1,495 and $1,995 unless your dog has blue eyes; there's an additional charge for that. Your puppy will not come with AKC papers unless you purchase a dog with full rights. 
Miniature Schnauzer Puppy Information:
Miniature Schnauzers

Schnoodles

Schnese

Teacup Schnauzers 
Miniature Schnauzer Breeder Information:
Location: Mocksville, North Carolina
Telephone: 704-761-8291
Finding the Best Miniature Schnauzer Breeders in North Carolina
Miniature Schnauzers make great additions to families all over the country, but their resilience against relatively extreme temperatures means they're perfectly suited to the climate in North Carolina; ice-cold winters and southern summers won't bother your dog. Furthermore, they're hypoallergenic. If you'd rather keep your puppy indoors in the air conditioning, your allergies won't suffer for it. 
It's important that you adopt your dog from a reputable breeder. Choosing a puppy mill from which to buy your dog can translate to health and temperament issues later in life. A good breeder will ensure that your dog is well cared for and socialized throughout puppyhood and that he or she will fit right in as a member of your household. 
You will also like: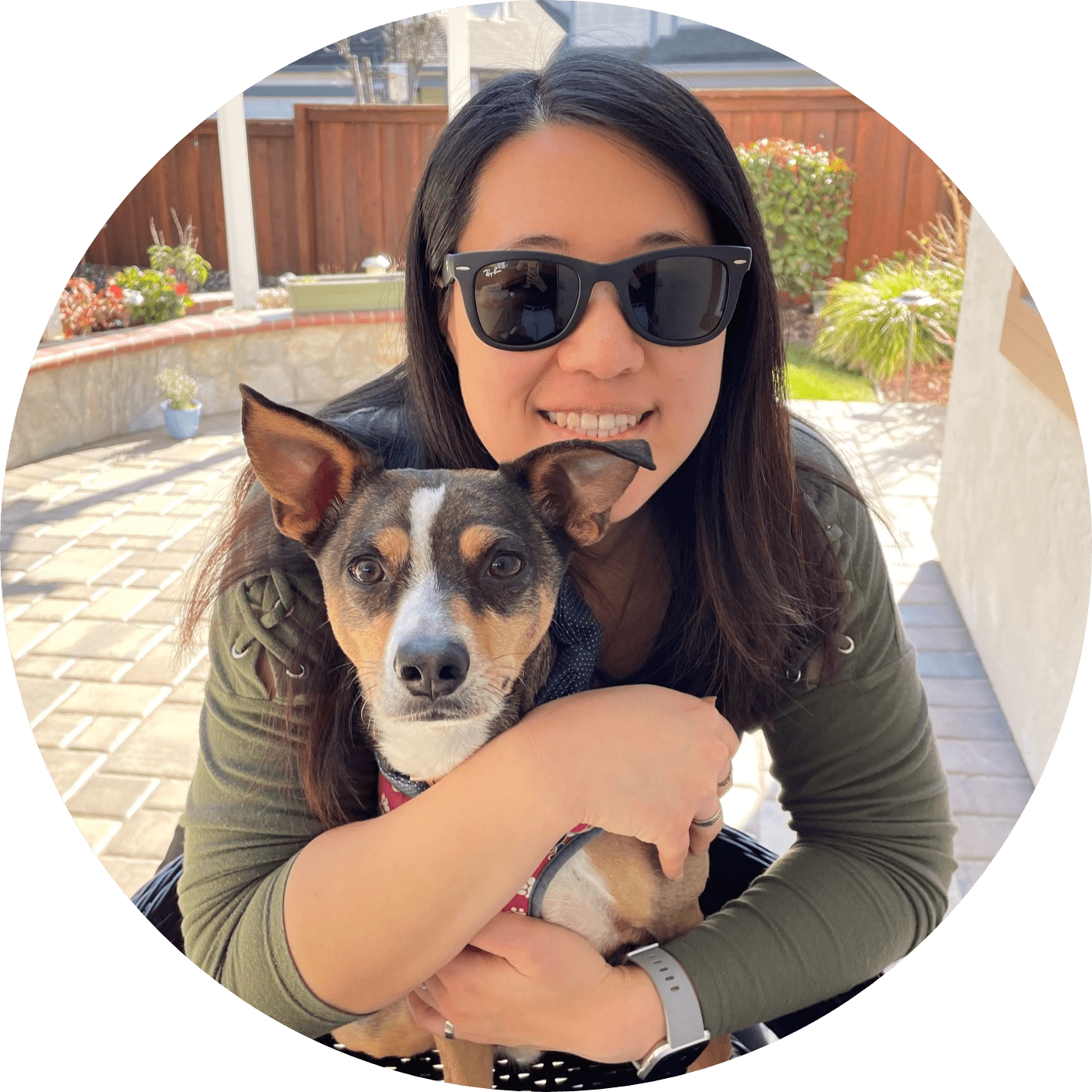 Dr. Sabrina Kong graduated from the Royal Veterinary College in England in 2016 and has been working at a small animal clinic in Northern California since then. She grew up in the Bay Area and got her bachelor's degree from Cal Poly San Luis Obispo. She also became a Certified Canine Rehabilitation Practitioner through a program at the University of Tennessee.
When she isn't in the clinic taking care of her four-legged patients, she enjoys traveling and trying new foods with her friends and her three-legged dog, Apollo. She adopted Apollo from her clinic when he was a puppy with numerous health issues. Dr. Kong truly cares about taking care of animals.