Learning about miniature Aussiedoodle adults can teach you a lot of things. Miniature Aussiedoodles are among some of the most popular designer dogs to be bred and adopted in the last several years. Although adult Miniature Aussiedoodles may tire out quickly, they love to play and are eager to please their owners. Adult Aussiedoodles enjoy training and prefer having a task or job to do.
Keep your Aussiedoodle busy! This will help prevent destructive behaviors and mischief. This dog breed may get into stuff or break things without proper training. Mini Aussiedoodles adults are lightweight and can grow anywhere from 15 to 30 pounds. The dogs will also live up to 15 years, which is generally longer than their parent dog, the Australian Shepherd.
The other Mini Aussiedoodle parent is a Miniature Poodle, making them sophisticated with a penchant for play. Taking care of a Miniature Aussiedoodle is no small task and may require plenty of training, grooming, and exercise as a puppy and adult. Aussiedoodle adults will never stop requiring socialization, exercise, and plenty of toys.
Before you scroll further down this guide, "Miniature Aussiedoodle Adults: Pictures and Guide," you can check out these other similar guides from our team at We Love Doodles: Aussiedoodle Puppies For Sale in the United States and Best Aussiedoodle Generations.
Aussiedoodle Adult Colors
Miniature Aussiedoodle adults come in several colors, mostly tri-color mixtures. Because this dog breed is a hybrid cross between Miniature Australian Shepherds and Miniature Poodles, this dog gets a lot of genes for color. Poodles are usually one color but may sometimes be a mixture of several colors, like black, brown, and white.
However, Miniature Australian Shepherds are a mixture of colors and rarely a solid color. Miniature Australian Shepherds are typically a tri-color mix of brown, black, and white, with most of their bodies being milk chocolate brown. Black Mini Aussiedoodle adults that are full-grown are typically brown and white. However, some dogs in this breed can have gray or black patches.
Related: Types of Aussiedoodle Colors.
How Big Do Miniature Aussiedoodles Get?
Miniature Aussiedoodles adults are small. This dog breed doesn't grow more than 18 inches tall and usually weighs less than 30 pounds. Like other dog breeds at this weight and height, Miniature Aussiedoodles have a lifespan of around 15 years, which is longer than that of their parents.
Miniature Aussiedoodles may be short and lean, but they have a lot of energy and need plenty of space to get the zoomies out! Their size may trick you into thinking they are a dog breed that can remain indoors, but they will need plenty of outside time, exercise, and socialization to live a happy life. Be aware of depressive symptoms in your Miniature Aussiedoodle to keep them from developing mental health issues.
Related: When is an Aussiedoodle Full Grown and Australian Labradoodle vs. Aussiedoodle Dog Breed Comparison.
Miniature Aussiedoodle Temperament
Miniature Aussiedoodles are incredibly fun-loving and enjoy spending time with others. These dogs are lively and thrive on having others to spend all their energy and time with. A Miniature Aussiedoodle won't be consistently happy if they are alone too often. This loneliness may cause depression or other mental health issues.
Miniature Aussiedoodles are loyal dogs who will gladly remain at the heels of your feet as you walk around the house. This dog breed is loving and highly intelligent, making it a perfect choice for active families. Families who enjoy outdoor adventures but don't want the hassle of larger dogs who need more outdoor time and exercise will benefit from a Miniature Aussiedoodle.
Related: Friendliest Dog Breeds with Images.
Are Miniature Aussiedoodles Good With Families?
Miniature Aussiedoodles love spending time with their owners and their families. These dogs thrive in an environment rife with people and animals to spend time with and chase around a large backyard. Miniature Aussiedoodle adult dogs may play a little less often than puppies or younger dogs but will still enjoy the lively nature of other people in the home. Miniature Aussiedoodles also love cuddling and affection. This dog will be happy to spend hours cuddling up on the couch, receiving belly rubs, or licking their owners.
Miniature Aussiedoodles and Children
Miniature Aussiedoodles love small children, and this dog breed is small enough that they won't risk hurting or injuring them as much as a full-size breed might. They have plenty of energy and can keep up with young children who have the energy to run around the backyard for hours.
Miniature Aussiedoodles also love having tasks, even if the task is a simple game of catch or fetch. They're eager to please the little ones in your home and will spend hours retrieving thrown objects and playing fetch with them.
Miniature Aussiedoodles and Other Pets
Most Miniature Aussiedoodles adore other pets in the same way they adore children. This dog breed loves having someone to play with and will spend hours playing with cats, dogs, or other animals in the home. Miniature Aussiedoodles are short, and the risk of injuring another animal while they play is small, making them perfect candidates for a home with other animals.
Miniature Aussiedoodles prefer a home with a lively environment and plenty of people and animals. This dog breed won't care what type of animal they are playing with, just that they get to play and have fun.
How to Take Care of Your Adult Mini Aussiedoodle
Miniature Aussiedoodles will need plenty of care, love, and attention. This can be challenging for a family with a full schedule or who is constantly busy. However, spending time with your Mini Aussiedoodle can be easy since they are small and easy to transport. Aussiedoodles aren't as active, needy, and task-oriented as Australian Shepherds, but some of those traits remain.
This dog shouldn't be left alone for eight hours since it will likely need a potty break or require attention from others. However, these dogs are easily transported and can come on family adventures, vacations, and other trips. Giving your Aussiedoodle the care they need can be tough at times, but with patience and attention, they will learn to adapt to your needs – and you can adapt to theirs.
Exercise
Miniature Aussiedoodles will need plenty of exercise to remain healthy and happy. Without proper daily exercise, your Miniature Aussiedoodle may begin to feel anxious, depressed, or develop health and behavioral issues. Exercise is vital to keeping your Miniature Aussiedoodle from developing weak muscles and bone decay.
This will also help prevent mental health issues like depression or vitamin D deficiency. Consider allowing them to run around the backyard for at least an hour daily or bring them on a long walk with you and your family. Playtime with young children can be adequate exercise, as well.
Related: Best Weighted Vest For Dogs and Top Low-Energy Hypoallergenic Dogs.
Grooming
Miniature Aussiedoodles are unique because they don't shed. This dog breed hails from two other dog breeds that don't shed much, meaning that your home won't be overrun with dog hair and dander.
However, you will need to ensure that your Aussiedoodle's nails are trimmed and filed every six weeks. You will also need to brush their coat every few days and bathe them weekly to keep dander and dirt away. A trip to the groomer every few months is ideal – the professionals can handle the necessities for you!
Related: Best Types of Aussiedoodle Haircuts with Pictures and Best Brushes For an Aussiedoodle.
Socializing
Your Miniature Aussiedoodle will need plenty of attention and socialization with others. This can be with other dogs, people, or pets. Without daily interactions with other people or animals, they may start to feel depressed and may not want to engage in their usual activities.
Set up playdates or bring them to see friends to assuage their loneliness. Dog parks or brisk walks near others may also help since they will gladly introduce themselves to those passing by. Your dog may also enjoy trips outside with friends and family members and other pets that others may own.
Training
Your Miniature Aussiedoodle will need plenty of training to ensure they don't engage in destructive or unwanted behaviors. Miniature Aussiedoodle may lose motivation to behave nicely without a job or task. Instead, they may destroy property, dig holes, or chew holes in your clothes.
Additionally, they may get too excited when seeing others that they jump on them, hurt them by accident, or cause general chaos. To have a well-behaved Aussiedoodle, you'll have to train your dog to behave nicely with others and treat your home with respect. This can be challenging and take time, but training will pay off in the long run.
Related: Aussiepoo vs. Aussiedoodle Explained and How to Train a Dog with a Shock Collar.
Frequently Asked Questions
There are many miniature Aussiedoodle adults available for adoption. If you're not sure whether the breed is right for you, take a look at some of the most frequently asked questions by our readers.
How much does a Miniature Aussiedoodle cost to adopt?
If you're buying your dog from a breeder, you can expect to pay thousands of dollars for your dog! However, adoption is a different story. Adoption fees will vary from shelter to shelter, but the cost is significantly less than what you'll find from a breeder.
In most cases, you'll pay just a few hundred dollars to adopt your dog, and the price is set based on the shelter's needs, the dog's age, health, and other characteristics. Sometimes, shelters waive adoption fees, meaning you could quite possibly adopt a dog for free!
Your dog will be spayed or neutered, vaccinated, and vet-checked prior to adoption day.
How do I find a reputable dog shelter?
The shelters we've listed in this guide are reputable and responsible, but you may be inclined to do a little research on your own. Just a quick Google search will result in many rescues in your area, so you may wonder if they're a good fit for you!
First, run the charity's name through a service like CharityWatch. Then, visit the location in person if you're able to do so. Give the shelter a good "sniff" – does it smell clean and fresh, or do you smell animal waste and other unpleasant odors? How are the volunteers and staff interacting with the dogs? Do the dogs look healthy and happy, or are the scared and sulking?
Shelters' applications aren't just for the shelter volunteers to vet you – they offer a great way for you to get to know the volunteer team, too! Ask questions and converse with the staff to determine whether you feel comfortable continuing with the adoption application.
Are Aussiedoodles clingy?
In a word, yes! They're likely to treat your family as a herd, so it's important to establish yourself as the pack leader early on. Your dog may whine or cry when you leave the room, especially immediately following adoption, and he may also cause trouble when he's left alone for the day.
Your best bet is to provide plenty of entertainment for your dog while you're away. You can even leave the television on for a little background noise to keep your dog company! Switch up the toy rotation from time to time so that your pup always has something new and exciting to play with.
What kind of activities are good for my Aussiedoodle?
Want to keep your Aussiedoodle stimulated and mentally busy? Well, there are a few "tasks" you can present your dog with.
Name your dog's toys, then ask him to fetch! "Go get your Baby!"
Bring your dog fishing with you. This will give him time to explore outside, and you can toss a ball into the water, too!
Fill a Kong with peanut butter, then freeze it. This trick is designed to keep your dog busy more than test his intelligence!
Just play fetch! Grab a ball or a stick and toss it across the yard or down the highway.
Don't forget to switch out your dog's toys from time to time. Clean half and put them away, then bring them back out again next week.
Consider adopting your dog a companion. Obviously, this is a big decision so think it through thoroughly and discuss it with the family before you commit.
Conclusion For "Miniature Aussiedoodle Adults"
Miniature Aussiedoodles are some of the best family dogs for those who are busy, enjoy traveling, or need a small hiking partner. Mini Aussiedoodles love outdoor time and adventure. This dog breed thrives on time spent running around the backyard with small children and other pets.
Ideally, a Miniature Aussiedoodle will prefer to spend time with other people or animals. Getting a second Miniature Aussiedoodle to accompany your first can help take the strain off you, and your dog remains happy with their levels of socialization. Alternatively, taking daily walks, going to dog parks, or going for long walks can make your Aussiedoodle happy and tired from a full day of play.
Remember to groom your Aussiedoodle weekly, bathing them and brushing out their coat to keep them healthy and happy. Miniature Aussiedoodles are ideal family pets and will listen to verbal commands. These dogs require thorough training but will enjoy every part of it.
If you find this guide about miniature Aussiedoodle adults helpful and informative, you can check out these other Aussiedoodle guides from our team at We Love Doodles:
You can learn more about miniature Aussiedoodle adults by watching "10 Things Only Aussiedoodle Dog Owners Understand" down below: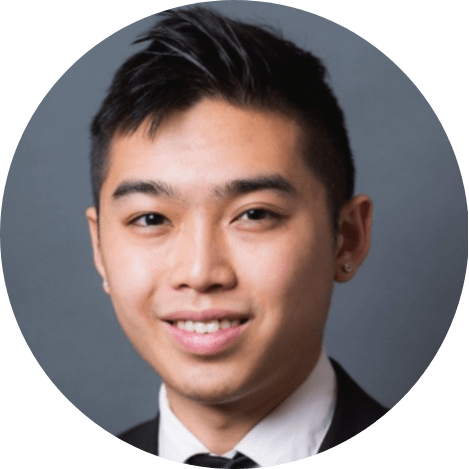 Andy is a full-time animal rescuer and owner of a toy doodle. When he's not saving dogs, Andy is one of our core writers and editors. He has been writing about dogs for over a decade. Andy joined our team because he believes that words are powerful tools that can change a dog's life for the better.
Why Trust We Love Doodles?
At We Love Doodles, we're a team of writers, veterinarians, and puppy trainers that love dogs. Our team of qualified experts researches and provides reliable information on a wide range of dog topics. Our reviews are based on customer feedback, hands-on testing, and in-depth analysis. We are fully transparent and honest to our community of dog owners and future owners.