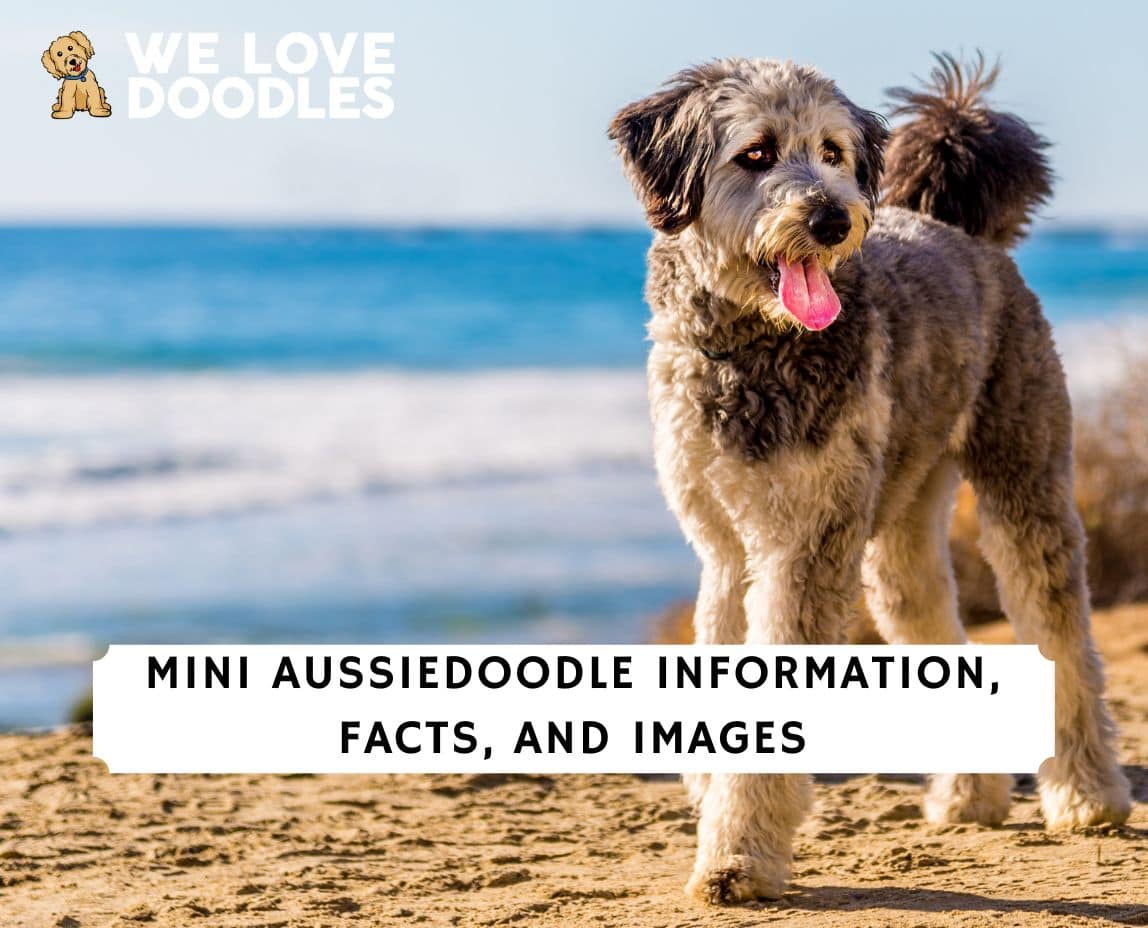 What could be better than an Australian Shepherd and Poodle mix? A mini Aussiedoodle. This hybrid dog breed gives you the best of both worlds in a pint-sized intelligent and affectionate companion. This breed guide will dive into more detail about the miniature Aussiedoodle, their health and habits, and what makes them so special that everyone wants one.
Before scrolling down this in-depth mini Aussiedoodle guide, you can check out these other dog breed guides from our team at We Love Doodles: What is a Mini Australian Goldendoodle and German Shepherd Doodle Information, Facts, and Images.
The Many Faces of the Mini Aussiedoodle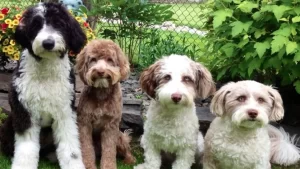 The Aussiedoodle mini may go by several different names, including:
Aussiepoo
Aussiedoo
Aussiepoodle
No matter what you call them, they are adorable and an exceptionally loving breed. However, because it is a cross hybrid designer breed, their characteristics and traits can vary, depending on the parents. Therefore, a miniature Aussiedoodle from one breeder may have a different coat coloring and texture than the one you may find elsewhere.
To get mini Aussiedoodle puppies, one parent needs to be a purebred Poodle, with the other being a purebred Australian Shepherd. Both these AKC-recognized breeds come in multiple sizes, which can help tailor miniature and toy dogs.
A mini Aussiedoodle can come from miniature or toy-sized parents for some of the smallest dogs in this breed. So whether the parents are a mini Poodle and Australian Shepherd or a mini Aussie and a toy Poodle, the resulting litter is sure to carry similar traits.
Miniature Aussiedoodles History
Although the Australian Shepherd breed includes a country's name in its title, this dog did not originate in Australia. Australian Shepherds were bred in the United States from various other breeds for a distinct purpose. Breeders created these dogs to brave the harsh American climates while combining agility, endurance, intelligence, and speed as their more desirable traits.
The result was the ideal working dog for many ranchers for decades. As the breed's popularity grew, dog lovers soon wanted a smaller version to enjoy. So the journey for miniature Aussies began in 1968 with Doris Cordova. She began a specific breeding program to create puppies that were terrific options for stock shows but would also do well as well-adjusted house dogs.
Poodles have been popular dogs of choice for centuries, from the early 14th Century. Since then, the sizes have continued to be diverse, with varying colors. You can even find miniature Poodles in documentation from the 15th Century, with the practice of breeding the smallest of litters together. The mini Aussiedoodle did not come into the world until the late 1980s, when the first Goldendoodle came.
Once this hybrid breed was available, many more Poodle alternatives started to appear, including the Aussiedoodle and Aussiedoodle mini. Breeding miniature Australian Shepherds with a mini, toy, and micro Poodles over time created more size diversity in this designer hybrid. These led the way for toy Aussiedoodles, micro, and teacup Aussiedoodles.
Related: Do Aussiedoodles Have Tails?
Traits and Characteristics of Mini Aussiedoodles
What makes the Aussiedoodle miniature breed so attractive to dog lovers? This hybrid carries many benefits and combines the best aspects of a Poodle and Australian Shepherd to provide an intelligent, low-shedding, lovable companion. Here are some specifics of this breed and what makes them unique.
Related: Do Aussiedoodles Have Blue Eyes?
Size
Naturally, the size of its breeding parents will impact a miniature Aussiedoodles size. For a better reference, this table explains the differences in each size.
Mini Aussiedoodles: 15 to 35 pounds, 12" to 18" tall
Toy Aussiedoodles: 10 to 15 pounds, 10" to 12" tall
Micro Mini Aussiedoodles: 6 to 10 pounds, 10" tall or less
By nature, male Aussiedoodles can be slightly larger than their female counterparts, although there are exceptions with every litter. Some mini Aussiedoodle breeders will not classify their litters into these three categories but rather call all their puppies mini.
Because the mini Aussiedoodle is a hybrid and is not a recognized breed by the American Kennel Club (AKC), there are no preset breeding standards. This variance allows for an extensive range of sizes with each breeder.
Related: When is an Aussiedoodle Full Grown?
Health and Lifespan
You will see similarities when examining the health of an Aussiedoodle vs. a mini Aussiedoodle. This designer dog breed can tend to be healthier than its purebred parents because of the combination of two genetic lines that carry different traits. However, that does not mean that the mini or toy Aussiedoodle will not possibly come without its share of health issues.
These dogs can still have a predisposition to several common health conditions that come with Poodles, including:
Addison's Disease
Autoimmune Disease
Bloat
Canine Hypothyroidism
Elbow Dysplasia
Epilepsy
Eye problems
Hip Dysplasia
Hypoglycemia
Progressive Retinal Atrophy
Mini or toy Aussiedoodles typically have a longer, healthier life than large breed dogs. For example, while Australian Shepherds can live between 10 to 12 years, Poodles can have a slightly longer span of 12 to 15 years. Consequently, you can expect the mini Aussiedoodle adults to be similar and live between 12 to 15 years.
One aspect that can help your toy Aussiedoodle live a long and healthy life is to ensure they receive a proper diet and regular veterinarian care at all growth stages. In addition, if your pet carries a genetic disposition for health issues, it will typically show up later in life. Given that, yearly checkups are vital to avoid any potential problems.
Coat Color and Texture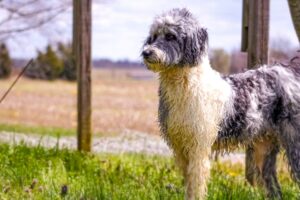 The coat color and texture of Aussiedoodle mini puppies can be challenging to predict. However, some breeders are careful with their parental breeding choices to help narrow down the coat color and textures to ones they want in an upcoming litter. There are many possibilities, making miniature Aussiedoodle puppies a unique and attractive pet. For a better indication of coat colors, here is the breakdown of colors from each parent.
Related: Types of Aussiedoodle Colors.
Australian Shepherd Coat Color and Texture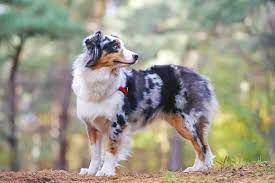 The four distinct colors that the AKC recognizes for Australian Shepherds are:
Black
Blue merle
Red
Red merle
Australian Shepherds have a double coat of fur that is medium-length and low-shedding.
Poodle Coat Color and Texture
Poodles come in dozens of colors and combinations, providing an extensive array of uniqueness to a hybrid breed, including:
Black with variations of apricot, brown, cream, gray, silver, tan, white
Blue
Blue with white
Brown
Brown with variations of white or apricot
Cafe Au Lait
Cream
Cream with white
Gray
Gray with white
Red
Red with variations of white or apricot
Apricot
Apricot with variations of black or brown
Silver Beige
White
White with variations of apricot or silver
Poodles have a long single coat of hair rather than fur, making them a terrific choice for prospective owners with allergies or sensitivities to dander. The combination of these two breeds can produce litters with a wide range of colors to their coat that is medium to long and carries a wavy texture.
In addition, it is common to have a micro Aussiedoodle that sports tricolors or unique markings from having such a variety with their genetics. Mini Aussiedoodle puppies will be low shedders and produce minimal dander, making them an attractive option for dog owners with allergies or sensitivities.
Related: Sable Poodle Guide and What is a Phantom Poodle?
Temperament
Choosing the right dog for you will require research into many aspects, including temperament. Although the time owners spend training their new pet will affect much of their behavior, a mini Aussiedoodle puppy will be a joy to include in your home. This dog breed is extremely friendly, loyal, and lovable. Mini Aussiedoodles enjoy spending time with people and doing things to please their owners.
They love to join their humans on adventures and are incredibly easy-going. Unfortunately, this likable personality makes them horrible guard dogs since they think everyone is their friend. However, because of their deep attachment to people, your micro mini Aussiedoodle may experience separation anxiety when left alone for too long.
In addition, without proper training and exercise, a mini Aussiedoodle can turn to destructive behaviors if they are alone and need an outlet for anxiety or excessive energy. Aussiedoodle mini pups are fantastic with people of all ages, including children. Their smaller size ensures they will not grow too large to handle, but families with young children should provide proper supervision to prevent the dog from getting hurt if playtime becomes too rough.
Related: Friendliest Dog Breeds with Images.
Exercise Needs
The activity level of the Aussiedoodle toy and mini dog is similar to its full-sized versions. Both parents of this hybrid breed are high-energy and highly active. Their lovable personality makes them terrific pets to take on a hike, swimming, or weekend adventures. Some genetic lines include agility training, resulting in litters that will also thrive in competitions where they receive a lot of physical exercises and mental stimulation.
For example, although a teacup mini Aussiedoodle is not large, they will still require enough exercise to tire them out by taking walks or just playing fetch outside. If you bring a mini Aussiedoodle into your family, you should expect to spend one hour or more each day exercising it for optimal health and wellbeing. A dog that receives enough exercise will not turn to destructive behaviors when they are bored, left alone, or have excessive energy.
Dog Exercising Product Recommendations: Best Weighted Vest For Dogs.
Grooming
Dog lovers considering an Aussiedoodle mini as their new pet should explore how much time they want to spend grooming their dog. Miniature Aussiedoodles will take on coat traits from both parents, the Poodle, and Australian Shepherd, resulting in an animal that requires daily brushing and regular grooming.
The medium-length wavy coat of an Aussiedoodle miniature dog can easily tangle when being active throughout the day, especially outdoors. Therefore, some dog owners may prefer to keep their toy Aussiedoodles with a shorter trim to help minimize mats or knots, making this chore less stressful for them and the dog.
Although this hybrid designer breed is ideal for individuals with allergies to animal dander, your mini Aussiedoodle puppy may still produce some dander if you do not regularly brush and bathe them. Daily brushing can help eliminate shedding around the home, and baths with a tangle-free shampoo ensure your dog's coat remains healthy and soft.
Related: Best Types of Aussiedoodle Haircuts with Pictures and Best Brushes For an Aussiedoodle.
Training
One of the best aspects of owning an Aussiedoodle miniature dog is how easy they are to train. In addition, poodles and Australian Shepherds are known for their high intelligence, making their crossbred offspring somewhat of an Einstein on four legs. Miniature Aussiedoodles love to complete tasks and please their owners.
Poodles were originally hunting dogs, so they possess a high retrieving nature, while Australian Shepherds are herding dogs to work with cattle and sheep. Although these two instincts are contradictory, mini Aussies will still enjoy active training and quickly learn what their humans want them to do.
These dogs will require early socialization to ensure they know how to act around other dogs, pets, and people, especially children. Australian Shepherds are a herding breed, so sometimes this trait will come through to Aussiedoodles, making them more mouthy. Dogs who nip at fingers, hands, feet, or clothing communicate the need for attention or excessive energy, making proper training vital for desirable behaviors.
With consistent training, this hybrid breed will be easy to housetrain and teach all sorts of tricks. However, because of the Australian Shepherd genetics, mini Aussiedoodles can sometimes outsmart their owners by being sneaky and pushing the limits, especially if they do not receive enough exercise. Proper and consistent boundaries will help your Aussiedoodle learn good behaviors and ensure a happy, manageable pet.
Dog Training Product Recommendations: Best No Shock Dog Training Collars and Best Puppy Potty Training Sprays.
Conclusion For The "Mini Aussiedoodle Information, Facts, and Images"
With so many adorable and attractive dog breeds available, figuring out which one will suit your home best can be a challenge. After researching Aussiedoodle mini dogs, you may feel that this rambunctious and lovable hybrid breed is the one for you.
Miniature Aussiedoodles give their owners a brilliant, active pet in a smaller package, making them excellent choices for homes with smaller yards or apartments. They are low-shedding with minimal to no dander and are a relatively healthy breed that will live between 12 and 15 years. With so many reasons to get one, many dog lovers cannot find a reason not to.
If you learned a lot from this mini Aussiedoodle guide, you could check out these other content from our team at We Love Doodles:
You can learn more about the Aussiedoodle by watching "Top 10 Facts to Know Before Owning an Aussiedoodle" down below: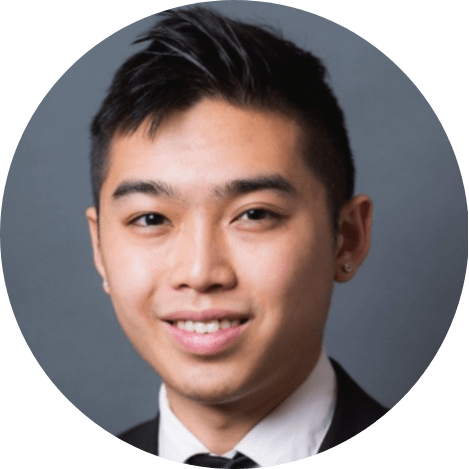 Andy is a full-time animal rescuer and owner of a toy doodle. When he's not saving dogs, Andy is one of our core writers and editors. He has been writing about dogs for over a decade. Andy joined our team because he believes that words are powerful tools that can change a dog's life for the better.
Why Trust We Love Doodles?
At We Love Doodles, we're a team of writers, veterinarians, and puppy trainers that love dogs. Our team of qualified experts researches and provides reliable information on a wide range of dog topics. Our reviews are based on customer feedback, hands-on testing, and in-depth analysis. We are fully transparent and honest to our community of dog owners and future owners.