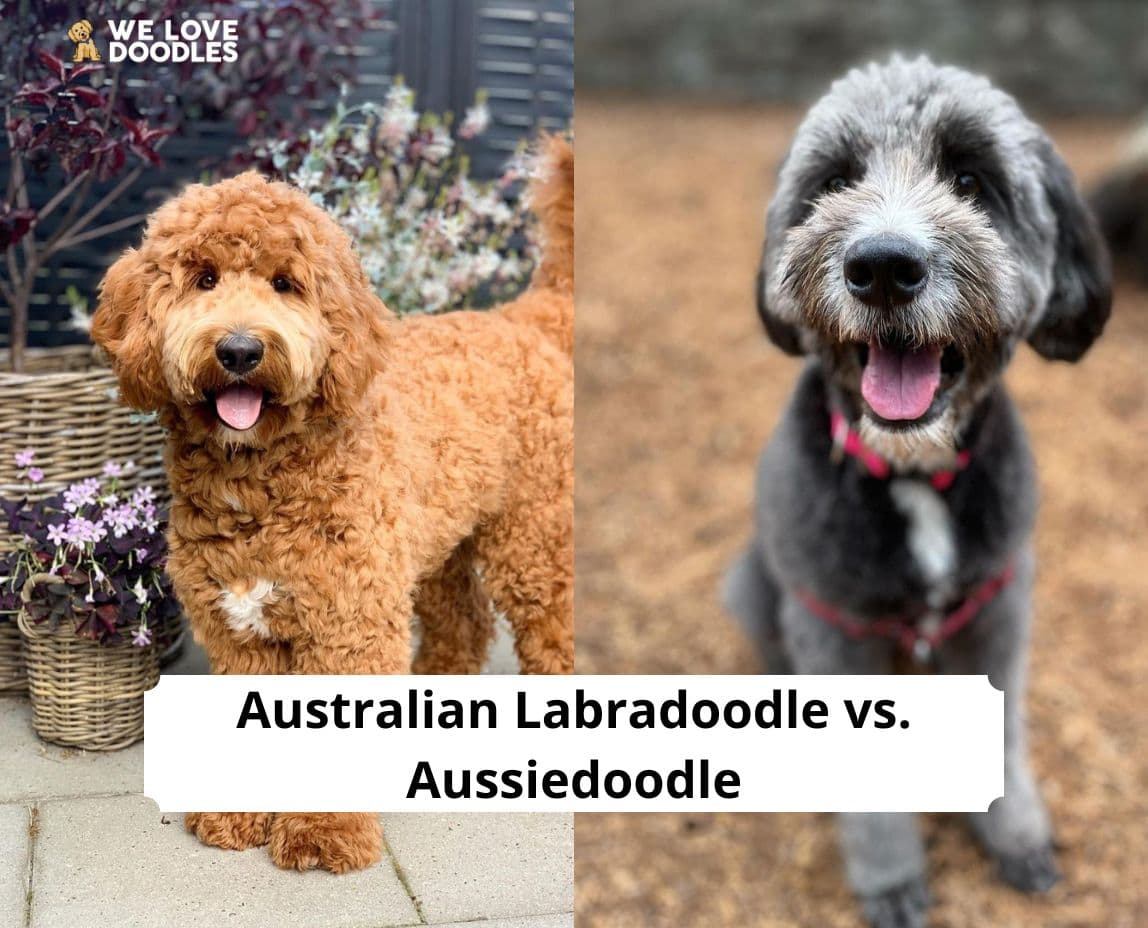 Finding the perfect addition to your family can be challenging, especially when faced with many exciting and adorable options. Doodle dogs are designer breeds with unique traits like curly hair, blue eyes, or a specific size.
Doodle dogs can come in standard and miniature sizes that always come from a Poodle parent. The other parent decides which kind of doodle dog the litter will be. There are Australian Labradoodles, Goldendoodles, and Aussiedoodles.
Australian Labradoodles and Aussiedoodles share some of the same parentages – both dog breeds come from crossbreeding with a Poodle. However, Australian Labradoodles come from a mixture of dog breeds, including Poodles, Labrador Retrievers, and Spaniels.
Aussiedoodles, on the other hand, come from breeding Australian Shepherds and Poodles. Because of this difference, these two doodle dogs act differently from each other and have different needs, temperaments, health issues, sizes, and colors.
Look at our information to get an idea of the Aussiedoodle vs. Australian Labradoodle details.
Australian Labradoodle
Australian Labradoodles come from a wide variety of other dog breeds, meaning they carry traits from each dog breed. This mixture of genes enables an Australian Labradoodle to have a wide range of talents and temperaments.
Every Australian Labradoodle is different from the next. However, some traits are common to this dog breed and easily spotted in any Australian Labradoodle you meet.
Australian Labradoodles and Aussiedoodle have similar parentage and some similar traits, but they can also be vastly different.
Temperament
Australian Labradoodles are clever dogs who adore puzzles and toys that engage their brain and instincts. This need for engagement can be helped by running around with small children since they can be unpredictable, and Australian Labradoodles love solving unexpected problems.
This dog breed is also friendly and adores meeting new people. Australian Labradoodles thrive when surrounded by new people, must introduce themselves, or get to play with other dogs.
Australian Labradoodles enjoy fun and always have a bright perspective on things. This energy shines through even the most dreary days and can help those with emotional distress feel better.
While this dog breed is energetic, they are also very comforting and gentle. Australian Labradoodles make ideal emotional support dogs and will gladly cuddle someone while they feel the full range of their emotions.
Colors
Australian Labradoodles have a wide range of colors. Due to having a mixture of parents, these dogs usually have sold color patterns in several options. The most popular colors on an Australian Labradoodle consist of the following:
Cream
Apricot
Black
Blue
Gray
Red
Beige
Gold
White
Some light-colored Australian Labradoodles may have darker ears. For example, beige and gold Labradoodles often have darker shades of orange or gold on their ears. This color pattern makes these Australian Labradoodles unique since a mixture of colors is rare.
Your Australian Labradoodle may also have white splotches of hair on the bridge of its nose and strips of white leading between its eyes.
Size
Australian Labradoodles can grow up to 22 inches tall and weigh as much as 65 pounds. This doodle dog is no small breed. Instead, these dogs can be hefty, but they are gentle. Australian Labradoodles won't barrel you or your children down, but they will crawl into your lap regardless of their size.
Health Issues
Australian Labradoodles are susceptible to typical issues, like hip dysplasia and lumps in old age. There are no other serious medical issues that arise in Australian Labradoodles.
Australian Labradoodles may develop old age symptoms. Labradoodle vs Aussiedoodle comparisons in old age show that both dog breeds have similar health conditions. However, Australian Labradoodles are more likely to develop bone and movement issues due to their crossbreeding.
Needs
Australian Labradoodle must have sufficient socialization and thrive best in conditions where they are exposed to other people. This dog breed does best when they have companions to play with – whether these are other dogs or small children.
Australian Labradoodles don't care much for a task or job and will be happy to play fetch all afternoon.
Grooming
Australian Labradoodles will need plenty of care regarding their grooming. An Australian Labradoodle will need to have its nails cut and filed every four to six weeks. This can depend on how quickly your dog's nails grow. Some dogs grow their nails faster than others, especially if they are receiving plenty of Biotin.
Your Australian Labradoodle may also need a haircut every other month. Australian Labradoodles have hair that grows quickly and it can make them overheat in summer. Make sure that your Australian Labradoodle is comfortable and doesn't have its hair obstructing its eyesight.
Australian Labradoodles may need to be brushed anywhere from once to three times every week. If your Australian Labradoodle plays outside frequently, it will need a bath with a mild shampoo at least weekly.
Aussiedoodle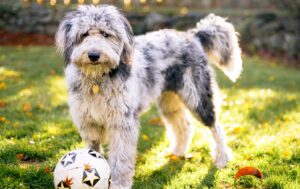 Aussiedoodles are fun-loving designer dogs who are bred between excitable Australian Shepherds and mild-mannered Poodles. This dog breed is among the less expensive varieties. For example, Cockapoo vs Aussiedoodle comparisons often shows that some doodle dogs are not as expensive as others.
There are plenty of differences between Aussiedoodles and Australian Labradoodles, but most of them boil down to the way they behave, how they look, and their healthcare needs.
Temperament
Aussiedoodles are stunning and clever dogs who love having a job or task to accomplish. Although this dog breed adores playtime, they will be most happy when they are pleasing their owners by engaging in a job around the house. Jobs for Aussiedoodles can be simple like cleaning up toys, dragging a basket, or helping herd the little ones.
Aussiedoodles enjoy engaging with others and are eager to make their owners happy. Training an Aussiedoodle can be a simple and fun task – especially when your Aussiedoodle is interested in the job.
Aussiedoodles won't be happy to sit around the house and wait for their family to come home. This dog type may need plenty of socialization, adventure, and outdoor time to be happy.
Colors
Aussiedoodles come in many stunning and rich colors and color patterns. This dog breed is closer to purebred than an Australian Labradoodle is, which means that Aussiedoodles are likely to have more rich and unique color combinations.
Aussiedoodles can have some of the following colors:
Blue, Black, and Red Merle
Tri-Color
Red
Brown
Beige
Gold
White
Blue
Apricot
Peach
Aussiedoodles can also have phantom patterns, which include color splotches along their bodies, legs, and head. These unique patterns are usually uniform and happen in the same pattern, often with other puppies in the litter. There are red, black, blue, and tan phantom patterns.
Size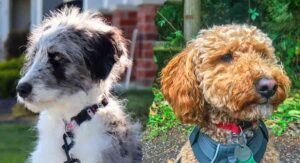 Aussiedoodle vs. Labradoodle comparisons can show that Aussiedoodles are larger. Aussiedoodles can weigh up to 75 pounds. However, miniature varieties can weigh as little as 25 pounds. Aussiedoodles tower over Australian Labradoodles by several inches and as much as 15 pounds.
For example, comparing the Aussiedoodle vs. Australian Shepherd breed will show that Aussiedoodles are around the same size as their parent breed.
Health Issues
Aussiedoodles live in relatively good health without many diseases or disorders until they get to old age. Aussiedoodles will develop things like hip dysplasia and skin rashes as they get older. Another typical condition in older dogs is cataracts and lumps.
Needs
Aussiedoodles must have a job or task to keep them occupied. When you and your family are out of the house, this job can be sniffing out kibbles from a sniffle mat or trying to get treats out of an elaborate puzzle toy.
Aussiedoodles will also need plenty of socialization, but also a safe place to retire and be alone.
Grooming
Aussiedoodles usually have long, curly locks that can knot up when your dog isn't taken to the groomers enough. Alternatively, you can clip and trim your dog's hair at home, as long as your dog is trained to sit through the process.
Ensure that your dog is not overheated in summer by keeping their hair shorter than normal or by giving them a cool, close-to-the-skin haircut. When your dog has their hair on its face, it can mean it's time to groom your Aussiedoodle so it can see more clearly.
Aussiedoodles will need frequent brushing, around three times a week. Consider bathing your Aussiedoodle weekly, but more if they are constantly joining family adventures outside the house.
Major Differences Between Australian Labradoodles and Aussiedoodle
The major differences between an Australian Labradoodle and an Aussiedoodle lie mostly in their temperament.
Aussiedoodles are loyal and fun-loving, but they enjoy having tasks and work to do. An Aussiedoodle won't be happy to spend all of their time running around a backyard, chasing small children, or playing. Although Aussiedoodles find playtime fun and exciting, they will get bored quickly and need more purpose.
However, Australian Labradoodles live for playtime, affection, and games. Australian Labradoodles take after their Labrador Retriever parents, which can spend all day playing fetch and chasing after balls. These dogs will protect their family members from threats when they feel it necessary but will keep most of their focus on playtime.
Aussiedoodles may become bored with playtime and instead start ushering small children and other members of the family into certain locations, herding them along. Aussiedoodles can be happy family dogs, however. This dog breed will gladly help with chores like cleaning up and herding children to bed when they are properly trained on what to do.
In general, Aussiedoodles require more time, care, and attention than Australian Labradoodles. However, some breeders have created Aussiedoodle Labrador mix crossbreeds that include the traits of both these stunning breeds.
Conclusion For Australian Labradoodle vs. Aussiedoodle
Aussiedoodles and Australian Labradoodles are some of the best dog breeds for family homes. However, each dog breed has its benefits and disadvantages. Although both dog breeds enjoy small children, plenty of playtimes, and an abundance of fun, they can have health and behavioral issues that may lead to problems in the home.
These dog breeds come from similar parents and hand down similar traits. However, each dog is different and will have varying degrees of specific characteristics. Some Aussiedoodles are much more active than most Australian Labradoodles, although both have a deep love for playtime.
This high activity may be due to Aussiedoodles having an Australian Shepherd as a parent – a breed known for its high energy levels and desire for a job.
Aussiedoodles and Australian Labradoodles have plenty of needs like nail trimming, grooming, and socialization. However, Australian Labradoodles may be more tolerant of long periods of alone time than Aussiedoodles.
Consider which dog breed may be best suited for your family's needs.
Want to learn about the Labradoodle vs. Aussiedoodle? Check out the video below:
Garrett loves animals and is a huge advocate for all Doodle dog breeds. He owns his own Goldendoodle named Kona. In addition, he volunteers at the Humane Society of Silicon Valley, where he fosters dogs and helps animals. Garrett enjoys writing about Doodles and believes that dogs can teach humans more about how to live than humans can teach a dog.
Why Trust We Love Doodles?
At We Love Doodles, we're a team of writers, veterinarians, and puppy trainers that love dogs. Our team of qualified experts researches and provides reliable information on a wide range of dog topics. Our reviews are based on customer feedback, hands-on testing, and in-depth analysis. We are fully transparent and honest to our community of dog owners and future owners.