What is an Australian Labradoodle?  You might've heard of the Labradoodle Poodle mix, but what about the Australian Labradoodle? In the 1980s, when Wally Conran of the Royal Guide Dogs in Australia thought of creating the perfect service dog, he had no idea how successful this breed would be so many years down the line.
He embarked on the journey of making this super-effective service dog after a visually impaired Hawain woman had requested a service dog that wouldn't trigger her husband's allergies. Wally decided to cross-breed a standard Poodle with a Labrador after sampling this woman's husband with different Poodle hair for allergy triggers.
The result was three puppies, of which one (Sultan), a white dog, was compatible with the man's allergies. And so began the journey of the Labradoodle. After this experiment by Wally, different people have gone on to carry out crossbreeding exercises to populate the Labradoodle breed.
Before scrolling down this article "What is an Australian Labradoodle," check out similar guides: Australian Labradoodle vs. Labradoodle and The Hypoallergenic Australian Labradoodle.
Australian Labradoodle Dog Breed
What do you get when you crossbreed the spaniels with a Labradoodle? You get a calm, friendly, fun-loving, loyal, brilliant, and playful Australian Labradoodle. The Labradoodle, as mentioned earlier, is a hybrid of the Labrador and Poodle. The Australian Labradoodle is multi-generational. It is a hybrid mixture of about 4 to 5 different breeds of dogs. The other breeds that make up an Australian Labradoodle are Labradors, Poodles, English and American Cocker Spaniels, Curly Coated Retrievers, and Irish Water Spaniels. A Labradoodle only has one Labrador parent and one Poodle parent, which is why they are called first-generation (F1) Labradoodles.
The rationale behind the Labradoodle was to create a hypoallergenic breed, which was the same driving force in creating the Australian Labradoodle as the organizations responsible for breeding the first Australian Labradoodles wanted a dog that had the most positive traits. The first Australian Labradoodle was introduced in 1997. Their intelligence and calmness, coupled with the fact that they are easy to train, position them as candidates for service and therapy dogs. In addition, they have a life expectancy between 13 to 15 years.
Related: Australian Labradoodle vs. Goldendoodle.
What Do Australian Labradoodles Look Like?
Australian Labradoodles, just like their Poodle progenitors, are covered with so much curly fur they could be mistaken for a teddy bear. Despite the density of their curly coat, they still maintain a low shedding attribute and are hypoallergenic thanks to the Poodle genes in them. They have big soulful dark brown eyes and a square-shaped nose.
Australian Labradoodle Sizes
The Australian Labradoodle comes in varying sizes:
Miniature Australian Labradoodle: they grow between 14 to 16 inches tall and weigh anything from 15 to 25 pounds.
Medium Australian Labradoodle: These sizes can grow between 17 to 20 inches tall and weigh between 30 to 45 pounds.
Standard Australian Labradoodle: they can grow as tall as 21 to 25 inches, and their weight are often between 50 to 77 pounds (for males) and 45 to 65 for females.
Australian Labradoodle Coat Types
Australian Labradoodles have varying shades of brown, from milky cream to dark chocolate. They can also come in Red, Gold, Black, Blue, Caramel, Chalk, Cream, Apricot, and so on. One of the main benefits of getting an Australian Labradoodle is that they all tend to have a similar coat type in a litter. There isn't much differentiation and they tend not to shed.
Their coats are of three types:
Hair: Australian Labra's with this kind of coat tends to shed and might not be as hypoallergenic as others. Australian Labradoodles with this coat look shaggy as a result of their coat.
Fleece: this kind of coat is soft and can either be straight, wavy, or even spiral. Dogs with this kind of coat shed less and can be easily managed no matter how dense their coat is.
Wool: this kind of coat feel like wool. Australian Labradoodles that have this kind of coat can pass off as teddy bears. Australian Labra's with this kind of coat is the most hypoallergenic, and they shed less than the others. However, due to the texture of the coat, frequent grooming and weekly tendering are required.
Similar Content: Labradoodle Colors – A Complete Guide.
Temperament
Australian Labradoodles are very pleasant and friendly, especially around children. They are also very playful and require exercise that would keep them active. Its intelligence helps it to be easily trainable and, if undisciplined, can become a handful for the owner. It is not a noisy dog but requires physical activity to avoid boredom. According to the International Labradoodle Association, "they should display an intuition about their family members or handler's current emotional state or needs. This ability to "know" is what has made the Australian Labradoodle an excellent dog for individuals with special needs."
Common Health Issues with the Australian Labradoodle
Australian Labradoodles are a hybrid breed of dogs and, as such, might not get a lot of ailments as a result of crossbreeding practices. However, this does not exclude them because they often inherit some of their parents' health issues.
Some common health issues that Australian Labradoodles are prone to:
Eye Problems
Von Willebrand's Disease.
Addison's Disease
Choosing a size of Australian Labradoodles isn't an arduous task as whatever size you adopt, you are bound to enjoy your relationship with them thanks to their friendliness and intelligence.
Conclusion For "What is an Australian Labradoodle"
With three unique dog breeds combined, the outcome is an Australian Labradoodle. The Australian Labradoodle is filled with kindness and loyal to its owner. With the intelligence of a Poodle, this mixed breed is easy to train. Whether you live in a household with children or housemates, owning an Australian Labradoodle will make the stress in a person's life much more bearable. Once of the nice aspects about getting an Australian Labradoodle is that their coat type and size tend to be similar throughout a litter. If you get a first-generation dog like an F1 Goldendoodle, you'll get straight, wavy, and curly coats. Australian Labradoodles tend to almost always have a wavy coat if bred properly.
For more content with mentions of the Australian Labradoodle, you can check out:
To learn more about this breed, watch "Australian Labradoodle – Top Things to Know About" from Dogs Now down below: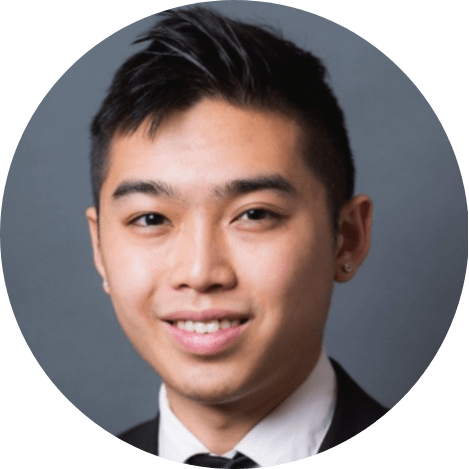 Andy is a full-time animal rescuer and owner of a toy doodle. When he's not saving dogs, Andy is one of our core writers and editors. He has been writing about dogs for over a decade. Andy joined our team because he believes that words are powerful tools that can change a dog's life for the better.
Why Trust We Love Doodles?
At We Love Doodles, we're a team of writers, veterinarians, and puppy trainers that love dogs. Our team of qualified experts researches and provides reliable information on a wide range of dog topics. Our reviews are based on customer feedback, hands-on testing, and in-depth analysis. We are fully transparent and honest to our community of dog owners and future owners.