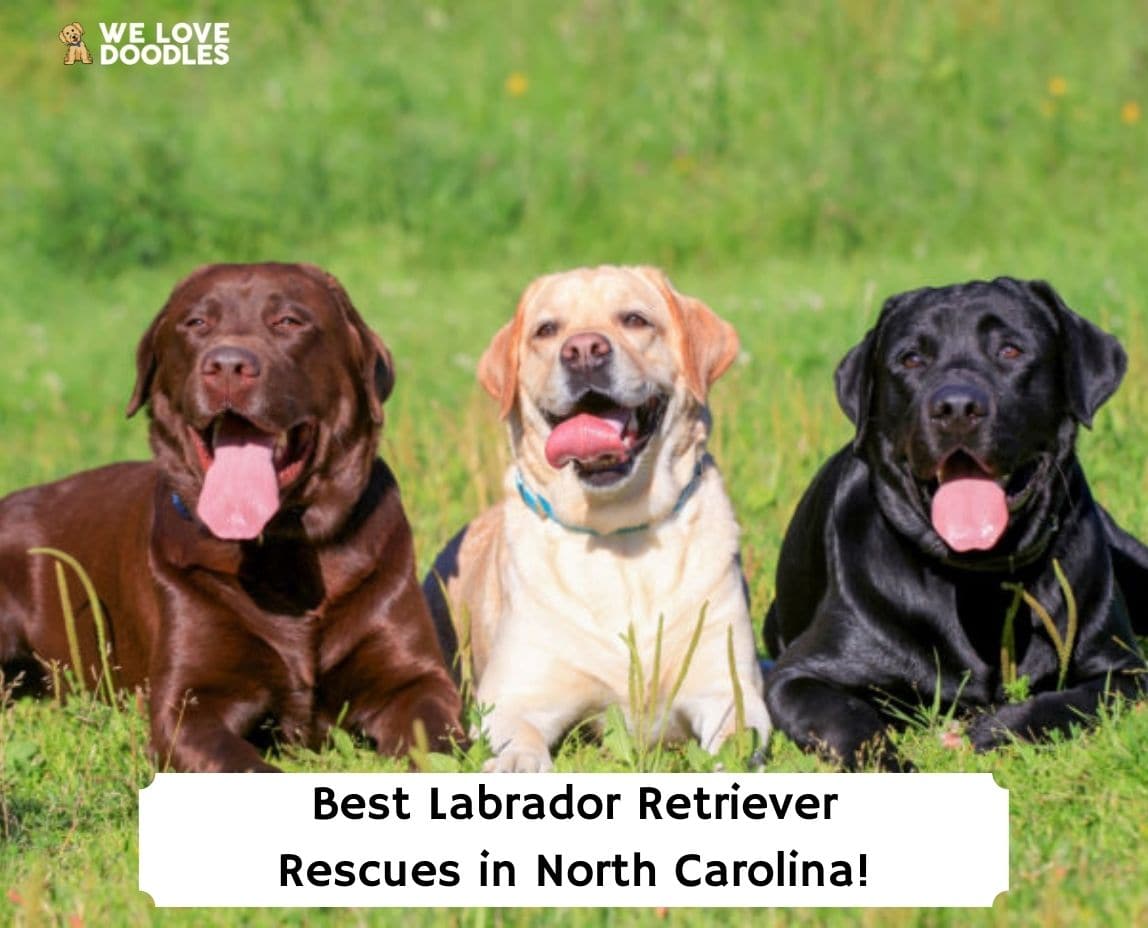 If you're searching for the best Labrador Retriever rescues in North Carolina, you've come to the right place. Bringing a new dog into your home can be incredibly rewarding for you and everyone else you live with. This is even more true when the dog you're adding to your family is loyal and fits well with your personality.
When you make a good match with a dog, the feeling you get is almost primal. However, getting there can be frustrating and discouraging if you can't seem to find the right match. Luckily, in particular, there's one breed that loves being around their human and lives to please.
This breed is none other than the Labrador Retriever. The Labrador Retrievers we know and love today are distant relatives of Newfoundland. The Newfoundland breed was originally bred with other Labrador breeds to create the Labrador Retriever eventually. Labrador Retrievers have become the American Kennel Club's most popular breed, making excellent family pets.
It should come as no surprise that the Labrador Retriever is such a popular breed as they're one of the easiest to train, and they're perfectly content hanging out inside with their human. However, it's important to make sure they have enough stimulation. When they get bored, they're notorious for chewing on things they shouldn't.
Labrador Retrievers are common family dogs, specifically because they're arguably the most patient of the dog breeds. They typically do well around small children and have a high tolerance for annoyance and irritation. They're also easily adaptable to most climates, though temperate climates are where they do best. The friendliness of Labrador Retrievers makes them good dogs to bring home if you have other animals in the home.
They're gentle and playful and are unlikely to hurt another animal in your home intentionally. With that said, training is still important to avoid any unfortunate accidents due to poor impulse control. The earlier you begin training, the better chances you'll have at grasping concepts and putting them into practice.
Before scrolling down this list of Labrador Retriever rescues in North Carolina, you can check out these other recommendations from our team at We Love Doodles: Best Doberman Rescues in North Carolina and Best Great Dane Rescues in North Carolina.
Find a Labrador Retriever Rescue Near Me in North Carolina
Although Labrador Retrievers are technically a pure breed, they're also, unfortunately, commonly found in shelters everywhere. This is likely due to the "Christmas Syndrome," Families bring home a puppy for a holiday and surrender it when they get "too old."
While they're pretty easily found at typical shelters, there are many lab-specific rescues throughout North Carolina. If you're dead set on bringing a Labrador Retriever into your home, the one way to guarantee you'll find one is to check out a breed-specific rescue.
Using a breed-specific rescue also means that you can be sure you're getting what you ask for. Beyond that, these rescues are best for ensuring dogs don't fall into the hands of someone with bad intentions. The adoption process is typically more stringent than a general shelter.
This may seem cumbersome at first glance, but it's in the best interest of the lab to ensure the person adopting them is genuine. Of course, you may not always have the best luck finding a breed-specific shelter close to you.
If that's the case, you may benefit from looking at out-of-state options. In most cases, rescues will accommodate potential adopters in the surrounding states where the organization is based. If you're in North Carolina, we've got four shelters and rescues that may help you find the Labrador Retriever you're looking for.
Labrador Product Recommendations: Best Go Pro Dog Harnesses and Best Air Dried Dog Food.
1. Save a Lab

Save a Lab rescue is a completely volunteer-led organization that works with utter dedication to rescue, rehabilitate, and rehome Labrador Retrievers that have experienced abuse and neglect at the hands of previous owners. They provide all of the necessary veterinary care to ensure the lab can live a healthy life in a new home.
The adoption screening process is very thorough, and potential adopters must follow the protocol to be accepted. Because the organization is volunteer-run and led, they rely solely on donations for the rescue operation.
Save a Lab Details
2. Paws Place Dog Rescue

Paws Place is a no-kill shelter that accepts dogs of all breeds. The organization's primary goal is to find loving homes for all dogs they rescue. The non-profit rescue is dedicated to the rescue, rehabilitation, and rehoming of dogs in need, regardless of breed.
Although the shelter began in Brunswick, Colorado, they're now located in North Carolina. The rescue runs entirely on donations and generosity from businesses and other organizations. Before any dogs are made available, they undergo a veterinary examination, are micro-chipped, and pass all the tests to be adopted into a new home.
Paws Place Dog Rescue Details
3. Lab Rescue of North Carolina

Lab Rescue of North Carolina is a volunteer-run non-profit organization that focuses on giving Labrador Retrievers another chance at life. Their mission as a rescue is to match purebred Labrador Retrievers to their perfect home and requires all potential adopters to fill out an adoption request form to get the process started.
Along with offering adoptions, they also have a foster program for anyone who may not be ready to make the full commitment yet. All dogs currently available for adoption are regularly updated on their website.
Lab Rescue of North Carolina Details
4. The Humane Society of Charlotte

Last on the list of the best Labrador Retriever rescues in North Carolina is "The Humane Society of Charlotte." Another public shelter you may consider trying out is the Humane Society of Charlotte. Although they aren't breed-specific, there's a good chance you'll find a Labrador Retriever there.
And, even if you aren't lucky enough to find a purebred lab, there is always an abundance of Labrador mixes living in temporary shelters. The private non-profit organization consistently works to improve the Charlotte community by providing education and creating new families for the animals they house.
The Humane Society of Charlotte Details
Before Adopting a Labrador Retriever From a Rescue in North Carolina
We understand how overwhelming becoming a dog owner for the first time can be. As easygoing as Labrador Retrievers are, it can still be frazzling to bring them home, and you aren't sure how to give them the best possible environment. Luckily, labs are pretty easy to please.
Depending on their age, you may get by with just a little bit of outdoor space and a cozy spot to snuggle up next to you. For younger labs, as long as you allow for adequate stimulation and remain as loyal to them as they are to you, you shouldn't experience any issues.
It would be best to give your lab a little bit of grace when you first come home. As loyal and well-behaved as Labrador Retrievers are, they can still become overwhelmed by new surroundings. It's up to you to help them navigate their new living environment. This shouldn't be too difficult, considering you're the only home they need.
You should also consider what the Labrador experienced before coming to the shelter on a lesser-known route. Labrador Retrievers are extremely sentient and empathetic. If they endured trauma in their previous home, they might be prone to anxiety or nervousness.
In this situation, the best thing you can do is offer reassuring words and pets and adjust your routine to eliminate possible triggers. Grooming is another important thing to keep in mind with Labrador Retrievers. This breed of dog sheds year-round and needs regular grooming to prevent mats and gunk build-up between their coats. You may also consider investing in a good vacuum to keep up with the shed.
Related: Do Labrador Retrievers Have Webbed Feet and Best Shock Collars For Labrador Retrievers.
Bringing Home a Labrador Retriever in North Carolina
Depending on how old your Labrador Retriever is when you bring them home, you may need to make small changes to your interior and exterior. Inside, you'll want to puppy-proof any area a lab puppy or adolescent can get into. Outside, be sure to have a fenced area where your Labrador Retriever can safely explore its surroundings.
In other words, puppy-proof your home like you would baby-proof before bringing a baby home. In most cases, rescues won't adopt a Labrador until at least six months to one year old. The Labrador Retrievers adopted out also typically go through very basic training, so bringing them home likely won't be as stressful as you may think.
Remember to speak with the rescue you're adopting from and get a detailed history of the lab's life. If they were treated poorly and a certain item or event triggers anxiety, take care to adjust your day-to-day life.
Related: Best Brush For a Labrador Retriever.
Conclusion For The "Best Labrador Retriever Rescues in North Carolina"
Congrats. Now you're well-equipped with the right information for bringing a Labrador Retriever into your life. If you're looking for a Labrador Retriever rescue in North Carolina, consider one of the four rescues we mentioned in this guide. Regardless of your choice, in the end, we hope we've helped push you to take the next steps.
For more guides similar to this list of Labrador Retriever rescues in North Carolina, you can check out:
Before you bring home a Labrador Retriever from a rescue shelter in North Carolina, you can learn more about this dog breed by watching "Labrador Retriever Pros and Cons – Should You Get a Labrador Retriever" down below:
Garrett loves animals and is a huge advocate for all Doodle dog breeds. He owns his own Goldendoodle named Kona. In addition, he volunteers at the Humane Society of Silicon Valley, where he fosters dogs and helps animals. Garrett enjoys writing about Doodles and believes that dogs can teach humans more about how to live than humans can teach a dog.
Why Trust We Love Doodles?
At We Love Doodles, we're a team of writers, veterinarians, and puppy trainers that love dogs. Our team of qualified experts researches and provides reliable information on a wide range of dog topics. Our reviews are based on customer feedback, hands-on testing, and in-depth analysis. We are fully transparent and honest to our community of dog owners and future owners.