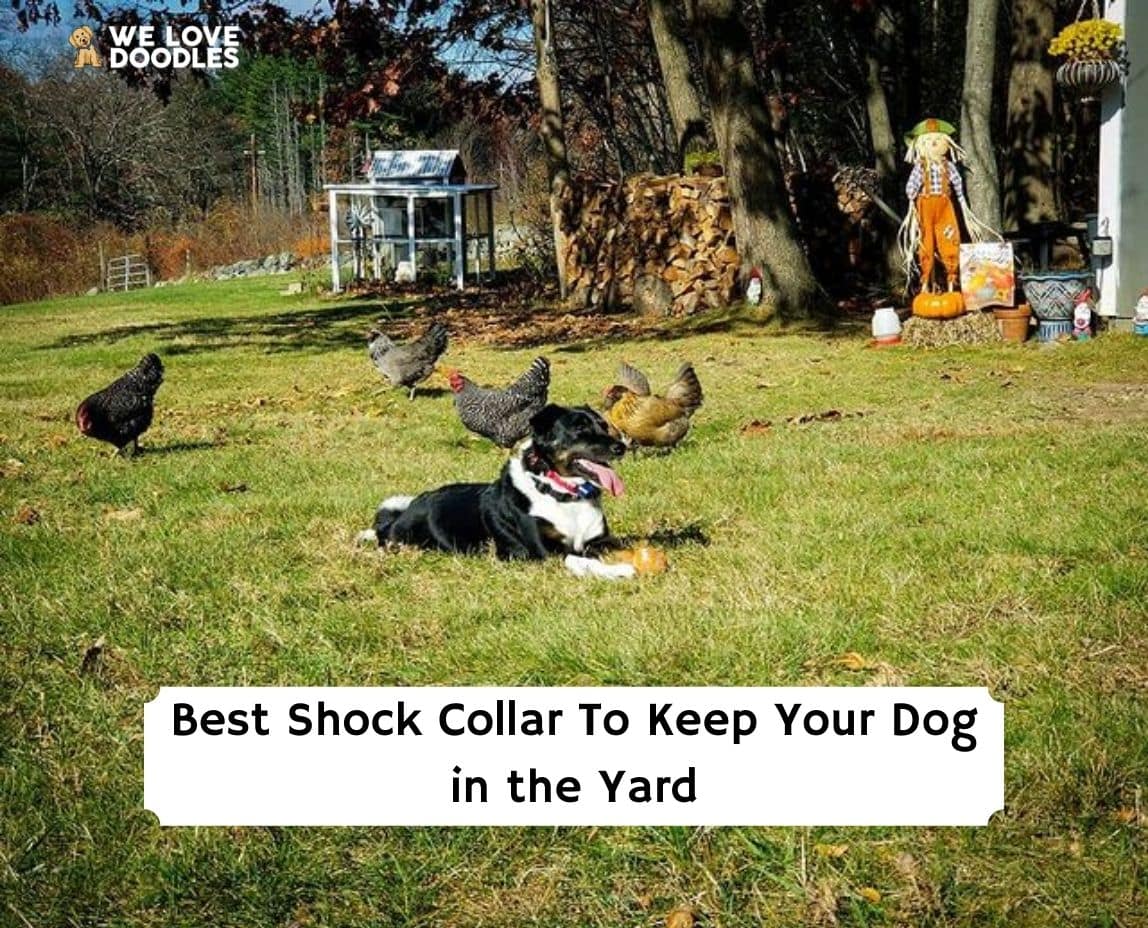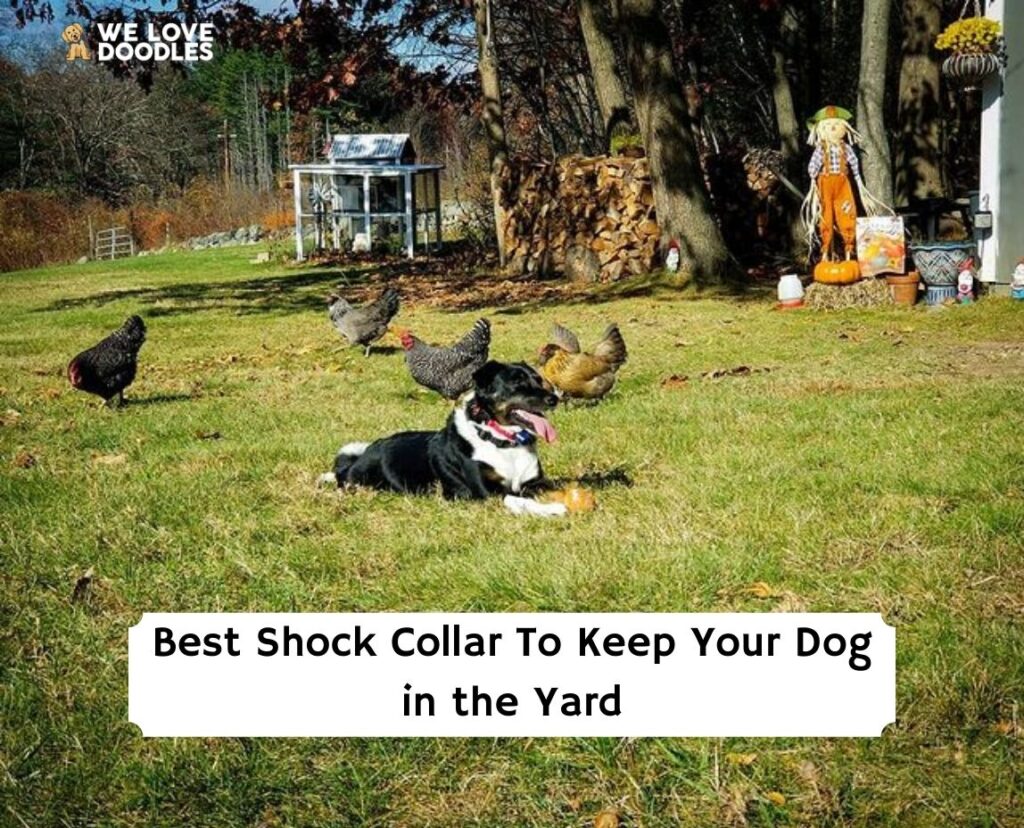 Your house is your sanctuary and a house is sometimes defined by its boundaries. Anything within your home and yard is safe, and anything outside could be dangerous. This is often the case for children, but the same can be said for your dogs. You'd like both of them to stay within your yard for their safety, and in the case of your dogs, sometimes for others' safety as well. 
Some yards have sturdy, tall fences to keep dogs from going out, but some owners don't have that luxury, and some dogs always seem to find a way either under or over. If you can't solve it from the outside, then you need to do so from the inside, and that's where training comes in.
There are a lot of different tools to help with this and the most effective are shock collars. Even though they still use electric shock, they are dialed down so they won't hurt your dog. If you don't have a fence around your yard, you'll want to use a containment system that creates an imaginary barrier around your yard. There are several in-ground or underground containment systems as well as wireless containment systems.
We'll give you a list of recommended shock collars to keep your dog in the yard! If you're a rush, we listed the top products below:
Product
Best Shock Collar
Pet Resolve
Best Wireless Containment System
Pet Safe
Best Underground Dog Fence
Extreme Dog Fence
Image
The first collar on the list is jammed packed with features in a well-optimized way. Basic shock collar training is highly effective in keeping them in, and also bolsters their loyalty, provided that the training is done correctly. The advantage of training collars like this is there's no need for underground installation of any kind.
Features
Three Training Modes: Shock, Vibration, and Beep
10 Intensity Levels
3/4 Mile Total Range
Supports up to 3 Collars 
Memorizes Settings for Each Collar
Automatic Anti-Excessive Barking Mode
Bright LED Receiver Lights
Collar Fits Dogs 15lbs and Above
Splashproof Remote Controller, Waterproof Receiver
Always-Awake / No Stand-By Mode
Lithium-Ion Rechargeable Battery
In some cases, it's best to shape your dog's behavior around the yard than the yard itself. That can be achieved using obedience training with the use of shock collars and a tactical bag of treats. The Pet Resolve training kit has all the needed features for said training, alongside plenty of handy features you can use for outdoor activities. 
The tree training modes are expected of most if not all modern shock collars. Depending on your dog, you can use either shock or vibrate mode as a form of negative reinforcement, and should you use shock, you have 10 levels of stimulation to choose from, depending on how resistant your dog is, and what you need to do with it. The beep can be used as a way to signal your dog when they do a great job, or just when looking for the receiver in case it's lost.
The receiver also has a decently bright LED light you can remotely activate to help locate your dog in your yard, or when out hunting. To further support that, the remote can reach the collar as far as 3/4 miles or about 1300 yards. This means even if you're behind three walls, your remote should still reach your dog from your yard. 
If you want to train 2-3 dogs at a time, the remote can be paired with as much. It's also easy to switch between collars by simply pressing one of the three buttons on the bottom. The remote also memorizes the shock level of each collar in case you have a stubborn dog and a relatively amicable one. 
When not in training mode, you can switch the collar to bark-limiter mode. The remote won't work in this mode, but the receiver will then listen for your dog's barks. When they bark for more than a few seconds, the collar will let out a beep. If that doesn't stop them in a few seconds after, the collar will deliver a pre-set shock, then pause for 1 minute. This way, the collar will still allow your dog to bark, just not enough to annoy you and your neighbors. This is fully automatic, no need to do anything except set the shock level first and remove the collar after about 8 hours.
The splashproof remote can withstand the heaviest rains and a direct stream of water, but should not be submerged. The receiver, however, can be submerged as deep as 25 feet and can last around 30 minutes before any potential water damage.
One con of this shock collar is that it doesn't go to standby mode. Normally, a shock collar would go to this mode when it's been idle for a few minutes, helping it save battery. On the upside, it means you'll never miss your timing during drawn-out training sessions, or when you're out hunting.
 If you're looking for a shock collar that comes with an actual installation, then this could be the collar for you. It has all the basic features of a shock collar alongside an underground electric fence installation. If you can't properly train your dog via remote shock collar training, a passive way via underground installation should suffice. 
Features
Three Training Modes: Shock, Vibration, and Beep

10 Intensity Levels

3/4 Mile Total Range

Supports up to 3 Collars 

Memorizes Settings for Each Collar

492ft of 20-Gauge Solid Core Electric Fence with Flags

Collar Fits Dogs 11lbs and Above

Waterproof Collar

Lithium-Ion Rechargeable Battery
Like the first collar, this one also functions as a basic shock collar. It has the three training functions common among shock collars: Shock, Vibrate and Beep. Depending on your dog, vibration mode is enough to stop them from harmless things like play-fights, horsing around, and crossing boundaries. In case they are the more stubborn kind, you have 10 stimulation levels to use. 
It also has a pretty good range, 3/4 miles like our first collar. Please keep in mind that the range is greatly dampened by virtually anything that can block radio waves. With this range, it will be easier to handle multiple dogs, seeing that the remote can also pair up with a maximum of three collars.
This training kit comes with an extra transmitter with a 492 feet boundary wire you can either place underground or on a raised non-metal platform like on a wooden fence. Think of the cable as a massive antenna that extends the other transmitter. When your dog goes near the cable, approximately 6 inches close, the collar will trigger a shock. 
This works passively, meaning you don't need to be there for it to work. The collar is supposed to give a beep if the dog is near enough the cable, to provide a sort of warning before the shock at the closest proximity. To help your dog spot the perimeter, the kit comes with white flags. While it works passively, it would be prudent to train your dog first to identify the flags, otherwise, they may get confused when they hear the collar beep and feel the shock.
Like most of the shock collar training kits, the remote is splashproof, but cannot be submerged. The receiver can withstand being underwater for about 30 minutes. The battery life is around 50-70 hours of active use, which should last about a week during regular training, or wearing the collar for 8 hours maximum a day.
The third collar on the list is not a remote control operated shock collar. Instead, it's a wireless perimeter collar that activates once the collar loses signal. It's technically a training collar in terms of keeping your dog inside a certain distance and it is a good quality collar despite the limited features.
Features
Two Training Options: Shock, and Beep

5 Static Intensity Levels

2420 square yard maximum coverage

Collar Fits Dogs 8lbs and Above

Can Support 2 or More Collars

No-Shock Re-Entry

2-Month PetSafe RFA-67 6 Volt Batteries
The small receiver only has shock and beep, likely for the warning beep when your dog is about to cross the boundary, and the shock that triggers when they cross said boundary. It has 5 levels of shock and based on reviews, a weaker shock than most collars. You can program the transmitter to just beep instead of using the static shock.
What this collar offers is a no-install setup that works virtually anywhere, even in high apartments where you don't want your dog going down and out the gate. Like shock collars here, it works off certain radio waves that communicate between the transmitter and the receiver on the collar. This means it would reach the maximum 1/2 acre circle / 2420 square yards in an open space. If it's inside thick walls like inside a house, it would decrease roughly to 70% of the total range. 
One small drawback here is that wireless fences don't have a visible boundary. You may need to map out where the boundaries are by taking the collar with you and finding out how far you need to take it to beep. This is important when trying to place markers for your dog to see. 
One good feature this collar does have is it's programmed not to trigger the shock when the collar meets the signal again. This means if you take your dog out for a walk, they won't get shocked when they enter. It's a small thing but makes it less likely for your dog to be confused about where to stay.
The battery is supremely long, perhaps the longest of all the collars here but with a twist. Each battery pack lasts 2 months of service but isn't rechargeable. You need to purchase the same brand battery pack separately if you need another recharge.
The fourth collar on the list has a very compact remote controller with simple but effective functions. They also have what's defined as a "Blunt" shock, which is either a weaker shock or a shock that travels with lower frequency but the same energy, likely resulting in a more "blunt" sensation. 
Features
Three Training Modes: Shock, Vibration, and Beep

100 Intensity Levels

"Blunt" Shock Sensation

Stimulation Boost Button

1/2 Mile Total Range

Adjustable Collar Fits Dogs 15lbs and Above

Waterproof Receiver and Remote Controller

Lithium-Ion Rechargeable Battery

The store has colorful options for remote design
You'll get the same three main training functions for effective dog training. The beep is audible enough and the vibration is intense. The shock is advertised as "blunt" but it also has an incredibly wide range of levels, 100 in total. It doesn't mean it's 10 times more powerful than a 10 level shock, but instead, you have 10 times the in-betweens of the lowest and the strongest shock. 
The Stimulation Boost button is an extra button close to the shock trigger that causes a higher shock, than the collar. This is useful for particularly stubborn or trouble-prone dogs. One example you can use this if your dog is a runner. Dogs are quite one-track-minded when chasing something like squirrels, cars, or other dogs so you may need a higher stimulation to get their attention before they put themselves at any risk. 
In case they are indeed sprinters and runners, the remote has a range of 1/2 miles, ensuring that you can still reach them even if they run away for 3-5 seconds at max speed. 
One more quirk this kit has is that the remote is not just waterproof, but also floats, provided the remote case is intact. This means dropping it on the pool or lake is more of an inconvenience than a challenge.
Despite the small case, the battery life is around 50-70 hours before needing to be recharged. When you do, it just needs 2-3 hours to fill the battery. 
The last collar on the list is a passive shock collar that works using an underground wiring system. Like the 3rd collar on the list, it does not have any active training functions, but it is very good at keeping your dog within a certain boundary. 
Features
Two Training Options: Shock, and Beep

7 Static Intensity Levels

500-2000 feet Underground 20 Gauge Wire

Collar Fits Dogs 8lbs and Above

Can Support Up to 5 Collars

Waterproof Collar Reciever

6v Collar Receiver Battery
 The collar's configuration to switch from just tone to tone + shock is by changing the shock level. It has 7 levels of shock and setting it to 0 (zero) will turn the beep-only mode on. Due to the smaller battery output, the shock isn't as powerful as a standard shock collar which would be beneficial for sensitive dogs but might be a challenge for owners with stubborn dogs.
There's some flexibility offered depending on how many dogs you need to handle and how much wire you need to cover a certain area. The transmitter can support up to 4 additional collars and up to 2000 feet of wire or around 670 yards of wire. It's worth noting that this should be an underground wire, so you need to use a circular saw if you want to install the wire under concrete. Like all collars on this list, you can separately purchase additional wire and additional collars as needed.
Unlike the active remote training collars, the batteries are not rechargeable. According to the store, they use 9-volt Perimeter batteries but they last quite long, reaching as long as 4 months before you need to replace the battery and at that point, your dog may already get the idea and won't need the collar. 
Frequently Asked Questions
Thank you for reading our list of shock collars to keep your dog in the yard. The collars on this list all have their pros and cons, but for first-time owners, there may be some confusion about which is better: active training versus passive training, or other questions like the safety of shock collars in general. We'll do our best to answer these questions and hopefully provide you with enough insight into the use of electronic collars.
Active Training vs Passive Training?
They are technically the same in boundary training: using the method of conditioning to make your dog behave a certain way when they hear a signal. The difference is who is giving the signal.
With active training, you're calling the shots and your dog sees you and hears you, (and smells you. that's important). Your dog not only learns the commands and boundaries but also learns to follow you and your body language. With simple obedience training, you can tell them to stop when they reach a certain mark, like with flags. Seeing you do the commands also improves their social and mental health and that still works without the use of electronic collars. 
With passive training, the device does all the work for you, which is good if you don't have the time to handle the training or have too many dogs to cycle training from. The devices will still do the same process, they will beep first, then shock if the dog crosses or comes too close to the wire. They will associate the beep with the shock, and therefore stop when they hear the beep. That's all it does. It completes the goal though, but without all the nice bonus of social, physical, and mental development for both you and your dog. 
Both can reduce unwanted behavior like going out of your yard, but with remote shock collars you can promote proper behavior and with the right guidance, even reduce aggressive behavior should your dog have any.
Do Shock Collars Hurt My Dog?
The answer will literally make your skin crawl. Really, that's the effect, or at least very close to it. Given the collar is well made and goes through quality checks (Like the collars on this list), the effect is comparable to a spiny bug crawling on your skin. However, pain is subjective. One person can withstand holding an ice cube on their palm until it melts, but another could barely hold it for a few seconds. The same goes for dogs. Some will find, for example, level 3 on the 10 level collar to be yelp-worthy but another dog (even a smaller one) may not even bat an eyelid on a level 4. 
The solution here is to find your dog's functional responsive level every 2-3 weeks. You do this by ensuring the collar's properly placed on your dog, setting the collar to the lowest level, then triggering it. Watch your dog's reactions. When they react in the smallest but observable way, you're good, stick to that level for the entire training. If they don't raise to the next level and repeat until they make the smallest reactions to the shock. 
This doesn't mean it always goes down though. Some dogs will go the other way and get used to the level so you have to make the appropriate corrections. It really depends on the dog and a host of other factors. The main is to provide an irritating sensation, never a painful one. 
How do I train my dog to stay within boundaries using shock collars?
When you choose active training, it's now a matter of how you train them. To set your expectations, the steps are few and but require good, somewhat consistent effort to make it work. If the reward is your dog learning more about you, and becoming more obedient, then it's worth all the effort. This is just one method among several, but we chose what we believe is easy to start with.
Set up the boundary using white flags, or any similar marker. Yellow is also a nice visible color for dogs. Try to make the formation as geometric as possible with the flags around 2-3 feet apart

Prepare your walking leash, the shock collar, and a small bag of treats you know your dog will like. It's better if it's different from what they usually eat, and something they cannot resist, like beef or chicken. 

Walk your dog within the boundary. A bit far from the border for two or so times, then walk closer to the founder, enough to let them stray out the barrier. Ready your remote.

When your dog crosses the line, state your recall command, or another command like "Go back!" or just "Back!", press the shock collar button and pull on the leash. As soon as they go back inside the boundary, release the button, then immediately state your "reward" signal like the shock collar beep or saying "Good!" and instantly reward them with a treat.

Do this at your own pace, but limit the training to one 15-minute session every hour. Longer training sessions could stress your dog out and do the opposite effect or prolong the training. Usually, you can tell when your dog's getting a bit worn out. Make sure that you don't take the shock collar off though, give it another hour before removing it, otherwise, your dog might consider only staying within the border when the collar is on. If you're worried about the prongs, you can loosen the collar when training is done. 
Admittedly, step 4 requires good timing. Don't worry though, as long as the steps are done in order, (Bad behavior > command > shock > proper behavior > stop shock> treat) you'll eventually get the hang of it and it won't harm or confuse your dog in the long run. After 2 weeks or so of training, your dog should already understand not to cross the flags, and when they do for any reason, a simple "Back!" command will let them go back into the boundary.
Conclusion For Best Shock Collar to Keep Your Dog in the Yard
We always want what's best for the people and pets we love. Sometimes, that involves a touch of discipline and tough love. Sometimes, a firm voice and rewards just aren't enough and we need to use tools to get the most out of the time and effort we spend teaching them. The good and somewhat ironic part about using shock collars is if you use them well, the less you need them, and eventually, you'll only need positive reinforcement for any other training you may do.  
Other articles you would like:
Garrett loves animals and is a huge advocate for all Doodle dog breeds. He owns his own Goldendoodle named Kona. In addition, he volunteers at the Humane Society of Silicon Valley, where he fosters dogs and helps animals. Garrett enjoys writing about Doodles and believes that dogs can teach humans more about how to live than humans can teach a dog.
Why Trust We Love Doodles?
At We Love Doodles, we're a team of writers, veterinarians, and puppy trainers that love dogs. Our team of qualified experts researches and provides reliable information on a wide range of dog topics. Our reviews are based on customer feedback, hands-on testing, and in-depth analysis. We are fully transparent and honest to our community of dog owners and future owners.