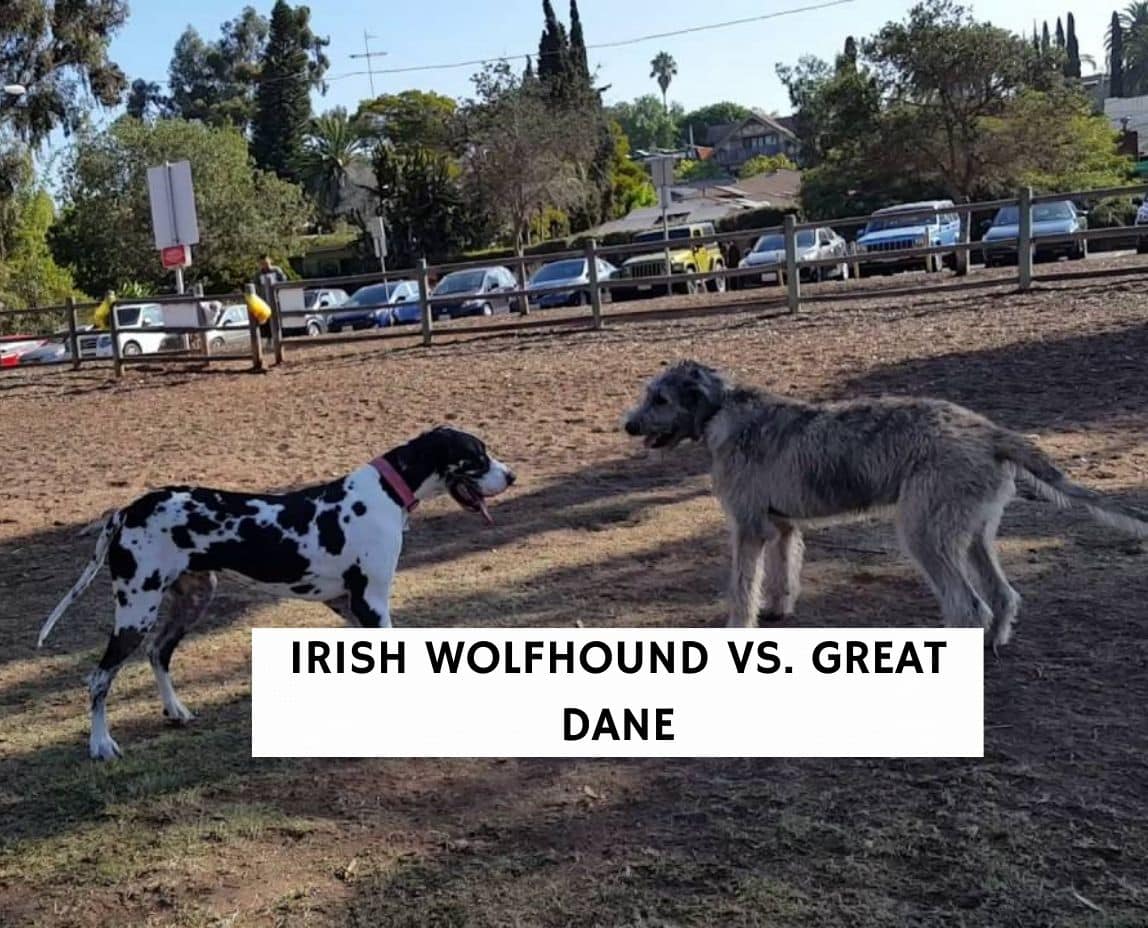 This guide will teach you the differences between Irish Wolfhound vs. Great Dane dog breeds. Before getting started, here's what you need to know about the two. There are many dog breeds out there that often get confused for one another or are thought to be interchangeable. The truth is that while two breeds may look very similar, they are often quite different when you look at the details.
The Irish Wolfhound and Great Dane are two such breeds that are often mistaken for each other. They are both really large dogs, perhaps where the confusion stems from, but they are also different in many ways. This guide will share the differences between the Irish Wolfhound vs. Great Dane. We will let you know the characteristics that might make them similar and the things that set them apart that maybe you didn't know about. Let's take a look.
Before you scroll down this dog breed comparison guide, "Irish Wolfhound vs. Great Dane," you can check out these other comparisons from our team at We Love Doodles: Whoodle vs. Goldendoodle Dog Breed Comparison and Aussiedoodle vs. Sheepadoodle Dog Breed Comparison.
Irish Wolfhound
We thought it might be easiest to first talk about one breed and then the other. We will discuss all the details about the Irish Wolfhound and follow up with the Great Dane. The Irish Wolfhound has always been thought to be a gentle giant. It's one of the largest dog breeds out there. They grow to be nearly human size in some cases and can easily weigh more than 100 pounds. These dogs are large, so they need room to run and play.
Size
We mentioned earlier that the Irish Wolfhound is one of the largest dog breeds in the world, and we stand by that statement. They grow to be up to 30 inches tall and weigh around 120 pounds. While 120 pounds is standard, a male can weigh close to 180 pounds at full growth. While tall and built, they aren't overly large in beefiness and don't have big furry coats.
Their size alone requires room for them to move around, play, and release some of their energy. They tend to be very energetic as puppies. A lot of times, when you think of a dog this size, you probably think about guard dogs. The thing is, they are friends with everyone and super sweet. We will talk more about their temperament in a bit.
Related: Large Non-Shedding Dog Breeds.
Breed History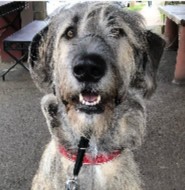 One of the things you will find that is different between the two breeds is that an Irish Wolfhound descends from the hound family of dogs. Great Danes do not. These dogs were once used as hunting dogs in Ireland. They were also guardians at that time too.
They are very fast, which is what made them so great for hunting. They were even used for hunting wolves and pursuing other games that required them to be fast and efficient. Other interesting histories behind the breed include mythical stories and stories that relate to as early as 391.
Health
Most of the health issues an Irish Wolfhound might experience have to do with its size. These giant dogs experience issues like hip and elbow discomfort and may also experience arthritis as they age. A common health ailment that dogs who are large and have deep chests experience are a sickness called bloat. This is usually a sudden ailment that happens. It causes the abdomen to start swelling, and it can be life-threatening.
If you choose to get an Irish Wolfhound, it would be a good idea to familiarize yourself with signs and symptoms so you can react immediately if you notice signs with your dog. Other health issues you should screen for your dog regularly include heart disease, pneumonia, cancer, and liver shunt. These are to be proactive for your dog's health. Irish Wolfhounds live to be around 6-8 years old.
Temperament
The Irish Wolfhound was raised to be a hunter long ago, but they are no longer bred for that purpose. They are no longer used as guard dogs, for the most part, either. Your Irish Wolfhound will most likely be an incredibly gentle dog that loves people. They will have plenty of energy, especially as puppies.
They tend to calm down and mellow out as they age, but they will still be energetic and excited dogs. Irish Wolfhounds love kids, and they love to play. They are sensitive, so they don't like to get in trouble, but they respond well to positive reinforcement when it comes to training.
They may not get along well with smaller animals, seeing them as prey. However, it is possible to pair them together, particularly if you have experience being a dog owner. You can also introduce them together when your hound is young, which will also help.
Grooming Needs
This is another place you will find a significant difference between breeds. While both breeds are short-haired dogs, the Irish Wolfhound has a wiry coat. It doesn't necessarily get long, but it must be groomed and trimmed regularly to keep it from matting and tangling.
Their hair tends to feel rough and slightly wiry to the touch, almost consistent with the hair of a Poodle or terrier when it comes to how it feels against your hand. You can groom your dog at home with regular brushing. We recommend a brush designed to prevent or help remove matting.
Related: How Long Does Dog Grooming Take and Best Dog Grooming Shears.
Great Dane
Now, let's take a look at the Great Dane. These are almost the same size as an Irish Wolfhound but probably slightly smaller. Their sizes are very close. These dogs do not originate from a hound, but they are a big friendly giant breed. The Great Dane is a heavy and muscular dog, but they have short hair.
They are friendly and outgoing and just like the hound. They love to frolic and play. They are barkers and will most definitely sound scary because of their size. They usually have a loud bark but no real bite. These may be more suitable for an experienced dog owner.
Not because they are hard to train or work with but because they are a lot of dogs and can require a lot of attention and exercise, particularly as puppies. It might be helpful to have some idea of just what you are doing. These dogs are often called the "Apollo of Dogs" because of their easygoing temperament paired with their size.
Size
Great Danes are huge dogs. They can grow to about 3 feet in height and will almost certainly weigh close to 100 pounds (or more) when fully grown. They are slightly smaller than an Irish Wolfhound but very muscular and sturdy in stature. When it comes to size, none of their sizes comes from a heavy coat. They have short hair, so that is all dogs.
These dogs typically weigh around 110 pounds, but they could easily weigh up to 175 pounds for full-grown males. Great Danes are known to be towering dogs. They will outgrow just about any other dog. They also like to stand on their hind legs (with support, of course), and when they do, they will most likely be taller than most humans.
Breed History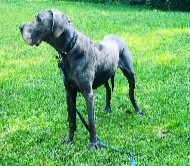 Great Danes are from the mastiff breed, which differs from the Irish Wolfhound. They've been around since at least the 15th century, with stories about accompanying German aristocracy as companions. They have a strong British heritage, although people often assume they are from Denmark because of their names.
The Great Dane was also a common hunting dog in those centuries and was used for hunting wild boars. In 1876, Great Danes were named the national dog in Germany. These dogs continue to be extremely popular and are highly rated by the AKC, falling in at 19 of 135 breeds.
Health
Great Danes tend to live slightly longer than Irish Wolfhounds but still do not have a very long lifespan. These dogs typically live about 8-10 years. Many of them live more like 6-8 years in reality. Since they are such a large breed, you do have to be cautious of their joint health.
They are more likely to experience hip or elbow challenges and may also suffer from arthritis. Some common health ailments include eye problems, cardiac diseases, hypothyroidism, autoimmune issues, thyroiditis, and hip dysplasia. Unfortunately, the Great Danes can also be subject to bloat.
This is the most common reason Great Danes die from health issues, so if you choose to get a Great Dane, be sure to learn the signs and symptoms so you know what to expect. Some Great Dane owners opt for a procedure known as prophylactic gastropexy. This is meant to be a preventative surgery that can potentially reduce the risk of bloat and protect your Great Dane from that potential issue.
Temperament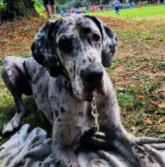 Great Danes, as we mentioned, are gentle giants. They most definitely have this in common with the Irish Wolfhound. They can make good guard dogs because they like to bark. Their bark is deep, so it's likely to ward off intruders and defend the home. While they protect their home, they are also very easy-going and happy dogs.
As puppies, they require lots of activity and playtime, but as they grow older, they mellow out slightly. You will still find that they are playful and excited but may not require as much exercise as a puppy. Keeping your dog active with exercise can also be proactive for their health. It could be beneficial to help reduce joint issues. It's a great way to keep their joints healthy and active.
Overall, Great Danes are known to be some of the sweetest dogs. They love children and playing with children, and they do well with them. Regarding training, Great Danes will require some training for behaviors like barking and protectiveness, but they respond well to positive reinforcement.
Related: Friendliest Dog Breeds with Images.
Grooming Needs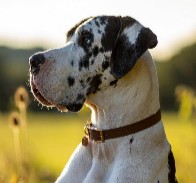 Great Danes have short coat that is soft and smooth. It's very easy to take care of, apart from occasional bathing and brushing to help with shedding. They don't require any extensive grooming. It would be best if you planned to use a medium-bristle brush to brush them regularly, but they won't need special trimming or cutting for their coats. Great Danes don't shed a lot, but they are big dogs, so that the hair can add up.
That brushing we mentioned will help reduce shedding. Even bathing isn't required extremely regularly. Their coats are soft and short, so they don't get super dirty. When they start to smell, or if they get into something that makes them stink, you can bathe them as needed. Don't forget to keep their nails trimmed to avoid issues with their paws.
Related: How to Groom with a Slicker Brush and Best Vacuum Brush For Dogs.
Conclusion For "Irish Wolfhound vs. Great Dane: Dog Breed Comparison"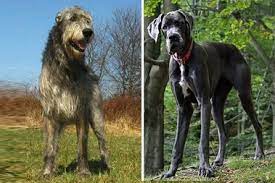 In review, these dogs are very similar, with only a few differences. They are both large dogs that tend to be friendly and lovable. Both breeds are often referred to as gentle giants, and their sizes are similar, although Irish Wolfhounds may get slightly larger. Their temperaments are similar, but the Great Dane is likelier to bark.
They both love children, and they both train well with positive reinforcement. Their health expectations are pretty similar as well. Great Danes are from the mastiff breed, while the Irish Wolfhound is from the hound breed. Their biggest difference has to do with their coats. The Irish Wolfhound has wiry hair that can grow a bit longer.
Because of this, they require more grooming than the Great Dane. However, they still are simple to groom. Great Danes have short, soft coats in comparison. Both of these dogs are great breeds. You definitely can't go wrong with either one of them. They are fun, beautiful giants loyal to their families and fun to be around. You can even breed together in a dog called the Irish Dane.
If you find this dog breed comparison guide, "Irish Wolfhound vs. Great Dane," informative and helpful, you can check out:
You can learn more about the differences between an Irish Wolfhound and a Great Dane by watching "The Irish Wolfhound vs. Great Dane: Detailed Comparison" down below: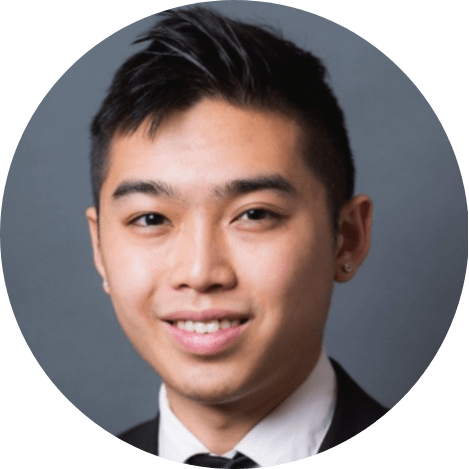 Andy is a full-time animal rescuer and owner of a toy doodle. When he's not saving dogs, Andy is one of our core writers and editors. He has been writing about dogs for over a decade. Andy joined our team because he believes that words are powerful tools that can change a dog's life for the better.
Why Trust We Love Doodles?
At We Love Doodles, we're a team of writers, veterinarians, and puppy trainers that love dogs. Our team of qualified experts researches and provides reliable information on a wide range of dog topics. Our reviews are based on customer feedback, hands-on testing, and in-depth analysis. We are fully transparent and honest to our community of dog owners and future owners.