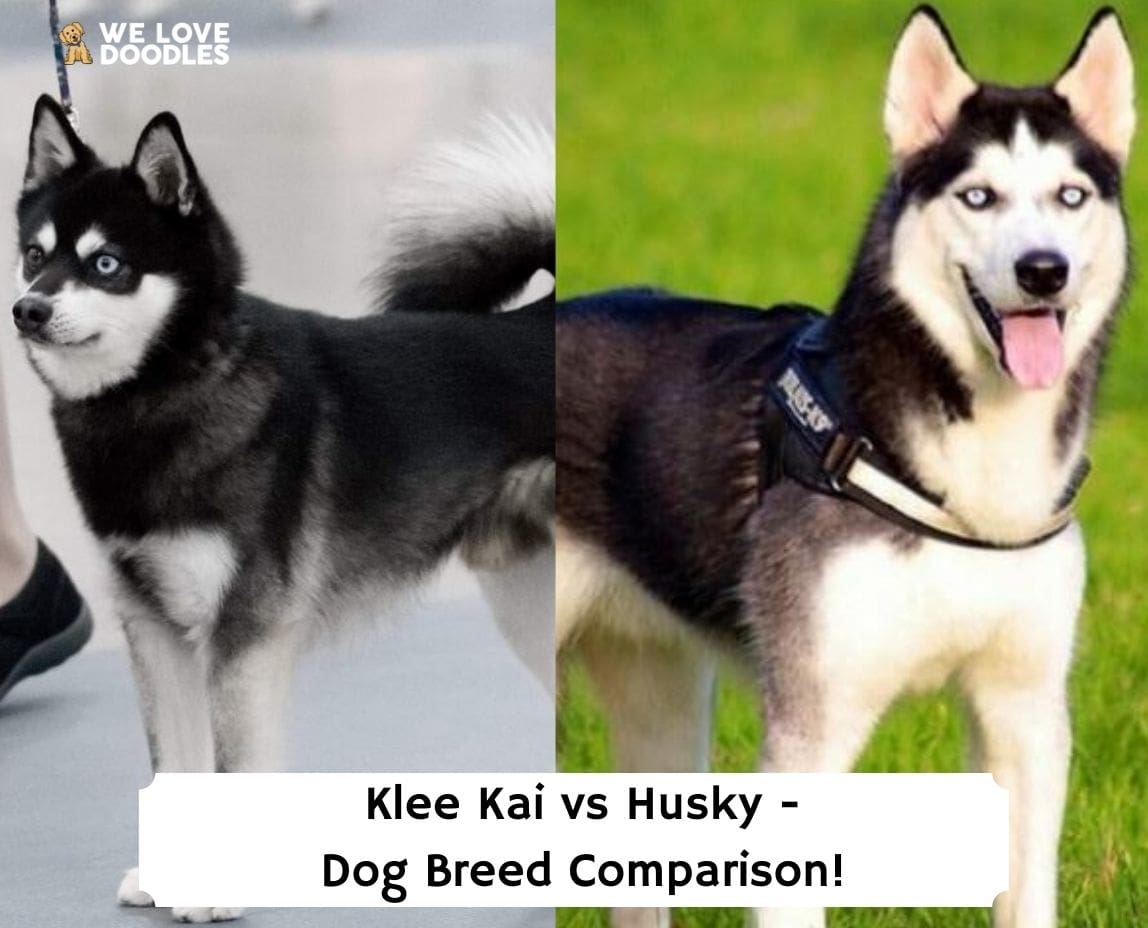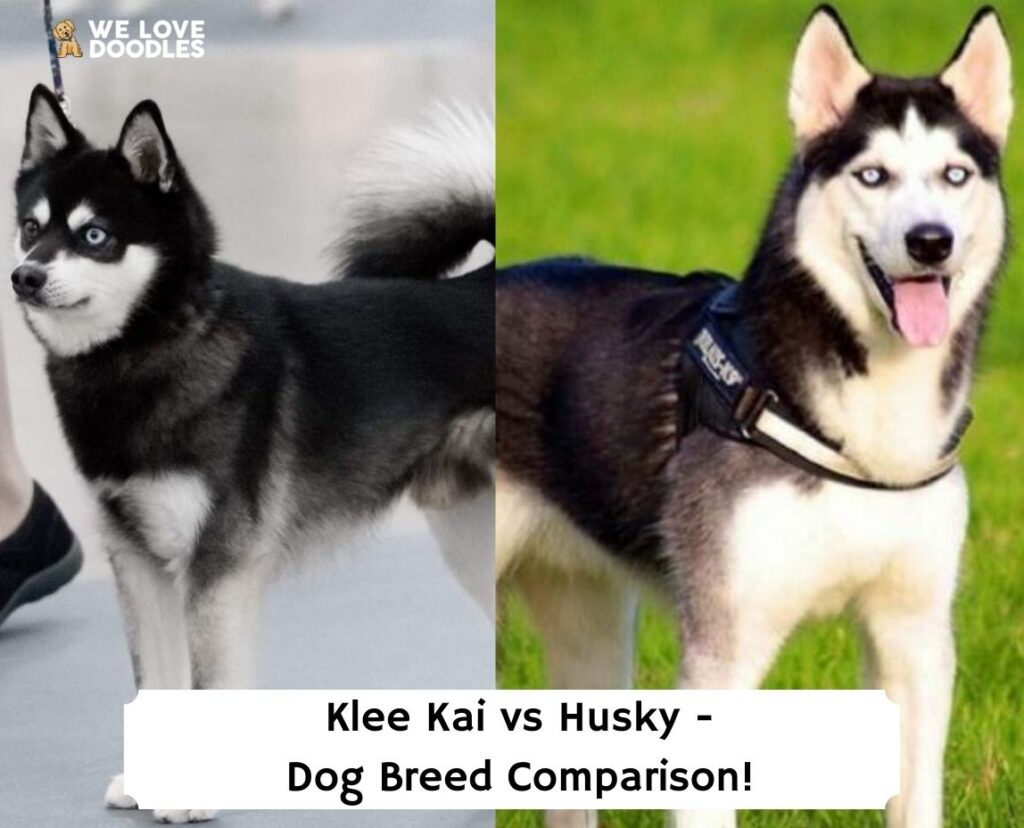 What are the differences between a Klee Kai vs. Husky dog breeds? Have you ever seen a tiny Husky before, only to be told it was a different dog breed altogether? Well, this commonly happens with Klee Kais. These dogs look similar to Husky puppies.
However, Klee Kais and Huskies are two different breeds entirely. Below you will find everything you need to know about Alaskan Klee Kais and Huskies. This dog breed comparison will help to explain the many similarities and differences between the Klee Kai vs. Husky.
Before you scroll down this dog breed comparison guide, "Klee Kai vs. Husky," you can check out these other similar comparisons from our team at We Love Doodles: Akita vs. Husky Dog Breed Comparison and Double Doodle vs. Labradoodle Dog Breed Comparison.
Origin of a Klee Kai and a Siberian Husky
Understanding a breed's origins can help us understand our dogs better. Some breeds have similar roots, while others are entirely different. As you will soon notice, there are many similarities in origins between the Alaskan Klee Kai vs. Husky.
Husky
To begin with, we will have a look at the origins of both Siberian and Alaskan Huskies. Knowing the origins of these dogs will help us understand the basis of the Klee Kai better–but more on that later. Siberian Huskies were initially bred in Northeast Asia by the Chukchi people.
The Chukchi people lived a nomadic lifestyle and relied on these dogs to help them with the work needed for hunting and gathering. Siberian Huskies were specifically used to pull sleds across large expanses of tundra. Nowadays, Siberian Huskies are a companion breed. These dogs are also a purebred breed recognized by the American Kennel Club (AKC).
This recognition by the AKC results in a breed standard for Siberian Huskies that can be used during competitions. On the other hand, Alaskan Huskies are not recognized by the American Kennel Club. So, there is often more variation in their genetics. Alaskan Huskies were initially bred in Alaska to pull sleds.
However, their lineage is more complicated to trace than Siberian Huskies because these dogs were specifically bred for their athletic prowess, not their appearance. Therefore, Alaskan Huskies do not come from one particular breed but rather a mix of different Northern breeds. Consequently, they do not adhere to a specific standard.
Klee Kai
A relatively new breed compared to Huskies, the Alaskan Klee Kai was initially bred in the 1970s. These dogs were bred to have similar beautiful characteristics to Huskies but more compact bodies. Therefore, they share some of their roots with their Husky ancestors.
Alaskan Klee Kais are the result of mixing small Alaskan Huskies, Siberian Huskies, American Eskimo Dogs, and Schipperke. This unique combination results in dogs with a Husky appearance but with less of a working dog mentality and more of a companion mentality.
Size of a Husky and Klee Kai
Size is one of the most significant differentiating factors between Klee Kais and Huskies. This size difference is what separates these dogs the most. As we mentioned, Klee Kais are much smaller than Huskies, making them a better choice for less active families looking for a companion rather than a working dog.
Husky
Both Alaskan Huskies and Siberian Huskies are considered medium-sized dogs. However, the Alaskan Husky can grow slightly larger than the Siberian Husky. Alaskan Huskies are typically 23-26 inches tall and weigh anywhere from 40 lbs to 60 lbs. On the other hand, Siberian Huskies stand at 20-23.5 inches tall and typically weigh 35-60 lbs.
Siberian Husky
Height:  20-23.5 inches
Weight: 35-60 lbs
Alaskan Husky
Height: 23-26 inches
Weight: 40-60 lbs
With both Alaskan and Siberian Huskies, females tend to fall on the smaller size of this range, while males tend to be slightly larger.
Klee Kai
The name "Klee Kai" directly translates to "little dog." Therefore, it should be no surprise that these dogs are significantly smaller than their Husky relatives. Klee Kais come in three sizes: toy, miniature, and standard. However, regardless of what type of Klee Kai you get, it is guaranteed much smaller than a Husky.
Toy Klee Kais are the smallest option, with a height of 13 inches or shorter and 6-12 lbs. Miniature Klee Kais are the next smallest option. These dogs stand between 13 and 15 inches and weigh 10-18 lbs. Lastly, the largest Klee Kai option is the standard size. Standard Klee Kais are 15-17.5 inches tall and 16-25 lbs in weight. Regardless of their type, all Klee Kais are considered a small dog breed.
Toy Klee Kai
Height: 13 inches or less
Weight: 6-12 lbs
Miniature Klee Kai
Height: 13-15 inches
Weight: 10-18 lbs
Standard Klee Kai
Height: 15-17.5 inches
Weight: 16-25 lbs
Coat and Eye Color
As you can see, the size difference between Huskies and Klee Kais is the biggest differentiating factor. However, these dogs can also differ slightly in coat and eye color. Some colors are shared among these dogs because of their shared ancestry. However, Klee Kais does not have as many color options as Huskies.
Husky
One of the most distinguishing features of Huskies is their blue eyes. These blue eyes are common among Siberian Huskies. However, not all of them have eyes this color. Many Siberian Huskies have brown eyes. On the other hand, Alaskan Huskies exclusively have brown eyes. Huskies come in many different colors.
Most Huskies are two colors, while some rare Huskies are solid in color. Alaskan and Siberian Huskies can be black and white, gray and white, red and white, agouti and white, brown and white, and sable and white. Some rarer Huskies are pure white or pure black. These dogs most commonly have saddleback markings, meaning a darker shade can be found along their back.
Klee Kai
Klee Kais are very similar to Huskies in both coat and eye color. Like Siberian Huskies, Klee Kais can have striking blue eyes. However, brown is still the most common eye color for this breed. Regarding their coats, Klee Kais do not come in the same variety of colors as Huskies.
But, the colors they do come in are shared by Huskies. Klee Kais can combine black and white, gray and white, and red and white. This identical coat color causes many people to mistake these dogs for Husky puppies.
Grooming
The texture of a dog's coat affects the frequency and intensity of grooming needed to keep your dog feeling happy and healthy. Huskies and Klee Kais have fur consisting of an undercoat and an outer coat. This double coat is responsible for keeping these dogs insulated in extreme weather and protecting their skin from harmful UV rays.
Husky
Siberian and Alaskan Huskies have thick double coats that keep them warm in cold climates. The biggest difference between these two Husky breeds is that Alaskan Husky fur is generally shorter than Siberian. However, these dogs require the same grooming practices. The most important aspect of grooming a Husky is brushing.
Huskies require weekly brushing to remove dead skin and fur from the body. This is especially important during the months in which the Husky sheds most. This happens during the Spring and Fall. At these times, Huskies will shed their undercoat. This is often referred to as blowing their coat.
Huskies are often called "self-cleaning" dogs because their coats require little bathing. Typically Huskies only require bathing every 3-4 months. However, if your Husky is frequently outdoors, it may need washing more often to remove excess dirt. You should not cut your Husky's hair. This can damage their natural coat, destroy its insulating properties, and expose their skin to harmful UV rays.
Related: Best Grooming Brushes For a Husky.
Klee Kai
Similar to Huskies, Klee Kais also shed their undercoat twice a year. At this time, you should brush your Klee Kai daily to reduce the amount of hair shed around the house. When a Klee Kai is not in its most densely shedding time, it only requires weekly brushing.
To avoid brushing, some people will blow the loose hairs from their dog using a blow dryer. Klee Kais also have naturally clean coats. Therefore, these dogs only require bathing every 3-4 months. If your Klee Kai spends a lot of time outside and gets dirty, it may need a bath more frequently.
Because of their natural double coat, you should not trim a Klee Kais hair. Cutting their hair exposes their skin to UV rays and destroys their insulation. Not only that, but trimming is unnecessary as these dogs naturally shed hair. So, you do not need to worry about overgrown and unruly hair.
Temperament
Although Klee Kais and Huskies look alike, they do not always act alike. These dogs are known for their differing personalities. So, if you are unsure whether you are looking at a Klee Kai or a Husky puppy, look for these differences.
Husky
Huskies are friendly dogs who love meeting new people. These dogs are comfortable, playful, and open around strangers. So, although a Husky may look like a good guard dog, it is more likely to make friends with strangers rather than scare them away. This people-oriented attitude also applies to their family, as these dogs are notoriously loyal and devoted.
They make great family dogs because they are well-suited for other dogs and humans of all ages. This is mainly due to their roots as pack dogs who needed to remain close to their family and other pack mates to remain warm and safe in the cold climate. However, this also leads to separation anxiety in Huskies, as these dogs hate being left alone.
Additionally, Huskies can be hard to train because of their pack mentality. These dogs see their family as their pack and only listen to the leader. So, if you are not assertive enough with your Husky, it will likely not listen to you because it will view you as its peer, not its leader. Therefore, Huskies need early training to understand their place in the hierarchy.
Klee Kai
In contrast, Klee Kais are not as friendly as Huskies. These dogs are known to be shy and guarded around strangers. So, although they look less like guard dogs than Huskies, they are more likely to be defensive and suspicious of strangers.
Although they do not like strangers, Klee Kais do have unconditional love and devotion to their family. However, these dogs are so devoted that they often suffer from separation anxiety. Klee Kais get along well with other dogs, so having another dog in the house can help your Klee Kai feel less anxious when you are not home.
Unlike their Husky relatives, Klee Kais are easy to train. These dogs love to be mentally and physically stimulated, making training easy and exciting. Klee Kais are also known for their high intelligence and intuitive nature. Therefore, you must be sensitive when training these dogs. Thus, Klee Kais learn best with positive reinforcement.
Health
Huskies and Alaskan Klee Kais are relatively healthy dog breeds with long life spans and few genetic illnesses. However, both breeds benefit mentally and physically from a healthy diet and an active lifestyle.
Husky
Siberian Huskies have an average lifespan of 12-14 years. Alaskan Huskies live a bit longer, with a 12-15 years lifespan. Some common illnesses that are found in both types of Huskies are:
Cataracts
Hip Dysplasia
Hypothyroidism
Corneal Dystrophy
Progressive Retinal Atrophy
Huskies require a high protein diet that fluctuates depending on their environment and activity level. Huskies who are just companions do not require as much protein as those who work as sled dogs in cold climates.
Dogs with higher activity levels need more protein to provide energy and maintain muscle mass. Huskies have incredibly high activity levels because of their working background. These dogs require at least 80 minutes of exercise daily. Therefore, Huskies are recommended for families with active lifestyles.
Klee Kai
Klee Kais are also healthy dogs with long lifespans of 13-16 years. However, they can develop some common health problems such as:
Cataracts
Patellar Luxation
Heart problems
Liver disease
Thyroid disease
Klee Kais are prone to obesity. Therefore, you should feed your Klee Kai a well-rounded, healthy diet that consists of protein, vitamins, minerals, and healthy fats. You should also avoid giving your Klee Kai extra calories in the form of treats. These dogs have medium-high energy levels. Therefore they need less activity than a Husky. This is because these dogs are significantly smaller than Huskies. An average Klee Kai requires about 60 minutes of exercise a day.
Conclusions For "Klee Kai vs. Husky: Dog Breed Comparison"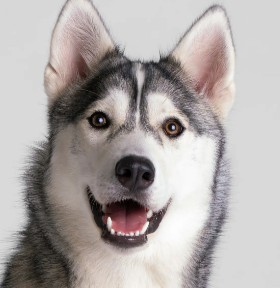 As you can see, there are many similarities between Klee Kais and Huskies. However, there are also many differences. These are essential things to consider when deciding the best fit for welcoming a new dog into your life.
For more dog breed comparison guides similar to this article, "Klee Kai vs. Husky: Dog Breed Comparison," you can check out:
You can learn more about these two dog breeds by watching "Alaskan Klee Kai vs. Siberian Husky (Detailed Analysis)" down below: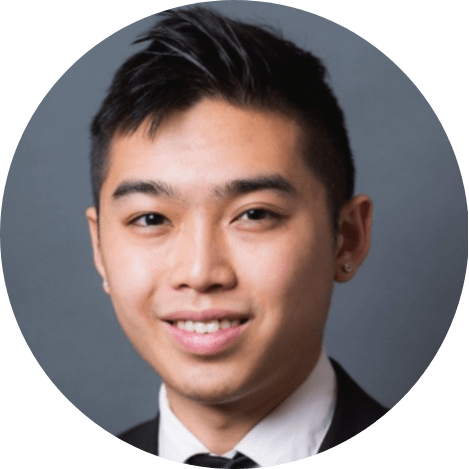 Andy is a full-time animal rescuer and owner of a toy doodle. When he's not saving dogs, Andy is one of our core writers and editors. He has been writing about dogs for over a decade. Andy joined our team because he believes that words are powerful tools that can change a dog's life for the better.
Why Trust We Love Doodles?
At We Love Doodles, we're a team of writers, veterinarians, and puppy trainers that love dogs. Our team of qualified experts researches and provides reliable information on a wide range of dog topics. Our reviews are based on customer feedback, hands-on testing, and in-depth analysis. We are fully transparent and honest to our community of dog owners and future owners.