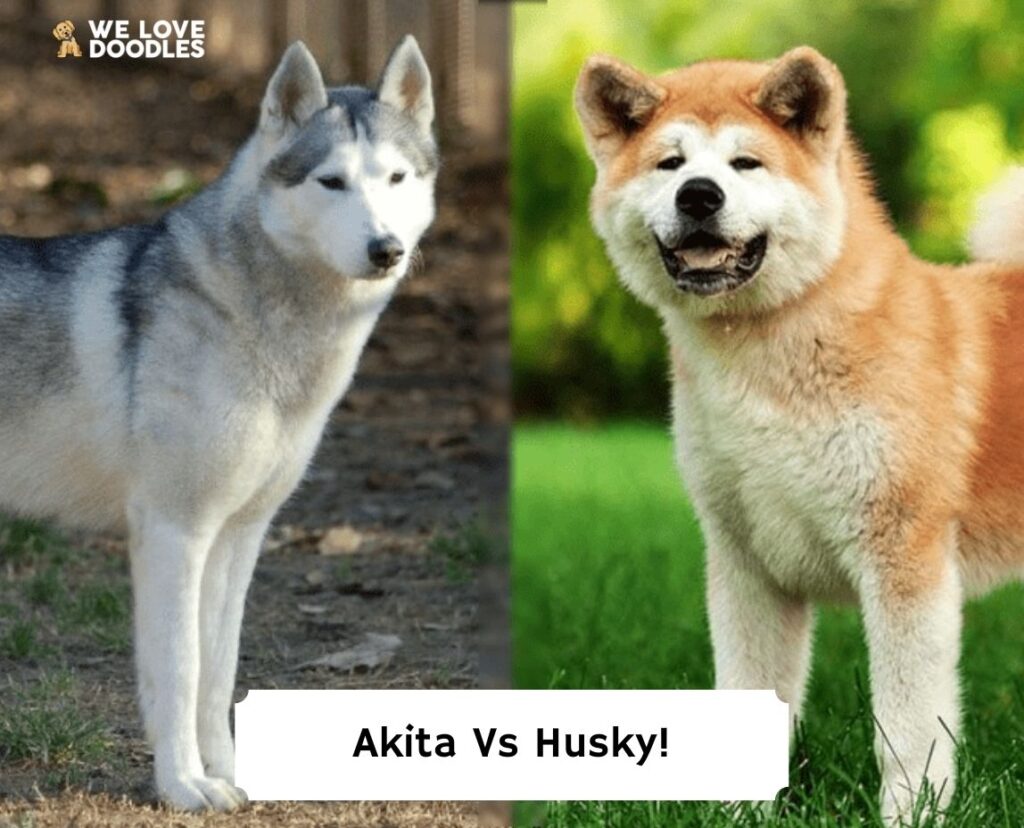 A lot of people things Akitas and Huskies are very similar. The truth is that they are really very different. While both types of dogs are known for loving cold weather and perhaps even being used as sled dogs, that is where most of their similarities end.
The Akita and the Husky have different characteristics and different personality details as well. Although both dogs are very smart and very gorgeous as well.
In this guide, we will take a closer look at the Akita vs. Husky and get to know both of these breeds just a little bit better. We will discuss the different things about them and share the finer details that set them apart from each other.
Other articles you would like: Best Akita Rescues in the United States
Summary of the Differences Between an Akita and Husky
| | | |
| --- | --- | --- |
|   | Akita | Husky |
| Standing Height (Inches) | 24 to 28 | 20 to 24 |
| Weight (Pounds) | 70 to 130 | 35 to 65 |
| Activity Levels | High | Extremely High |
| Health | Above Average | Above Average |
| Price | $1,200+ | $1,000+ |
| Life Expectancy | 10 to 12 years | 12 to 14 years |
| Temperament | Loyal | Loyal and Loving |
Akita
Let's start with the Akita. The Akita is actually slightly larger than the Husky. Their bodies have a stockier build and their coats tend to be just a tad thicker as well. They are giant teddy bears but they can be colorful and soft.
The Akita is a large dog with the potential to stand up to 28 inches high. They are pretty hefty too and when you compare them to the Husky, you will find that they could potentially weigh twice as much. This gives you some indication of the difference.
Now that being said, the Akita loves the cold and they come from cold climate regions. Their fur coats certainly reflect that. They are fluffy and warm.
Appearance
As far as height, the Akita is just a few inches taller than the Husky. They tend to be a little bit square in build. The best way to describe that is stocky and muscular. These dogs are large at full grown. The male Akita can weigh as much as 130 pounds. The common weight range of a full-grown male is 100-130 pounds, which is substantially heavier than a Husky.
Akita dogs look strong and sturdy and that's because they are. These are a breed commonly chosen for dog sledding because of their size and strength.
As far as colors, you will find the Akita can be found in 9 colors. There are standard colors but then of course those colors are not just consistent across the board. Their coat markings and patterns tend to be unique and use some variety of their standard colors. The most common color is similar to that of a German Shepherd but on an Akita body.
The Akita has a double coat. Their outermost coat is fluffy and slightly coarse but soft. They have really thick tails that curl and this is perhaps one of their most memorable features.
Temperament
Now, let's talk about personality and temperament. These dogs were born to be guardians and they certainly are. They do enjoy some great playtime and they are very close to their families. They will do anything to protect their families.
Because of this, they can be a bit overprotective. It's just part of their guardian personality. They are very in tune with what is going on around them and constantly watch for threats and danger from the world.
If you're a stranger, they may need a bit of time to get to know you. Once they earn your trust, you become one of the pack, even if you aren't around every single day. They just need a little bit of time to warm up to you. You do have to earn their trust so they know it's safe when you are around.
Once the Akita is comfortable around you, they really let their personality shine. They tend to be more serious since they are on guard but they do get playful and silly too when they are comfortable. They are truly giant teddy bears for their family and they want your love and attention as much as they can have it.
One thing to note is they don't always get along with other dogs. This really depends on their socialization. If they are around other pets, they will most likely be the alpha still. This is just something to be aware of.
Finally – the Husky is known for being talkative. The Akita is also very talkative but not as often talked about in this way. They do bark but they also talk and communicate, maybe not quite as much as a Husky.
Training & Exercise Needs
The Akita really is fairly easy to train. They are your guardian and protector. They recognize that you are their master. They want nothing more than to please you. They learn commands quickly and are very smart.
The best way to train an Akita is through positive reinforcement. When they do something that makes you happy, they are likely to repeat that behavior when they see your happiness. If you respond to them with frustration, they will pick up on that but they also might get a bit stubborn to that approach.
Keep in mind that the Akita has a dominant personality, which is one of the reasons positive reinforcement works best. On the same note, you need to set up the stage for being the boss. If you do not show yourself as their master, they will take control. Again, this is done with sternness but also kindness.
As far as exercise, the Akita is very active and they need room to run and play. They need to get plenty of physical activity, preferably 60-90 minutes per day of physical activity.
Check out for more: Cockapoo vs. Cavapoo and Cockapoo vs. Poodle
Husky
Now, let's take a look at the Husky. While you will find some similarities, the Husky is really rather unique and quite a bit different than the Akita. These dogs really are absolutely gorgeous. They are also very smart and they tend to have a bit of silliness in their personalities.
There are historic stories of heroism thanks to the Husky, mostly related to dog sledding. You may know the story of Balto who saved a village from diphtheria in 1925. They are smaller than an Akita but still a decent size. They also have thick coats and do really well in cold weather.
Appearance
In contrast to the Akita, a Husky is actually quite a bit smaller. A male Husky grows to only about 21-23 inches compared to the possibly 28 inches of the Akita. They also weigh significantly less.
A full-grown male Husky will weigh anywhere from 45-65 pounds. You might remember that the Akita was 100-130 pounds, so that's a substantial difference. The Husky has a slender frame and while they are strong and muscular, they are much smaller in comparison and not as broad. They are considered to be a medium breed.
The Husky does have 9 standard colors as well. Their coats tend to have shades of black, gray, and white or shades of brown. It really depends on the dog. Their colors are pretty standard but they do have unique coats with coloring in different patches or patterns on their coats.
The Husky is slightly fluffy. Their tails tend to be less fluffy and just slightly bushy. It's possible that their tails will curl as well. Huskies are often compared to wolves as far as their appearance.
These dogs do also have a double coat. It's slightly coarse but also soft and slightly fluffy to the touch. They love cold weather and will hang out in the snow and cold for hours if you let them.
Temperament
We talked about the Akita being dominant. The Husky is independent but they don't always have to be the alpha in every situation. They are easy-going, although they can most definitely have a stubborn streak. Good luck getting them to do something they just don't want to do.
At the same time, Huskies are happy-go-lucky. They are friendly but slightly apprehensive of strangers. They are protective of their loved ones but they tend to bed in their own little world so they aren't necessarily considered a guard dog. They are very loyal though and they will protect their loved ones.
Huskies are social. They like other people and will get along with other animals if they are properly socialized. They might try to be dominant to some degree but not in the same way as the Akita.
The Husky absolutely loves attention. They will demand your attention if you don't just give it to them. They are also lovable teddy bears. They want to be close to you and they want all of the snuggles.
Huskies are known for their unique personalities. They do a lot of talking. They bark some but they talk more than they bark in most cases.
Training & Exercise Needs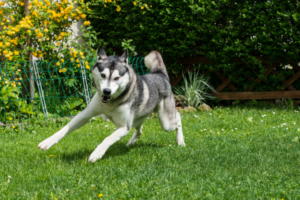 Now let's discuss training. The Husky tends to be a little bit stubborn. This can make them just a bit harder to train. However, you can train them with consistency. They are smart. They need to have goals.
Huskies are very common for dog sledding. They love to run and play and they are very strong. They can run long distances and they move quickly as well. If you want to go on a run or long walk, bring your Husky along. They will love it.
Huskies do have a lot of energy so you will need to plan for this. They need exercise and playtime. They really need space to run. Plan for providing a Husky with at least 90 minutes of physical activity every day. This doesn't necessarily have to be all at one time.
The Husky is also very agile. They like games and play that challenges them. You can create obstacle courses or puzzles that make them think and strategize and they do quite well with it!
Since the Husky can be a little bit stubborn, your training tactics should be short and sweet. Work with them in short bursts and then leave them alone and move on. You want to avoid boring them with repetition for long periods of time. You also want to convince them to be interested in training. You may need to establish a routine to stay consistent but just don't work them too long at one time.
Huskies do tend to live longer than the Akita. They are very healthy dogs with long lifespans. As long as you pay attention to them and take care of their health, they will be around for a lot of years.
Summary Comparison of an Akita vs Husky
Let's recap just a little bit for you here. The Akita and the Husky are both cold-weather dogs. Their coats are similar to feel, although their patterns and color patches are pretty different. The Akita is much larger than the Husky. It's considered to be an extra-large dog while the Husky is a medium dog. The Akita can weigh twice as much as a Husky.
As far as health, Huskies tend to be healthier and live longer but the Akita is an overall healthy dog. The Akita has a dominant personality. They are typically the alpha. They really do best as the only pet in the home in most cases but you can socialize them. They do want to please you as their master so just establish that you are the one in charge.
Both dogs are absolutely beautiful and lovable in their own ways. However, you can see from these different distinctions that they are really very different. They both have unique mannerisms and looks that set them apart quite a bit.
If you're a beginner dog owner, you most likely would be better with the Husky but it really is your choice. Both dogs have a lot to offer their owners, they just offer it in different ways. They are both fun and lovable and unique.
Which breed are you thinking about? What attracts you to that breed above the other?
You will also like:
Still not convinced on the differences between an Akita and Husky? Check out the video below:
Garrett loves animals and is a huge advocate for all Doodle dog breeds. He owns his own Goldendoodle named Kona. In addition, he volunteers at the Humane Society of Silicon Valley, where he fosters dogs and helps animals. Garrett enjoys writing about Doodles and believes that dogs can teach humans more about how to live than humans can teach a dog.
Why Trust We Love Doodles?
At We Love Doodles, we're a team of writers, veterinarians, and puppy trainers that love dogs. Our team of qualified experts researches and provides reliable information on a wide range of dog topics. Our reviews are based on customer feedback, hands-on testing, and in-depth analysis. We are fully transparent and honest to our community of dog owners and future owners.