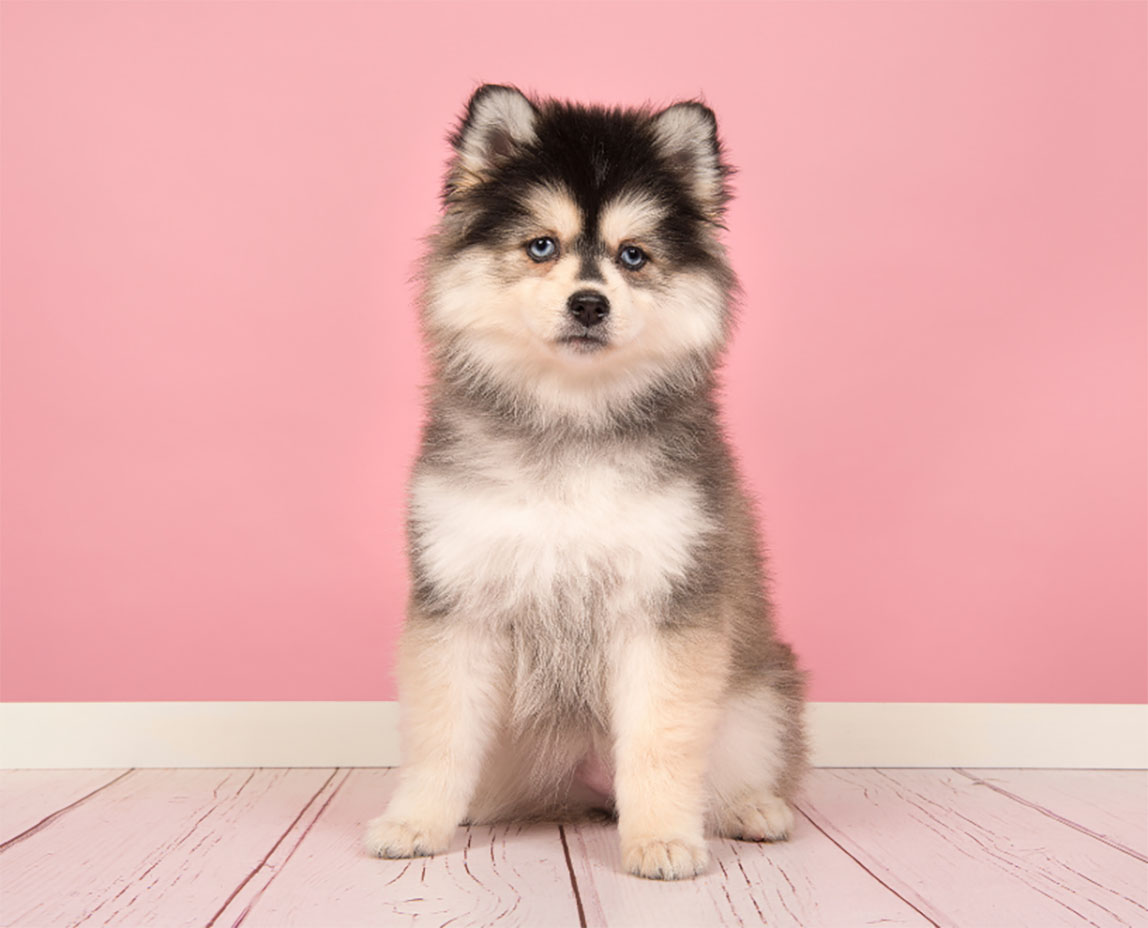 The Pomeranian Husky, commonly known as a Pomsky, is considered a designer dog breed. 
If you're considering buying a Pomeranian Husky, but don't know where to start in terms of researching the breed, you've come to the right place.
In this article, I will cover all you need to know about the Pomeranian Husky, so you can gain a better understanding of this breed and whether it's the right breed for you.
Other articles you might like: Pomsky Breeders in California and Pomsky Breeders in New York.
What Is A Pomeranian Husky?
The Pomeranian Husky, or Pomsky, is a mixture between a Pomeranian and a Husky.
It is a fairly recent designer dog breed and is most commonly found in America and across Europe.
The Pomeranian is a Spitz-type breed and was named after the Pomeranian region in Central Europe. 
As descendants of the large working Spitz breeds, they are mainly bred to make excellent companions.
Huskies are highly intelligent and independent dogs, historically known to be working dogs that were used to pull sleds in Siberia. 
Size & Weight
A full-grown Pomsky is a small to a medium-sized dog that height can vary from 10 to 15 inches on average.
They typically weigh around 20 to 30 pounds, making them ideal for small homes, townhouses, and apartments.
Temperament 
When it comes to the temperament of a Pomeranian Husky, it's difficult to describe the personality traits in these hybrid dogs as it will depend on each individual dog's parents.
That being said, there are a variety of personality traits the Pomeranian and the Husky share, which can make it easier to determine the type of temperament that they will have.
Pomskies are incredibly intelligent and loyal, so they make great companions. They are known for being very friendly and love the company of their owners, and will likely follow you and become your shadow around the house.
Although Pomskies love to play, they can sometimes be wary of smaller children to begin with. As a result, it's important to socialize them from a young age.
It's also crucial to consistently train your Pomsky as soon as you bring them home. Being an independent and confident pet, if you don't train them on a daily basis they will take advantage and become stubborn.
The Pomsky's intelligent, independent nature will be complemented by consistency, treats, and positive reinforcement. 
Price 
If you're interested in the Pomsky, then you should know that they are one of the most expensive designer breeds on the market today. 
With prices ranging from $1,000 to $3,000 USD, this premium price tag comes down to the fact that this hybrid dog requires the artificial insemination of the Pomeranian parent.
Kennel Club Recognition 
As the Pomeranian Husky is a mix of two purebred dogs and is still a very recent breed, it is not recognized as purebred by the American Kennel Club (AKC). 
As there is no consistency in terms of personality traits, temperament, and appearance to set a breed standard, it is therefore highly unlikely a Kennel Club will recognize it in this dog breed any time soon.
In addition to this, as there are minimal to no approved reputable breeder standards which are often set by Kennel Clubs, it's absolutely essential that you do your research to find a good breeder when you're searching for a Pomeranian Husky. 
Once you've found your potential puppy, it's important that you find out more about the health of its parents. Certain breeds may be more prone to some inherited diseases than others.
You should ask the breeder a series of questions, like whether you can see the puppy's parents, and where the puppy was bred to check if the conditions were good.
If the breeder that you're buying your Pomsky from is responsible, then they will be happy to answer questions about themselves, their dogs, or their breeding choices.
If they seem frustrated or won't answer your questions, then this is generally a red flag and could indicate that your potential puppy wasn't bred in good conditions.
Appearance 
The primary reason that the Pomeranian Husky is not recognized by any major Kennel is because of the wide spectrum of appearances that they can have; making it difficult to set a breed standard.
While no two dogs look exactly the same, they sometimes have similar features.
The Pomeranian Husky has shared characteristics from both its parents, including a double coat and its curved tail.
Their facial features tend to be more similar to a Husky whereas their stature is more similar to that of a Pomeranian.
Coat & Eye Color 
The Pomeranian Husky can come in a wide variety of patterns and colors. These include:
Black

Gray

Cream

Brindle

Brown

Merle

Red

Tan

Orange

White
Depending on the parents, the coat and eye color can vary greatly between Pomeranian Huskies.
Pomsky eye colors range from brown to a striking blue. It's also quite common for Pomskies to be born with different colored eyes thanks to the condition, heterochromia.
Heterochromia affects the eye color resulting in a dog with different colors. Heterochromia isn't found in all breeds of dogs, but is commonly found in Huskies.
As a result, Pomskies can inherit this beautiful characteristic from their Husky parents.
Grooming 
Due to their double coat, you can expect your Pomsky to shed quite a lot around the house.
It's important to know that you will need to groom your Pomsky on a daily basis in order to remove dead hair, dander, and keep your Pomeranian Husky's coat in the best possible condition.
While you will need to groom your dogs on a daily basis, you won't need to bathe them nearly as often. You should only bathe your Pomsky once every few months, or whenever their coat is significantly dirty.
This comes down to the fact that if you bathe them too much, it can cause their skin to dry out.
It's important to note that you should never shave your Pomeranian Husky's coat to make grooming easier for yourself. Their double coat is fundamental to them to help regulate their temperature in extreme weather conditions, whether that's in the heat or during the winter.
In fact, shaving your Pomsky's coat can result in a variety of different issues if you're not careful.
It's also important to invest in a good quality pair of
nail clippers
so that you are able to trim their nails every now and then.
Pomeranian Husky Care Guide 
Now that you have an overview of the breed in general, it's time to look at a care guide for a Pomeranian Husky. 
Exercise Requirements 
Pomskies are an active breed that have moderate exercise needs, which means that they are well suited for people that live in apartments. 
That being said, your Pomsky will need to be taken on a walk of a minimum of 30 minutes every single day. As a result, you will need to make sure that you have the right lifestyle to be able to walk your Pomsky on a regular basis. 
Pomskies can also have high energy levels, and can often need more time to play in the day for them to be able to sleep at night. Bearing this in mind, you will also need the time to be able to play with them as much as they require.
If you don't tire your Pomsky out with regular exercise and playtime, this can lead to boredom and negative behaviors such as chewing. This will behavior will need to be worked through in your training sessions. 
However, this is also a two-way street. No matter the training you do, if your dog isn't having their mental stimulation and exercise needs met then you will need to reevaluate your own schedule to make sure that they are having their needs met.
Training 
Pomskies are incredibly intelligent, meaning that they won't struggle to learn what you are training them to do. 
That being said, this intelligence can lead to a stubborn streak if you don't make the effort to train your pup on a regular basis from an early age. Consistency is key, and you need to be strong-willed and patient with your Pomeranian Husky and train them as soon as they come home.
Pomskies are vocal dogs and can back a lot if they aren't properly trained. You will need to make sure that you socialize and train your Pomsky from a young age to ensure that they respect you. 
You can start with basic house rules like no jumping up, and then progress as they improve.
Your Pomsky needs a firm hand, but not a cruel one. With lots of positive acknowledgment, they will want to please you and are happy to learn new tricks.
Just make sure that you provide them with plenty of praise and encouragement with treats on the journey.
Health Issues 
While the Pomeranian and the Husky are relatively healthy breeds, this hybrid dog is susceptible to a variety of health conditions that you should know about before you commit to buying a Pomeranian Husky.
These include but are not limited to:
Hip Dysplasia 
Hip dysplasia is an abnormality in the hip socket that can cause your dog significant pain in its joints.
Signs of hip dysplasia include wobbling gait, lameness, and shifting their weight from one leg to another.
Dilated Cardiomyopathy 
Dilated cardiomyopathy is a common health issue in hybrid dogs, including the Pomsky.
Symptoms of cardiomyopathy include breathing problems, coughing, loss of appetite, and weakness.
Eyelid Entropion
Eyelid entropion is very common in Huskies. This condition is an abnormality of the eyelids that causes their eyelids to start to roll inwards. This is hereditary and will get progressively worse if not treated.
Hypothyroidism
Hypothyroidism is a condition that occurs when the thyroid gland does not produce enough of the hormone called thyroxine and can be found in Pomskies.
style="font-weight: 400;">This causes a wide variety of symptoms including trouble with weight gain, obesity, hair loss, and skin problems.
Collapsing Tracheas
Collapsing trachea causes coughing and respiratory pain. This disease is commonly found in Pomeranians, hence why Pomskies can develop the condition. 
The primary sign of collapsing trachea is a dry cough that sounds similar to a goose honk.
Dental Issues 
Pomskies are also susceptible to dental problems. To help combat this, you will need to provide your dog with hard, dry kibble and proper attention.
These conditions highlight how important it is to get your dog from a reputable breeder.
It cannot be emphasized enough that the best way to ensure that your Pomsky is in the best health condition when you first get them is to research the breeder extensively before going ahead with your purchase.
If you fail to do this and buy from a dubious breeder, you're much more likely to end up with a pet that is unwell and several vet bills that are likely to cost you a fortune.
With the right care, a healthy, balanced diet and consistent exercise, a Pomeranian Husky's lifespan is between 13 to 15 years old. 
Are Pomeranian Huskies Good With Families?
The Pomsky is an excellent companion dog, making it a great family pet. However, they can be slightly wary of other dogs and younger children in the beginning.
That being said, you will need to make sure that you socialize your Pomeranian Husky from a young age to ensure that they are well behaved when interacting with new people and animals.
Conclusion for Pomeranian Husky Mix Guide
So, there you have it! Hopefully, after reading this article you have a better understanding of the Pomeranian Husky and whether it would be a good fit for you and your family.
Pomskies are trainable, but can be stubborn, so they are often best suited for people that have enough time or are already experienced dog owners. 
Always make sure that you do your research when it comes to buying a Pomsky from a breeder and make sure that you are prepared before you bring one into your family.
Other articles you would like:
Also, feel free to check out the Pomsky video below:
Garrett loves animals and is a huge advocate for all Doodle dog breeds. He owns his own Goldendoodle named Kona. In addition, he volunteers at the Humane Society of Silicon Valley, where he fosters dogs and helps animals. Garrett enjoys writing about Doodles and believes that dogs can teach humans more about how to live than humans can teach a dog.
Why Trust We Love Doodles?
At We Love Doodles, we're a team of writers, veterinarians, and puppy trainers that love dogs. Our team of qualified experts researches and provides reliable information on a wide range of dog topics. Our reviews are based on customer feedback, hands-on testing, and in-depth analysis. We are fully transparent and honest to our community of dog owners and future owners.