So you recently got a new Teddy Bear dog, or you intend to get one soon, and you have been thinking of a fitting name to call your new puppy. You want a name that is unique so your dog stands out when being called to avoid confusion with another dog closeby. Additionally, you probably want a name that is relatively short and easy to pronounce since you will be calling your dog a lot!  Regardless of your reason, we have put together a list of the best teddy bear dog names!
Other articles you might like: Brown and White Dog Names and Manly Dog Names!
Teddy Bear Dog Names
Below are unique name suggestions we have put together for your new little guys. 
NAMES

MEANING

1.

Arktos 

Bear 

2. 

Arcadius 

Bear 

3. 

Armel 

Warrior prince or bear chief

4. 

Arthfael 

Welsh kind of Arthmael

5. 

Arthur 

Bear man, Strong as a bear

6.

Barney 

Bernard 

7. 

Ber 

Bear 

8. 

Bera 

She-bear 

9.

Berend 

Bernhard 

10. 

Berengarius 

Bear-spear 

11.

Bernadette 

The feminine form for Bernard

12. 

Bernado 

Bernardus 

13. 

Chyanne 

Loving bear

14.

Duroj 

Bear 

15.

Kuma 

'Bear' in Japanese

16.`

Enyeto 

A person who walks like a bear

17.

Esben 

Divine bear

18.

Espen 

Divine bear

19.

Orsino 

Ursinus

20.

Orso 

<p>;Bear 

</p

21.

Orsolya 

Ursula 

22.

Orson 

<p>;Bear cub or little bear 

</p

23.

Osbeorn 

Divine bear

24.

<p>;Otso 

</p

The French word for bear

25.

<p>;Panda 

</p

Family of bear 

26.

Sloth 

Sloth bear. This bear is found in the Indian subcontinent

27.

Sapata 

Dancing bear

28.

Tarben 

Thunder bear

29.

Uffo 

Wild bear

30.

Urola 

Little bear 

31.

Ursel 

Ursula

32.

Ursinus 

<p>;Bear-like 

</p

33.

Vorsila 

<p>;Bear 

</p

34.

Nita 

<p>;Bear 

</p

35.

Ours 

<p>;Bear in French

</p

36.

Lusela 

A bear licking its foot 

37.

Bernou 

Female bear
Other Teddy Bear Dog Names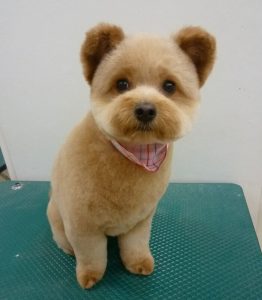 <li
>Baloo
Chubby
Ted
Snuggabear
Franklin
<li>Furby
>Mr. / Mrs. Softy </li
<li>Bear<li>Winnie
Poof
Grizzle
Fluffy
Puffy
Polar
Cotton
Kodiak
<li
>Mr. Goodbear </li
<li>Alpaca
Bob
Cloud
Puffin
Ringlet
Theodore
Bella
Whiskers
Silky
<li>Curly
Fox
Furbaby
Muffin
Woolly
Fuzz
Nana
Lush
Furball
Cozy
Fuzzy Wuzzy
Hairy / Harry
<li>Grizzly<li>Barley
Fuzzy
Pom
Bunny
Fluffmeister
Ruffles
Fleecy
<li>Velvet
</li</li</li</li</li</li</li</li</li
Teddy Bear Dogs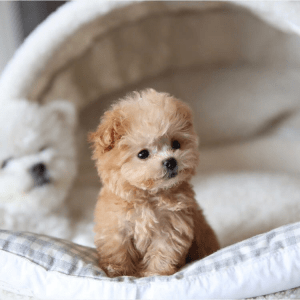 Teddy Bear dogs are usually designer dogs like the miniature Goldendoodle or Labradoodle that are considered soft and fluffy. They have become extremely popular in recent years because they typically don't shed fur and are hypoallergenic. Teddy bear dogs are also generally very small, weighing between 8 to 16 pounds, measuring about 12 inches. Because of their small size, they are excellent pets regardless of your house or apartment's size.
Below are some dog breeds that look like the Teddy Bear Dog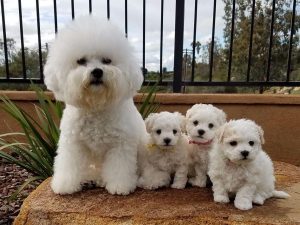 Miniature Goldendoodle: The Golden Retriever and Poodle mix has become extremely popular and looks exactly like a teddy bear!
Miniature Labradoodle: The Labrador Retriever and Poodle mix has a curly coat that can look like a teddy bear!
B​ichon Fris​e: This is a joyous small-sized dog with plenty of love. They weigh between 7 to 12 pounds and possess a height of between 9 to 11 inches.
<strong>Border Terrier: This is a small-sized dog possessing a strong drive to hun, alert gaze, and pleasant-natured personality. They weigh between 11 to 15 pounds and have a height of between 10 to 11 inches.</strong
<strong>;Lhasa Apso: They were initially considered palace watchdogs, but today, they are no longer regarded as watchdogs. Instead, they are seen as dogs who willingly shield their families from danger. They weigh between 12 to 15 pounds and possess a weight of between 9 to 11 inches.</strong
Pekingese: They are a very affectionate and loyal dog breed. They are excellent house pets because of how closely and quickly they bond with their human families. They are not very good with rough play.
Pomeranian: This is a small-sized dog. The tiniest member of the Spitz breed. They weigh between 3 to 7 pounds and have heights of between 7 to 12 inches.
<strong>;Shih Tzu: This name translates to 'little lion.' However, there is nothing wild about this dog breed. They are less of a hunter and more of a lover. They are originally bred for companionship. They are thrilled, affectionate, and outgoing dogs. They weigh between 9 to 16 pounds and have a height of between 9 to 10 inches.</strong
Yorkshire Terrier: Although they are small-sized, they possess very large personalities. They are the most famous toy-dog in the US. They possess elegant looks, weighing between 4 to 6 pounds and having heights of between 8 to 9 inches.
Conclusion for Best Teddy Bear Dog Names
As fluffy as the Teddy Bear dogs appear, they barely shed, and in some cases, do not shed at all. As a new puppy parent, one of the hardest things you will have to do is name your dog! You'll be calling them by their name over a million times throughout the course of their entire life, so it's important that you choose a good teddy bear dog name! In general, try to choose a name that is short and easy to pronounce. Additionally, be sure that the name doesn't resemble any close family members or other dogs you're close to!
Other articles you will like:
Garrett loves animals and is a huge advocate for all Doodle dog breeds. He owns his own Goldendoodle named Kona. In addition, he volunteers at the Humane Society of Silicon Valley, where he fosters dogs and helps animals. Garrett enjoys writing about Doodles and believes that dogs can teach humans more about how to live than humans can teach a dog.
Why Trust We Love Doodles?
At We Love Doodles, we're a team of writers, veterinarians, and puppy trainers that love dogs. Our team of qualified experts researches and provides reliable information on a wide range of dog topics. Our reviews are based on customer feedback, hands-on testing, and in-depth analysis. We are fully transparent and honest to our community of dog owners and future owners.